21st June 2019
Fun fun fun!
Two brilliant school tours today.
First up 3rd - 6th bounced, climbed and tumbled off giant inflatables in Lough Allen with Blueway Water Adventure and then enjoyed a river cruise on the river Shannon. We even got to steer the boat!Such a fun day out. The children were fabulous. Thanks to everyone who helped out especially Ann G who was fantastic.
Junior Tour 2019 ***

Today junior infants to 2nd class went to Letterkenny for their school tour!

A fantastic day was had by all!

First stop was Century Cinemas to watch The Secret Life of Pets 2! We just loved the movie! And the yummy popcorn!

Then it was on to Century Play where we had lots of fun...

Well done to all the boys and girls who were SO well behaved!

The day ended with a sing song on the way home!!!

Just two more get ups and lots more visiting coaches for Active Schools Week!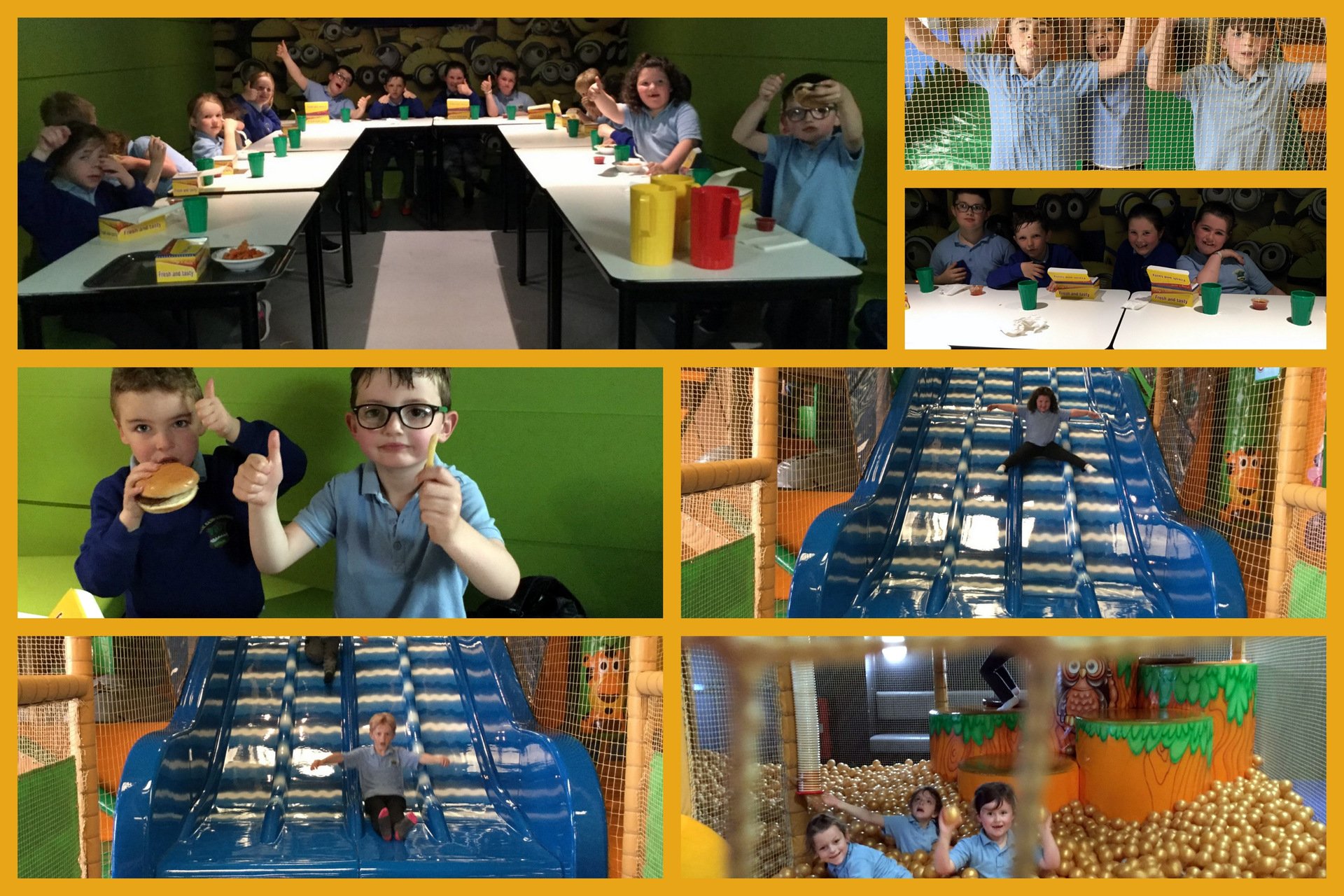 18th June
Active Schools Week got off to a fabulous start. There was a huge turnout for the cycle to school lots of exercise led by Leslie Robinson our golf coach and Darragh Brogan circuit trainer. Then it was onto our annual Sports Day with lots of fun filled races. Thanks to the parents for the beautiful refreshments. Active Schools Week has well and truly started!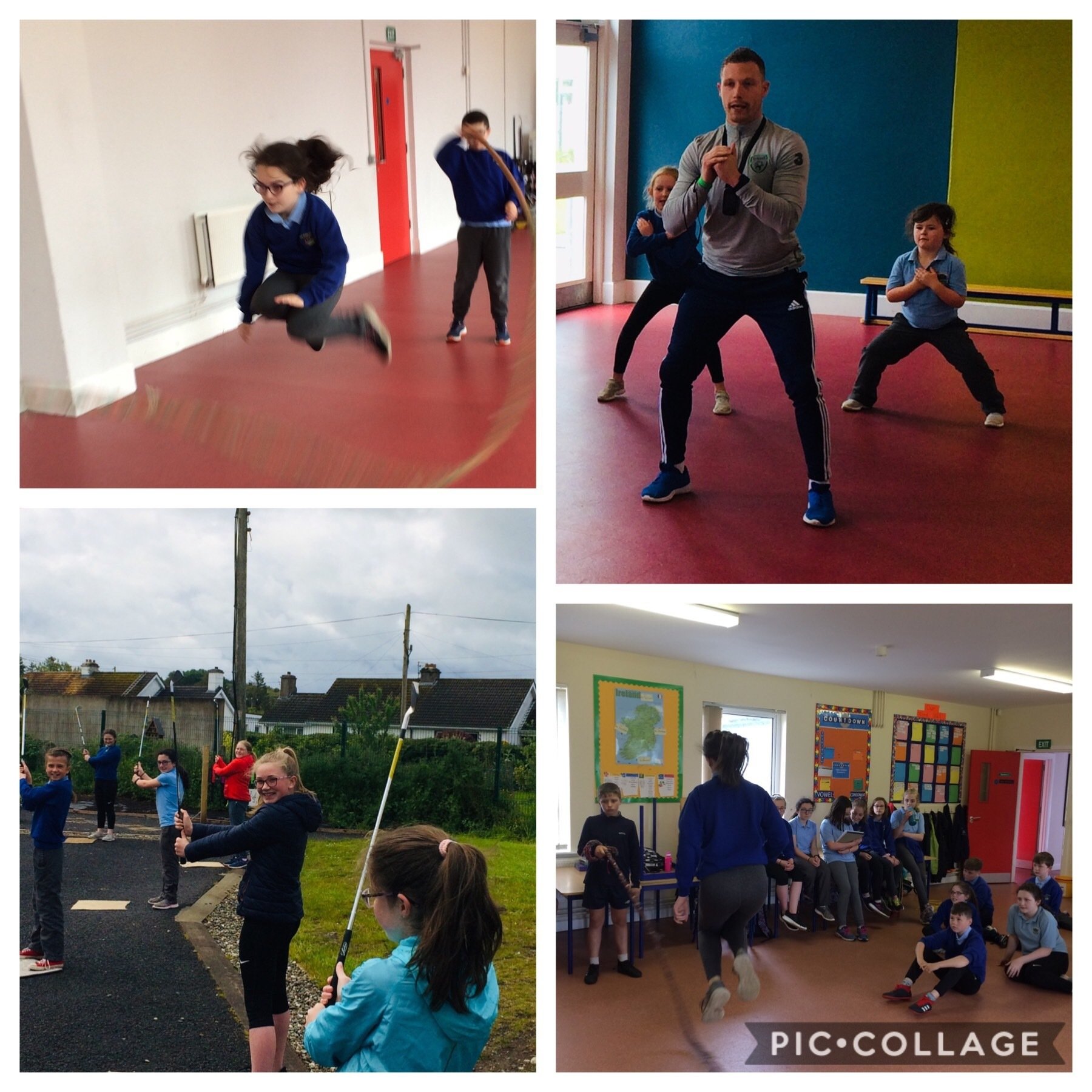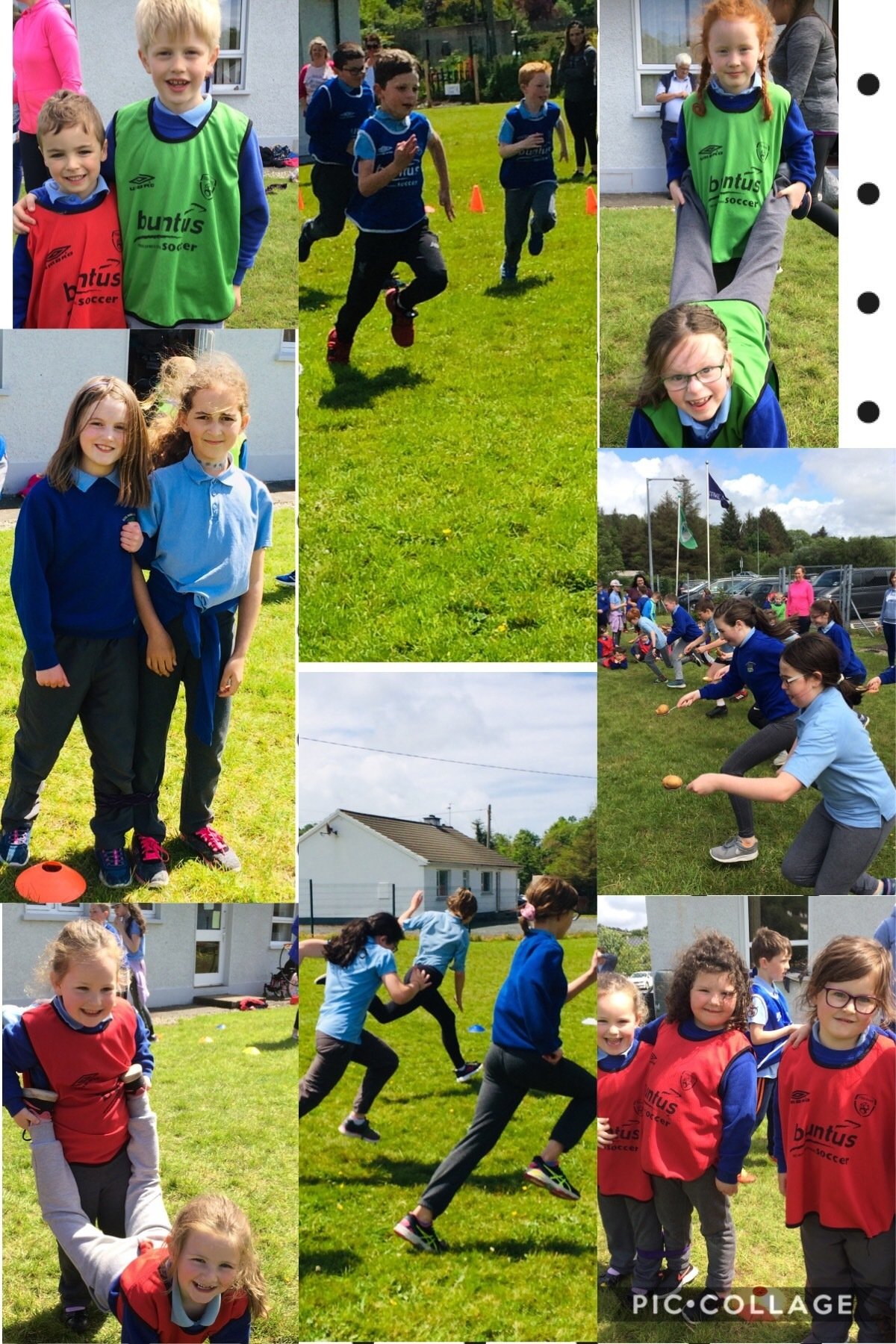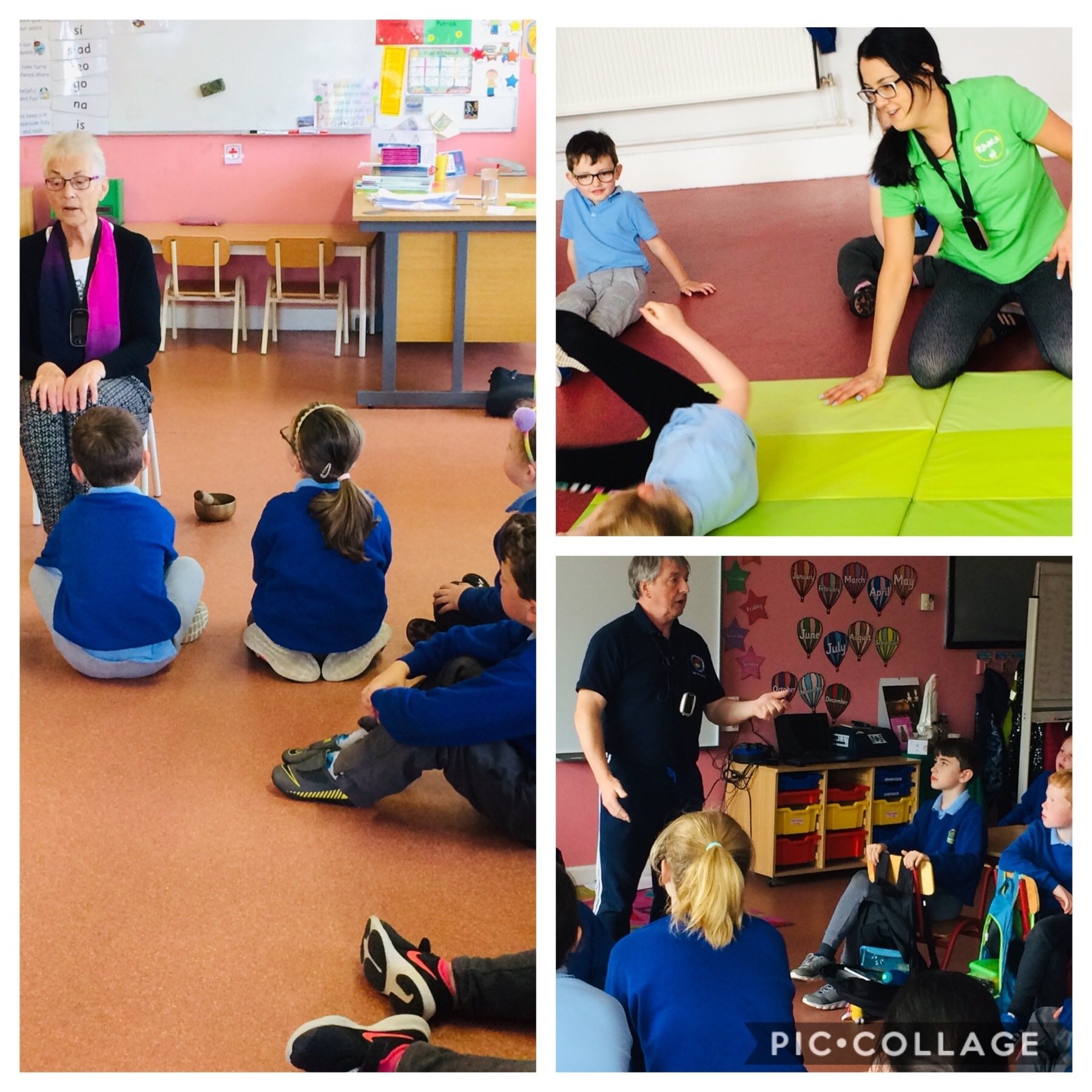 We had a fantastic day yesterday on day 2 of Active Schools Week. Visitors included Sarah from Rinka/ The Energy Hub, Sister Helen Kelly a mindfulness coach and Aidan Mc Guinness from Irish Water Safety. It was great timing to have Aidan as 3rd -6th class are spending most of their school tour today out on the water. Thanks for all the tips coaches!
17th June 2019
10 years Commitment to the Green Schools Programme
Today we hoisted our 5th Green School flag which celebrated biodiversity. This was a huge milestone for the school as the outdoors area has been transformed over the past two years. Thanks to both the adult and children's committee who provided all the ideas, inspiration and drive. The families and wider local community also worked tirelessly to develop the school garden, orchard and many other facilities. Huge thanks. We cannot wait to get our hands dirty in the garden in September!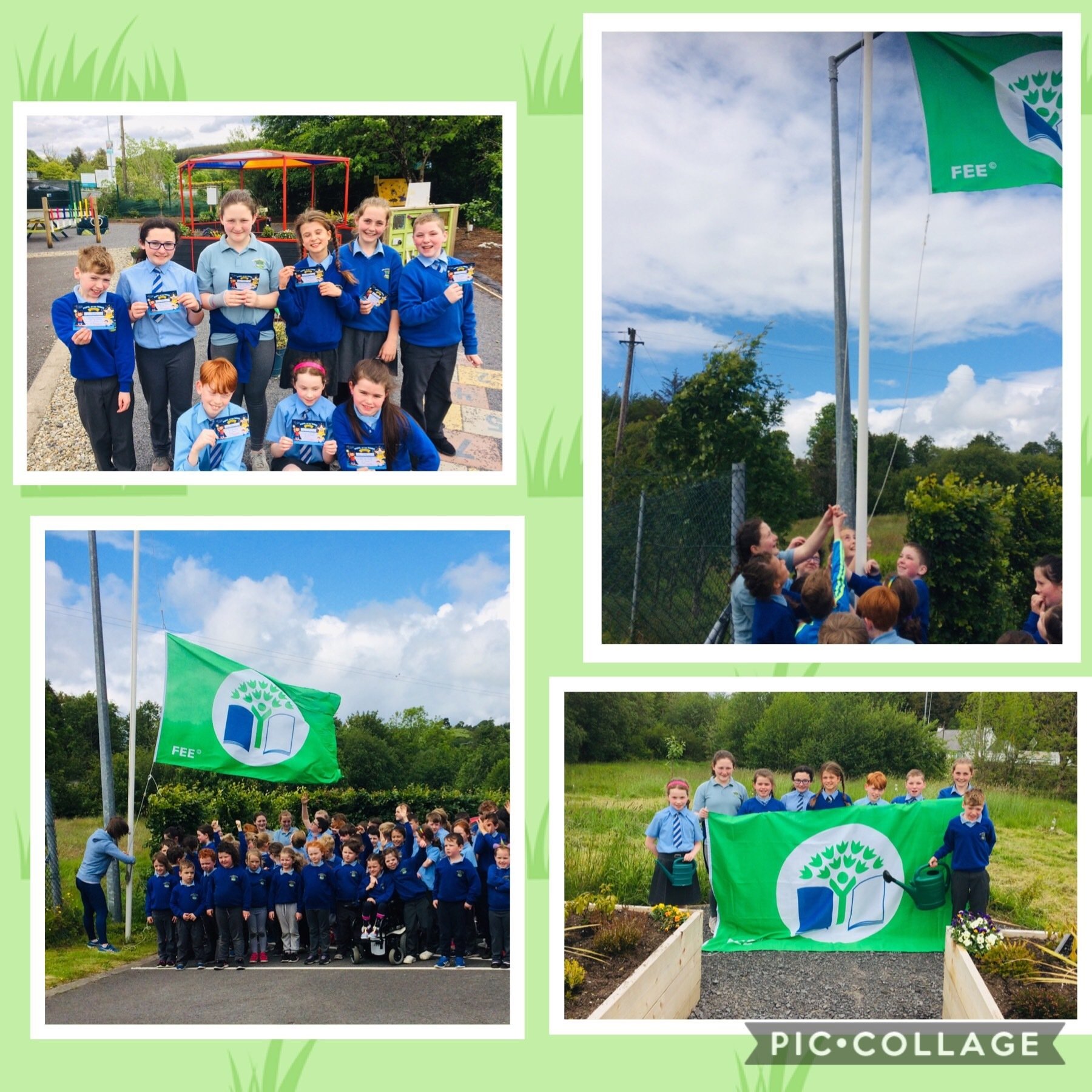 17th June 2019
Down Syndrome Ice-cream Party
Today we enjoyed some yummy ice-cream. It was a fundraiser for Down Syndrome Ireland and a total of €265.15 was collected. Thanks to everyone who contributed and our Parent's Association for the treats!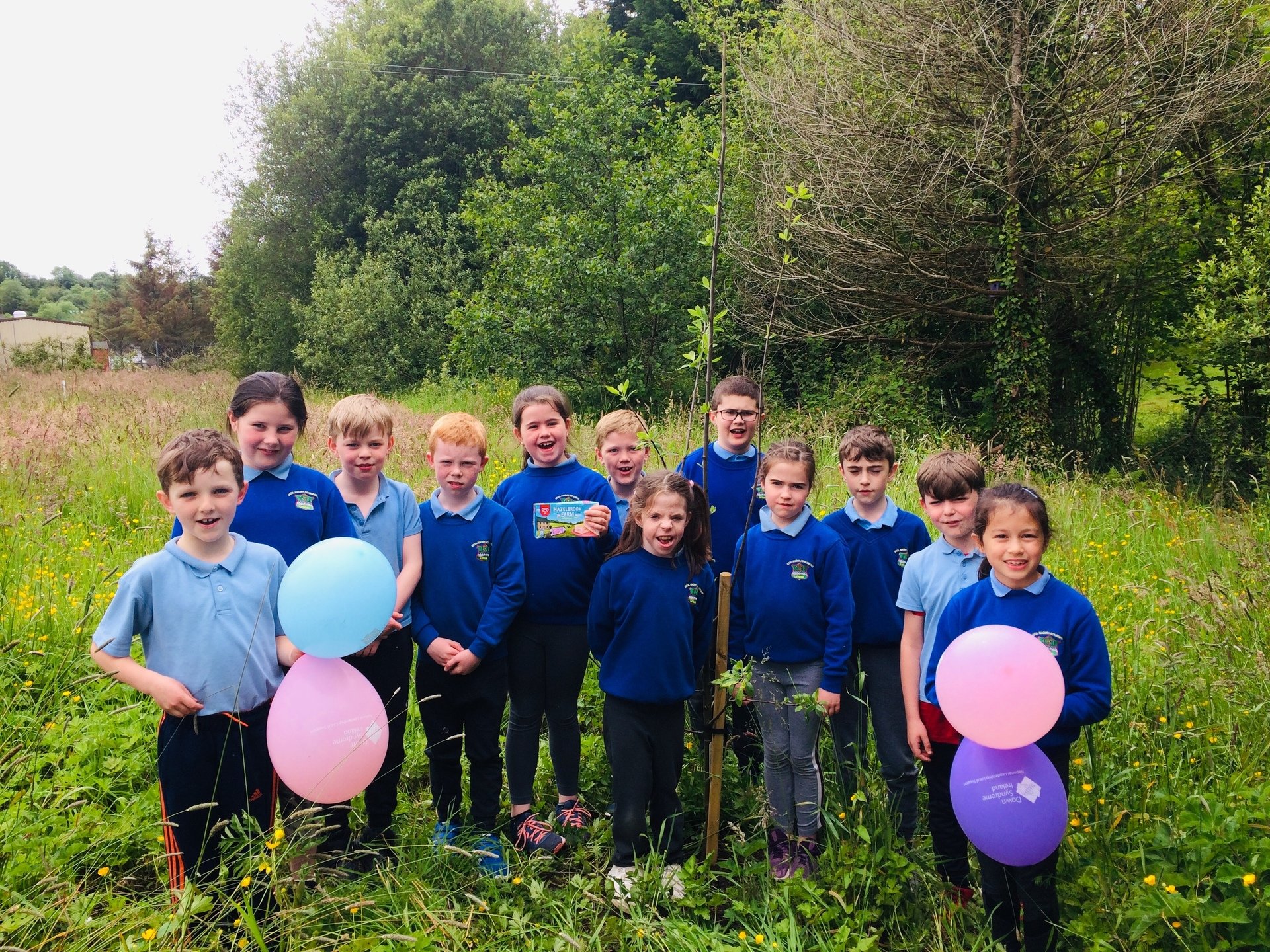 7th June 2019
What a surprise we had! The ice-cream van landed to our school. This was a fabulous surprise and parting gift from Tia in 6th classes' parents. The whole school got ice-cream and it was delicious!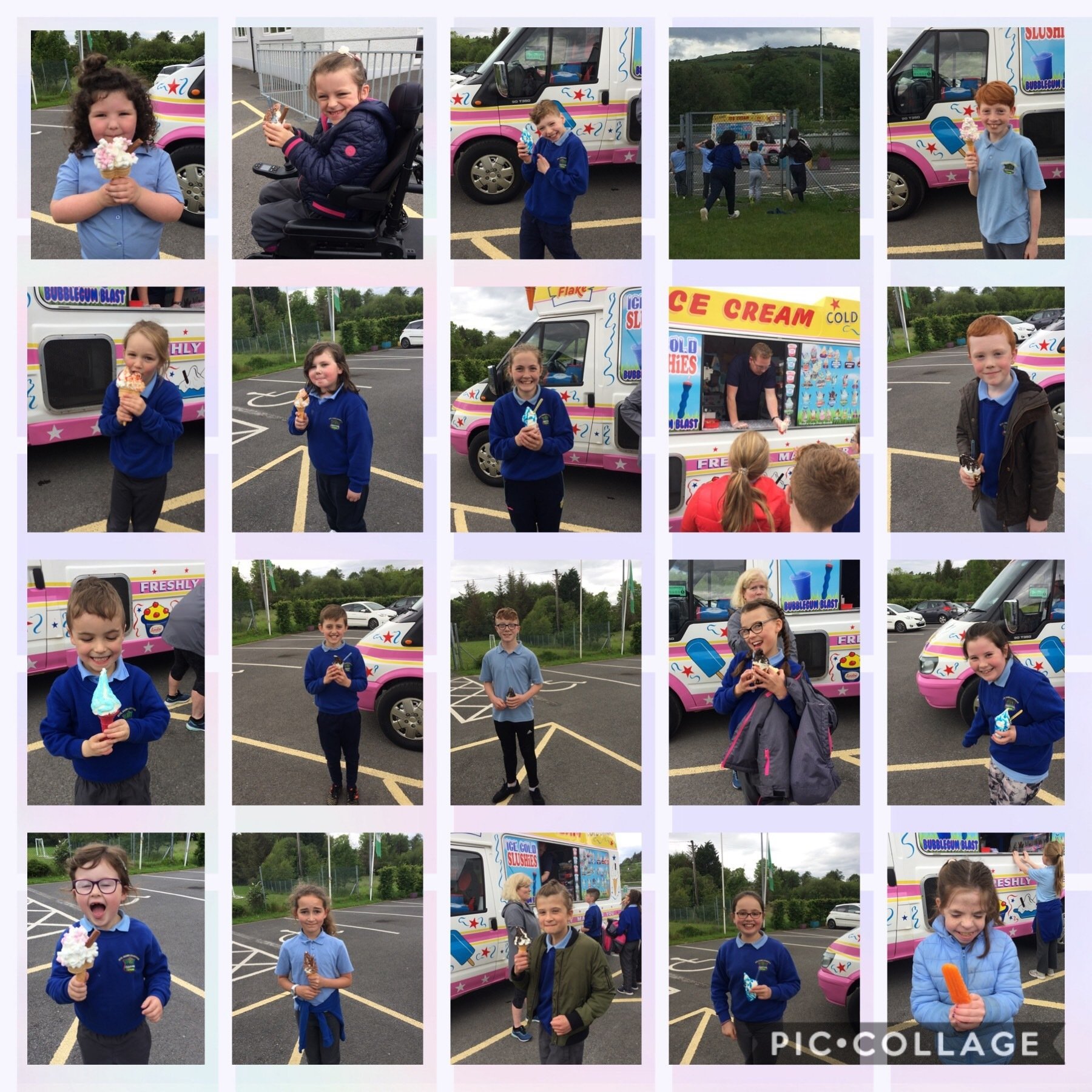 6th June 2019
Huge thanks to the Parent's Committee for organising our annual 5k. Despite poor weather conditions we had a big turnout. It was a great family event on a beautiful race course. Well done to all of our prize winners and thanks to everyone who provided the lovely refreshments afterwards.
16th May 2019
Thanks so much to the Donegal Town branch of the Fire Brigade for visiting our school. They reminded us of the importance of fire prevention in the home and provided some fantastic resources for use at home
3rd April 2019
Today we attended the annual Athletics competition in the Abbey Vocational School. Well done to everybody who took part in the track and field events. A special mention to our medal winners; our boy's 4 x 100m relay team who came first and Oisín in 6th Class who placed 2nd the 100m sprint. Congratulations to all.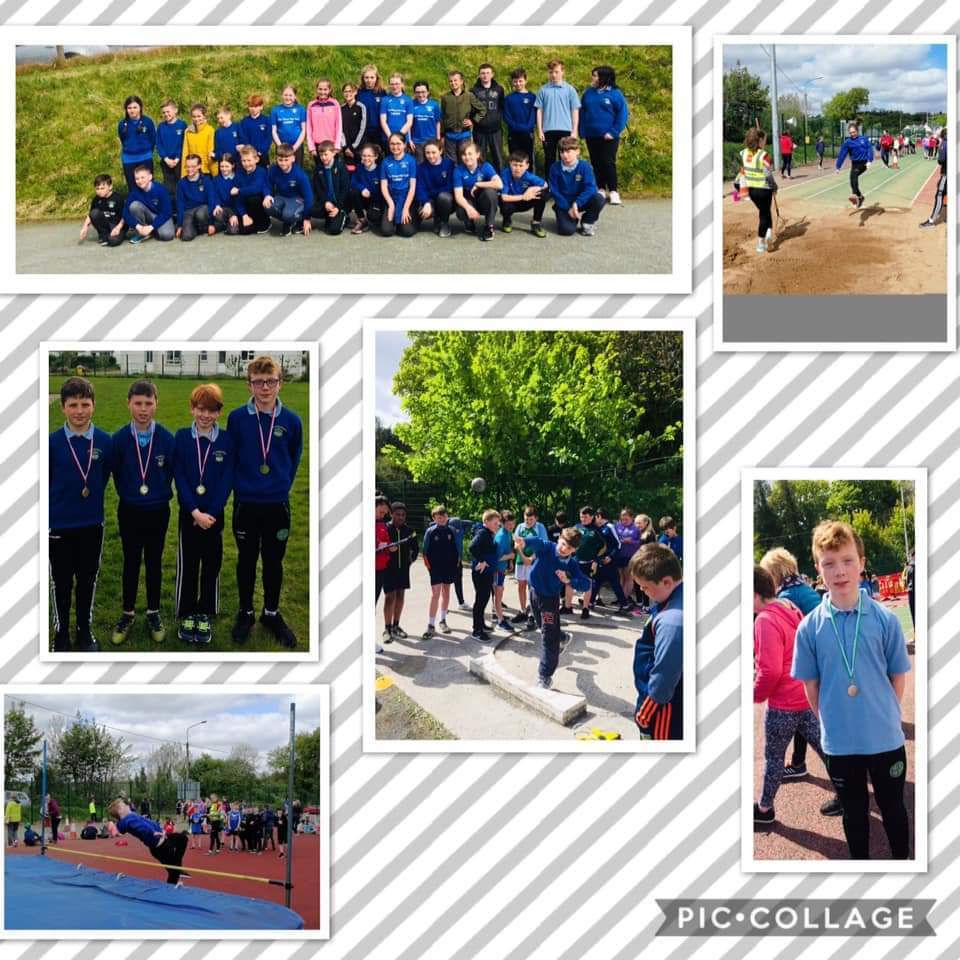 27th March 2019
AVS Art Competition Winner!
Huge congratulations to Millie in 6th class who won second place in the AVS Transition Year art competition. Lots of the local primary schools entered but Millie's nature themed piece won the judges over. An absolutely beautiful piece of art so well done Millie! Enjoy your prize!
26th March 2019
Spring has sprung! The Junior Room enjoyed exploring signs of new life in our school orchard today! Lovely to see our daffodils in full bloom.
17th March 2019
What a fantastic St Patrick's Day parade we enjoyed in Donegal Town. Special word of thanks to the parents who organised the whole theme, costumes and props. It was fantastic to see so many children enjoy it and our fundraiser is well and truly advertised. Roll on the real I'm A Celebrity Saturday 20th April….
15th Márta 2019
Bhí coicís ar dóigh againn! We have had lots of fun during Seachtain na Gaeilge. From quizzes to ceilís, concerts to hakas we've been busy celebrating all things Irish in the past fortnight! Have a look at the photos below which illustrate some of the activities we've been doing as part of Seachtain na Gaeilge. A special well done to the children who received cinema passes for making an extra effort chun Gaeilge a labhairt i rith Seachtain na Gaeilge. Maith sibh!
6th & 14th March 2019
We are immensely proud of our team who entered the annual Garda Quiz last Wednesday night in the Mill Park Hotel. This was the South West divisional round. They placed joint first and after a nerve-wracking tiebreaker finished in 2nd position. This was a fantastic result as opposition was tough with over 30 schools both small and large attending.
This meant that they had qualified for the county final which was held last night, Thursday 14th March in the Mount Errigal. A fantastic night was enjoyed by all and the team placed 8th out of 16 finalists. Huge congratulations and thanks to both children and parents for all the hard work and support over the past few weeks.
8th March 2019
Computer lesson are back! We are delighted to welcome Bernie Gallagher back to our school where she will be teaching the children fundamental computing skills and Internet safety over the next 10 weeks. Bernie has a wealth of knowledge and the children were so excited to start lessons today.
6th March 2019
A special word of thanks to Fr Ferry who distributed ashes to the children today. We are very grateful for his support in the school over the past few months.
5th March 2019
Oh what a delicious day we had today! Pancake Tuesday and we celebrated in style! A huge thanks to the parents who gave up their time to cook scrumptious pancakes and provide loads of yummy and healthy toppings. The children decided to use this day as a fundraiser for the Patient Comfort fund in Aras Mhic Suibhne Mullinasole. Thanks to everyone who donated.
28th February 2019
Today we celebrated St Brigid's Day by inviting members of our community into our school to show the children how to make crosses. There were so many different designs and variations of crosses that even the teachers learnt a thing or two. Thanks to everyone who came and for your patience in helping the children and also to the parents for the treats!
13th February 2019
Champions!!
Today children from 4th and 5th class in the Indoor Cumann na mBunscol competition in Ballyshannon. Both the boys and girls teams have qualified for Round 2 of the competition and we are so proud of them. They fought hard against teams from Scoil Caitríona and Rockfield NS and came out on top. This is the first time to ever enter the indoor competition so it was fantastic to snatch a victory on their first outing. The teams received a hero's welcome on their return to school. Well done to everyone and we look forward to Round 2 in Inver in a few weeks. Get practising!
4th October 2018
Today saw the official opening of our Sensory Garden and Orchard.
The orchard consists of apple, pear and plum trees and lots of lovely fruit bushes like black currant, gooseberry and raspberry. The children decided to name it "Ava's Orchard" after Ava Feehily Harrington, a former pupil who sadly passed away last year. It will serve as a beautiful memory and tribute to a fantastic girl who is dearly missed by everybody in our school. Parents and members of the community established a path through the orchard which leads down to "Fairyville"; a magical seating area for children to enjoy the outdoors and to view nature. Today the children planted 100 native Irish trees and daffodil bulbs which will brighten up the area in springtime.
At the back of the school we now have a fantastic sensory garden which consists of sensory boards, percussion music stations, a wildflower garden, a bug hotel, bird boxes and feeders, a weather station, a small world play area, sandpit, hopscotch, fairy doors, fraction wall and a garden shed. The main feature is a roofed structure with three raised planter beds. Parents and members of the community worked tirelessly since the beginning of the year to create this fantastic resource. It is an extension of the playground so the children will be able to use it every day during break and lunch time.
We would like to thank the Donegal County Council who provided a grant and to all local businesses who donated equipment, services and materials. It is sincerely appreciated and it will provide an exciting, interactive learning space for children in St. Eunan's National School, Laghey for many years to come.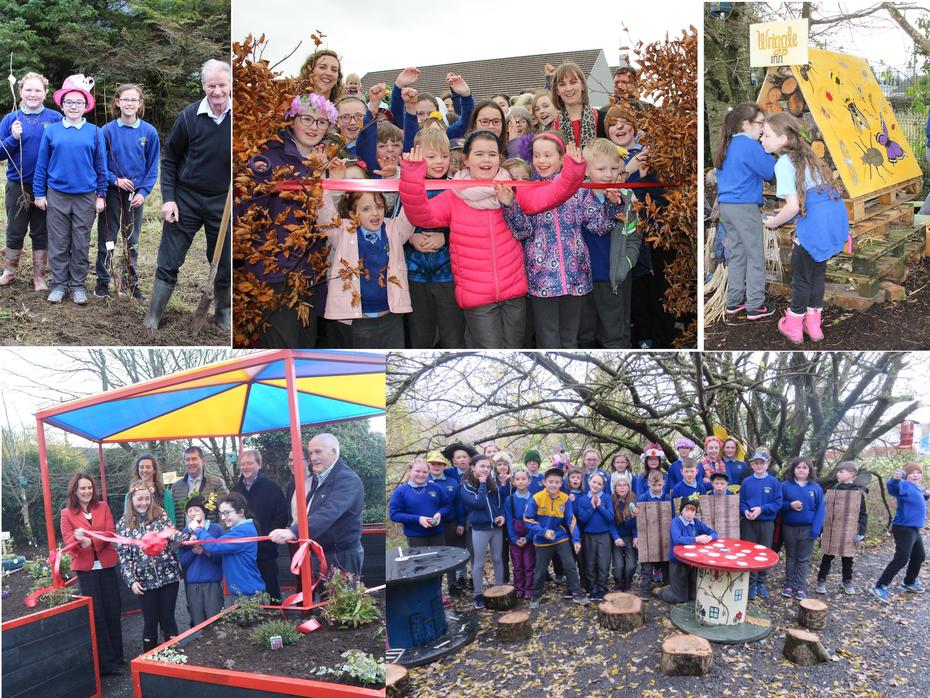 The school would like to sincerely thank the following businesses who so kindly donated or gave their time to our new sensory area and gardens, without your help we could not have completed these beautiful areas for the children of the school to enjoy and learn from:
Roadstone Quarry, Laghey Ashtree Garden Centre, Donegal
Charlie McGarrigle Horticulturalist, Ballintra Damien Kane Builder, Laghey
Clive's Hire Shop, Donegal Samantha Price & Dominic Harrison
Daytona Heavy Haulage, Donegal Envirogrind, Pettigo
Roadteam Ltd, Pettigo Padraic Molloy Electrician, Laghey
R Kee & Sons, Laghey Paddy Ward Music Shop, Donegal
Irwins Hardware, Donegal O'Dowd Donnelly Carbin Insurance, Donegal
P&G Taylor, Laghey FDR Car Sales, Ballintra
Donegal Town Hardware Donegal Tyre Centre
Thomas Precast, Donegal Christy Price Plasterer, Ballintra
Hendersons Hardware, Donegal Eddie Gallagher Carpenter, Laghey
Breege Haughey Artist, Laghey Miss McGroary, Senior Room teacher
Laura Hughes Artist, Laghey Martin Gallagher, Laghey
Edel & Marty Walsh, Donegal Patrick Martin, Laghey
Michael & Kathryn Carron, Laghey Ger Fehilly & Eamon Harrington, Donegal
Emma, James & Hugh Gallagher, Laghey Aidan & Bridgie Gallagher, Laghey
Gerard Martin, Laghey PJ Slattery, Laghey
Colm Hannigan, Donegal Bobby Trimble, Laghey
Ian & Karina Wasson, Laghey Ronan & Carmel McGowan, Laghey
Brian & Anne Gallagher, Laghey Noel & Carol Molloy, Laghey
Lorraine Walsh, Laghey Kirsty Molloy, Laghey
Oisin Gatins, Laghey JP & Ursula Prevost, Laghey
Fergus Dullea, Laghey Mary Gallagher, Laghey
Paul McGroarty & Yvonne Gallagher, Laghey Dermot Langan, Laghey
Gerry Kennedy, Laghey Jayne Elliott, Laghey
Mary Kane, Laghey Sinead McGowan & Johnny Murnaghan, Laghey
Willie Tully, Killybegs Aenghus Kennedy, Nature NW
As you can see there were so many people helping out and we have tried our best to remember everyone, but please accept our apologies if we have forgotten to include anyone in the list above. Again our sincerest thanks to everyone involved.
25th October 2018
Today we had a very exciting day! Everyone was in fancy dress for Halloween . The Active School Committee organised a Halloween Dance in the hall with spooky Halloween music and Halloween disco lights! We had great fun!
It has been a very busy new school year. Our school garden committee have been working extremely hard to develop our sensory garden and orchard! They are making super progress. We are so excited to see the finished product. Many thanks to all the parents and local businesses who are supporting this development and giving up their time, money and expertise.
Enter text...
21st June 2018
Thursday was school tour day! Junior infants to 2nd class had a fabulous time at Arena 7 and Tropical World! It was fantastic! Here are some pics of our day out!
Arena 7: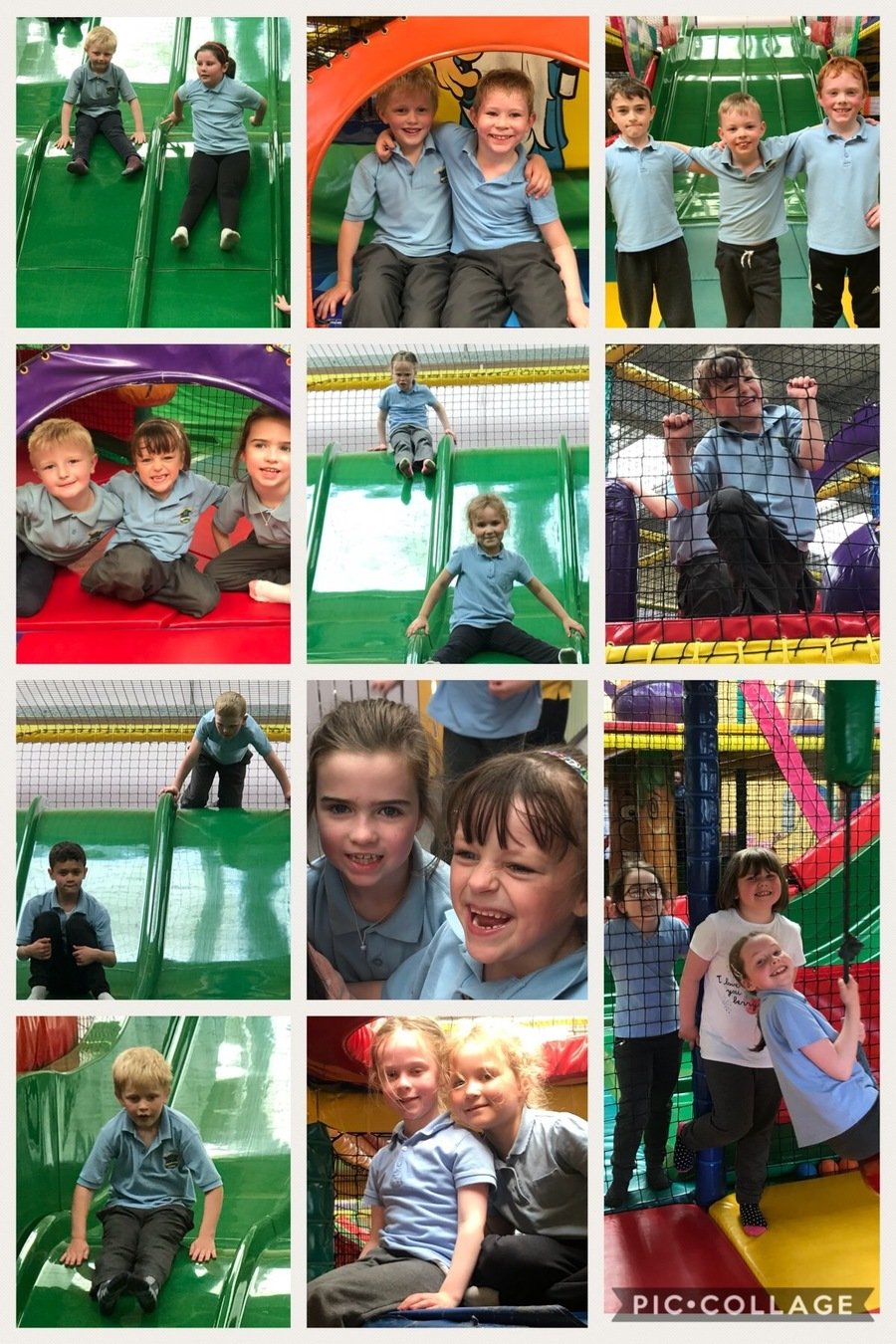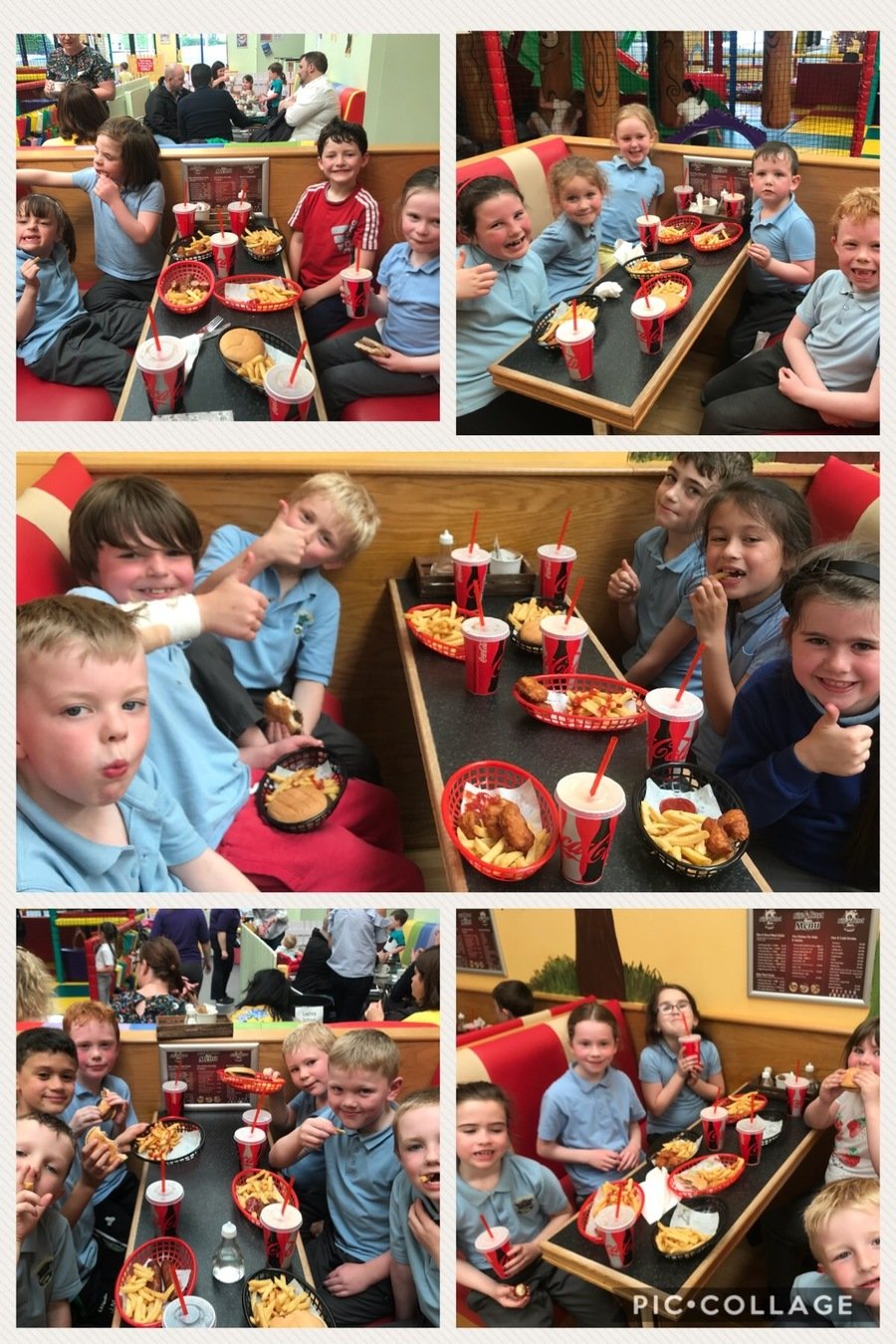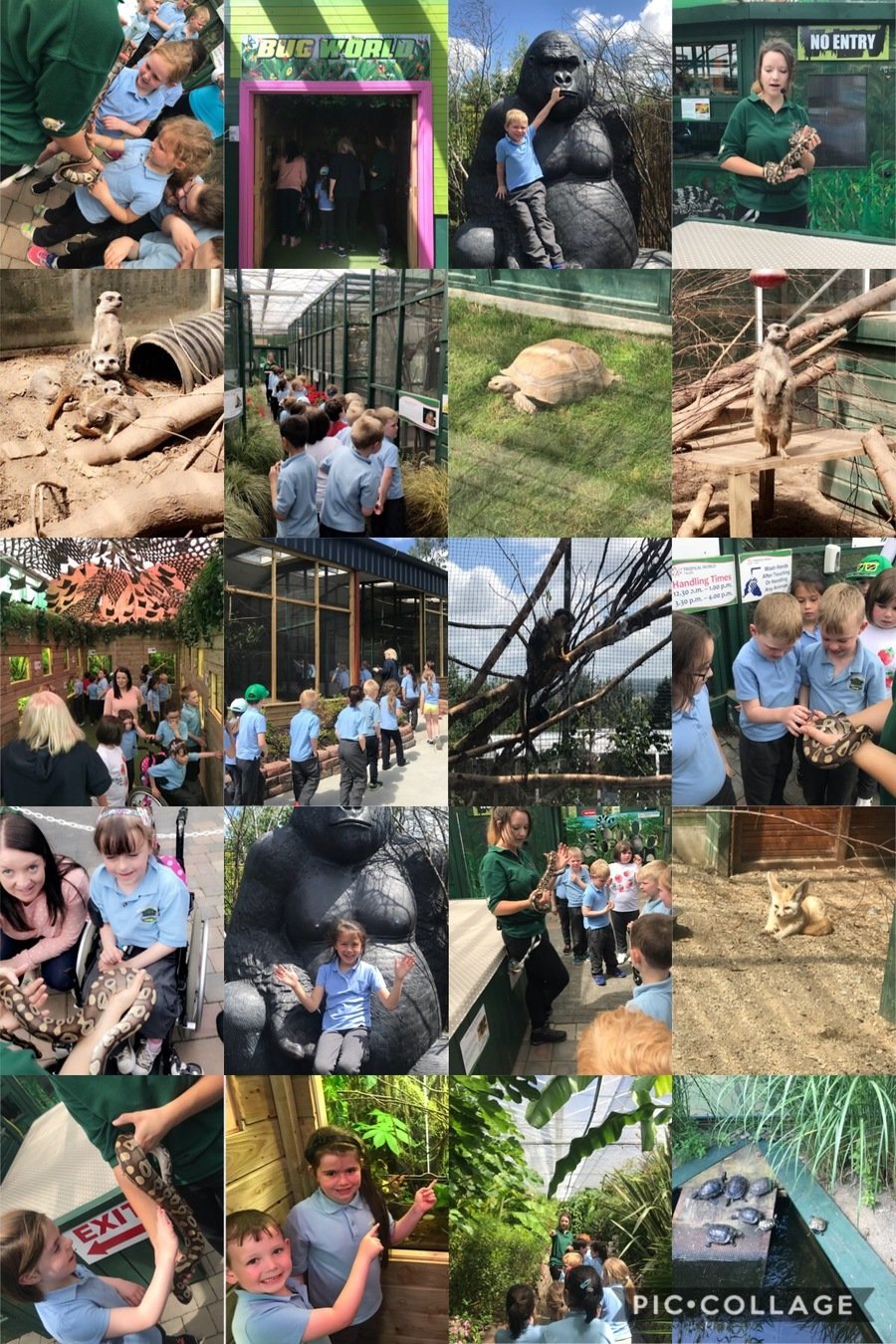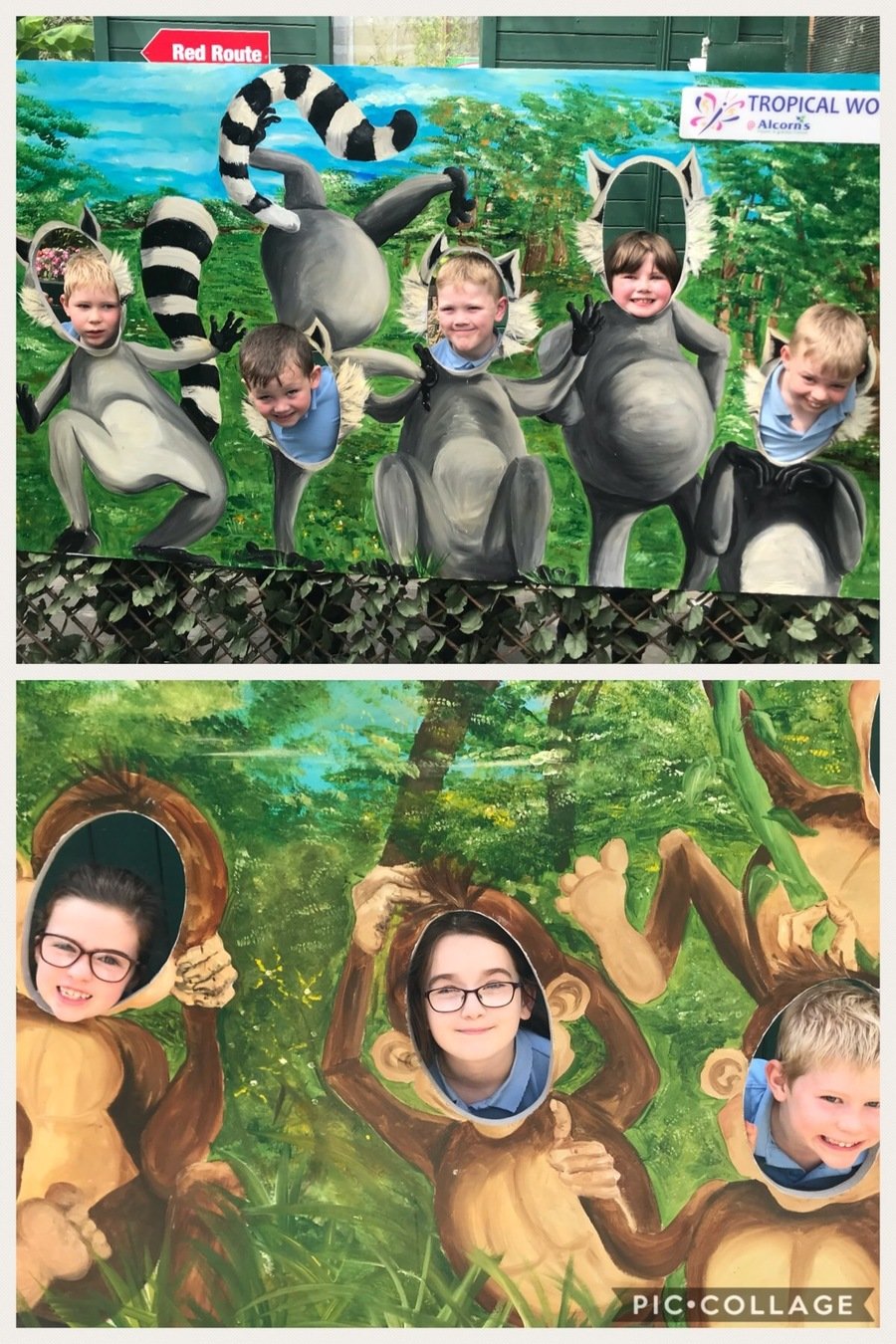 The Seniors went to AWOL in Monaghan, an outdoor adventure centre! They had a busy day with lots of activities. Here are some photos of the busy day!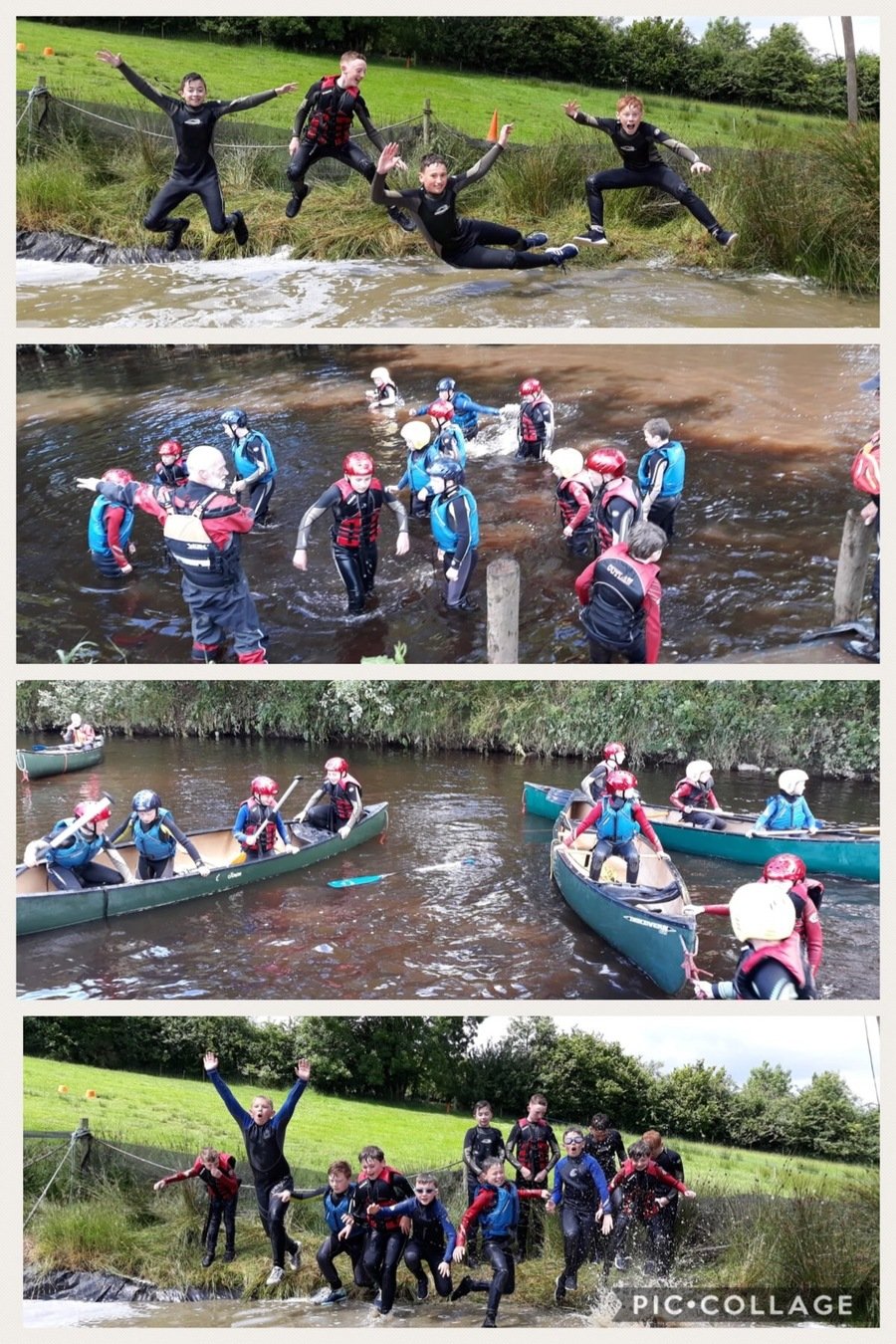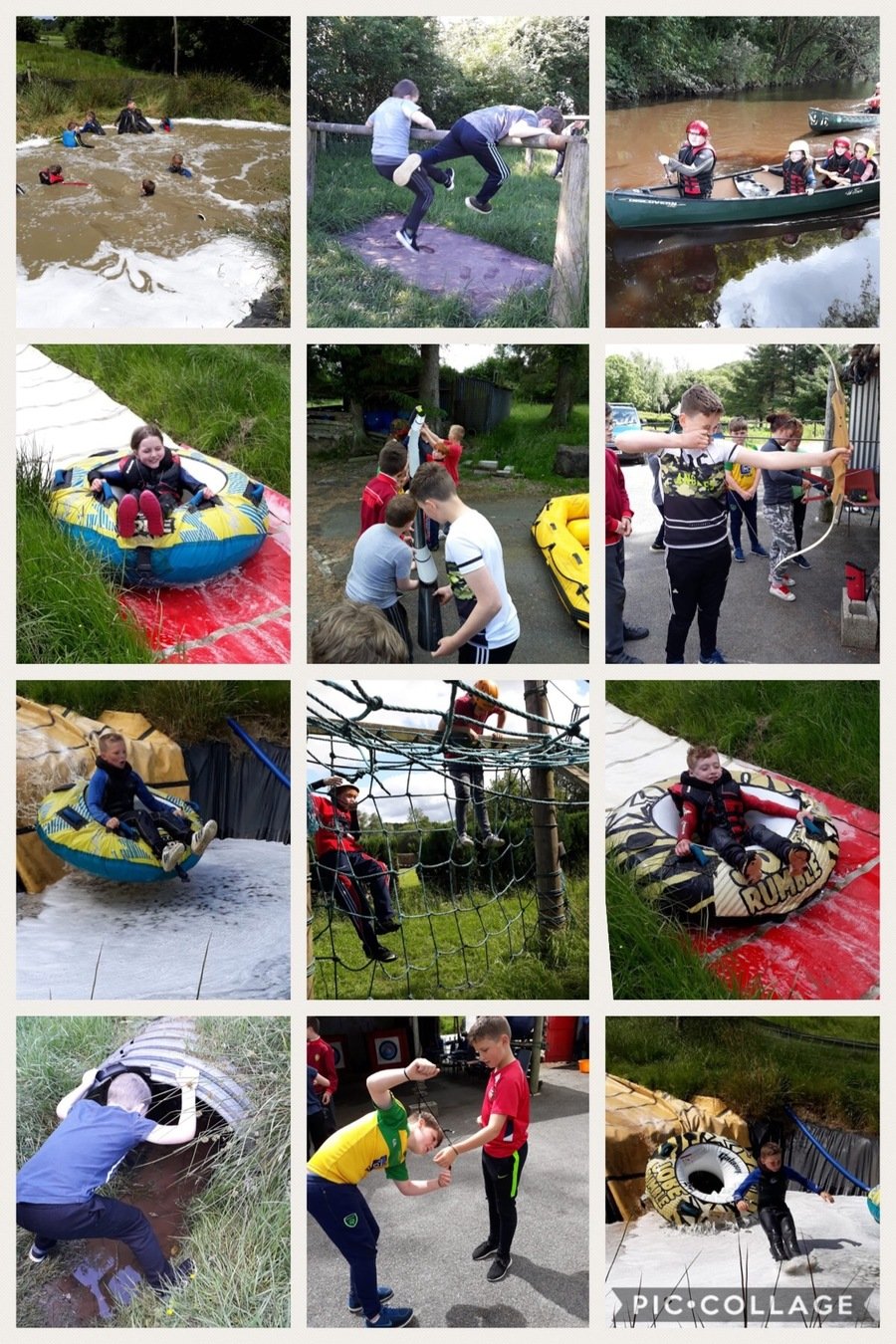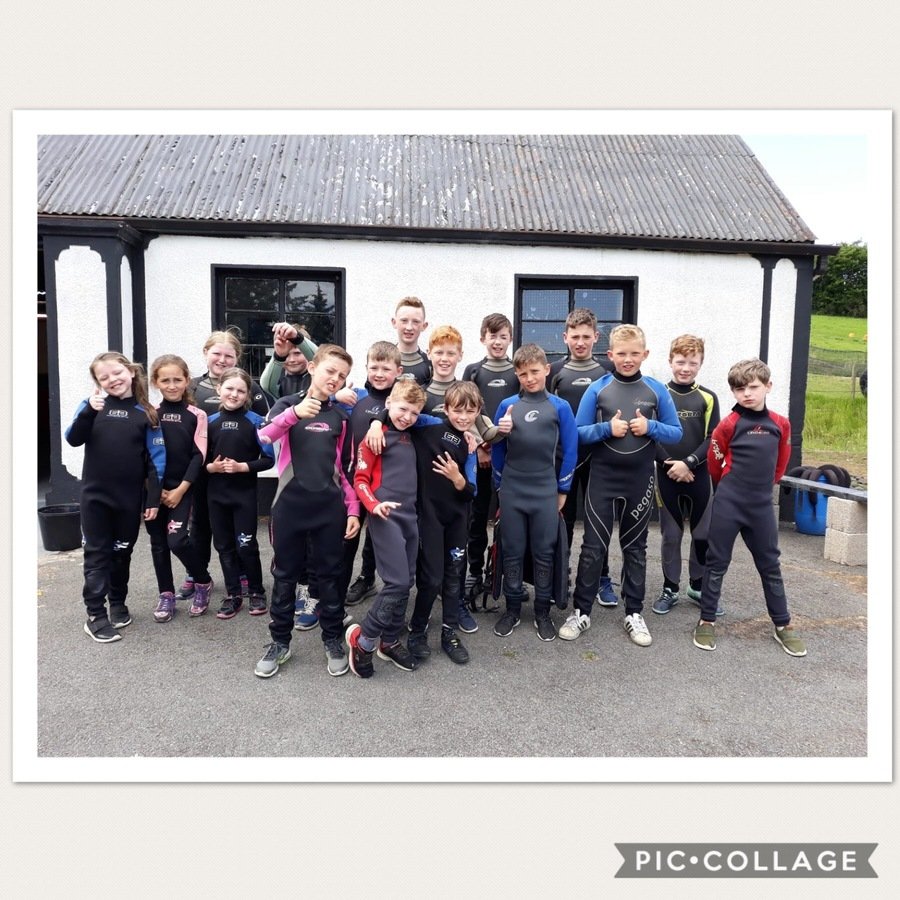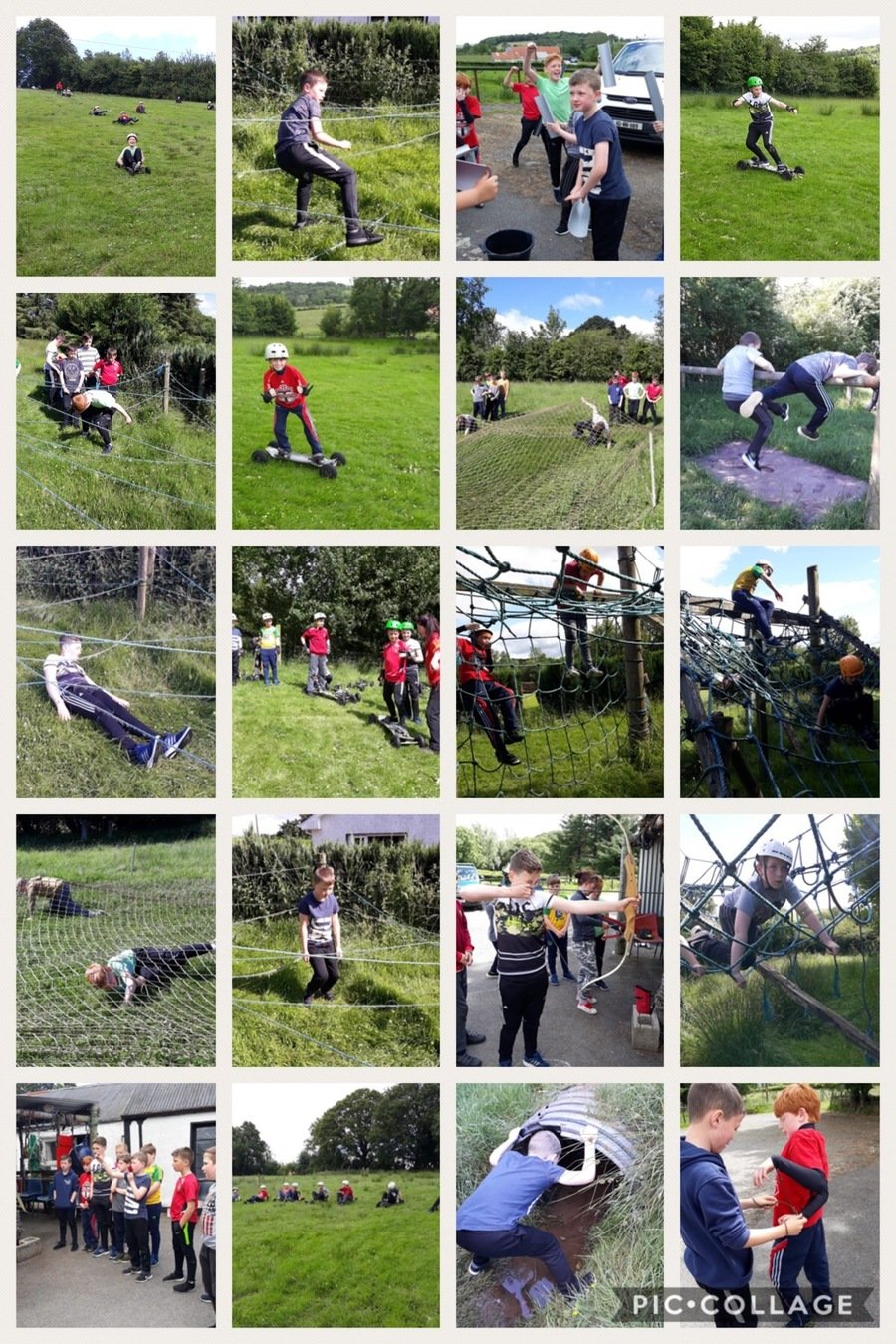 18th - 22nd June 2018
We kicked off Active School's Week in style with our annual Sport's Day. The emphasis was on participation and fun and judging by the laughs and smiles of the children we succeeded! There were the traditional races like the Sack Race, Egg and Spoon, Sprint and Three-Legged Race. The new race for this year was a Shoes in Hands race which saw the children crawling on all fours to the finish line. We finished with the Tug of War where the girls showed the boys their strength! A brilliant afternoon was had. Thanks to Yvonne and Grainne Gallagher for providing hotdogs and crepes on the day.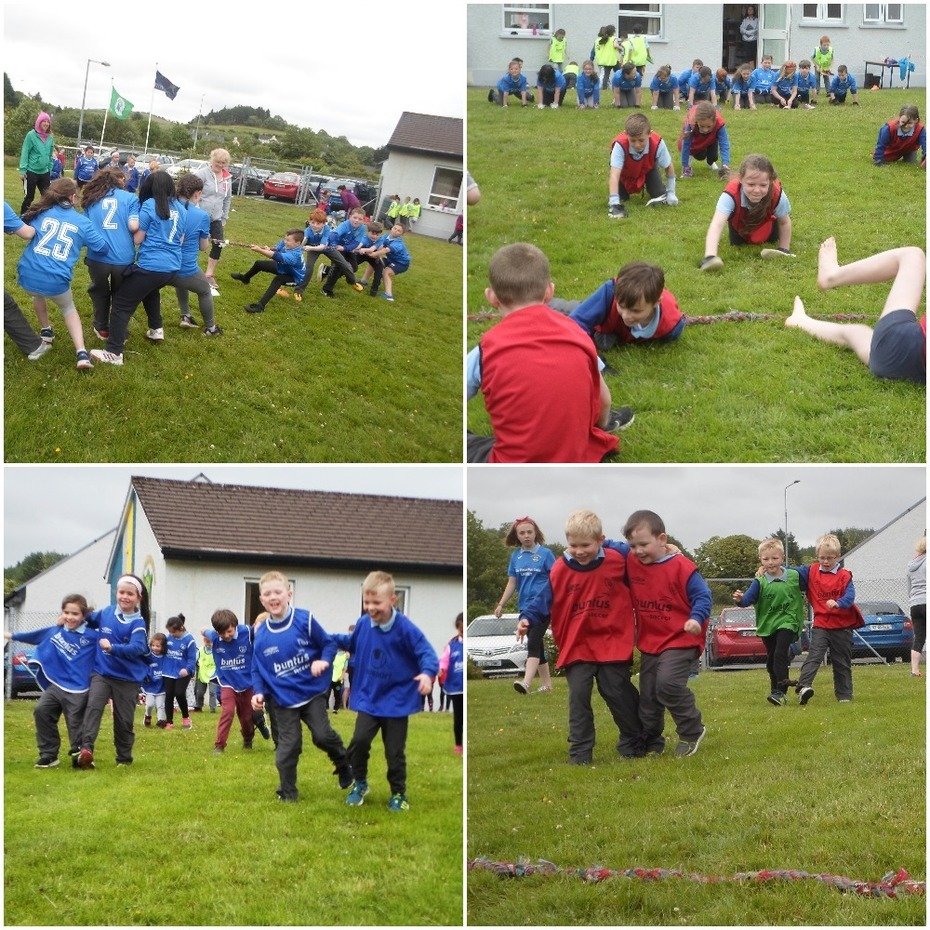 On Tuesday we had our GAA coach Brian Roper in to visit and help us improve our G.A.A skills. Professional golfer Leslie Robinson then showed us the basics of golf. We had great fun! Wednesday morning started with a water safety talk with Aidan Mc Guinness. It was very interesting and we learned lots! Our computer teacher Bernie Gallagher (and basketball expert!) demonstrated and helped us improve our basketball skills. We have really enjoyed using the basketball hoop over recent weeks (thank you Brian Gallagher!). The senior room set up a really fun obstacle course for the junior and middle room. Finally a member of the RINKA team visited and we played some fun games and dance activities. Other activities included cycling, dodgeball, rounders, athletics and go noodle on the interactive white boards.
Sunday 17th June 2018
On Sunday 17th June St. Eunan's NS Laghey hosted a Family Fun Day in memory of their beloved little pupil Ava Fehilly Harrington who sadly passed away last August. Ava was a very important & much loved member of their school family and she is very much missed by everyone in the school. A fun-filled day was had with a huge crowd in attendance. There was something for everyone at Laghey school on Sunday, with bouncy castles, facepainting, toy & book shop, sweet shop, bake sale, BBQ, ice-cream & crepes, pop up nail bar & hair salon, tug o war & even live music by 'Buck Wild'. Even though the rain came it didn't dampen the spirits with the Daddy's & even the staff getting out to compete in the Tug 'o' War organised by Philip Timoney. The school would like to thank all the local businesses who donated the food & raffle prizes, all those who helped out in any way with the running of the event, all the people who gave their time & helped out on Sunday and all the people who attended and gave donations. All money raised will go to Donegal Down Syndrome & Bumbleance, two great & worthy charities who helped Ava & her family very much.
Murvagh Seashore Safari 14th June
Padraic Creedon from the charity "Leave No Trace" paid us a visit today. He gave a presentation on sealife and how to protect our oceans. After learning all the theory it was time to put it into action by doing a "Seashore Safari" at Murvagh beach. The children used nets to examine the sealife on the shore and were amazed at what they saw. We then did a short walk through the dunes and discovered moths and butterflies. It was a fun day out in our local area.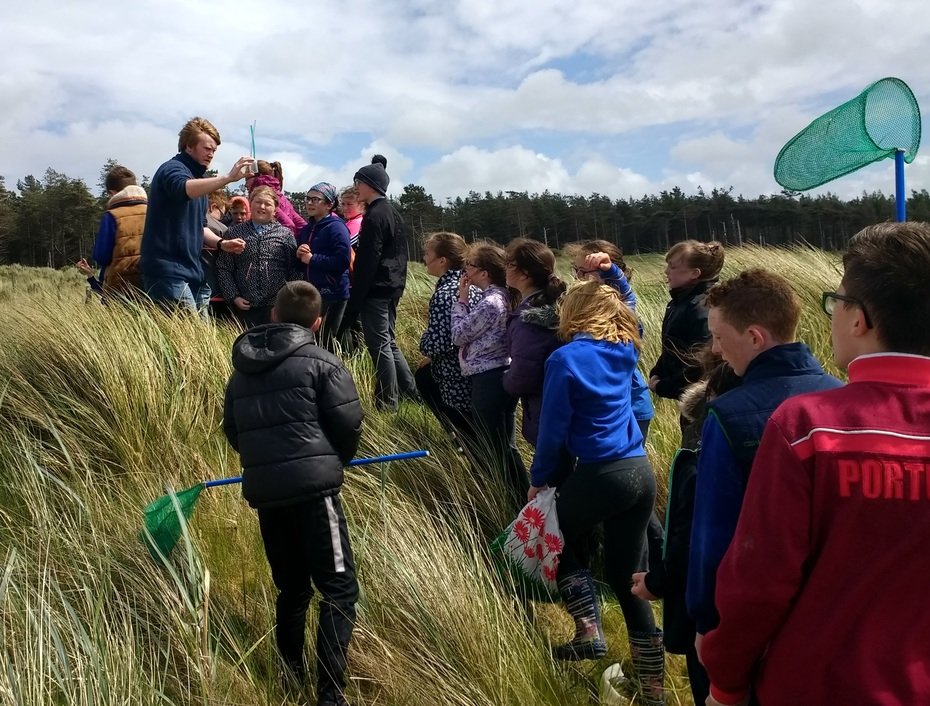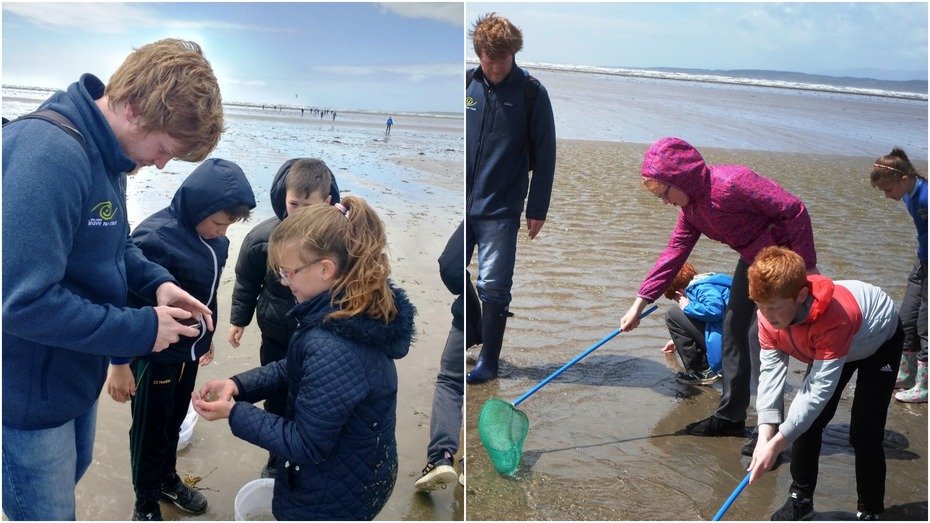 Naomh Brid Football 13th June
Naomh Brid kindly invited children from 3rd-6th class in our school, St. Ernan's and Roberston to attend a blitz at their grounds. The teams comprised of children from all 3 schools and this contributed to great cooperation, participation and making of new friendships. Thanks to all involved in Naomh Brid for such an enjoyable day.
Basketball Tournament 8th June
Pupils from 5th and 6th class made history today by becoming the first group to enter into the Southwest Donegal 3 x 3 Basketball tournament. It was on in Ballintra Community Centre and the teams did very well considering it was their first time. Special thanks to Emma Meehan who coached the teams in our school and helped out on the day. As many of you may have noticed the school now has a basketball hoop and all classes are enjoying playing basketball. Let's hope we can go from strength to strength in this annual tournament.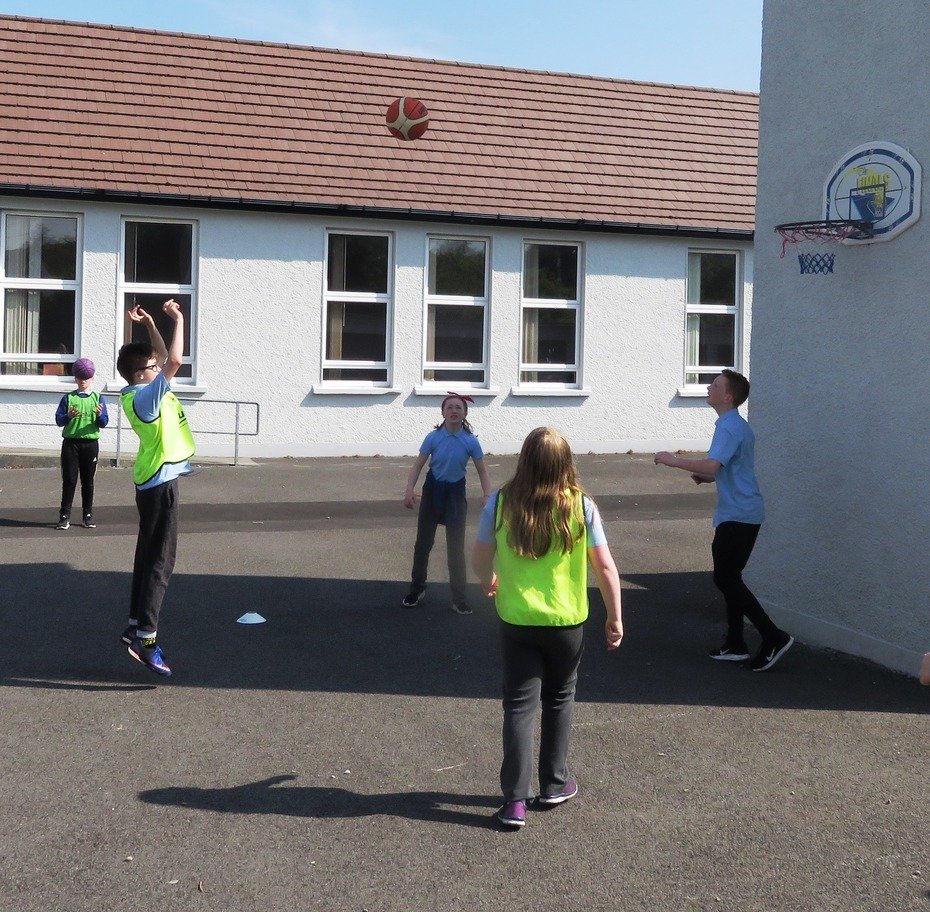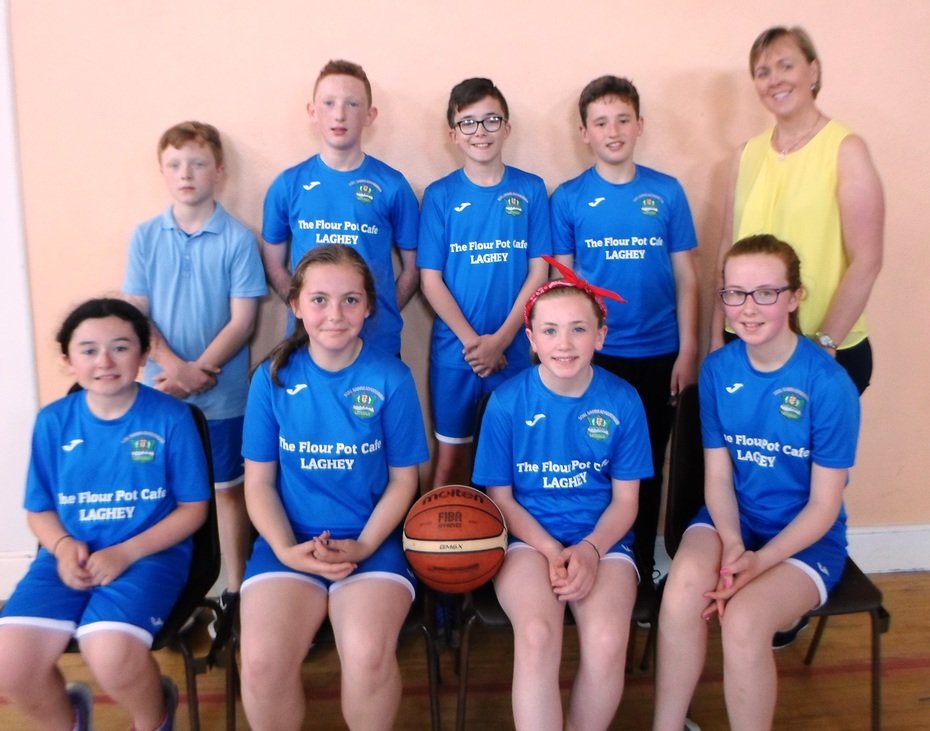 Treasure Hunt 6th June
When the sun shines its treasure hunt time! The Seniors designed treasure hunts based on our local biodiversity. Children from Junior Infants to 3rd Class had to identify trees and flowers in order to solve clues and find the treasure. It was a really enjoyable activity and a lovely opportunity to appreciate nature in our school grounds.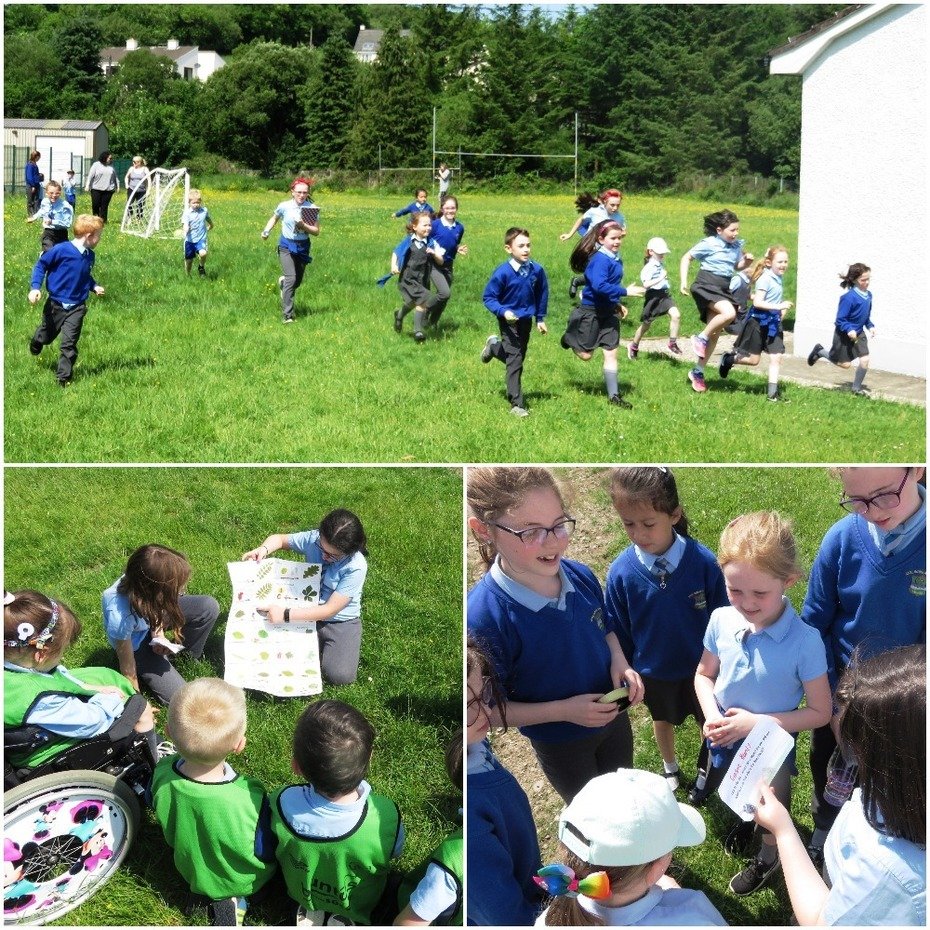 24th May 2018
Oh what day! The sun was shining this morning as children from 3rd - 6th class headed off to the Abbey Vocational School for the annual South Donegal Athletics tournament. Children participated in some of the 7 events on offer; relay, sprint, middle distance run, long jump, shot putt, high jump, javelin. The weather was beautiful and the children got the opportunity to catch up with friends from the other 14 schools. Special congratulations to Alanna who received a gold medal for the javelin.
14th May 2018
5th and 6th class enjoyed VIP treatment in St Eunan's staff room for their lunch today. There was chips, chicken goujons and pizza on the menu followed by delicious ice cream. Afterwards all of the children in the Senior Room relaxed for the afternoon and watched a DVD while munching on some nice treats.
13th May 2018
Congratulations to all the children in 5th and 6th class who made their Confirmation today. The sun shone brightly and they all scrubbed up so well! A huge thank you to the parents from St Ernan's and St Eunan's who provided an impressive spread in the community centre for all families and visitors to enjoy. Enjoy the rest of your day.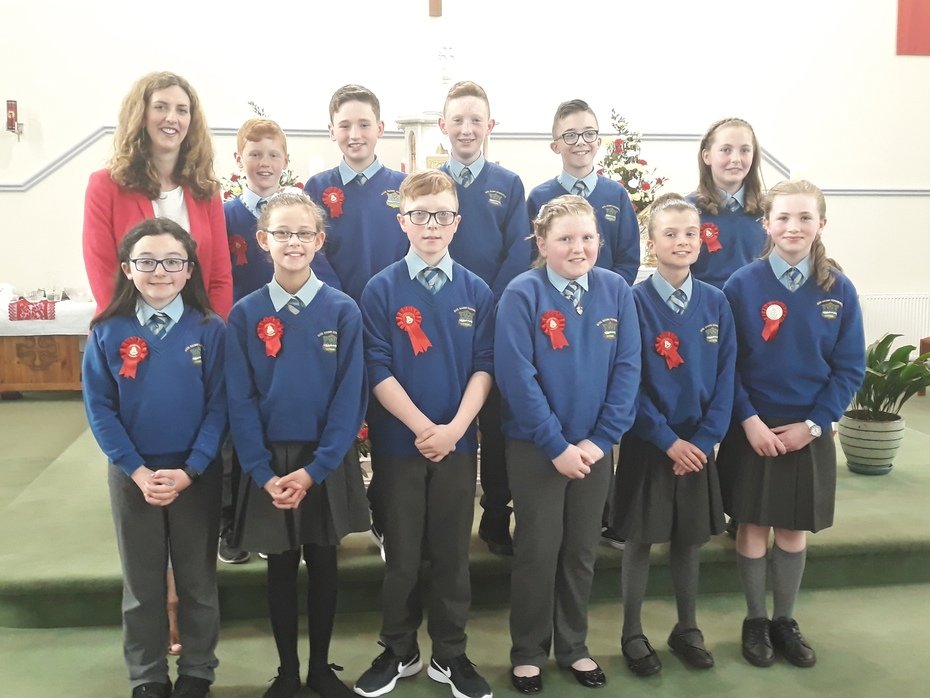 1st May 2018
We had our second visited from Stephanie today to continue the programme based on "Our Community." The children had a very exciting activity to complete today! They had to imagine they were in a factory and had to organise a production line for making donuts. There were five children in each group and they all had a specific job to carry out. When everyone was organised, the timer began to see which group could make the most donuts correctly in two minutes.
Following this, all groups got the opportunity to tell the class how they organised their production line. In addition, the children also noted what worked well for them and thought of ways they could improve the production line. Once this was completed, each group was given another two minutes to create more donuts. It was clear to see that most groups produced more donuts the second time around. It was a really enjoyable lesson and the children loved it. Thank you Stephanie.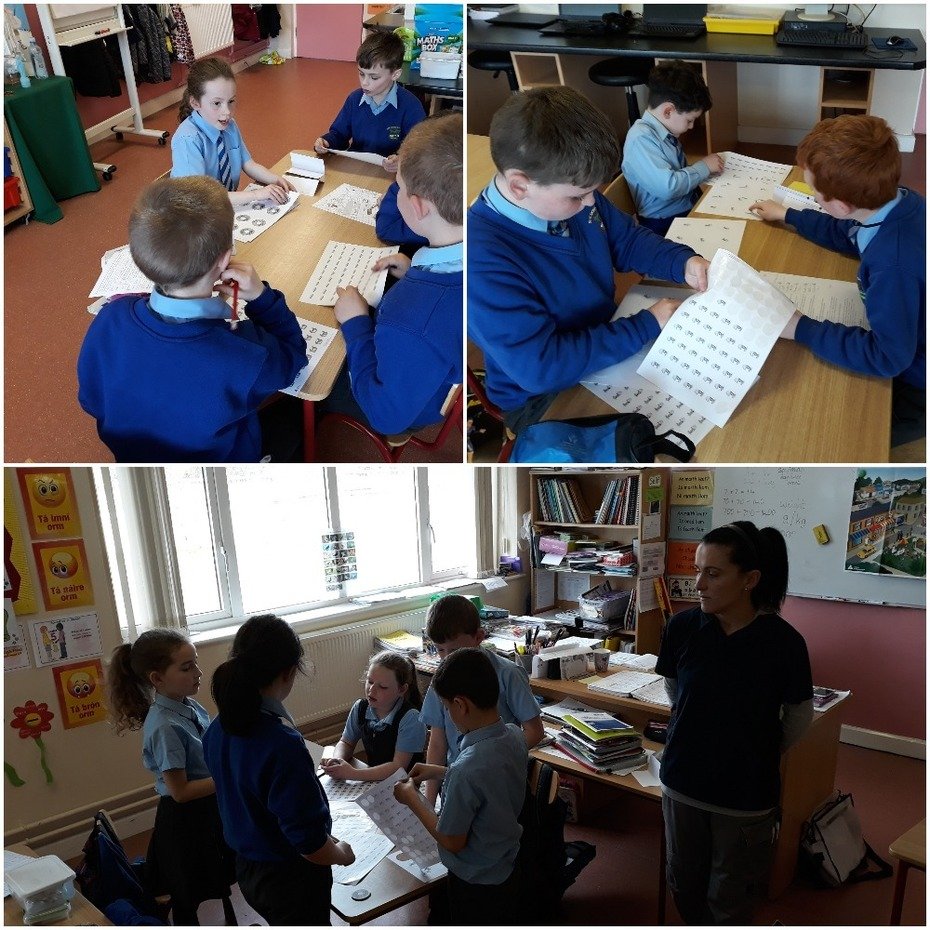 30th April 2018
Party time! All children in Second Class who made their First Holy Communion enjoyed "Afternoon Lunch" in the staff room today. The children had pizza and chips with their favourite ice-cream for dessert. After lunch it was movie time with their class where they had treats galore!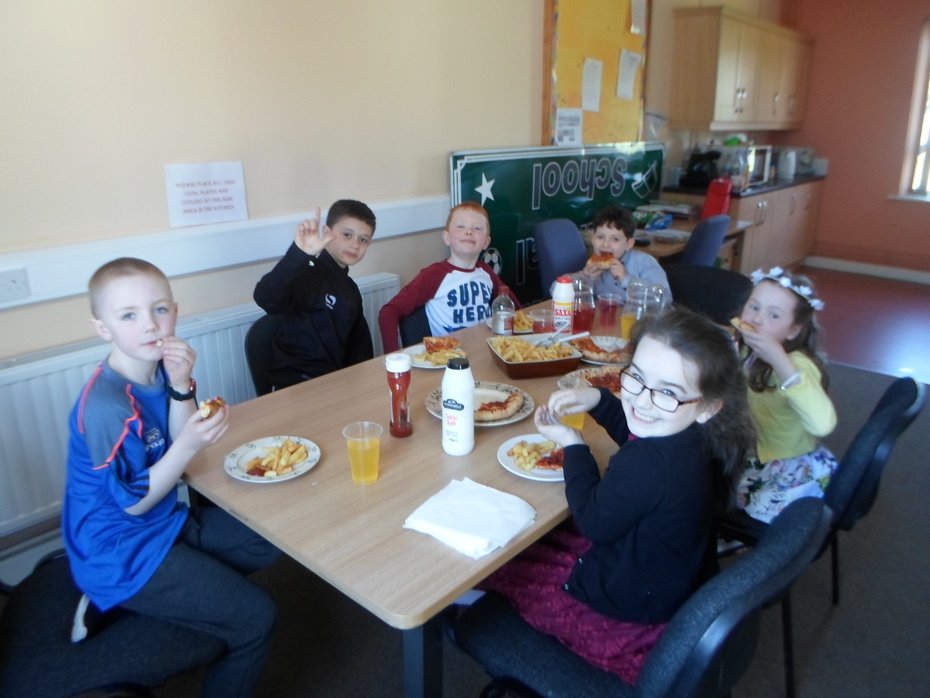 29th April 2018
Congratulations to all the Second Class children who made their First Holy Communion today. They all looked so well and we hope they enjoyed the special day with their family and friends.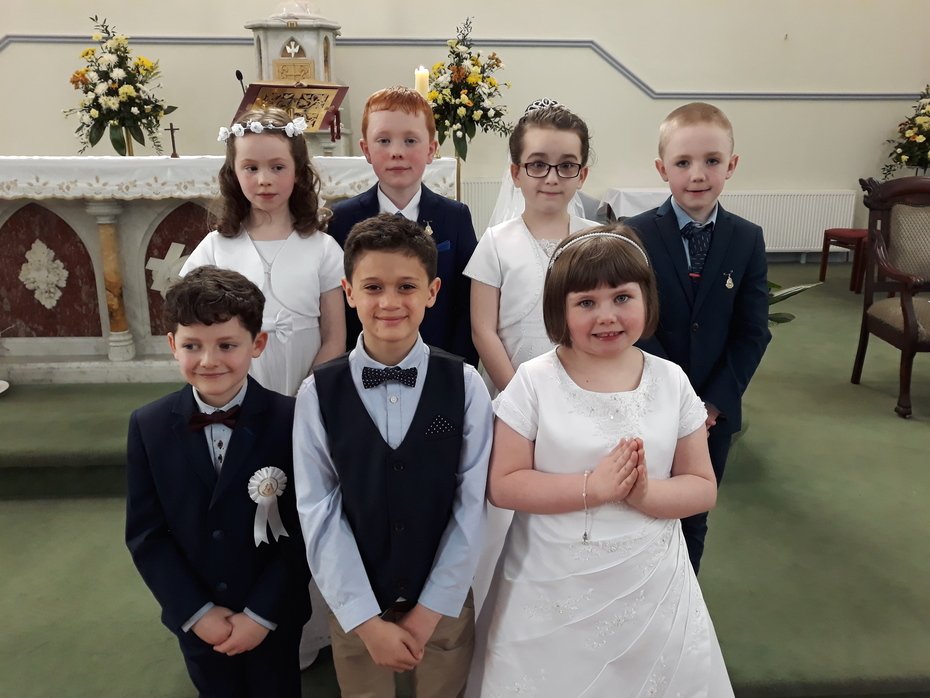 27th April 2018
Leslie Robinson kindly offered to provide 2 golf lessons to all children in the school which was thoroughly enjoyed by all.
26th April 2018
Today the children were standing to attention when Corporal Francis Coleman and Sergeant Paul Gillespie visited our school to talk about their jobs in the army. They explained about their roles and responsibilities in protecting the State. The children were enthralled watching a video about a day in the life of a cadet. Corporal Francis is in charge of new recruits so he gave a realistic insight into the recruitment and training process. To end he re-enacted a morning line up with 6th class. Only a few passed his strict inspection.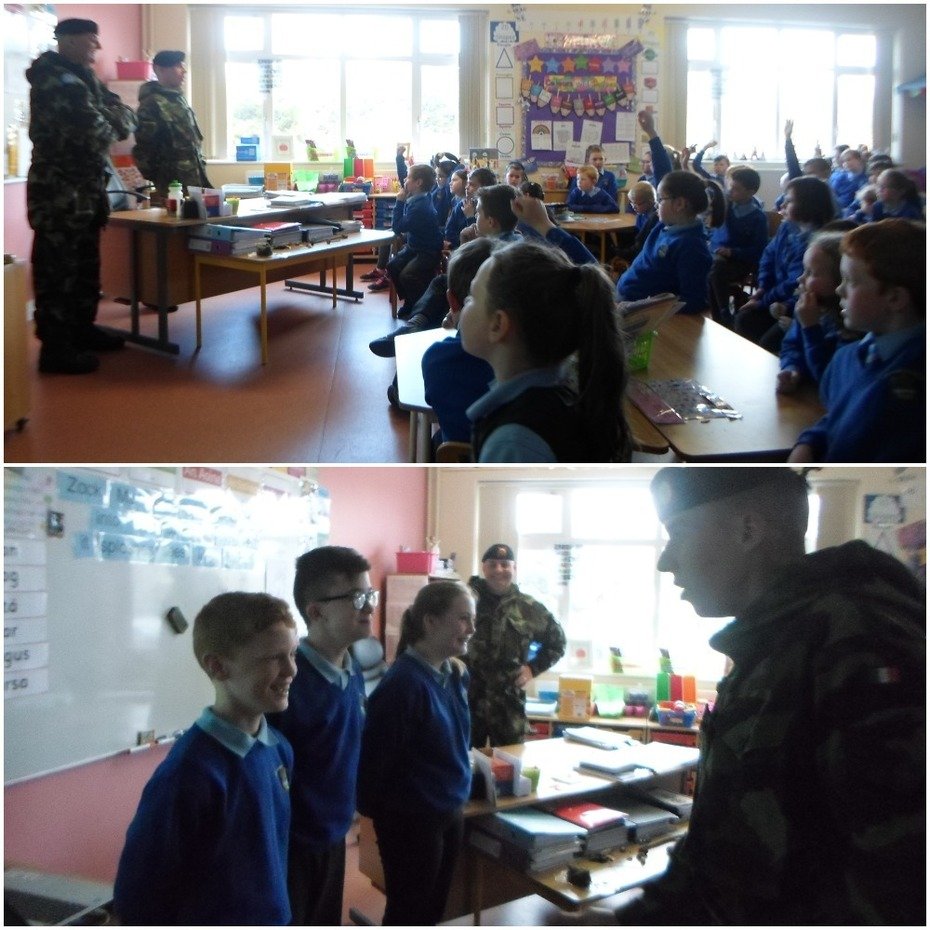 25th April 2018
The children from the Senior Room participated in the Cumann na mBunscol today. We were drawn against St Peter's NS Mountcharles. It was a very enjoyable day and everyone got an opportunity to play. Unfortunately luck wasn't on our side today but that didn't stop us making the most of the day. Special word of thanks to Terence Kilpatrick for refereeing in such a fair manner. As a lot of the boys and girls now play with Naomh Bríd we hope to come back stronger next year.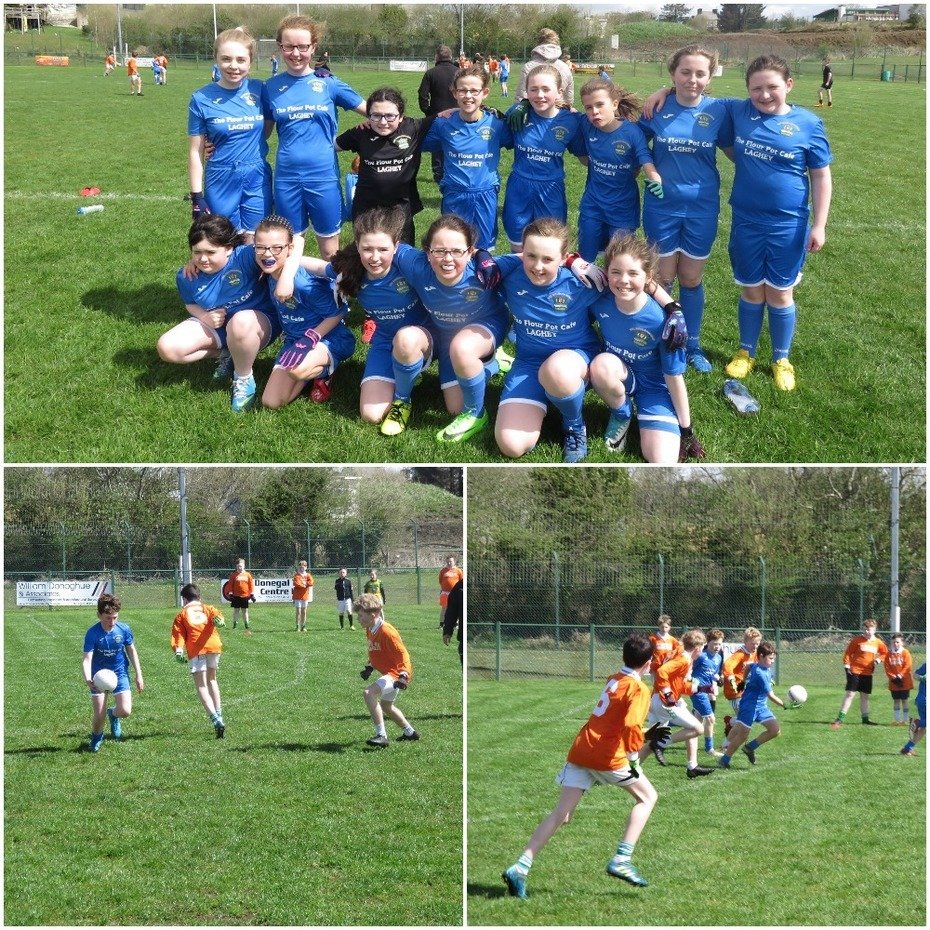 24th April 2018
Today Annie and Mary Kate's mammy visited our school as part of our 'People who help us' month. Caitriona is a nurse in Letterkenny University Hospital. She works on the Coronary Care Unit. She works day shifts and night shifts, 7 days a week (and sometimes has to work on Christmas day!!!). She told us lots of facts about our hearts! It is about the size of a closed fist. It takes 8 seconds for blood to travel from your head to your heart and 16 seconds to travel from your toes to your heart. It beats 100,000 times per day!! We looked at a poster of the heart and how it works in our body. Caitriona explained how important it is to look after our bodies; by drinking lots of water, eating healthy foods and exercising. We listened to our own hearts using a stethiscope and she checked Jody's blood pressure! Thank you Caitriona we really enjoyed your talk.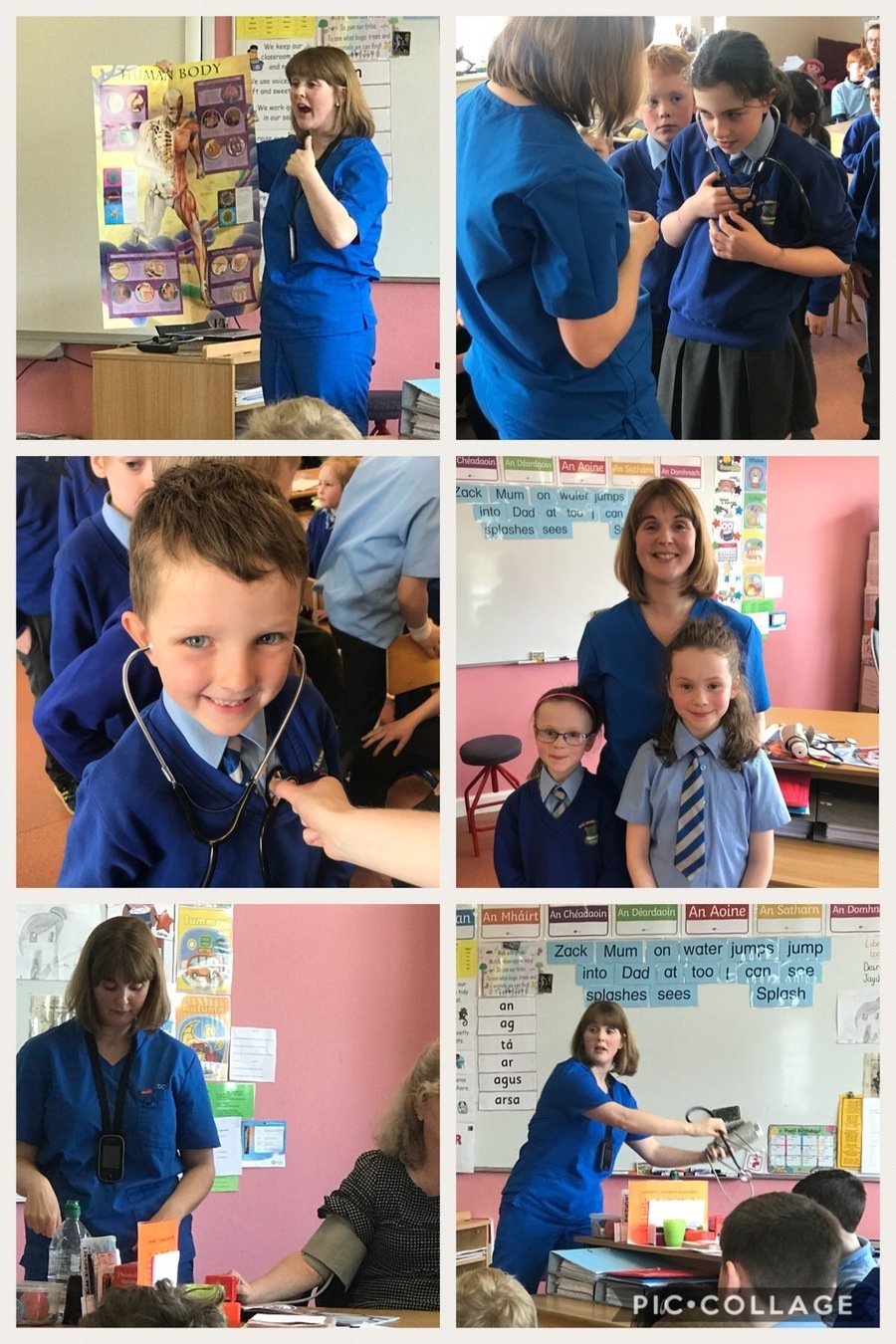 23rd April 2018
Donegal Town based fire officer Eugene paid us a visit today as part of our "People Who Help Us" month. He started by explaining about his job and all that it entails. He discussed the importance of a fire evacuation plan for our homes and school. He then reminded the children of the emergency numbers and talked about his experience of fire fighting in the local area over the past 20 years. The children had a lot of questions for him and it was a great opportunity for them to refresh their knowledge of fire safety at home and in school.
20th April 2018
Stephaine from Abbott Ireland visited our school to deliver part of the Young Achievers Programme to the children in second and third class. The theme for the programme is "Our Community" and it will continue over the next four weeks.
Through fun activities and a discussion on "How a community works" the children;
1) identifyed a variety of jobs in the community
2) recognised how people live and work together in a community
3) become aware of a wide range of job opportunities.
The children are already looking forward to Stephaine's visit next week.

Today the junior classroom enjoyed a nature walk in the sun! We were looking for living/non-living and natural/man-made items! We had great fun learning in the surrounding area! Here are some photographs of our lovely afternoon: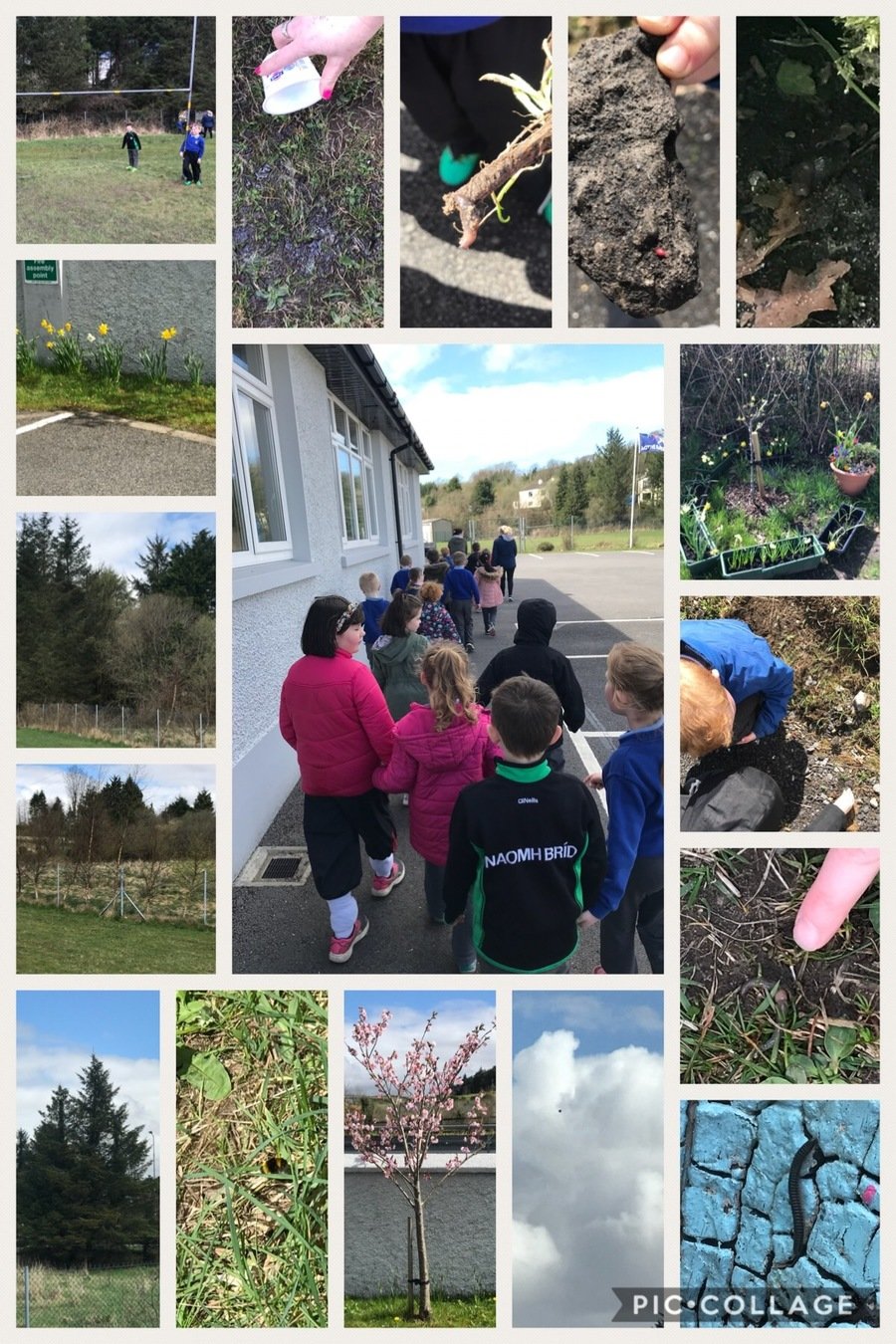 19th April 2018
The children from the Senior Room enjoyed a trip to Abbott Factory in Donegal Town. They had written letters to various businesses around Donegal asking them to reduce single use plastic. Abbott responded to the letter and invited us in to show how they were caring for the environment. The children enjoyed a Q & A session in the boardroom. Then they went outside for a trip around the pollinator garden. As we are establishing a pollinator garden in our school we got lots of ideas on which plants are suitable, how to build bug hotels and different types of nesting boxes. It was a really enjoyable day as you can see from the photos below.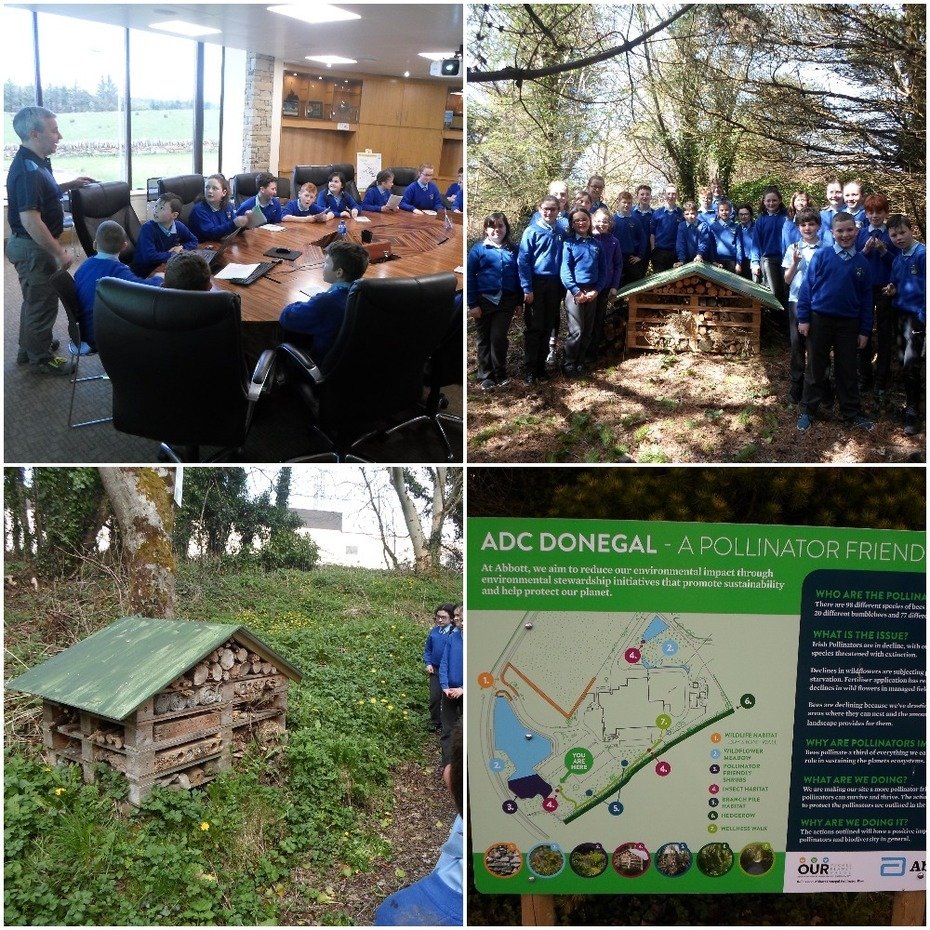 16th April 2018
A bee keeper visited our school today. It was so interesting! David Murphy showed us some of the equipment he uses at home. He explained the life of a bee and what he has to do to look after them. He brought in some candles made from bee's wax and we tasted some delicious honey! It was so sweet!! This talk also helped with our latest Green School Flag as we are learning all about biodiversity! Thank you David.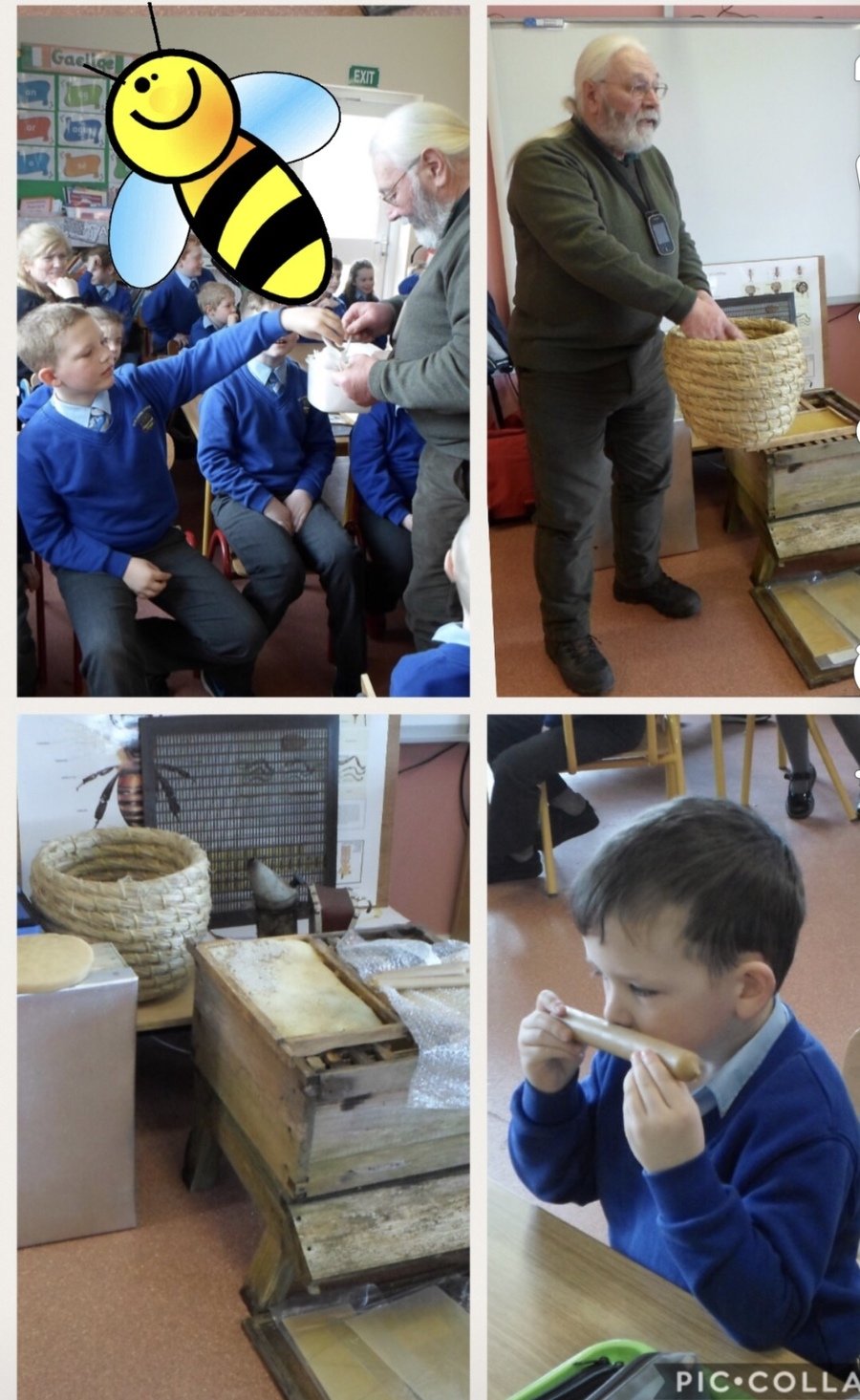 5th April 2018
Our first visitor as part of our 'People who help us' month arrived today! It was Seamus Mc Groary (Mia, Aimée and Sarah's uncle). He is a lorry driver and owns Daytona Haulage. We loved learning about the life of a lorry driver, the lorries and the goods they transport. Look at our pictures to see the big lorry he parked in our front yard! We all got into the lorry for a look. There was even a bed to sleep in! Some lorry drivers travel a long way from home and have to sleep in their lorry for a few nights. Seamus brought in photographs too! Thank you Seamus.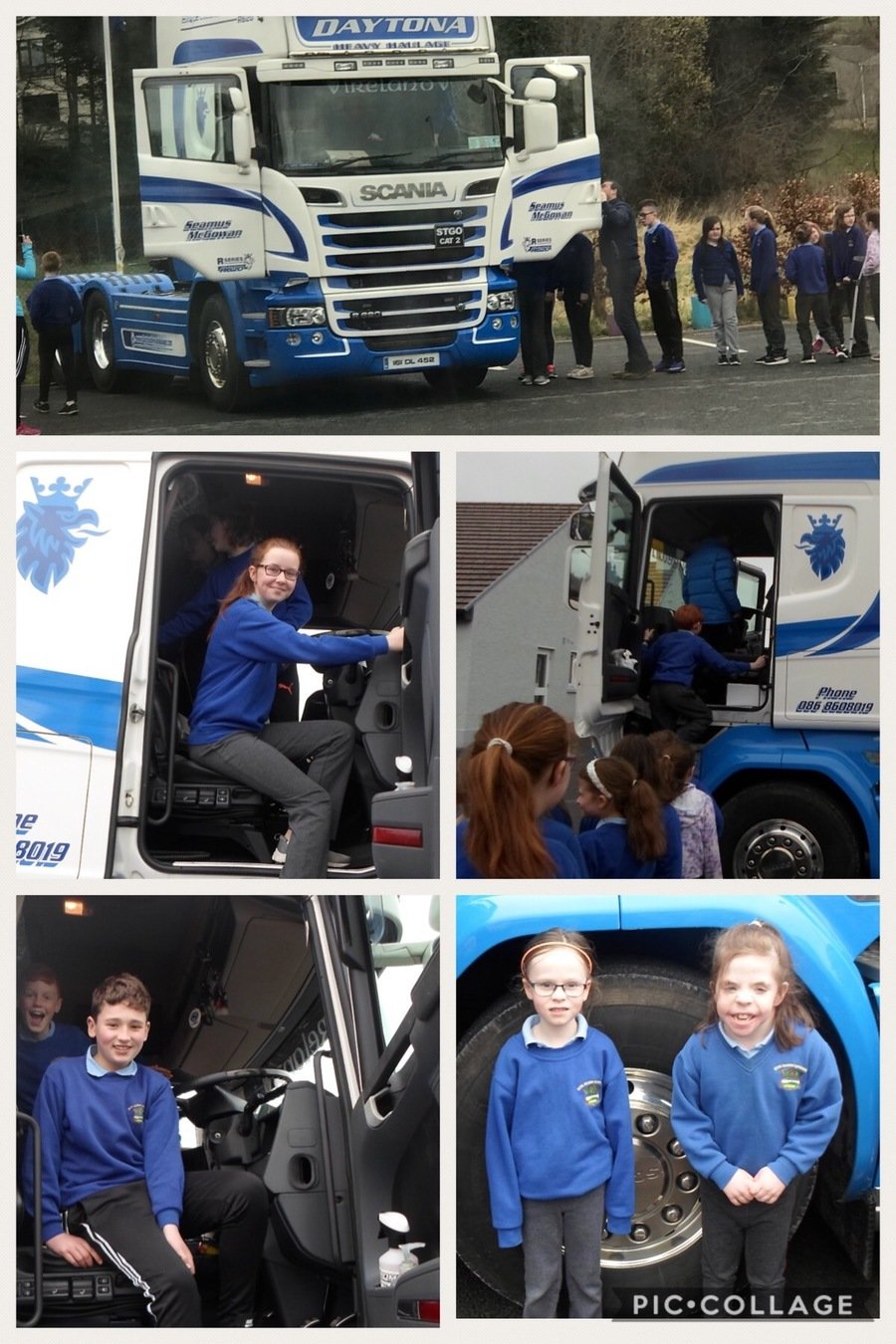 1st April 2018
Many thanks to everyone who attended the Easter Sunday Bake Sale today in Ballintra Community Centre. It was a great success with lots of yummy treats on offer!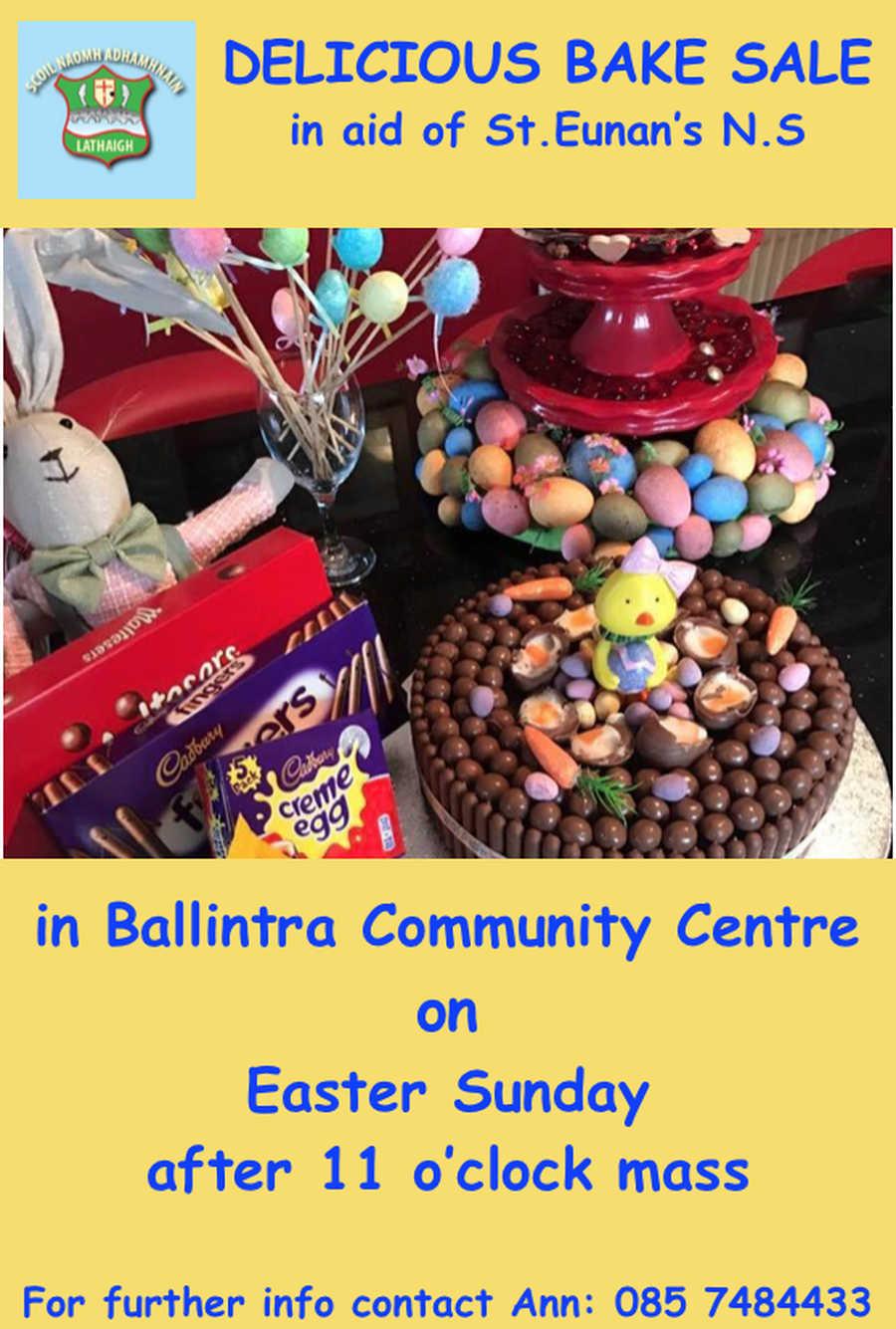 7th March 2018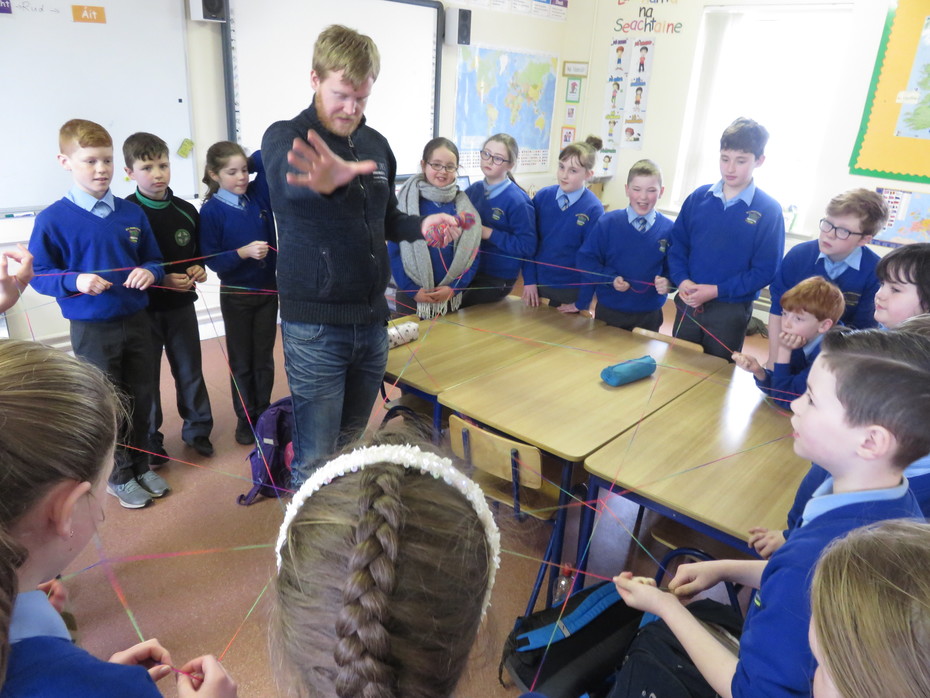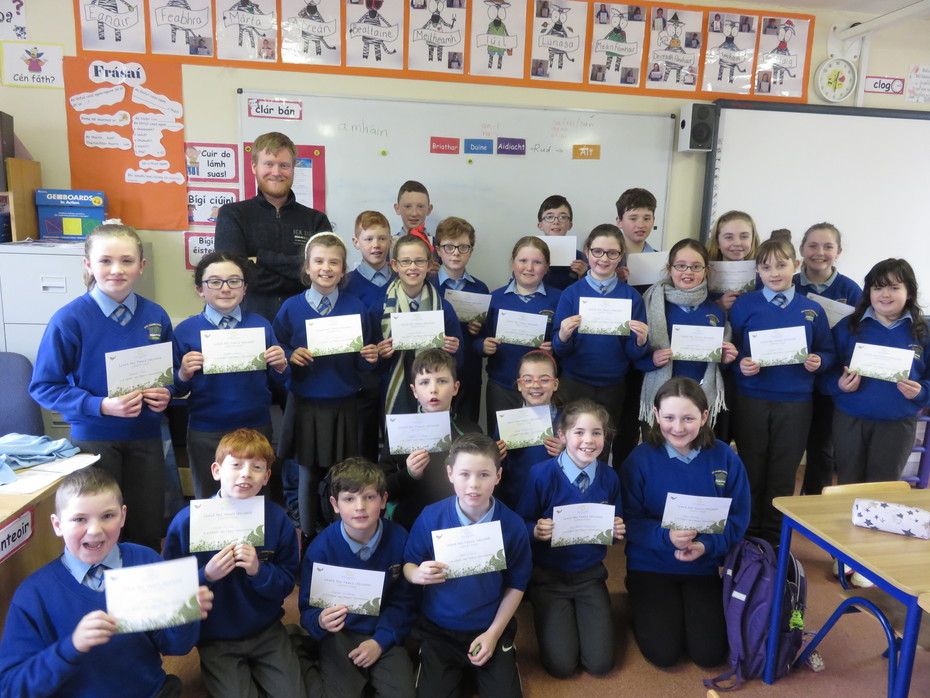 Both the Middle and Senior Room enjoyed a workshop from Padraic from the "Leave No Trace" charity. Padraic covered the topics of food chains, biodiversity and biodegradable materials in a fun and interactive manner. We all enjoyed the games and he was very impressed by our knowledge of all living things.
28th February 2018
Well done to the girls who participated in the Garda Quiz in the Mill Park this evening. They researched and practised a lot and this all paid off with a fantastic score in the quiz. Both they and the subs were fabulous St. Eunan's representatives. Thanks to everyone who came to support the team. Congratulations girls!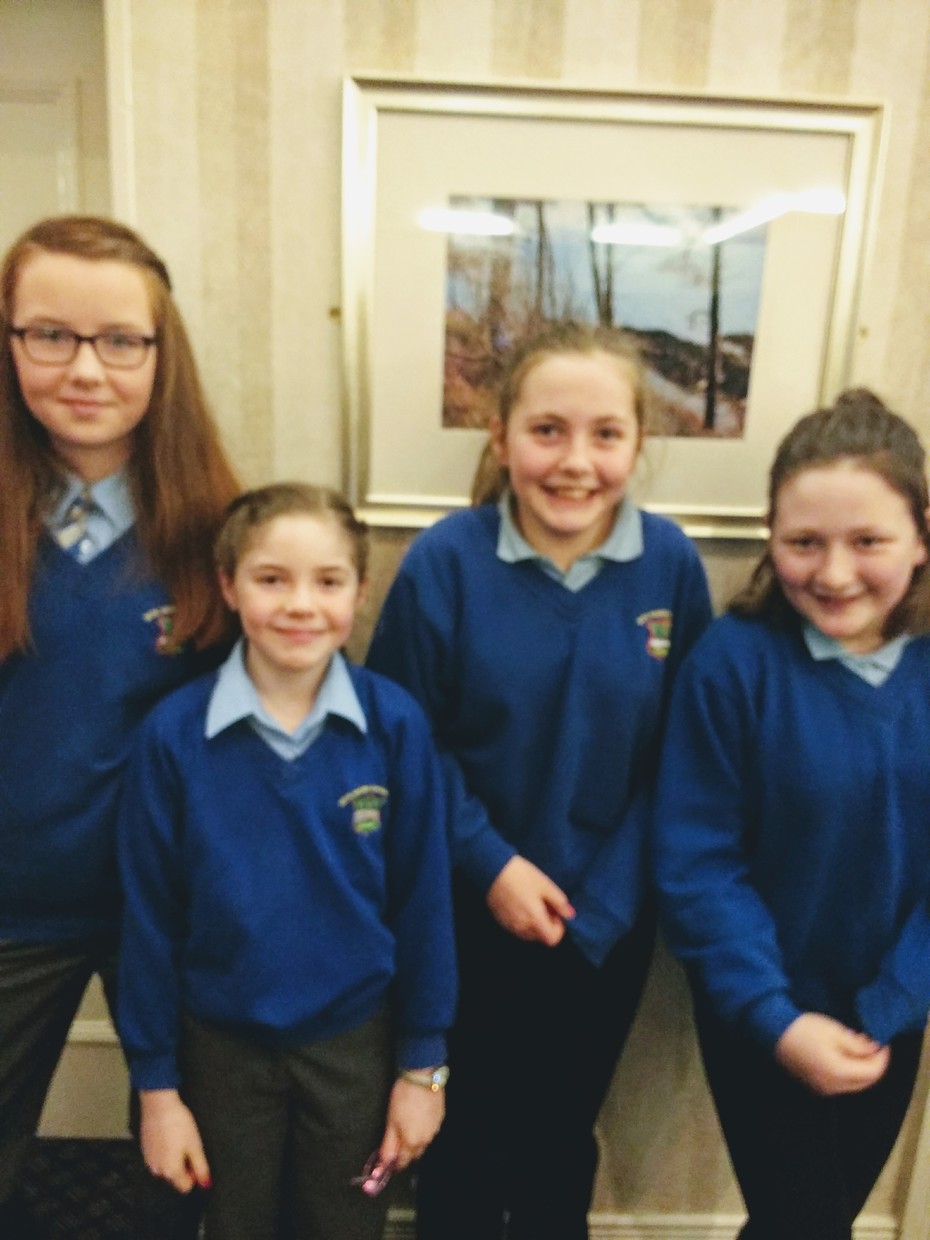 22nd February 2018
Today we started the 'Food Dudes' programme at school. Food Dudes is a programme developed to encourage children to eat more fruit and vegetables both in school and at home. Fruit and vegetables will be delivered to the school each morning over the next 16 days. Today we all tasted apples and mangetout. Yum Yum!
13th February 2018
Congratulations to the children in 2nd Class who made their First Confession this evening in St. Brigid's Church.
Today we enjoyed delicious Pancakes at school! We had lots of yummy toppings and sauces. Many thanks to the kind volunteers who were busy cooking for everyone! All money raised is to be donated to the local charity' Animals in Need'.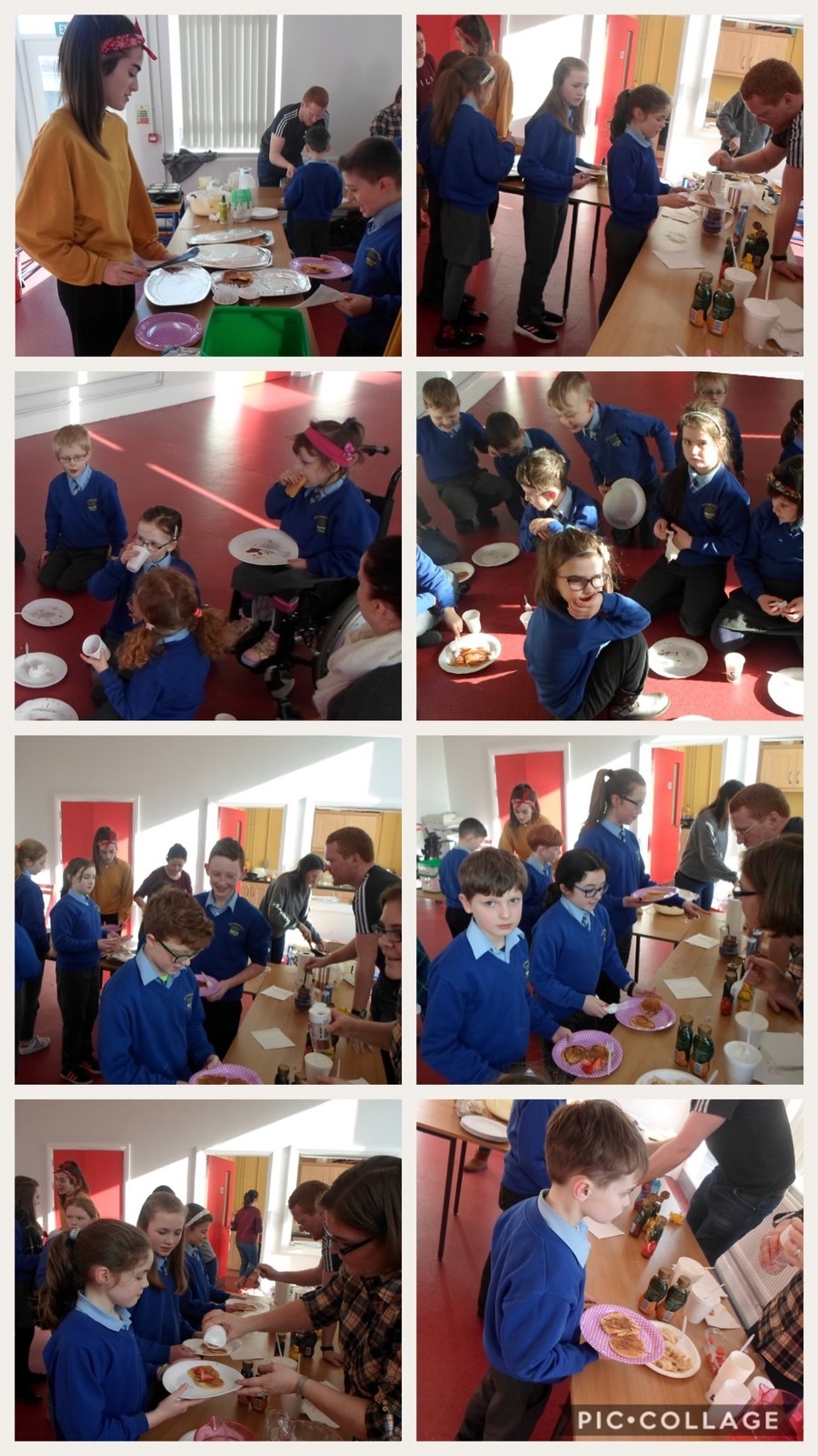 1st February 2018
Happy St. Bridget's Day to everyone. We celebrated this special feast day by inviting parents and grandparents into our school to help make St. Bridget crosses. It was a very enjoyable afternoon. Grandparents really are the best teachers so a big thank you to everyone who came in to help us.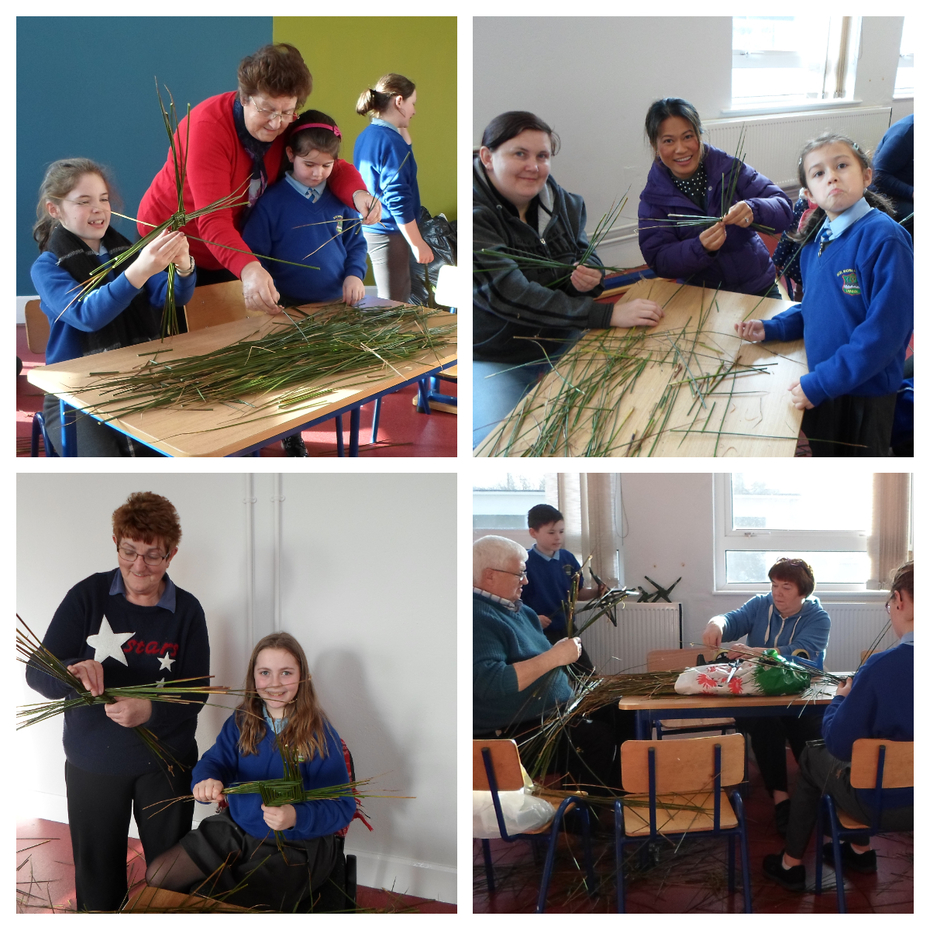 29th January 2018
Today marks the start of Catholic Schools Week. This year the theme is 'Family of Faith'. All grandparents have been invited into the school on Thursday to help us celebrate St. Brigid's Day and make crosses.
26th January 2018
It was a very special afternoon at St. Eunan's N.S remembering our dear friend Ava on her 8th birthday. Ava's mammy and daddy, Eamon and Ger visited Ava's classmates and very kindly donated a beautiful bench in memory of Ava. We released 'Make a Wish Lanterns' and had some treats in the classroom. First class presented Eamon and Ger with a plaque for Ava's grave (special thanks to Michael Mc Groarty) and Miss Tully presented a beautiful photo collage of special memories of Ava's time at our school (special thanks to Mark Wickham 'Donegal Camera Centre'). Many thanks to Fr. Joe who also blessed the bench which is placed beside Ava's Apple tree and beautiful flowers kindly donated by Ger. Ava is missed dearly each and every day by all her friends, teachers and SNA's at St. Eunan's N.S.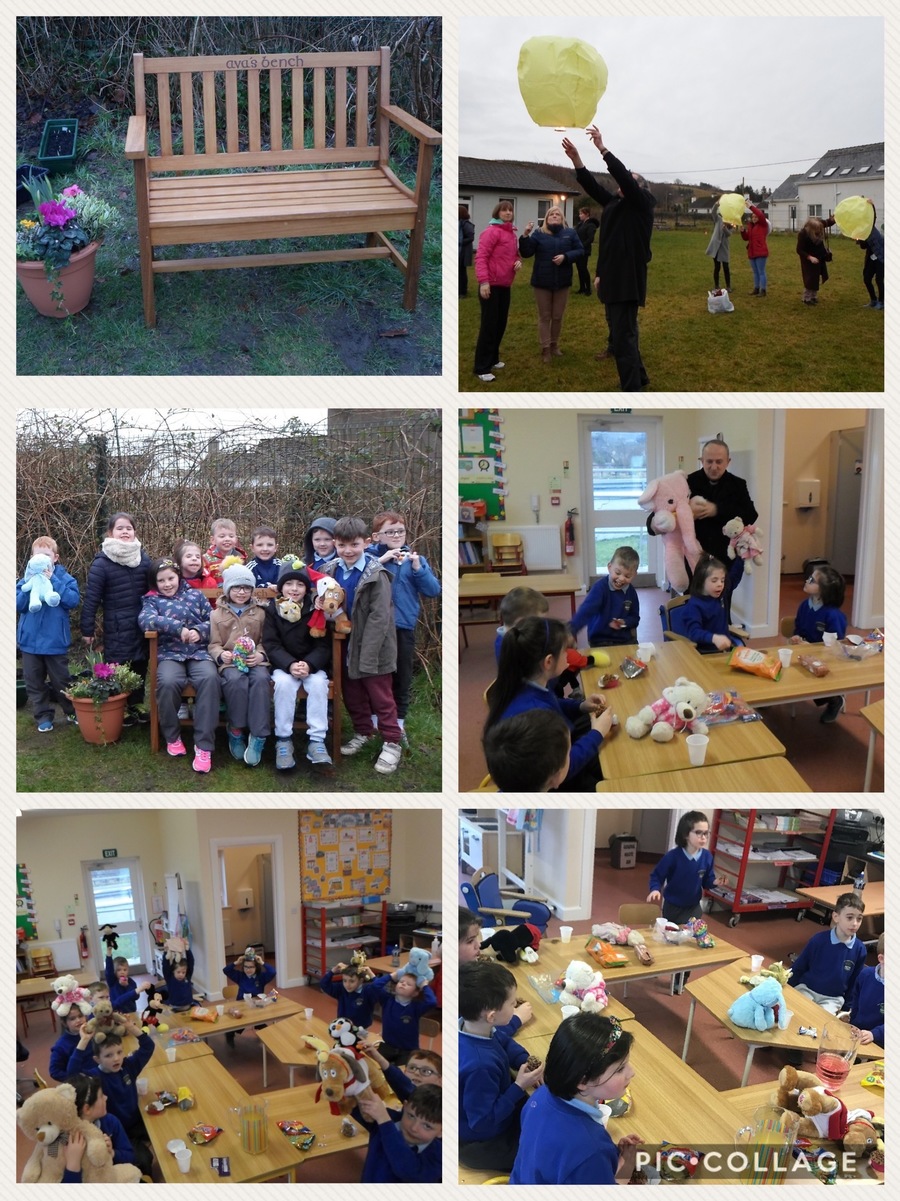 22nd January 2018
Today we welcome back Barbara Edwards our Music Teacher for five exciting weeks. We look forward to learning all about music in a fun, active environment!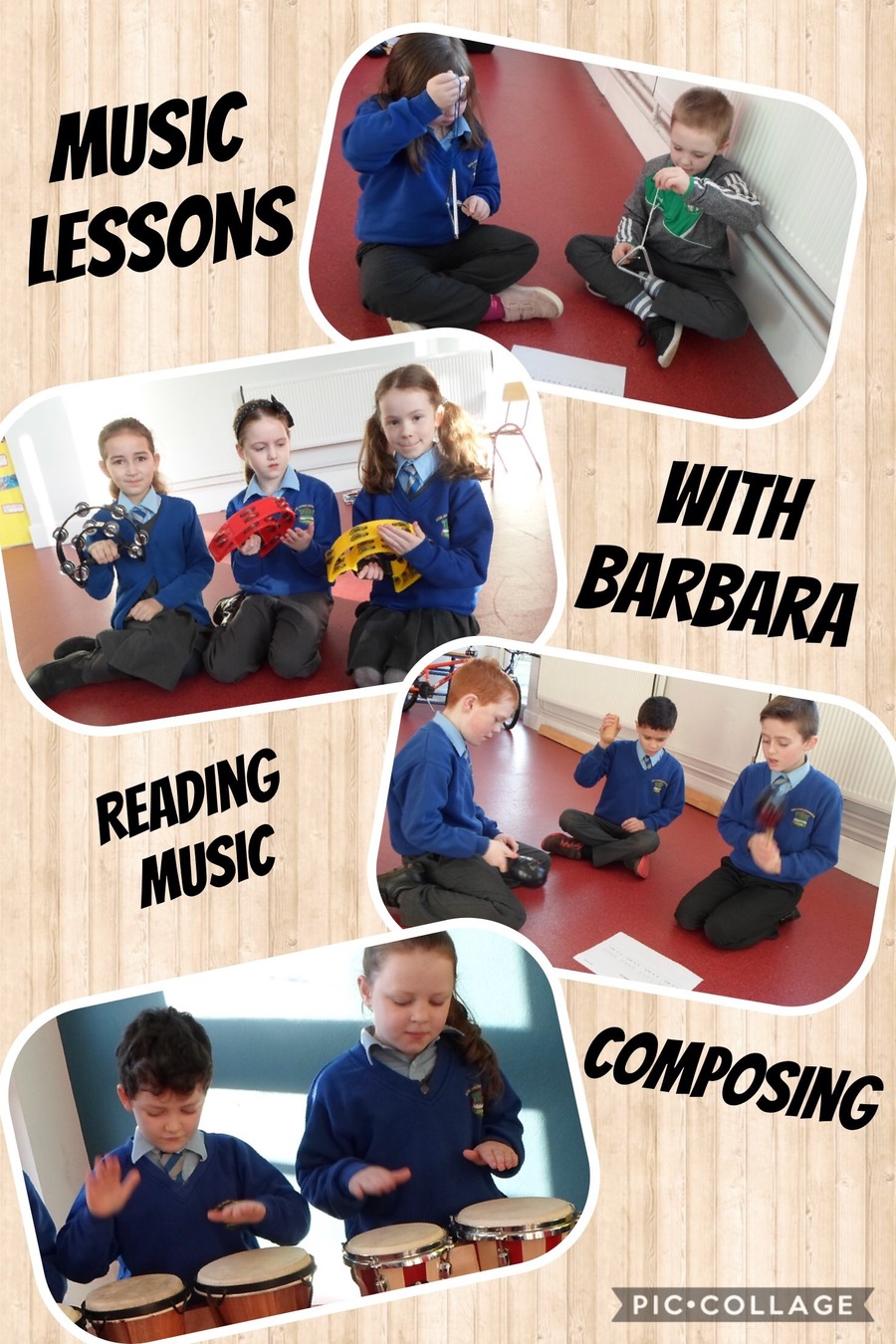 18th January 2018
The school were delighted to welcome Aengus Kennedy to our school today. He is from Nature Northwest and introduced us to all the weird and wonderful biodiversity (living things) in Laghey! We are working towards our fifth Green Flag which is for Biodiversity. He provided us with lots of information on native Irish birds and even brought in some nests. He also had samples of Irish butterflies and birds which are now extinct. Aengus brought the Senior Room on a nature trail around Laghey and pointed out Japanese Knotweed and explained its dangers. He then met with some parents and teacher to discuss starting a school garden. Watch this space for exciting developments of very our own school garden...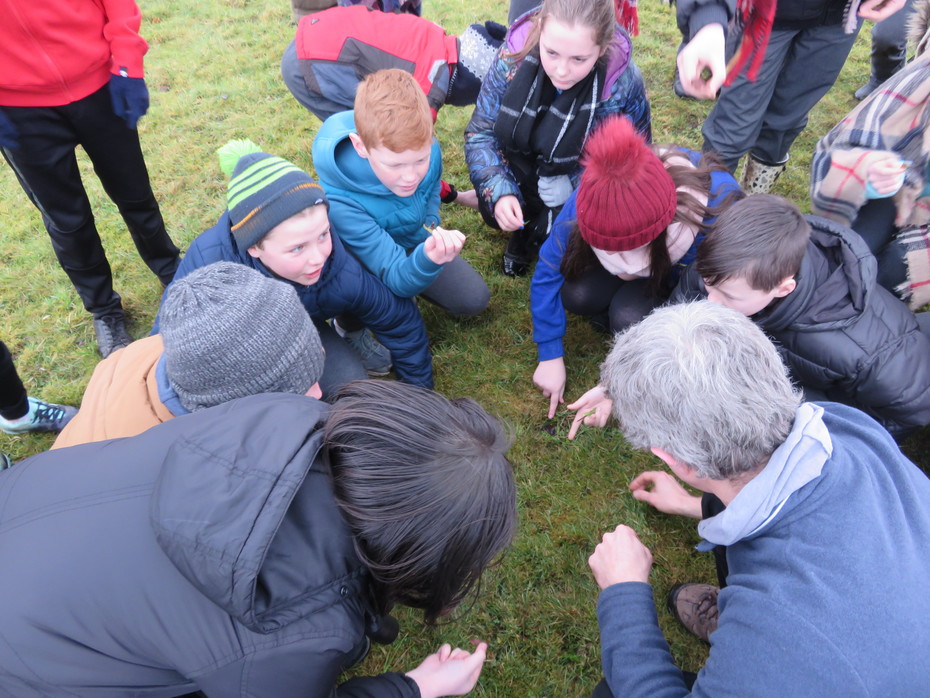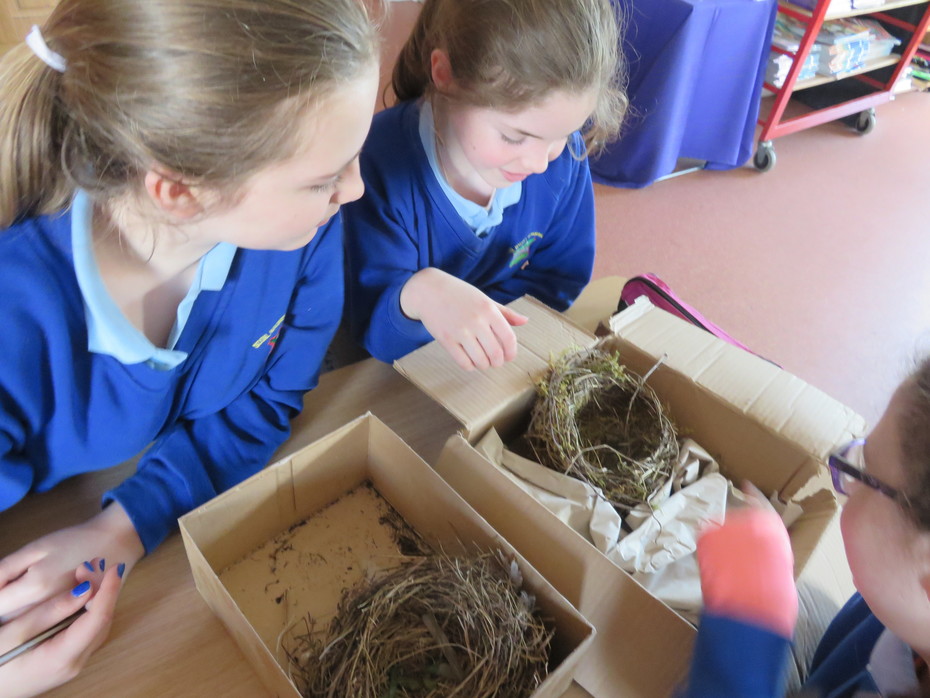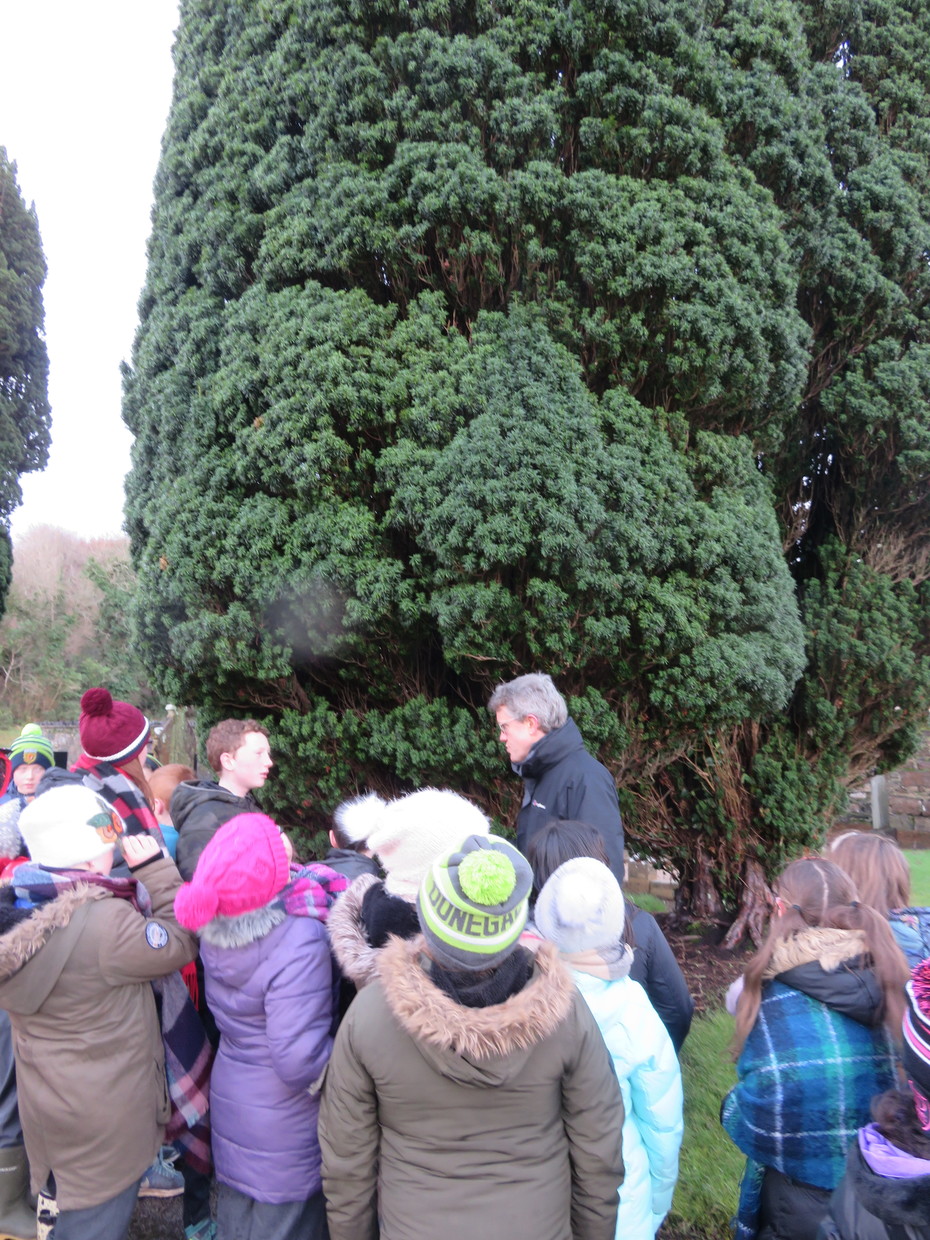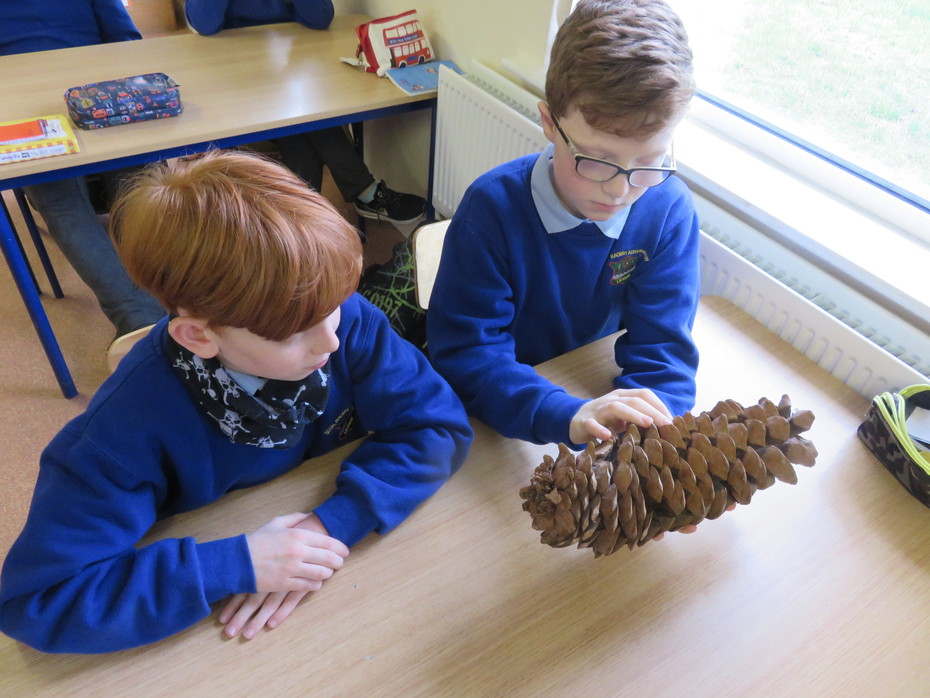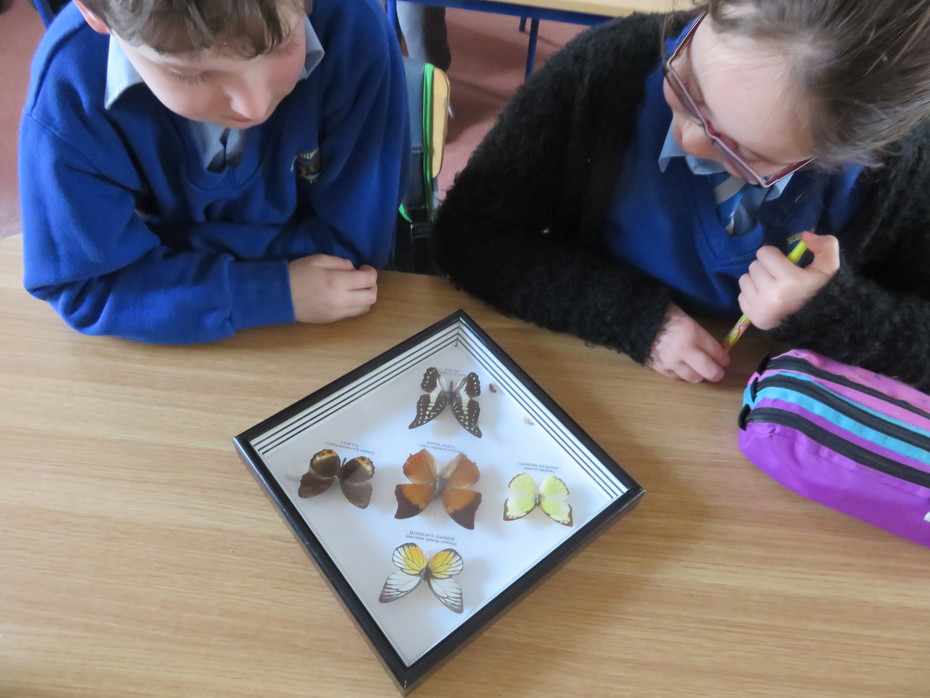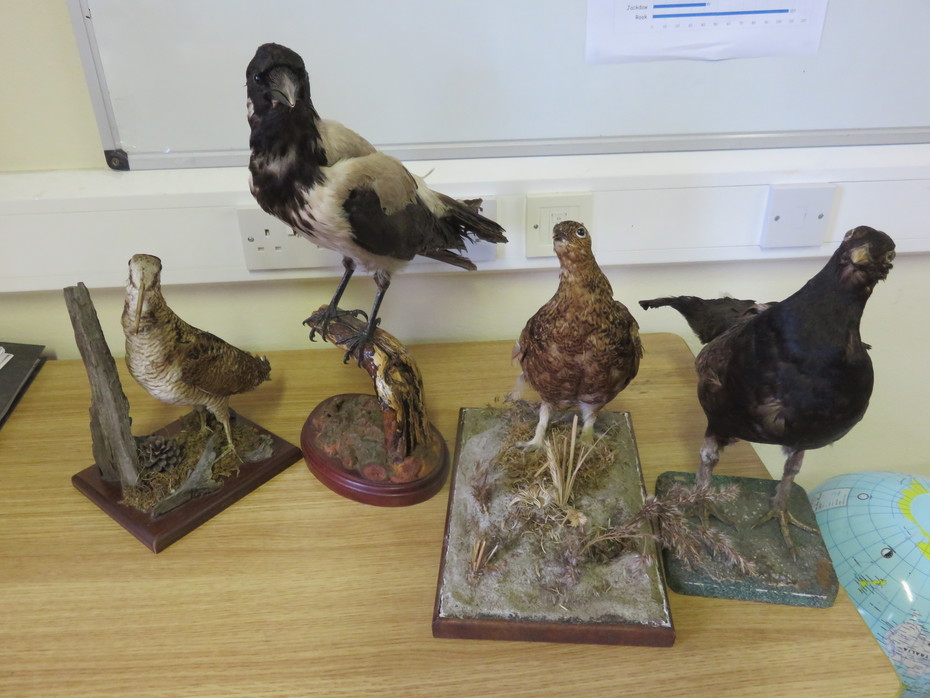 21st December 2017
Today all the children went on their annual trip to Bundoran cinema to see 'The Star'. An enjoyable day was had by all. Thanks to our parents association for paying for the buses.
Just a few pictures of James and Elf and his antics over the last few weeks! Today he left a candy cane for all the boys and girls who are going to the cinema!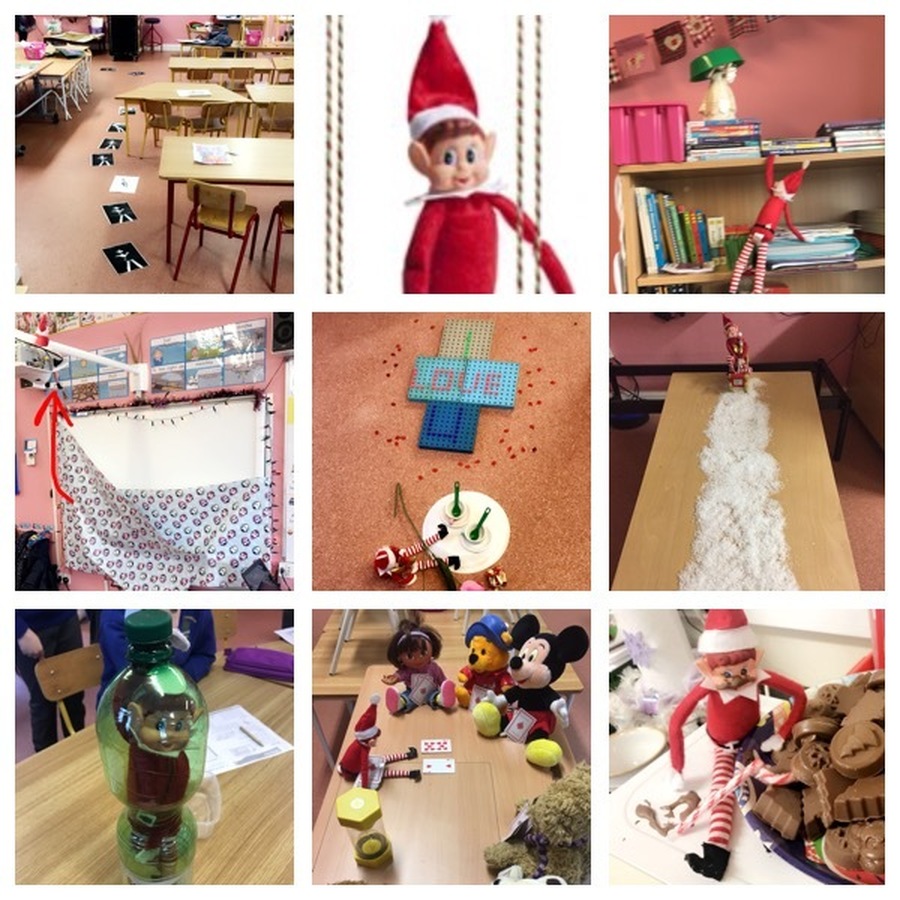 20th December 2017
Today the boys and girls in the junior room were busy learning all about heating and cooling for science! Miss Tully brought in lots of chocolate and we melted it in the microwave. All the boys and girls made Christmas chocolates and lollipops! Yummy!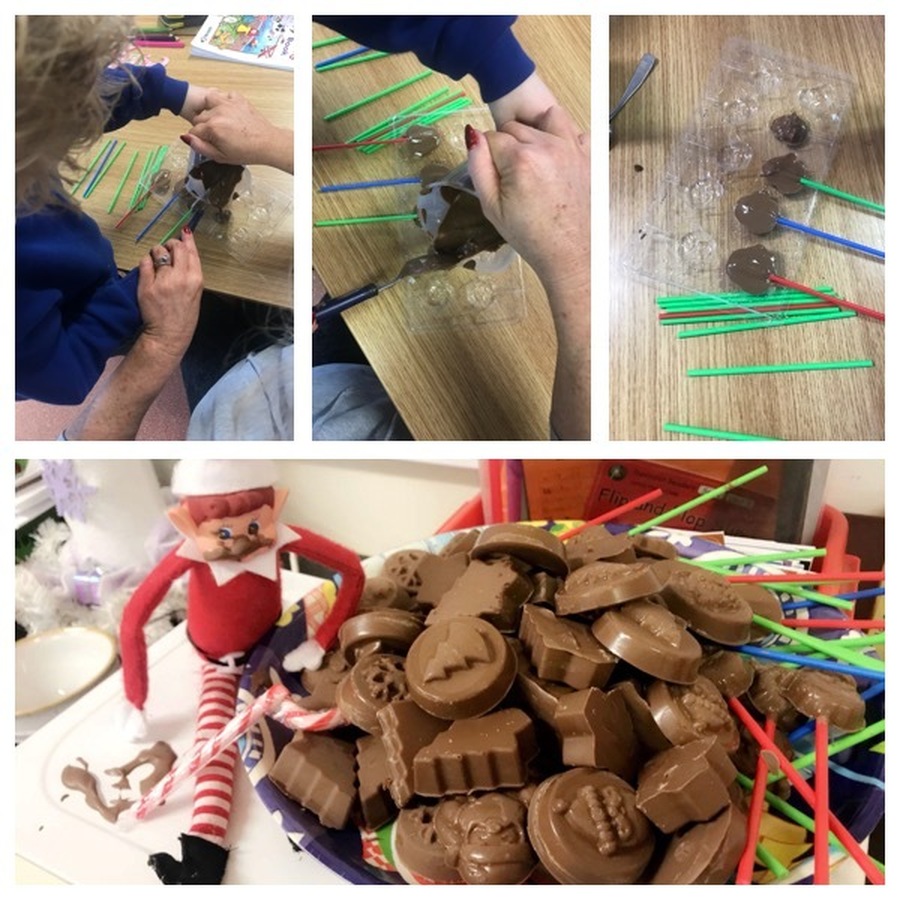 12th December 2017
Tonight we hosted our annual Christmas Play in the Laghey Parish Hall and it
was a huge success. Half of the school performed 'Straw and Order', the
nativity with a twist which was very comical and enjoyable. The other half of
the school performed the 'Xmas Factor' where each child/group got to
perform their act which highlighted the great variety of talent we have in our school. Thanks to everybody who helped and contributed in any way.
Photos by Siobhan Mc Gowan.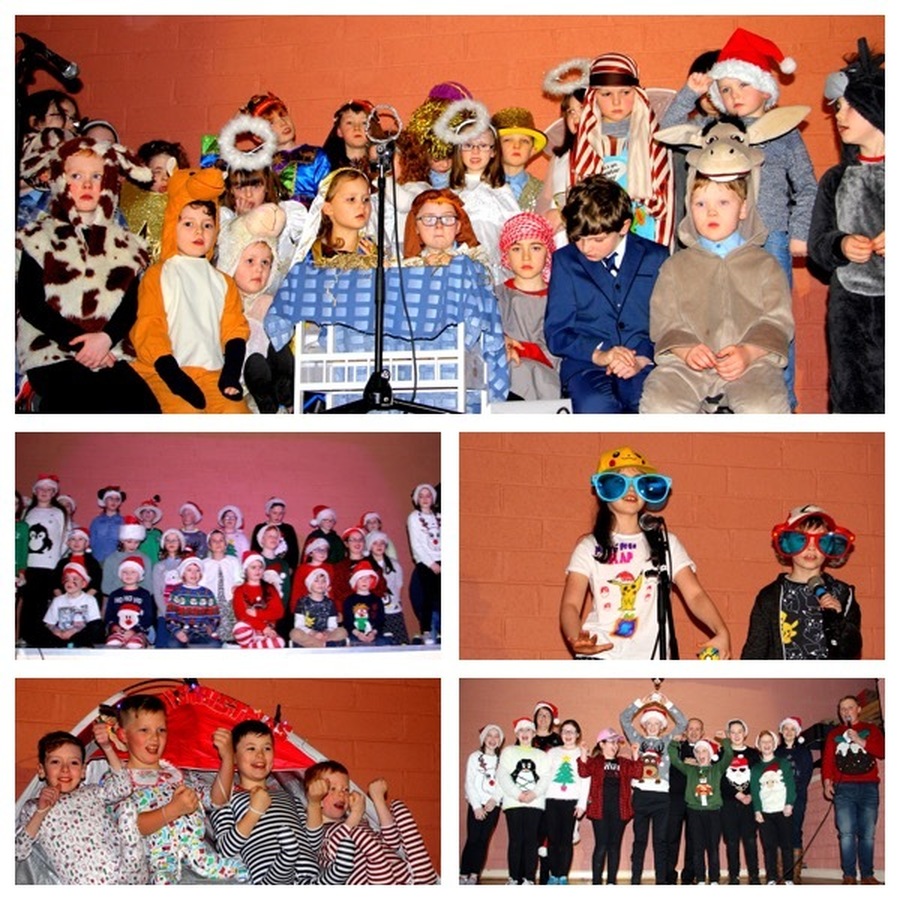 7th December 2017
Today Joanne Boyle from the school inspectorate team visited our school for an incidental. Joanne carried out an inspection on school policies and planning. She also observed six lessons throughout the three teaching classrooms. The feedback she gave the school was very positive and uplifting for all teachers involved.
5th December 2017
The Senior Room had a wonderful afternoon when Donegal's first Mount Everest summiter, Jason Black, visited. It all began in October when the children were learning about Mount Everest. They were intrigued by a story they read about the challenges faced by mountaineers when scaling the largest mountain the world. As a result, they researched and discovered Letterkenny man Jason Black who reached the top of the world in 2013.
Millie then wrote him a letter inviting him to visit our school. As soon as he received the letter in the post he contacted the school saying that "Millie's magic" had worked and he was delighted to have received such a personalised invite.
His visit was epic and as soon as he started to speak the whole class were enthralled. He told us about his whole life, difficulties he had encountered and his motivation for summiting Mount Everest. One of the most frightening statistics was that he was the only survivor from the team of 5 climbers which began Mount Everest with him.
Jason showed the class the gear which he used to summit. We really enjoyed the visit.
His next challenge is an endurance cycling event called RAAM (Race Across America). It is a 3,00 mile long race and we will follow Jason's progress with great interest next June.
Friday 1st December 2017
Look who's back! James the elf arrived back in the junior classroom today! He arrived with a bang. James left some clues in order for the boys and girls to find him! After searching the entire school building we eventually we found him in Aaron's school bag! Oh what antics will James get up to this year!!!

30th November 2017
We are delighted to confirm that our school, along with Copany Rovers have secured €66,000 from the Sports Capitation Grant for a multi functional play area. We are delighted with this news and we look forward to developing our school yard.
10th November 2017
Many thanks to everyone who kindly donated shoe boxes for the shoe box appeal. This is something we support every year and always get a great support. This support reflects the kind caring nature of the people in our school community.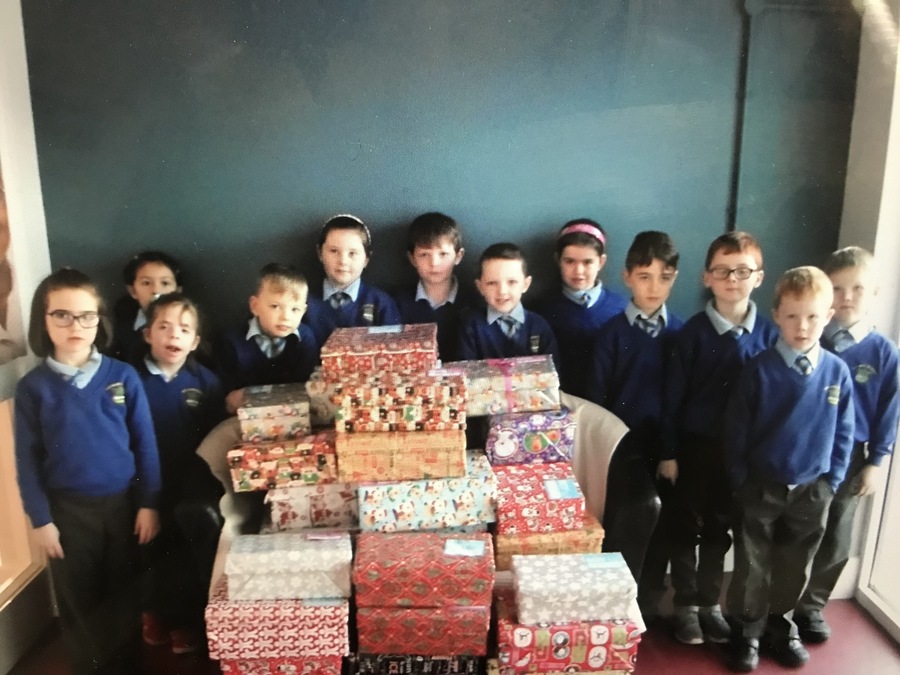 8th November 2017
The boys in the senior classroom participated in a soccer blitz today. Well done boys. This was the first debut sporting their new school kit!
We also welcome back our GAA coach Brian Roper who will be with us until the Christmas holidays. We really value his skills and dedication he demonstrates to all the boys and girls in the school.
7th November 2017
Today we planted snow drops and daffodils in remembrance of our classmate Ava. Thank you to Ava's mammy and daddy Ger and Eamon for donating the bulbs and tools. We look forward to seeing them blossom in the spring.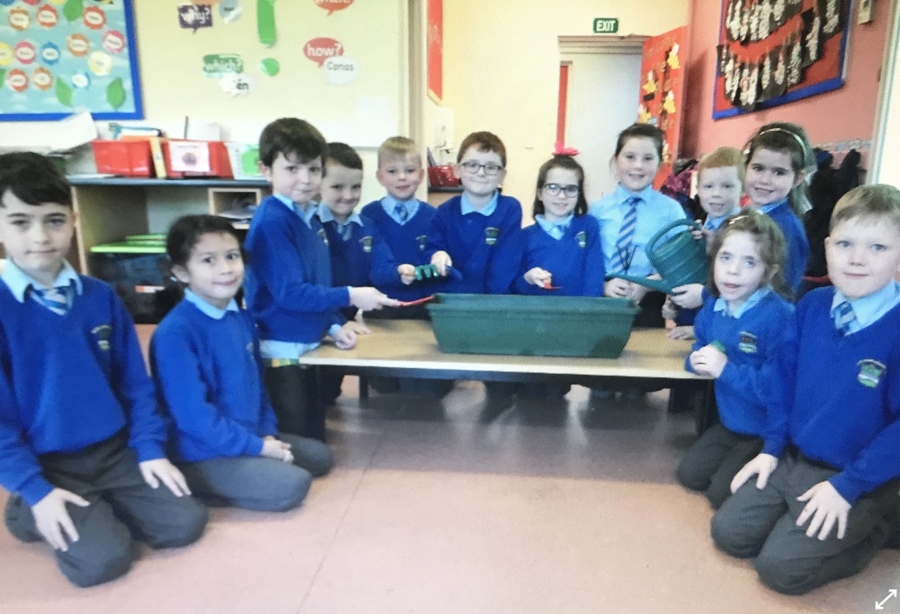 6th November 2017
Many thanks to Yvonne in the Flour Pot Cafe for kindly sponsoring our beautiful new school kit for both the boy's and girl's teams.
26th October 2017
Today all the children and teachers dressed up for our annual fancy dress. There were some great costumes that reflect the creativity that the parents and children have in the school.
25th October 2017
Today the children in the Senior Room had a lovely excursion to Super Valu. We met a nutritionist who took us on a "Nutri Safari" and explained the layers of the food pyramid to us. We then got the opportunity to sample some fruit, vegetables, bread, cheeses and meats. She gave us lots of information about the amounts of sugar in food especially cereals.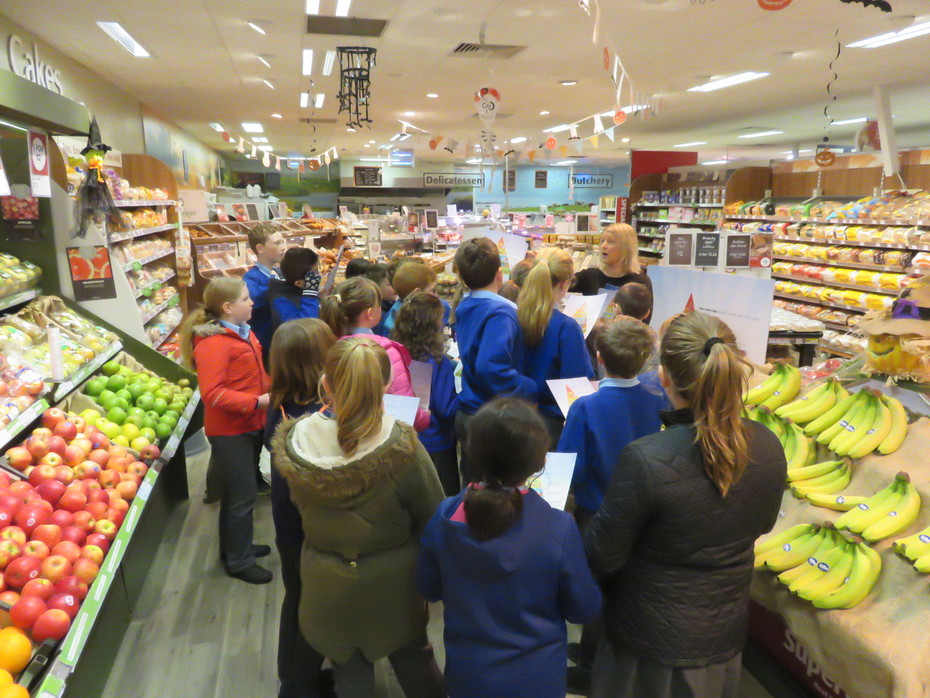 4th October 2017
Today the Junior & Senior Infants & 1st Class made Halloween owls out of autumn leaves for our display board. They gathered up fallen leaves and put them in decorated bags for the lovely display in our school hallway in preparation for Halloween.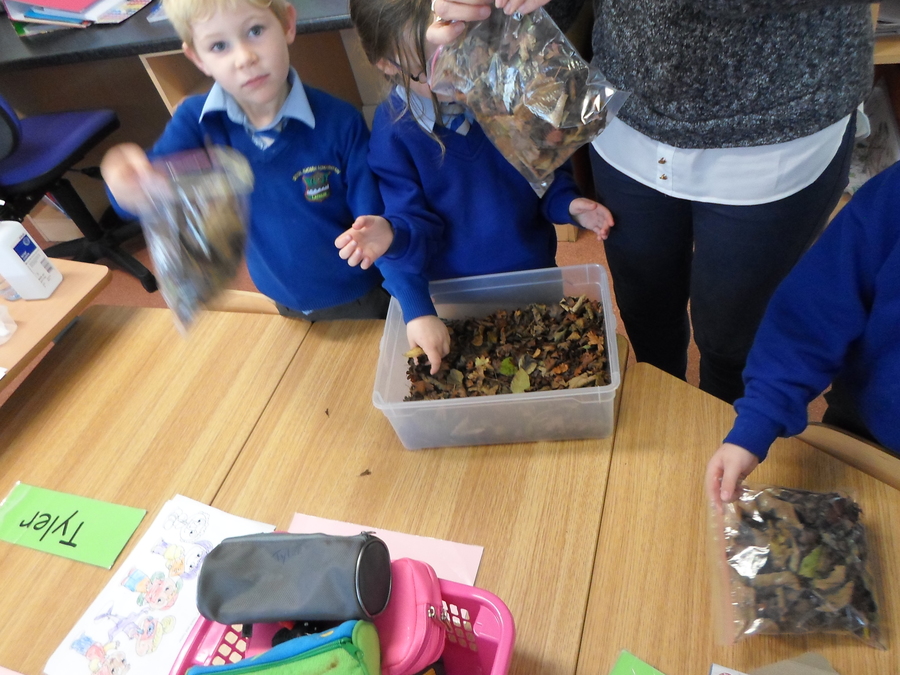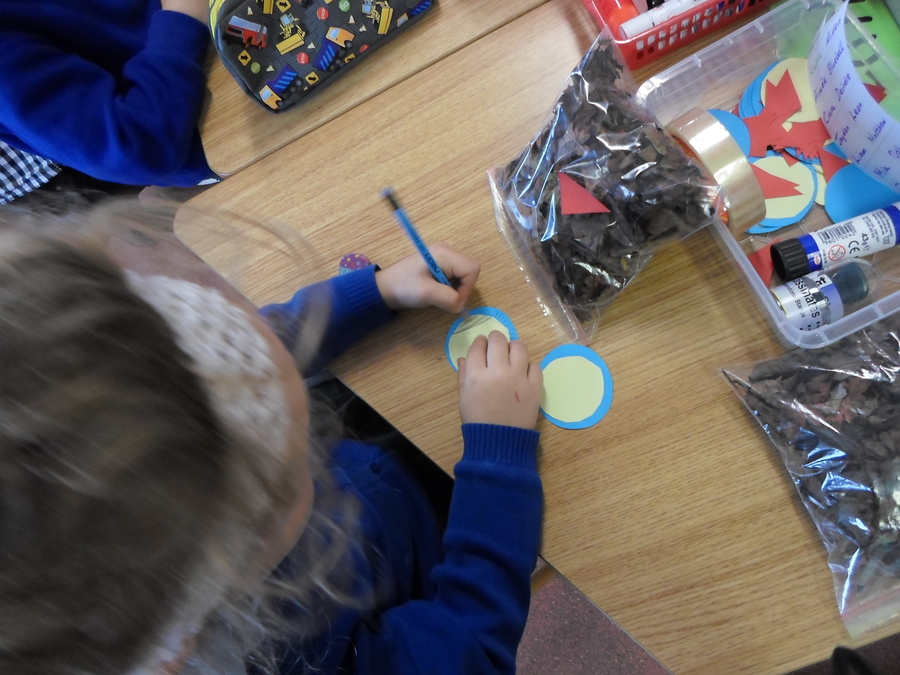 5th October 2017
Last week we had a special day at St. Eunan's N.S. Eamonn and Ger (Ava's mammy and daddy planted a lovely apple tree in our school yard. We chose this area as Ava loved to play here at break times. We are looking forward to watching the tree blossom. Thank you Eamonn and Ger.
All the boys and girls were wonderful at Ava's months mind mass on Saturday. It was a special mass organised by Ava's close friends in first class. They wrote the prayers of the faithful and decided on the special gifts to be carried up to Fr. Joe. The choir were fabulous also. Many thanks to Eileen Carr for her support with the music. Well done everyone.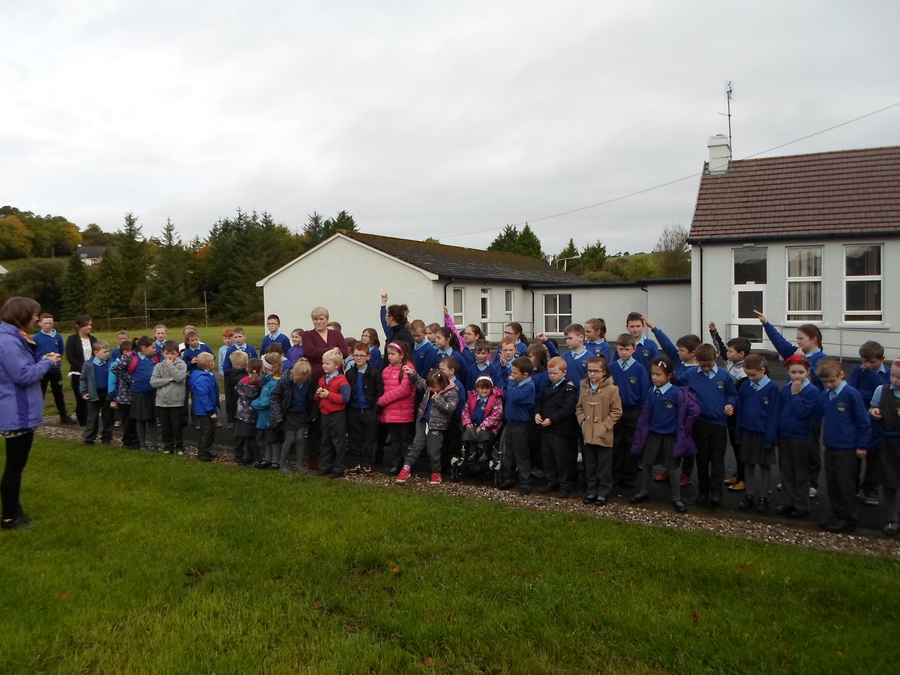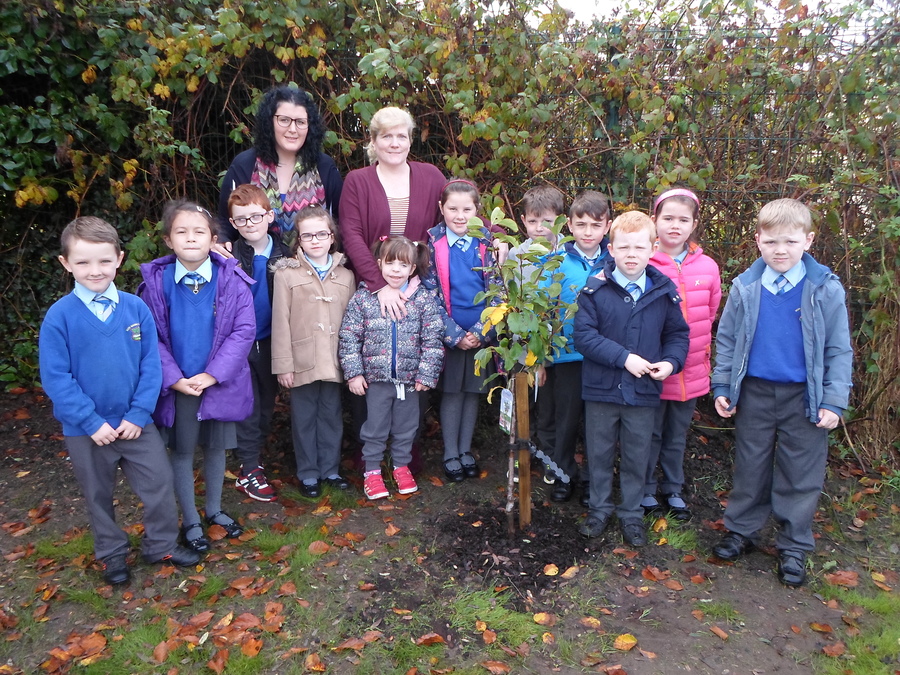 29th September 2017
Declan Bushell, from Ulster Rubgy, came to our school to teach all the children from First class upwards how to play tag ruby. He will come for a total of 4 sessions. We really enjoyed this session even though it was hard to remember to always pass the ball backwards! We have really enjoyed #BeActive week because we got to experience so many different types of exercise.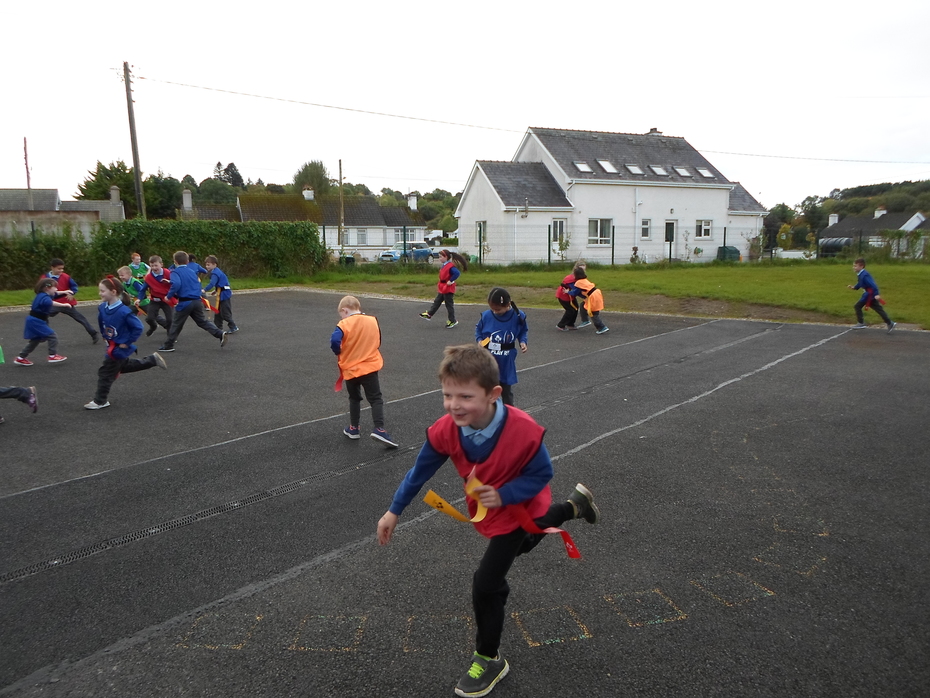 28th September 2017
Let's run around Europe! Today we launched our campaign "Run Around Europe Challenge". Our aim is to visit as many capital cities in Europe as possible. We'll do this by running around our football pitch and clocking up as many laps as possible. We'll then convert our laps into kilometres and map it. Our first destination is London which is 597 kilometres from Dublin. That's a lot of laps!! #BeActive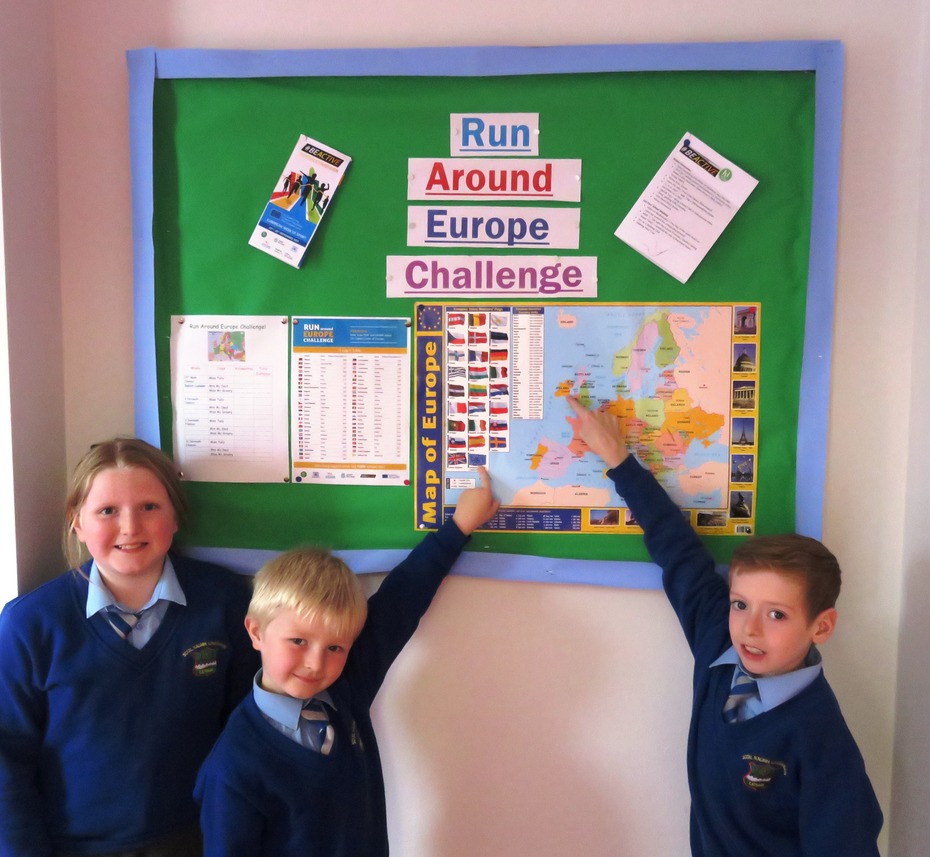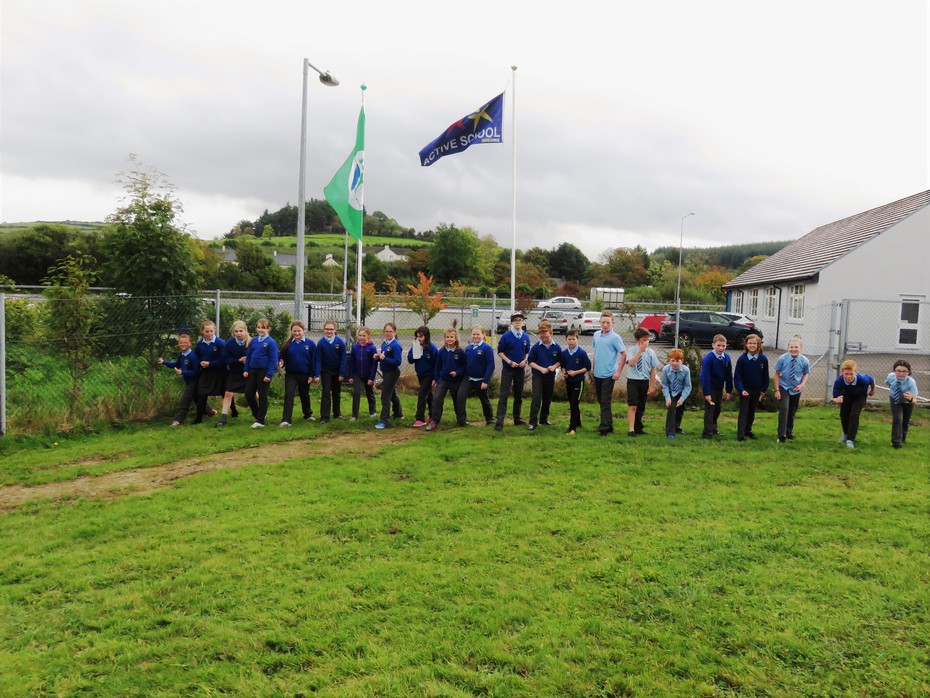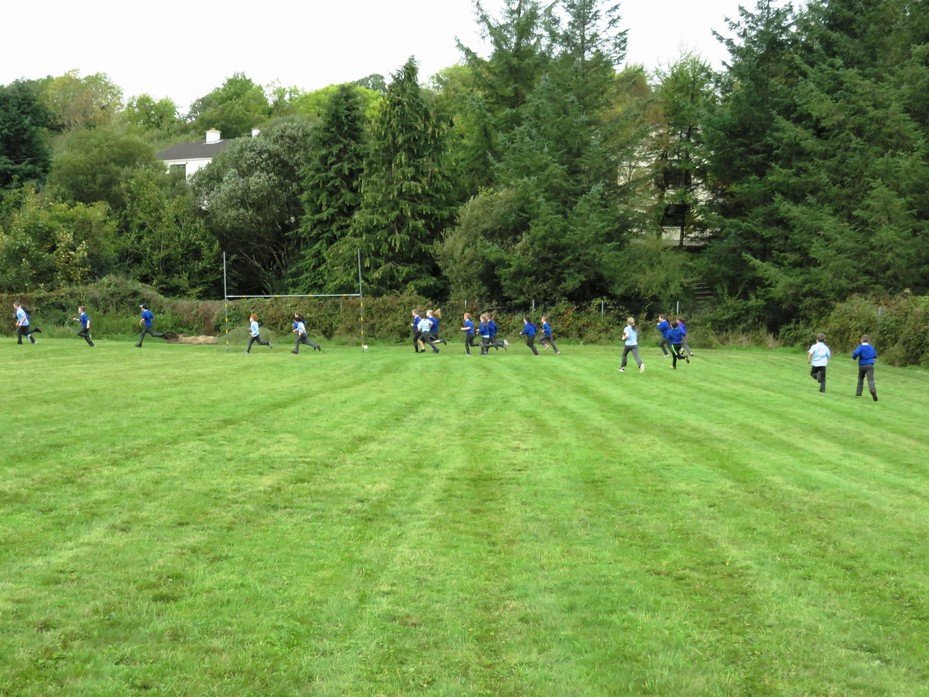 27th September 2017
Today we learned some Yoga poses. It was even more interesting because we did it as Gaeilge. We followed the online Twigín series and flew like butterflies, arched our backs like angry cats and stood as tall as trees! There were plenty of laughs along the way as we struggled to keep our balance! We love to #BeActive.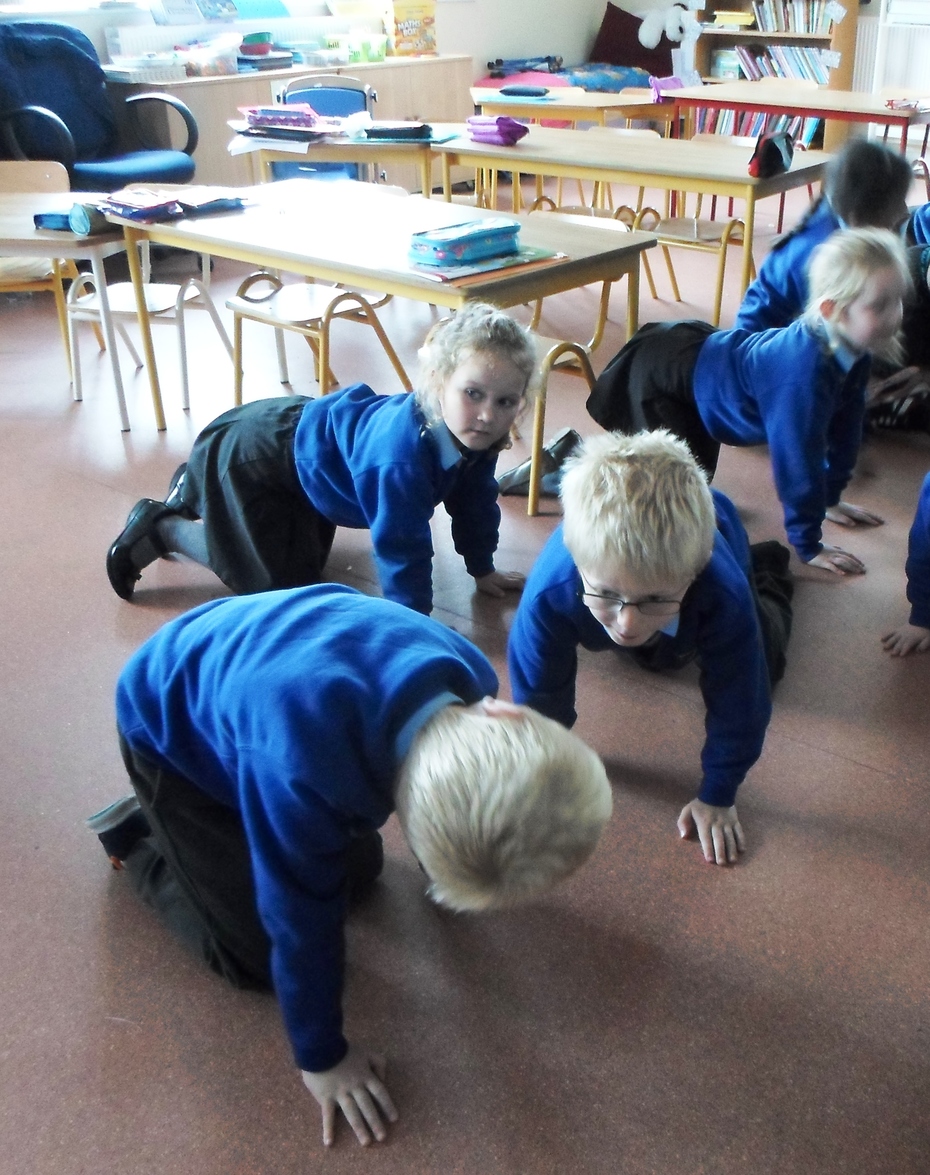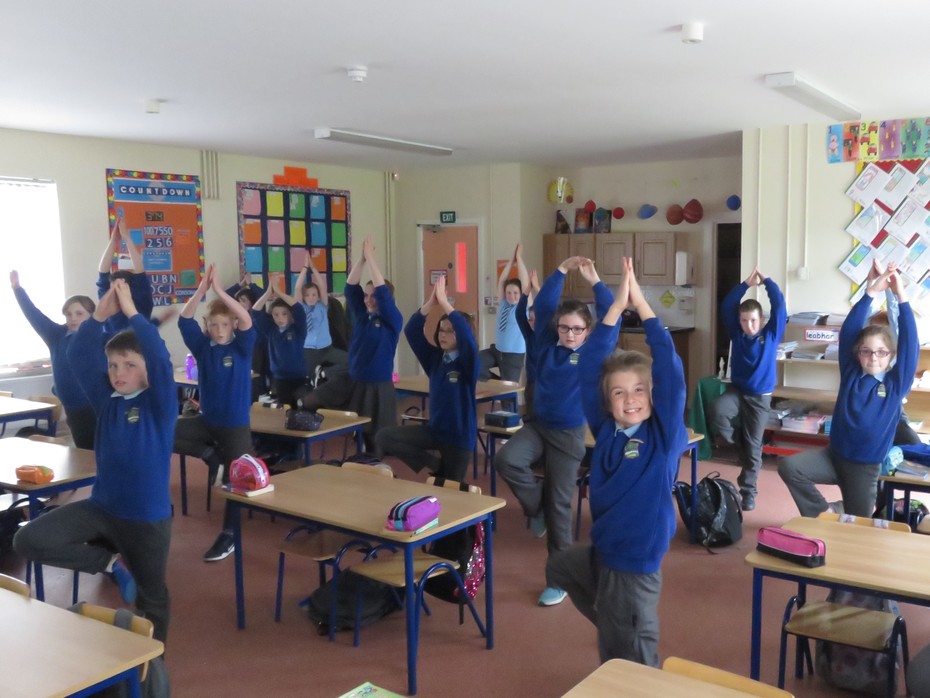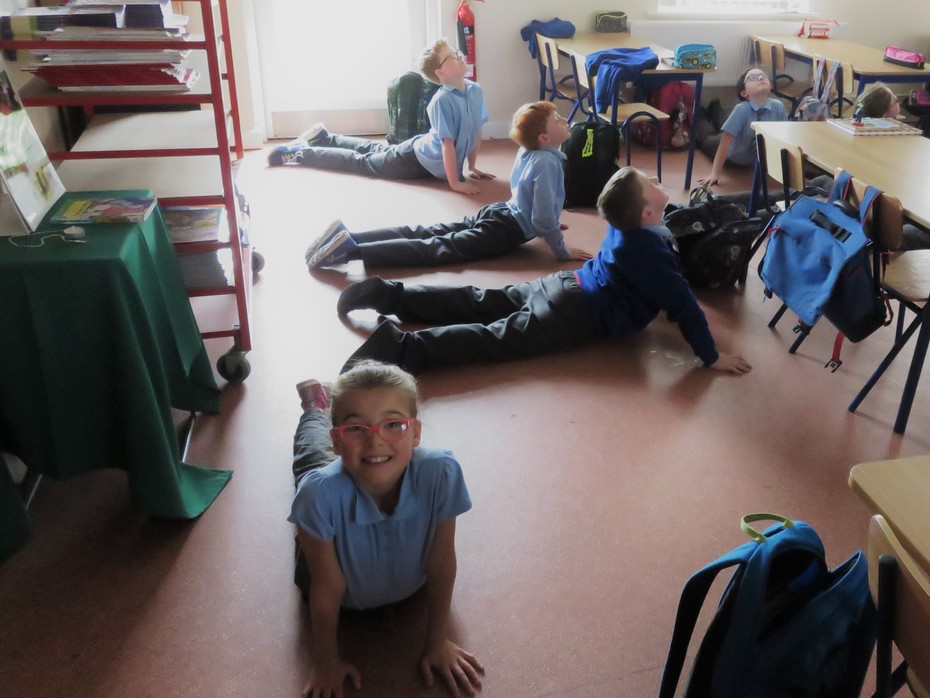 26th September 2017
Paula Mc Neilis came to do a music and dance workshop with all the school. She taught us how to create music with our bodies and how to sing a traditional Indian song with hand actions and body percussion. We learnt a lot about dynamics and musical notation. As you can see from the pictures we enjoyed dancing to traditional Irish music. This really fitted into our #BeActive campaign.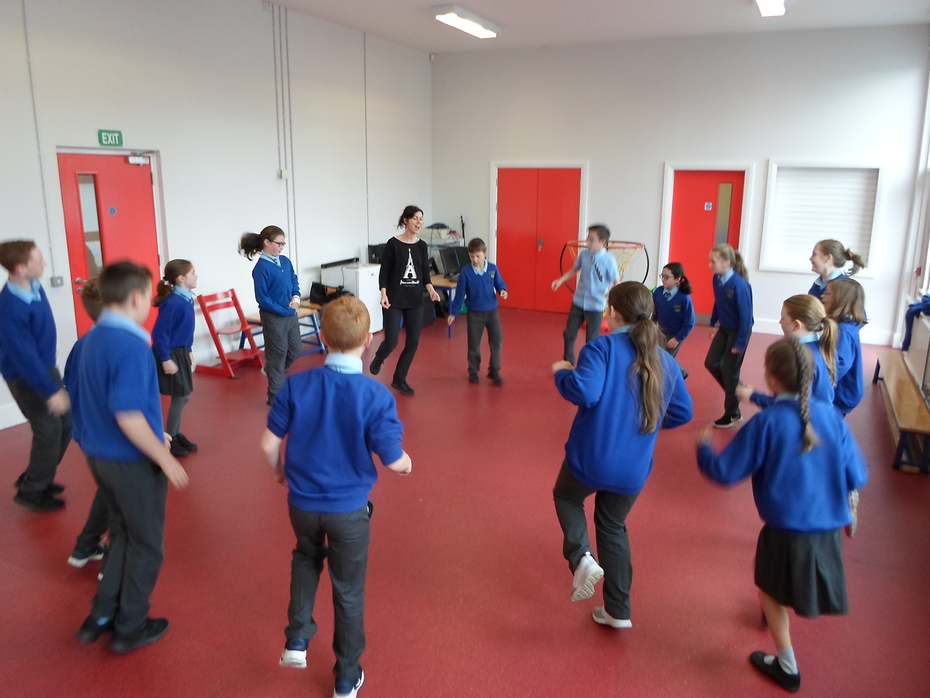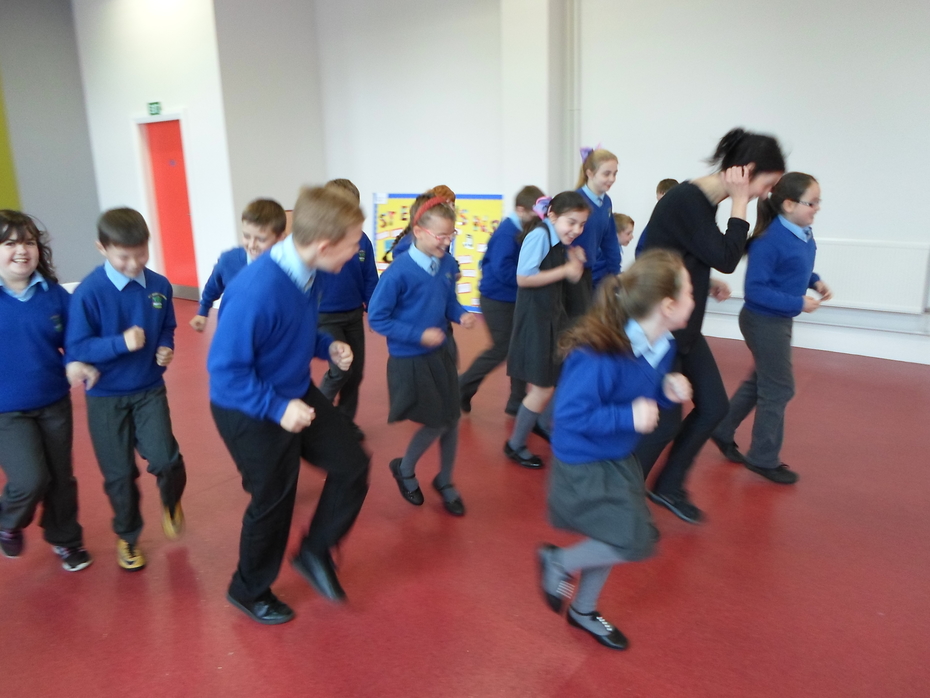 25th September 2017
Today kicked off "Be Active European Week of Sport". We are aiming to do a different physical activity every day this week. Today we followed the Body Coach, Joe Wick's workout. We were tired after lots of lunges, sumo squats and tree climbers! We love to #BeActive!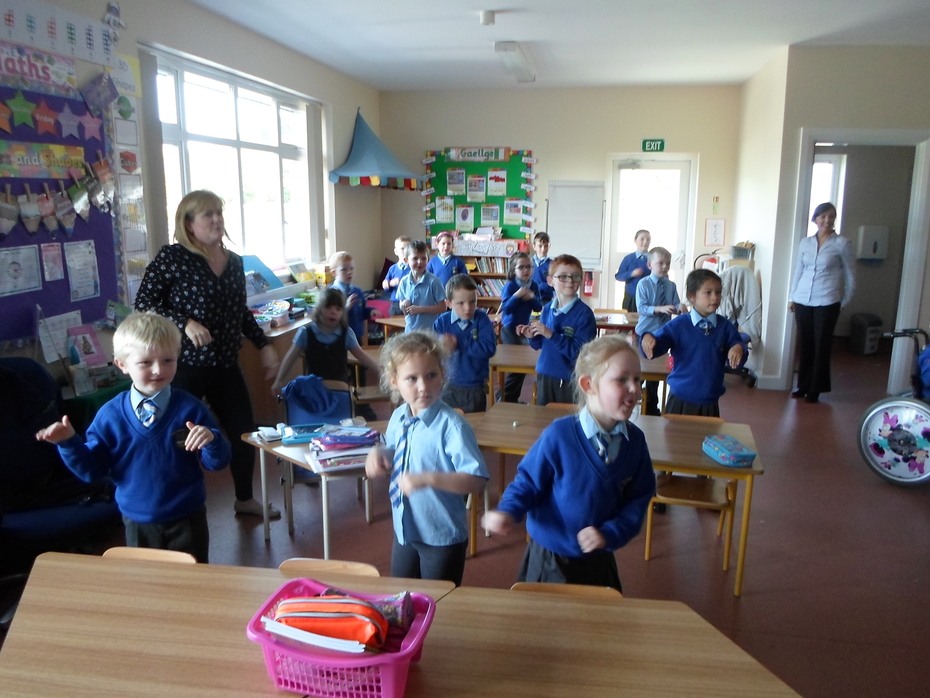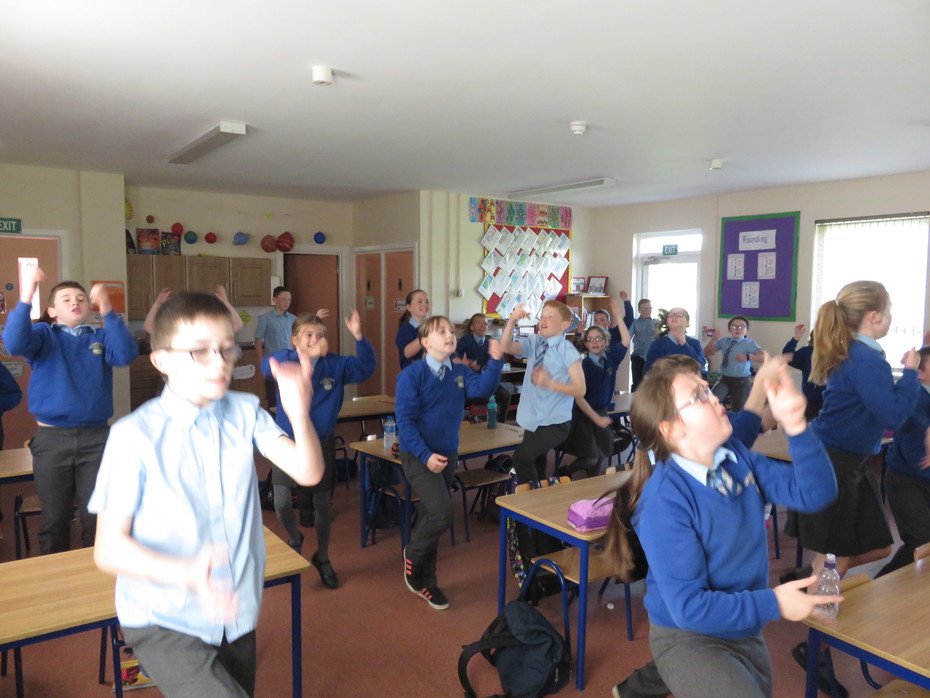 18 September 2017
On the 18thof September Stephi, a German lady, came into our school to celebrate National Heritage Day. She taught all the classes how to make ropes from hemp. She also taught the senior room how to make toys with rushes. She showed us traditional Irish games. We really enjoyed the day and had a really good time . We now use the ropes as skipping ropes at lunch times.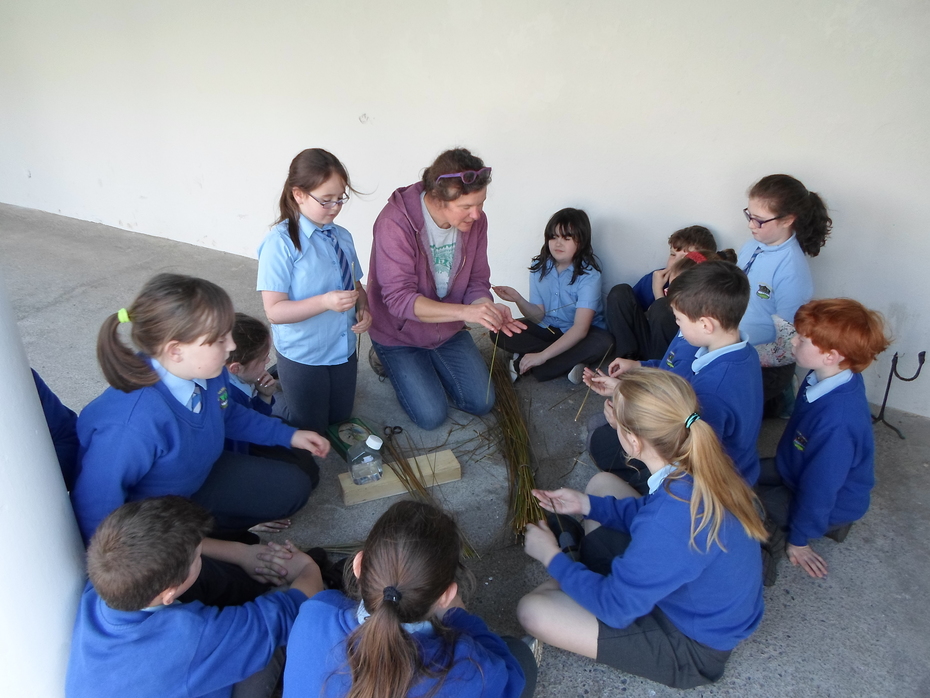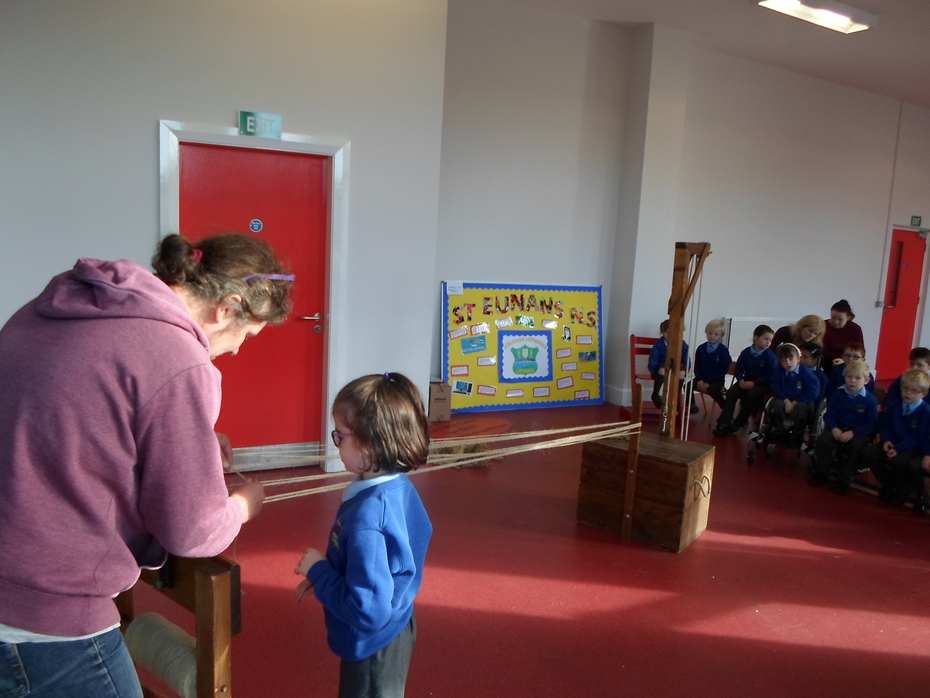 15th September 2017
29th August 2017
Look at our new Junior Infants who had a great first day at school! Well done boys and girls.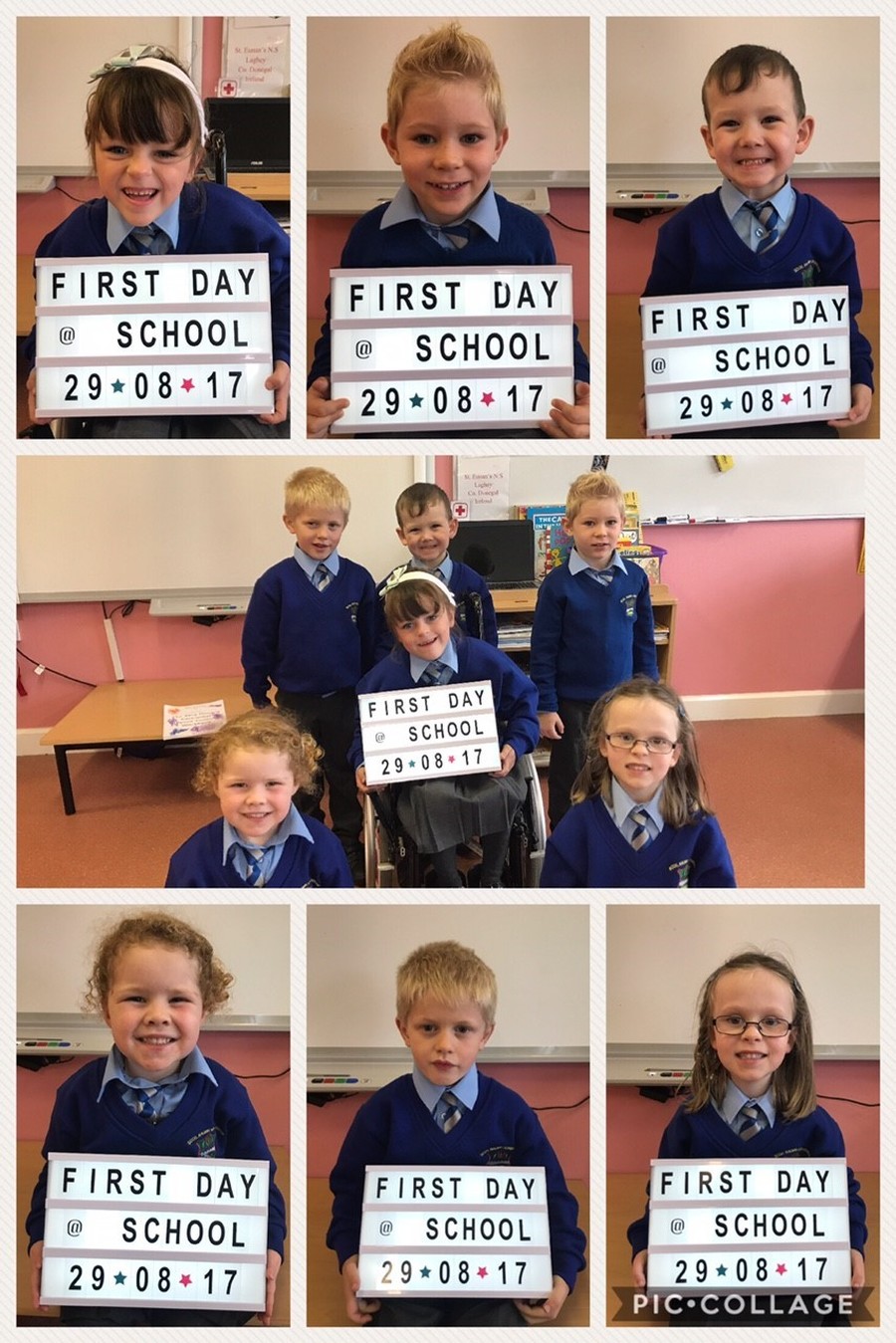 23rd June 2017
Today we had a half day before getting our summer holidays. We had our presentations both for sports day and for achievements throughout the year including our Active School 'Super Troopers' programme & those who missed no days at school. Have a fun and adventure packed summer holiday everyone.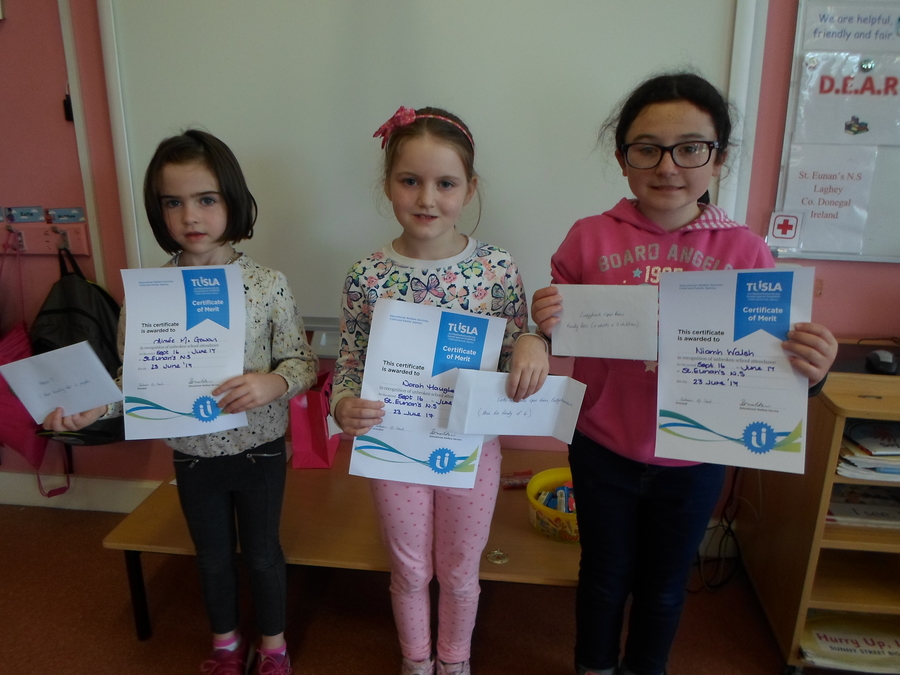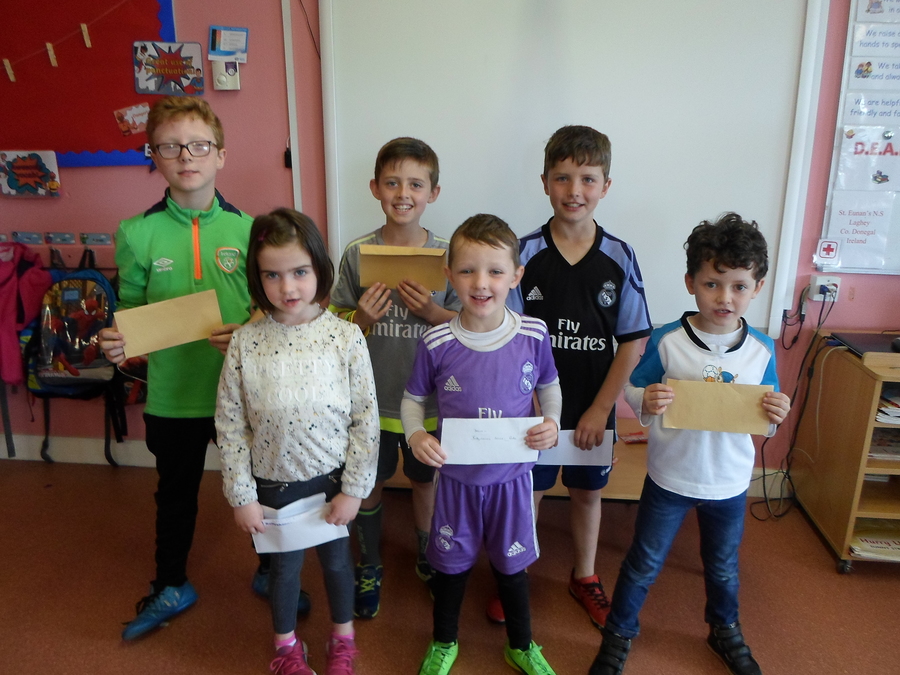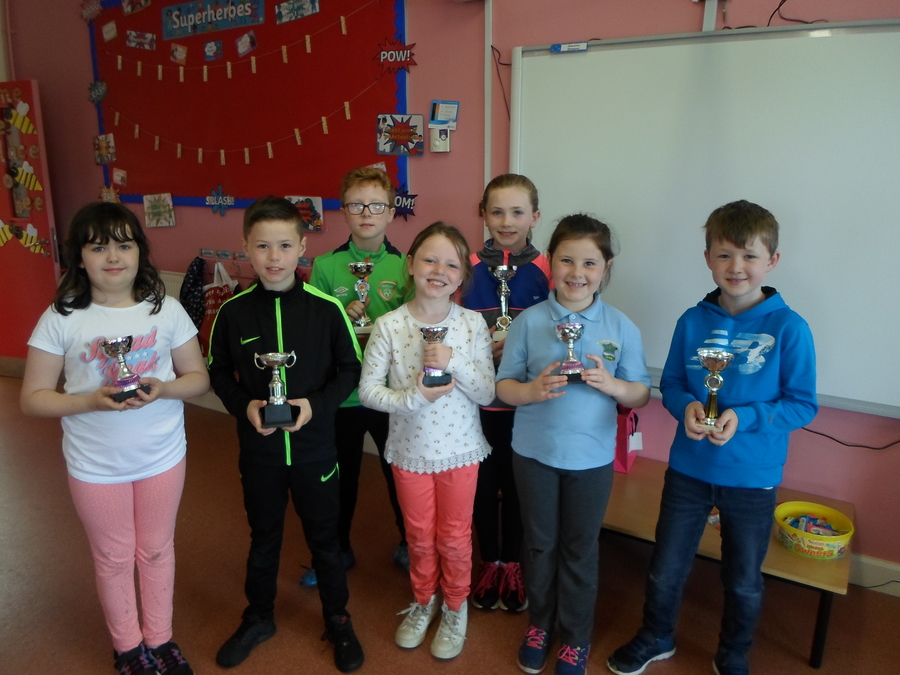 21st June 2017
Today was a sad day at our school, we had to say Goodbye to our lovely Learning Support teacher, Aisling McGrath. Aisling has been working part-time at our school for the past 12yrs and has become a much valued and loved member of our small school family here in Laghey. We had presentations from the children, staff & Parents Association for Aisling before she left. She has secured a full-time post in Scoil Mhuire, Pettigo from this September, we wish Aisling all the best in her future career. She will be missed very much by both children and staff alike, good luck Aisling.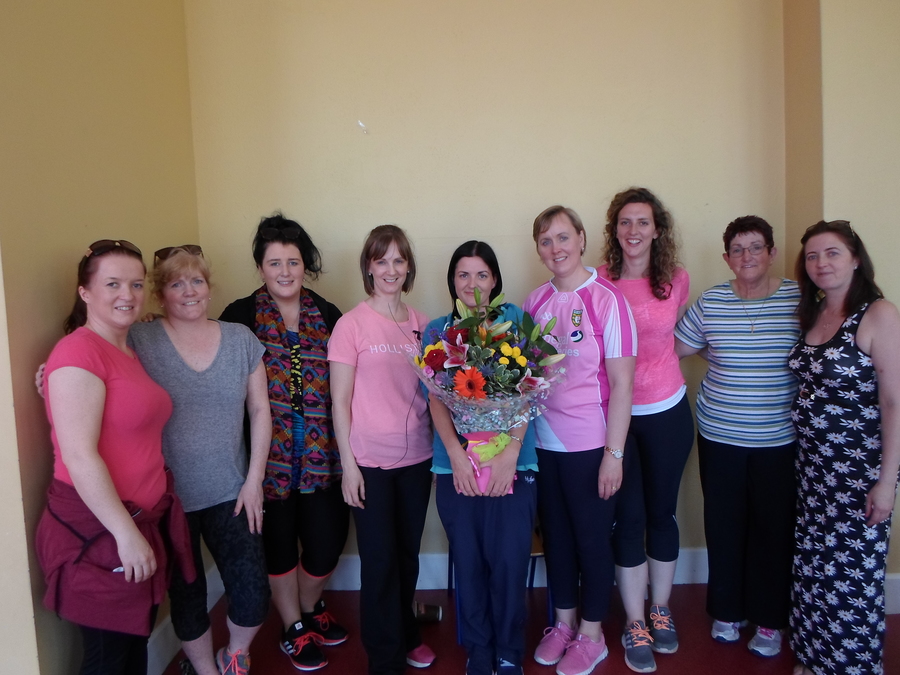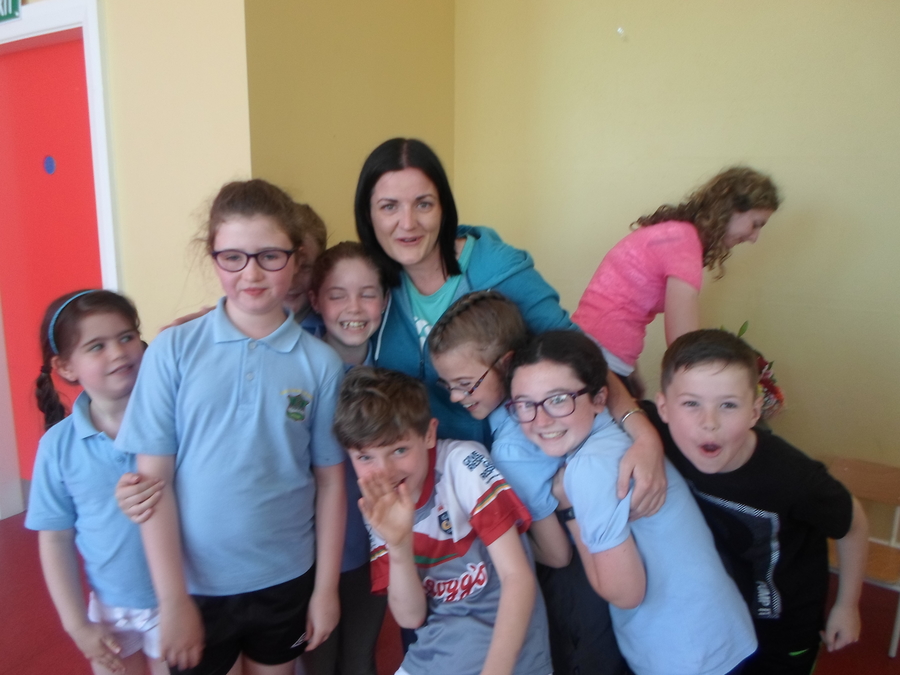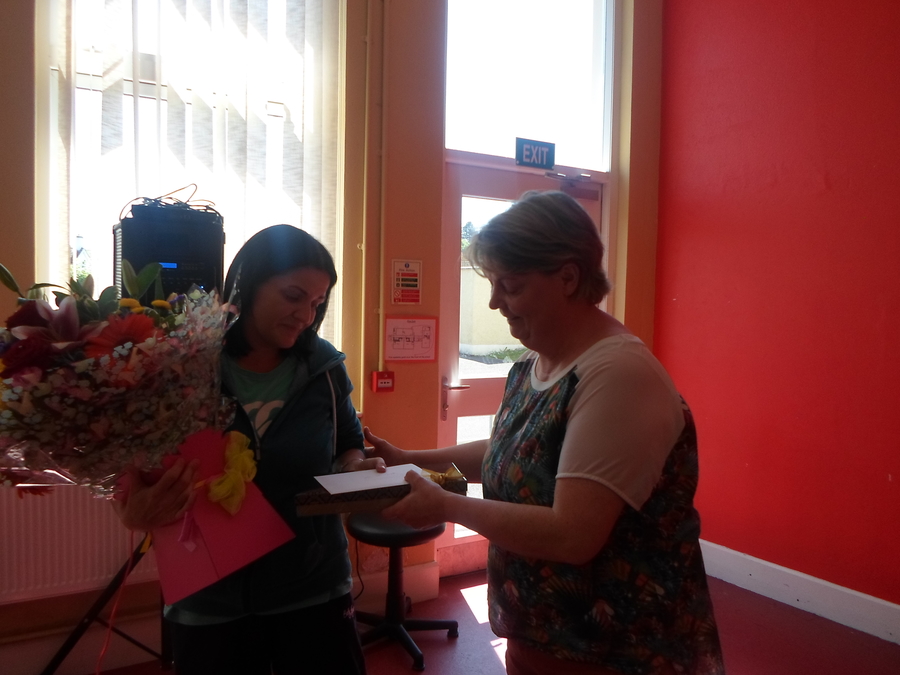 20th June 2017
We had the raising of our recently awarded Green Flag and Active School Flag today at the school. Family members & friends joined us at the school to celebrate the raising of the flags, it was a great achievement for such a small school to get both flags during the same school year. It took a huge effort from the children, parents and staff to secure both flags & we thank all involved for their hard work. We completed the Travel Theme for the Green School Flag & the Dance Theme for the Active School Flag. Three of our hard-working parents raised the Green School Flag, Bridgie Gallagher, Breege Haughey & Catarina Dullea - these three parents co-ordinated the 'Park & Stride Walk to School' project all year for us, thank you very much girls. Local man, Michael Naughton who is the manager of the very successful Donegal GAA Ladies County Team raised our Active School Flag, thanks very much Michael, it was an honour to have you.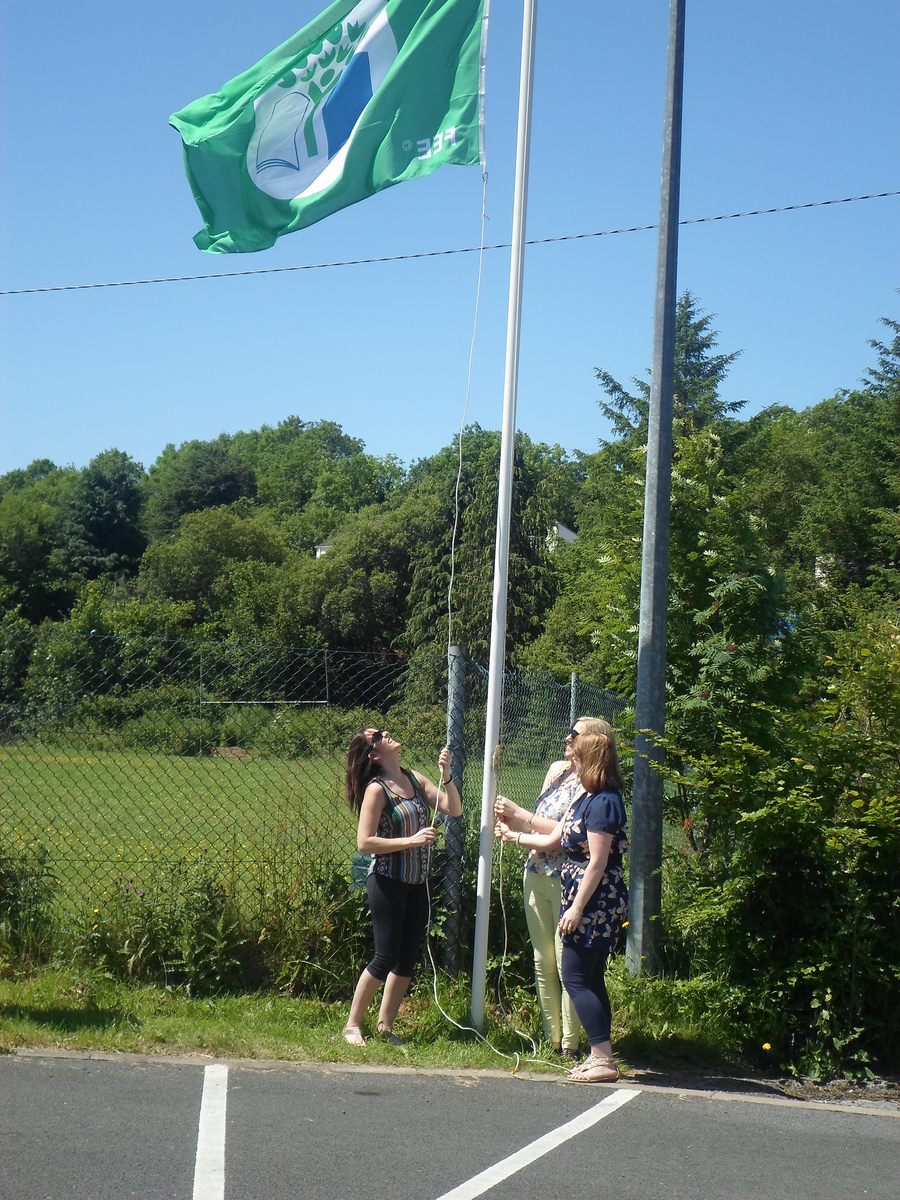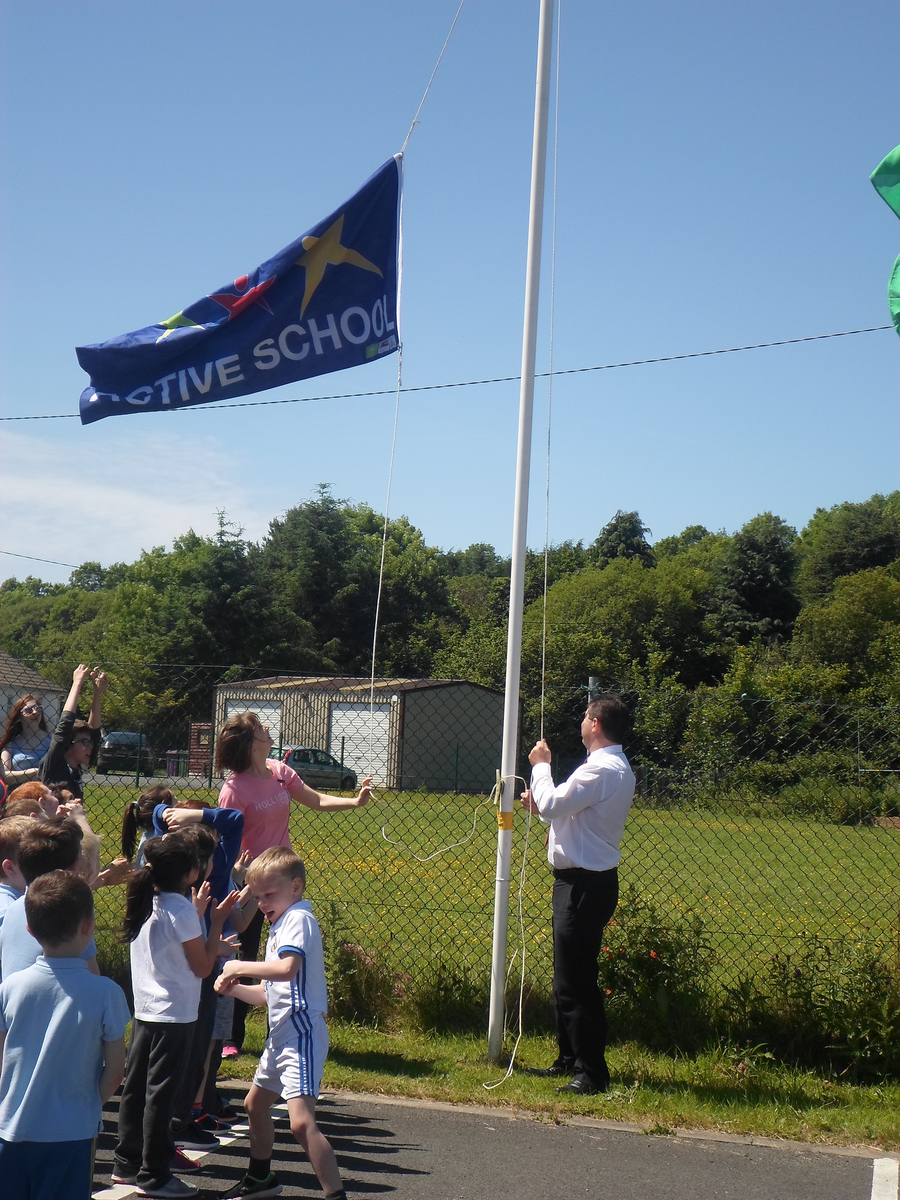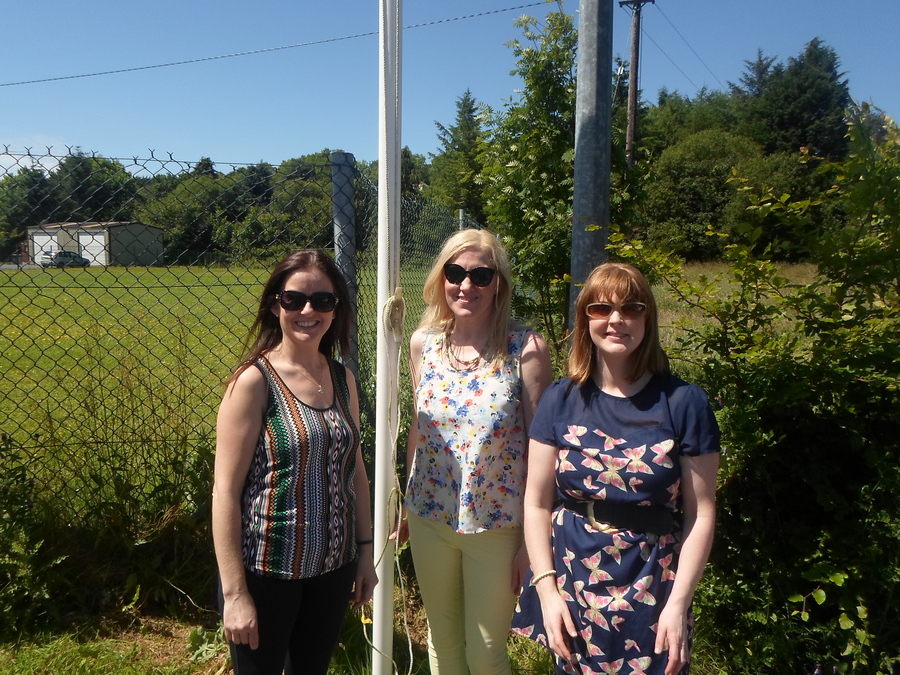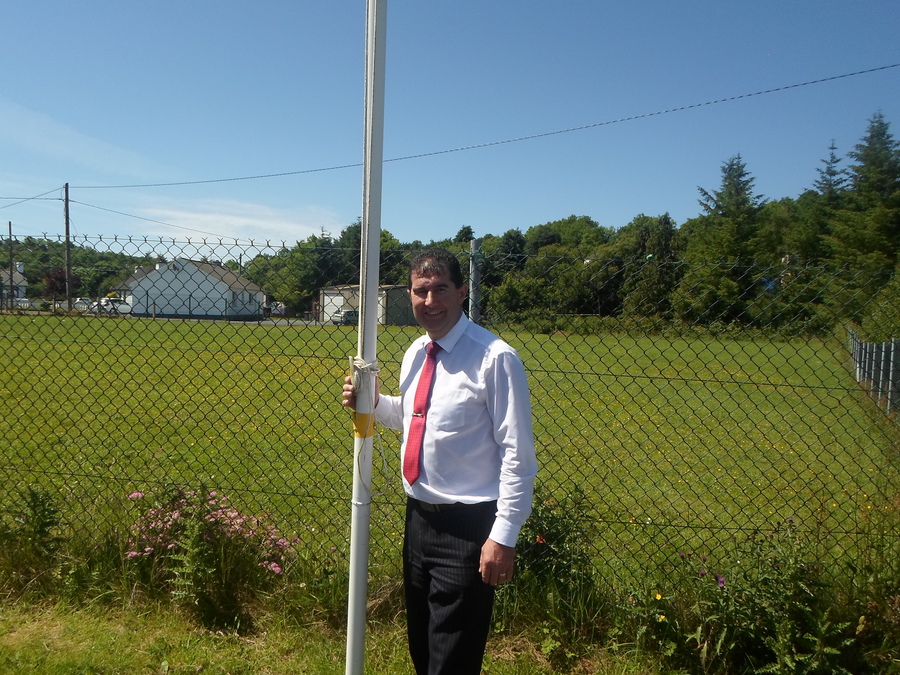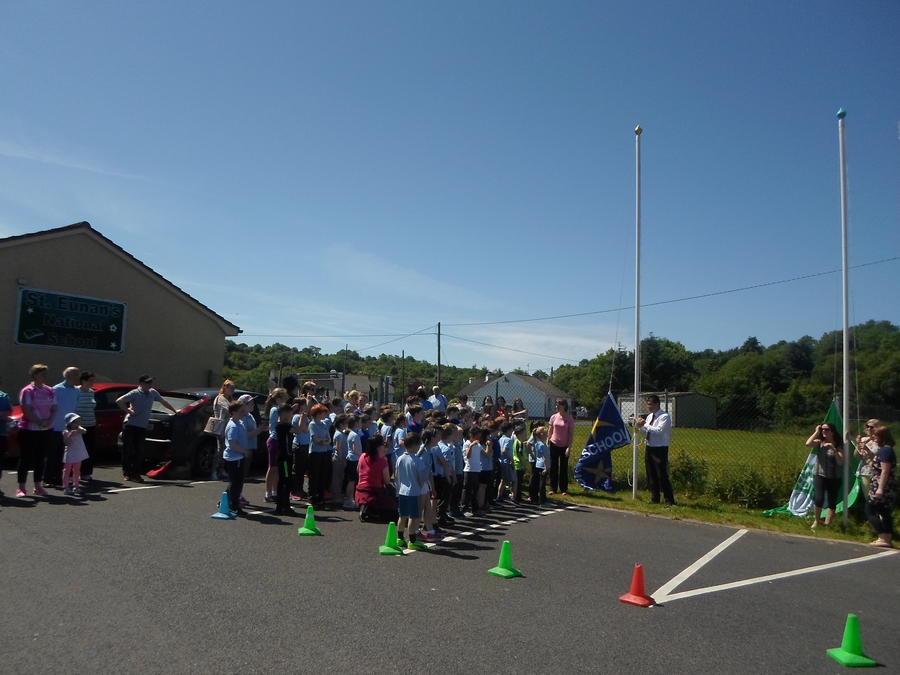 Afterwards we had our Dance Competition which was part of our Active School Dance Theme. We had various dance routines rehearsed over the past few weeks and our judges had a hard time picking the winners. Well done to all the children for perfecting their fabulous routines.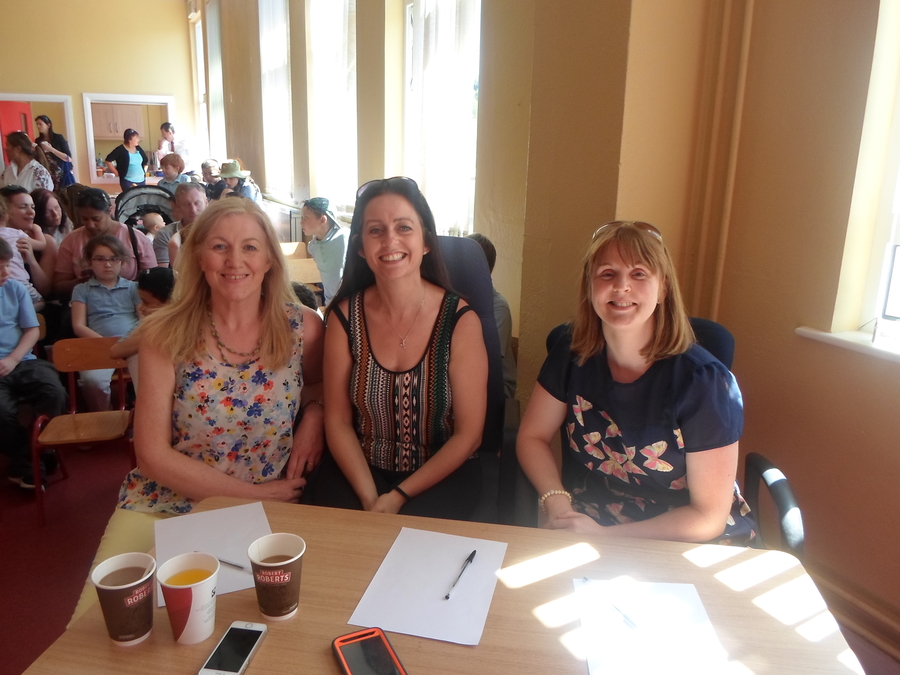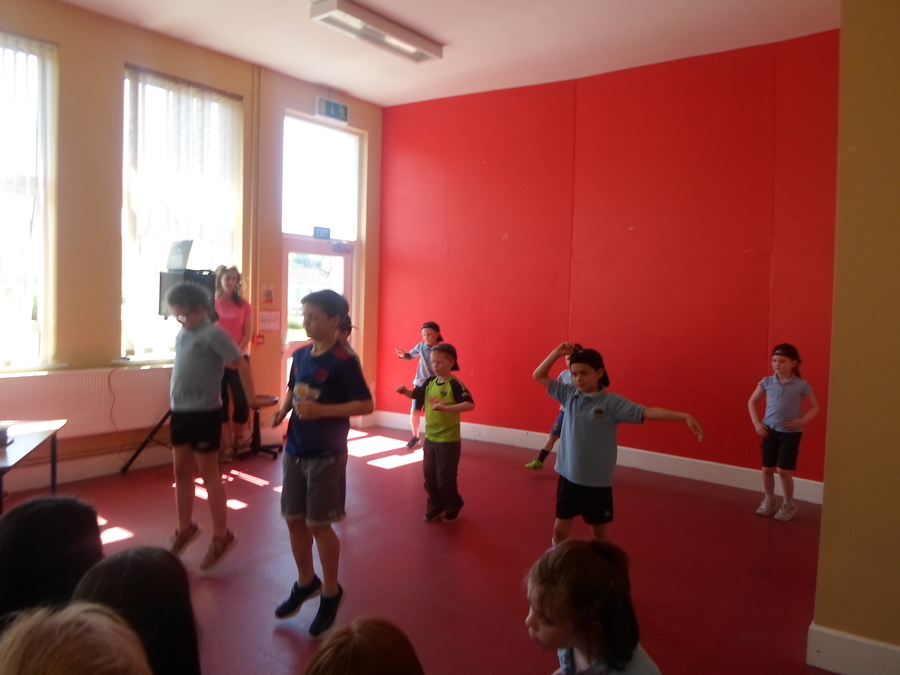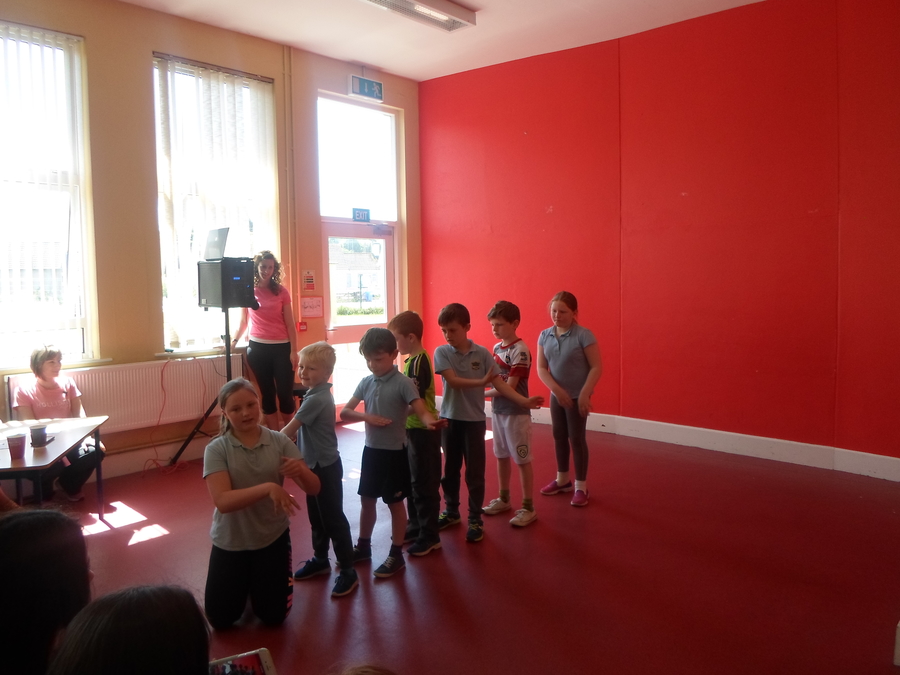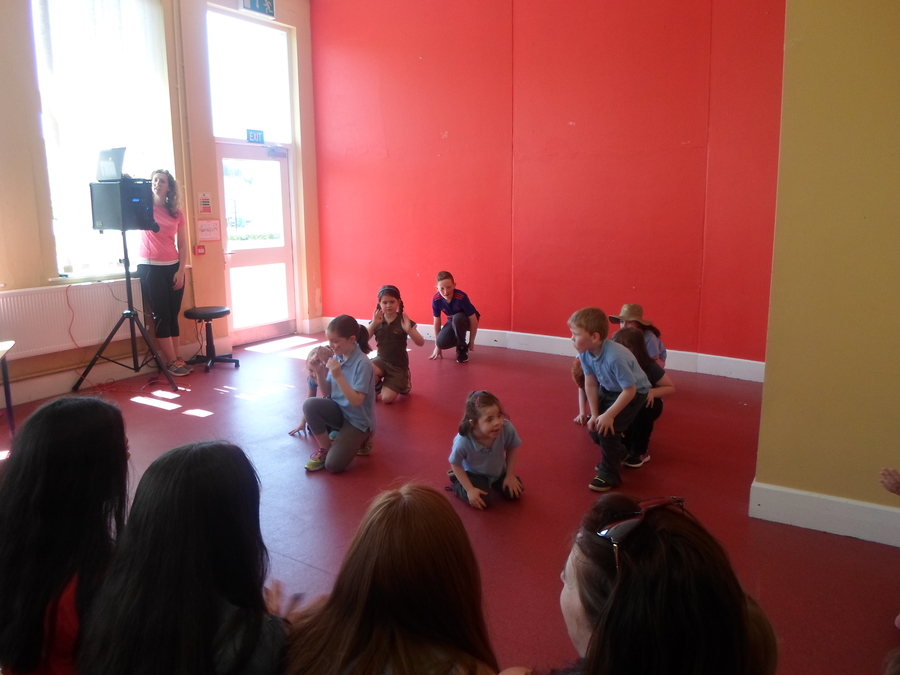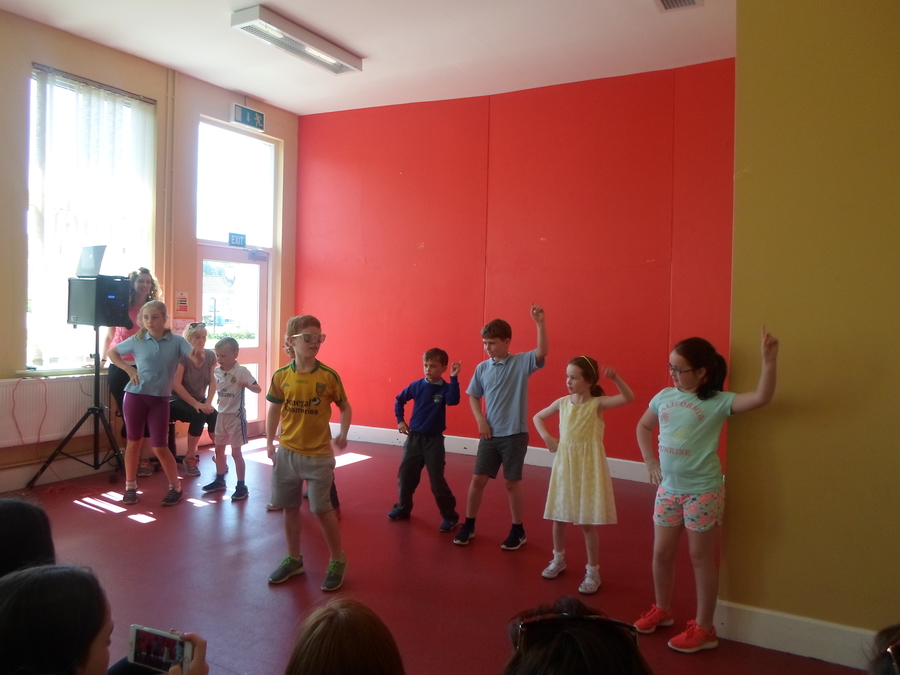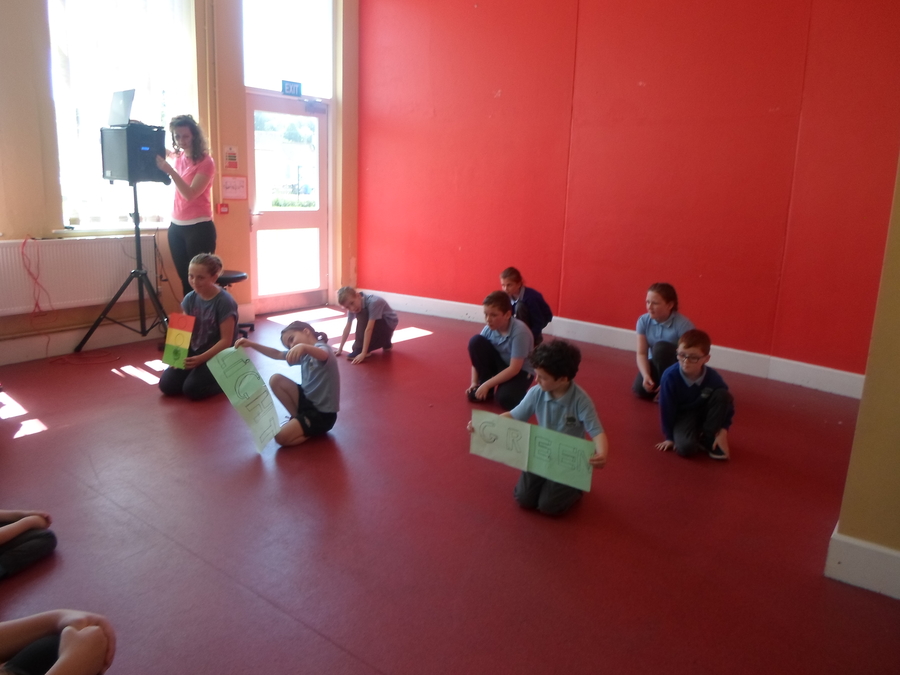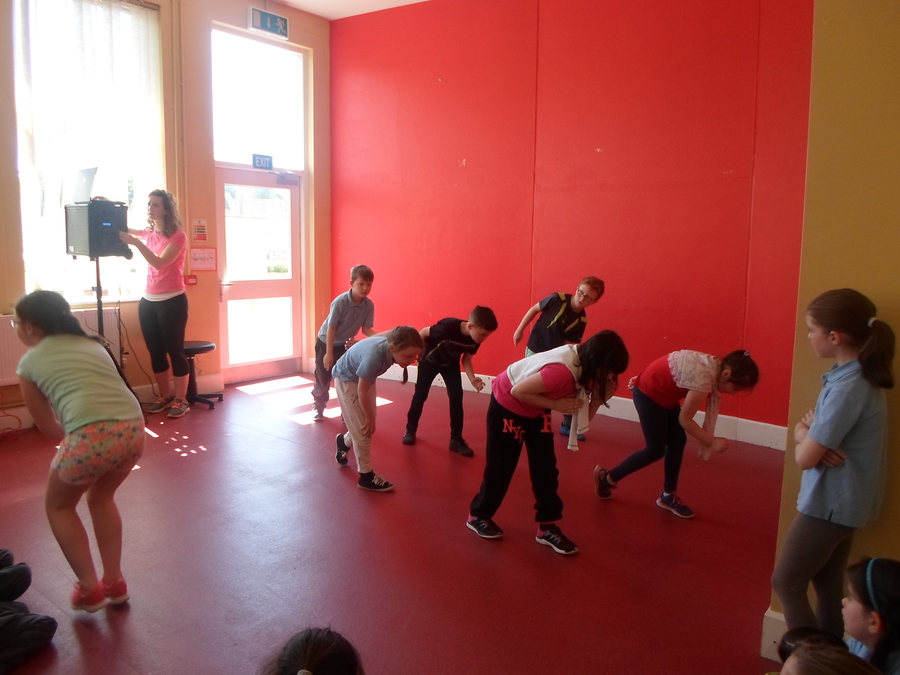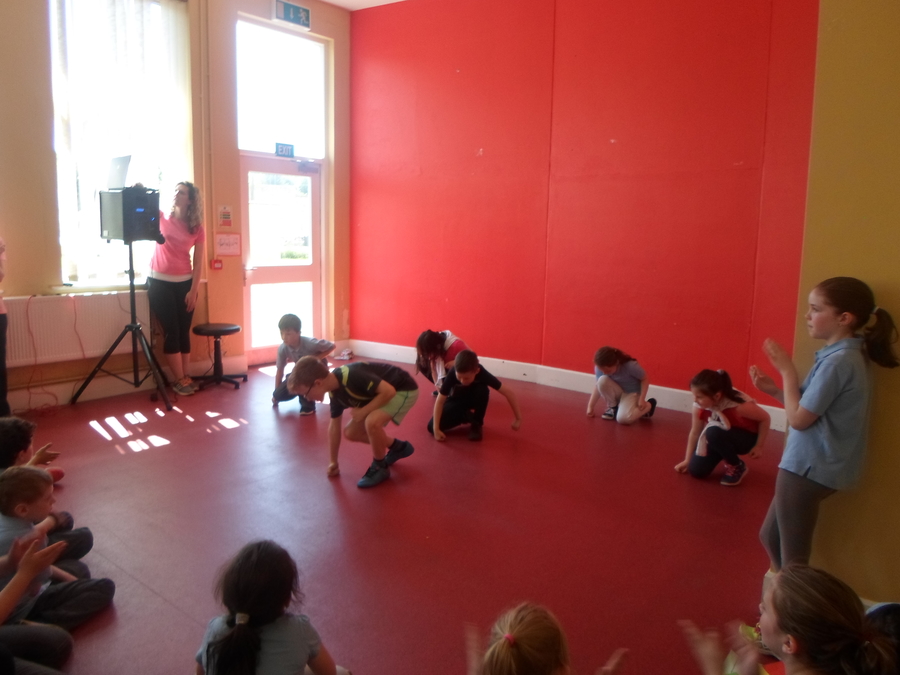 Today was also Sports Day at the school, our parents and families came in to see us competing in the various races and sports, we even had some parents participating. A fun day was had by all & the sun shone all day. Thanks to the Parents Association for organising the refreshments afterwards.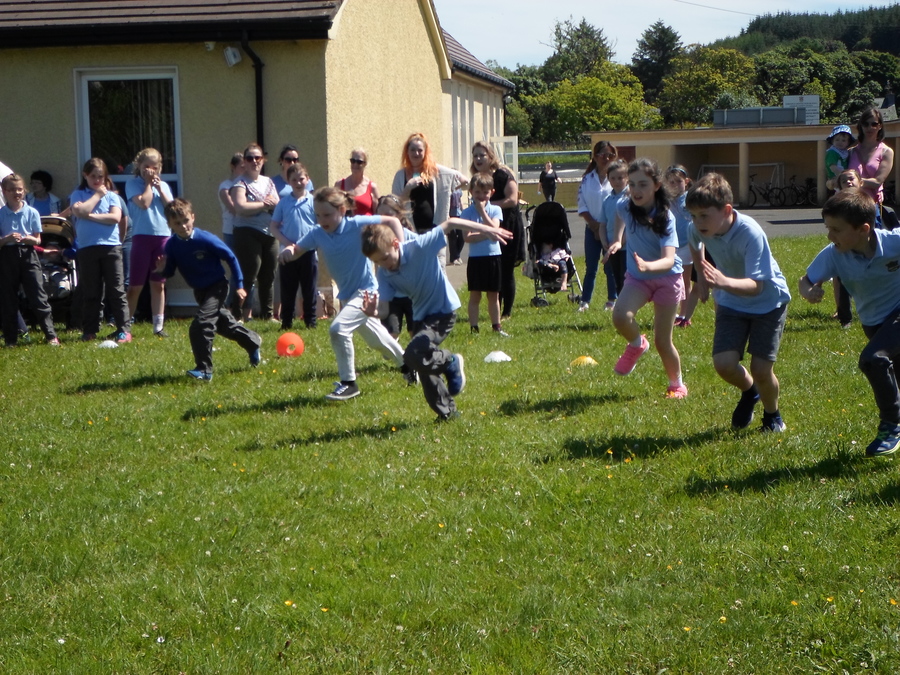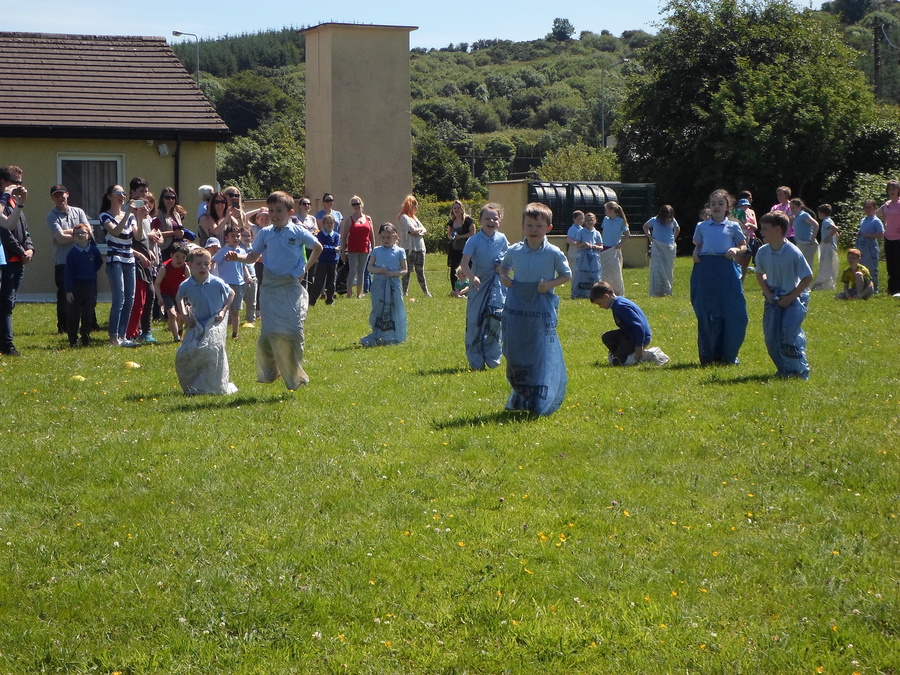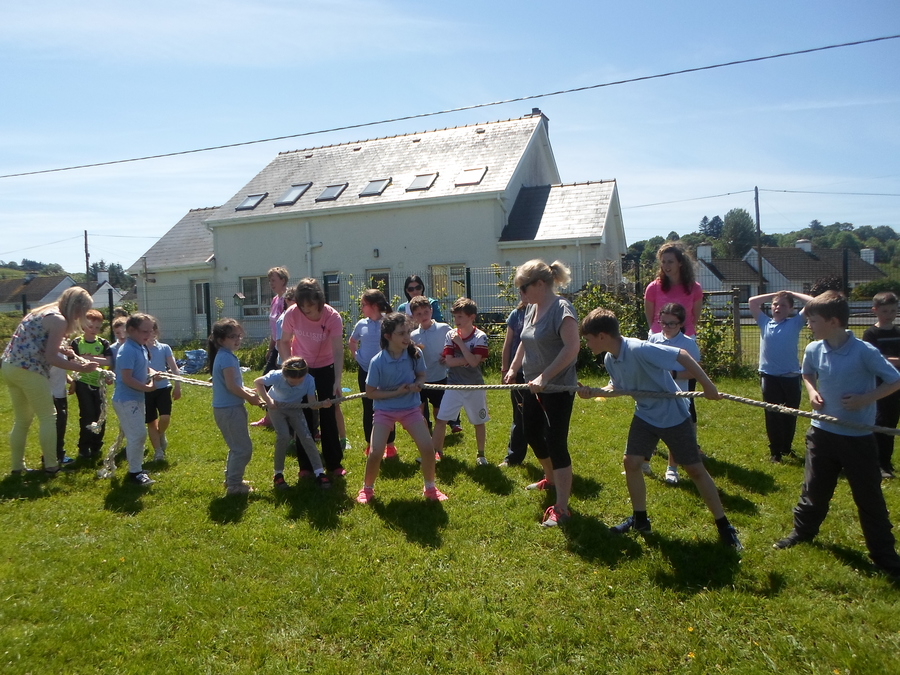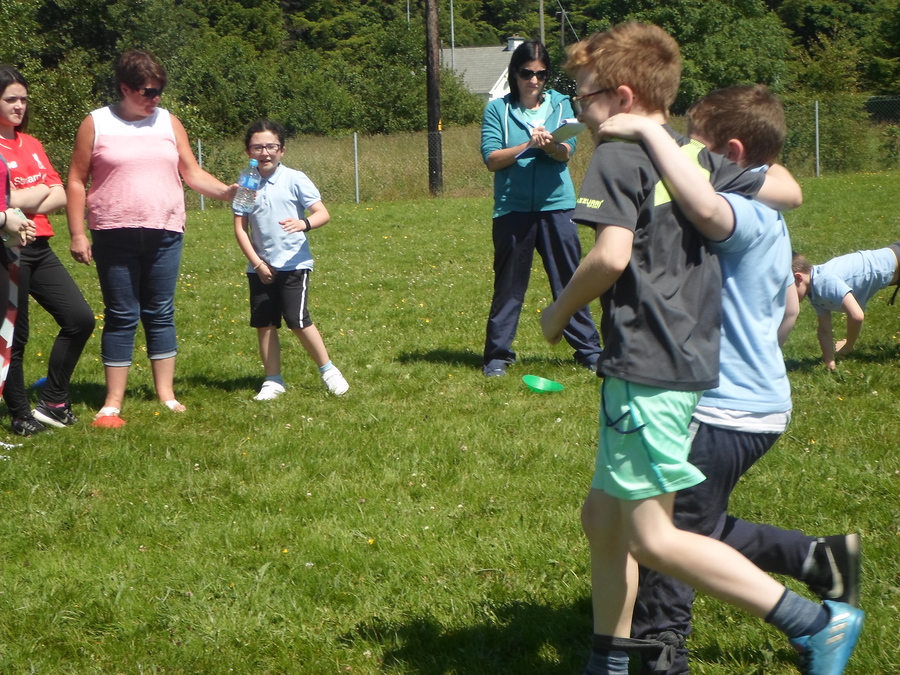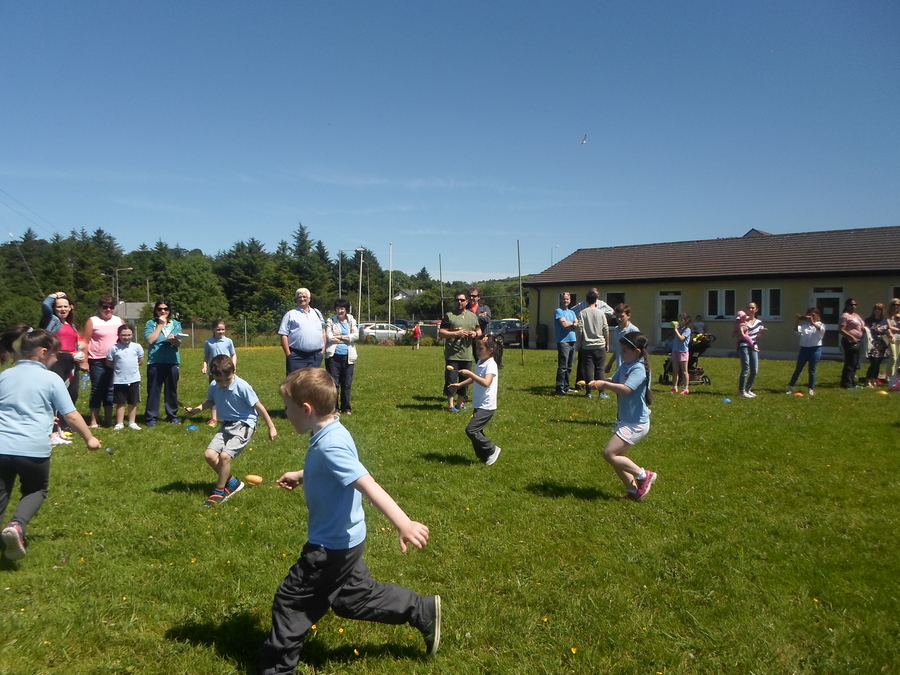 16th June 2017
The senior room took part in a GAA Blitz in Pairc Naomh Brid today, it was organised by Brian Roper & Naomh Brid GAA Club. All 3 schools from the parish took part and the teams were made up of a mixture of players from each school. County player, Hugh McFadden also attended much to the childrens delight. There was some great football played & great skill on show. Everyone there was impressed by the standard of play and in particular with the girls progress. All the children had a great day and enjoyed meeting the children from the 2 other schools. A huge thank you to Brian Roper & Naomh Brid GAA club for hosting the event.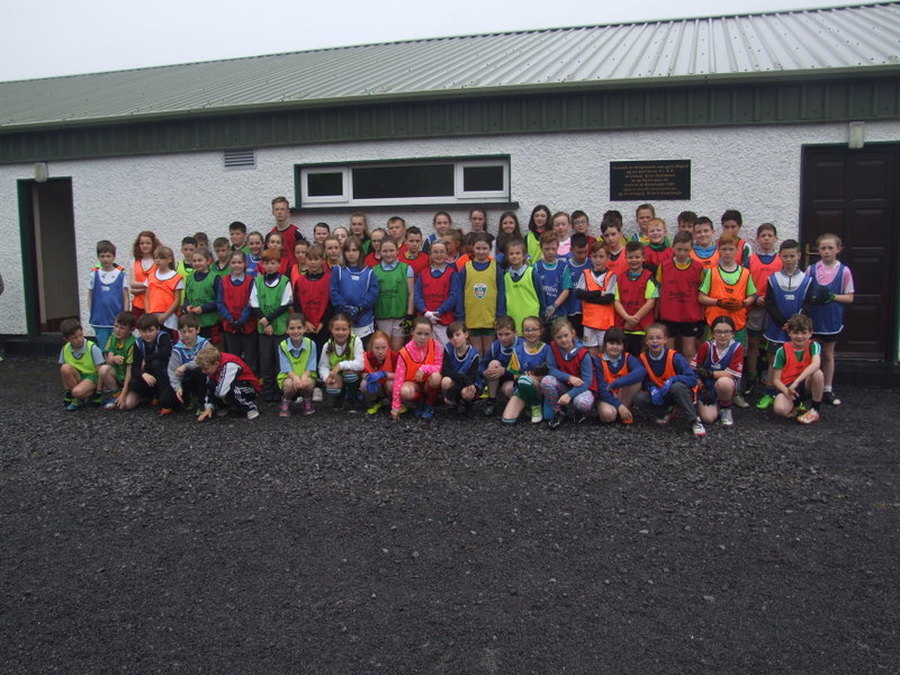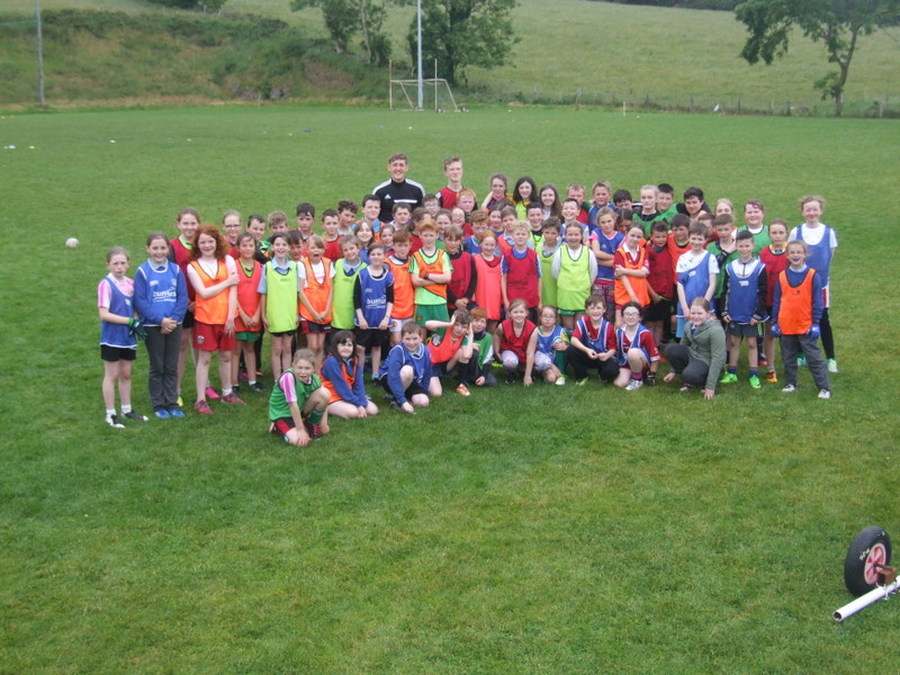 13th June 2017
Today the children in the Senior Room completed their Recycled Materials Art Project. They created beautiful robots. We love all the different shapes, sizes and colours! Well done to all the children involved and to the parents for providing the materials. Have a look at the photos below to see the creations: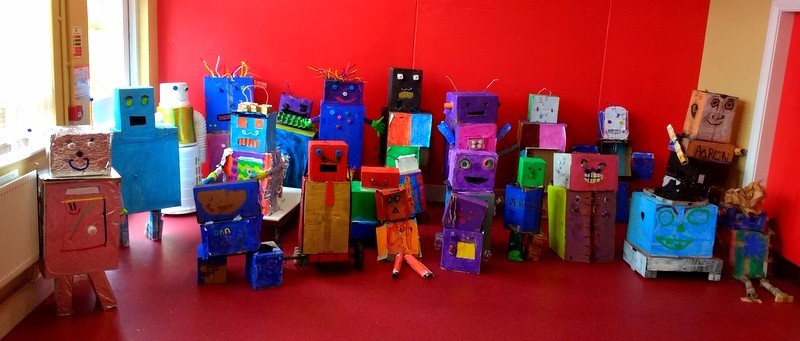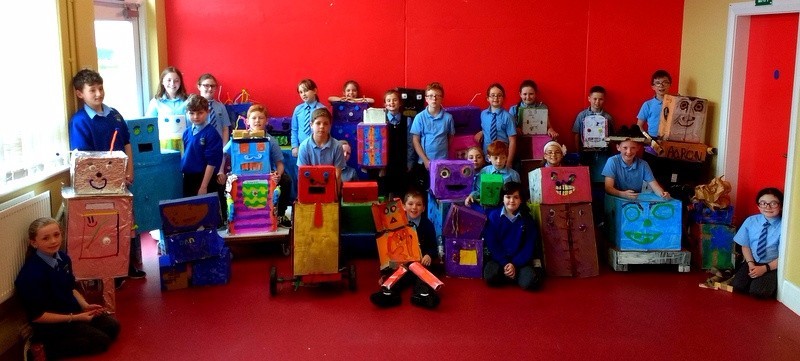 1st June 2017
Our school hosted an 'Ice-Cream Party' in aid of Downs Syndrome Ireland today. Family and friends came in to have some ice-cream & treats. We also had face-painting & a bouncy castle. Everyone had great fun and we raised €268.75 for this fantastic cause. Thanks to everyone for their support.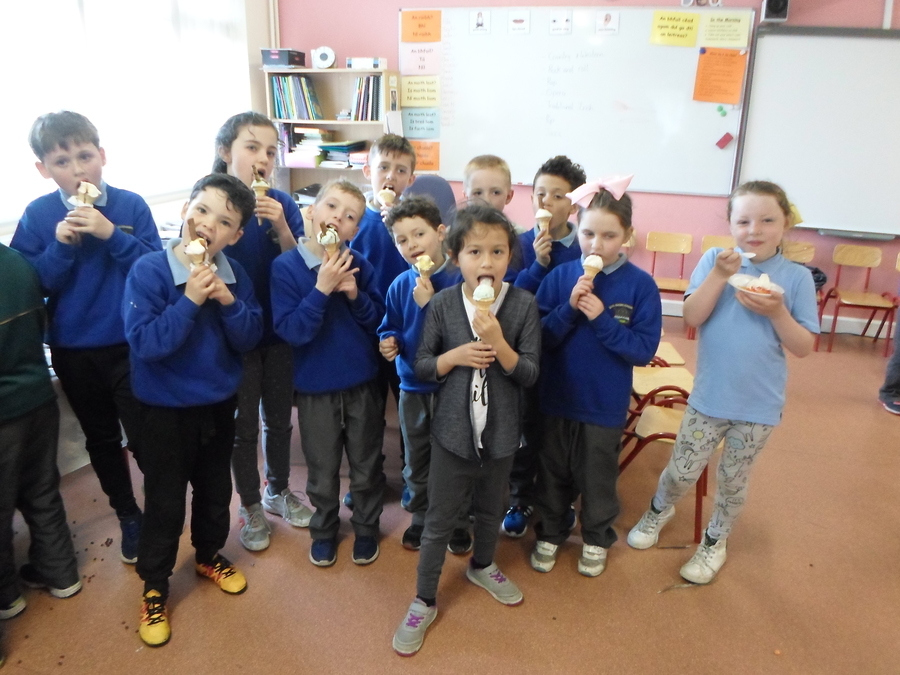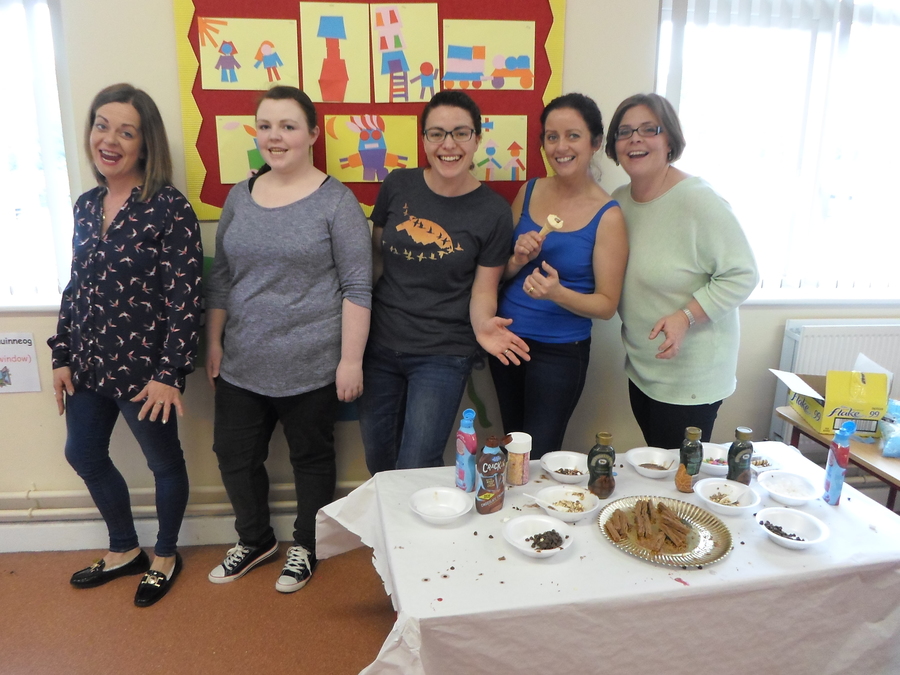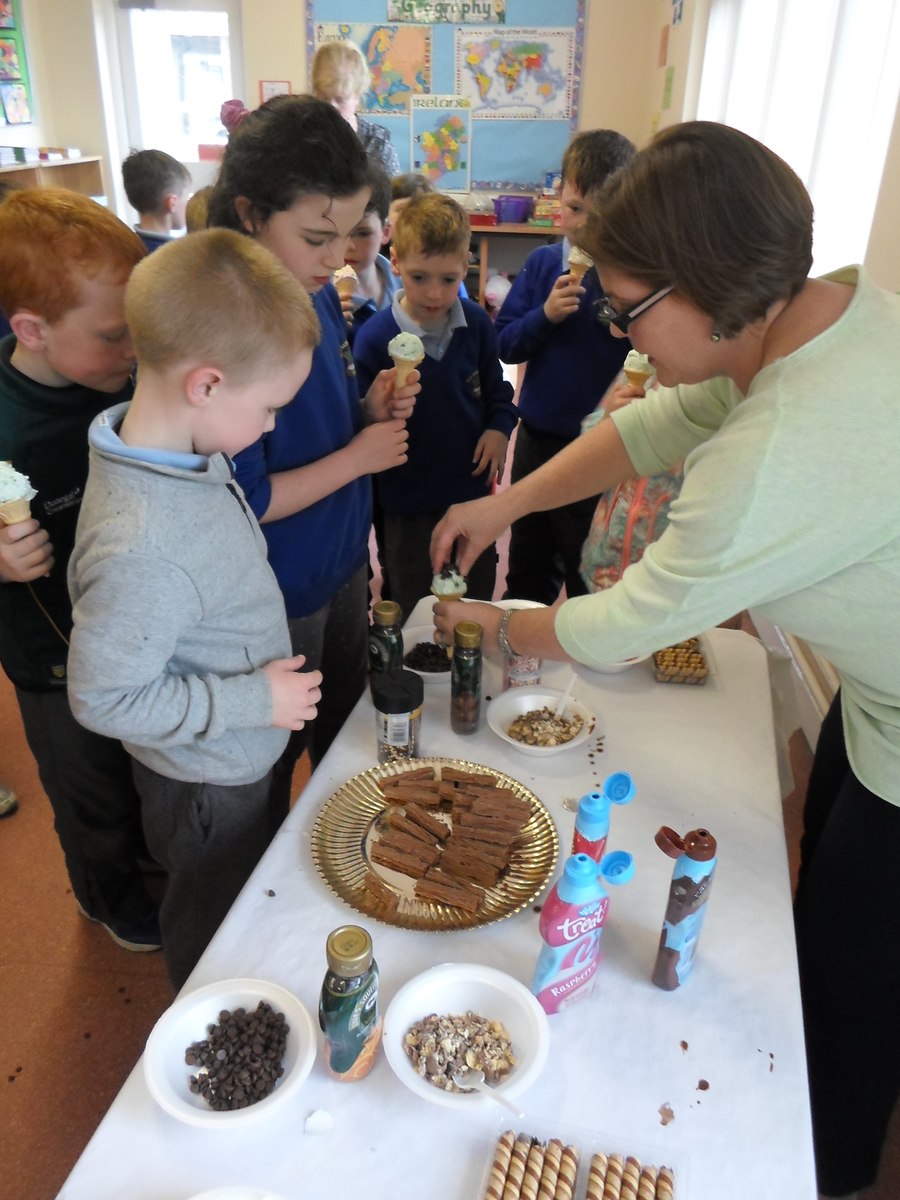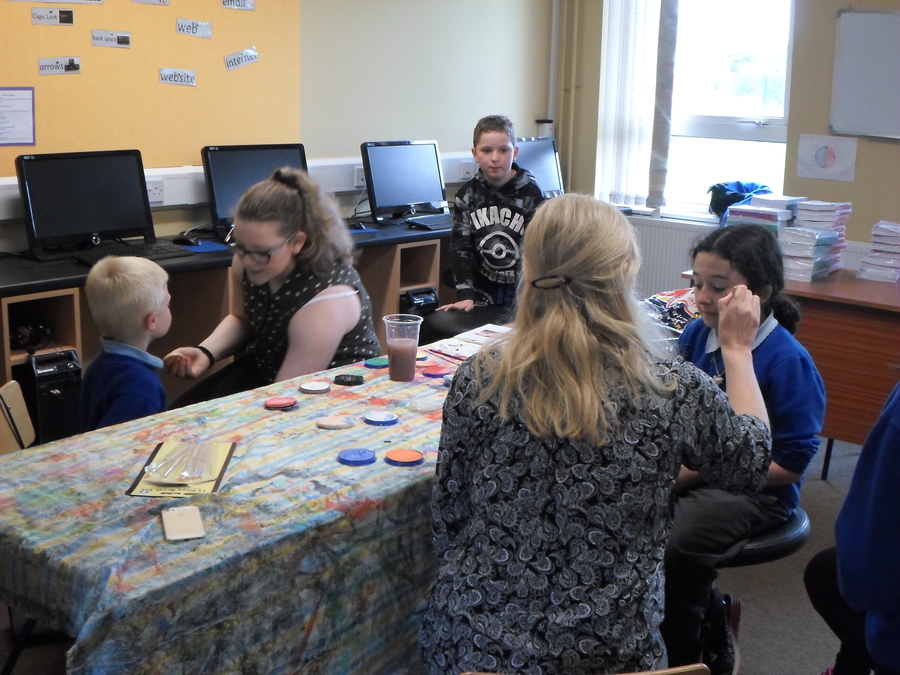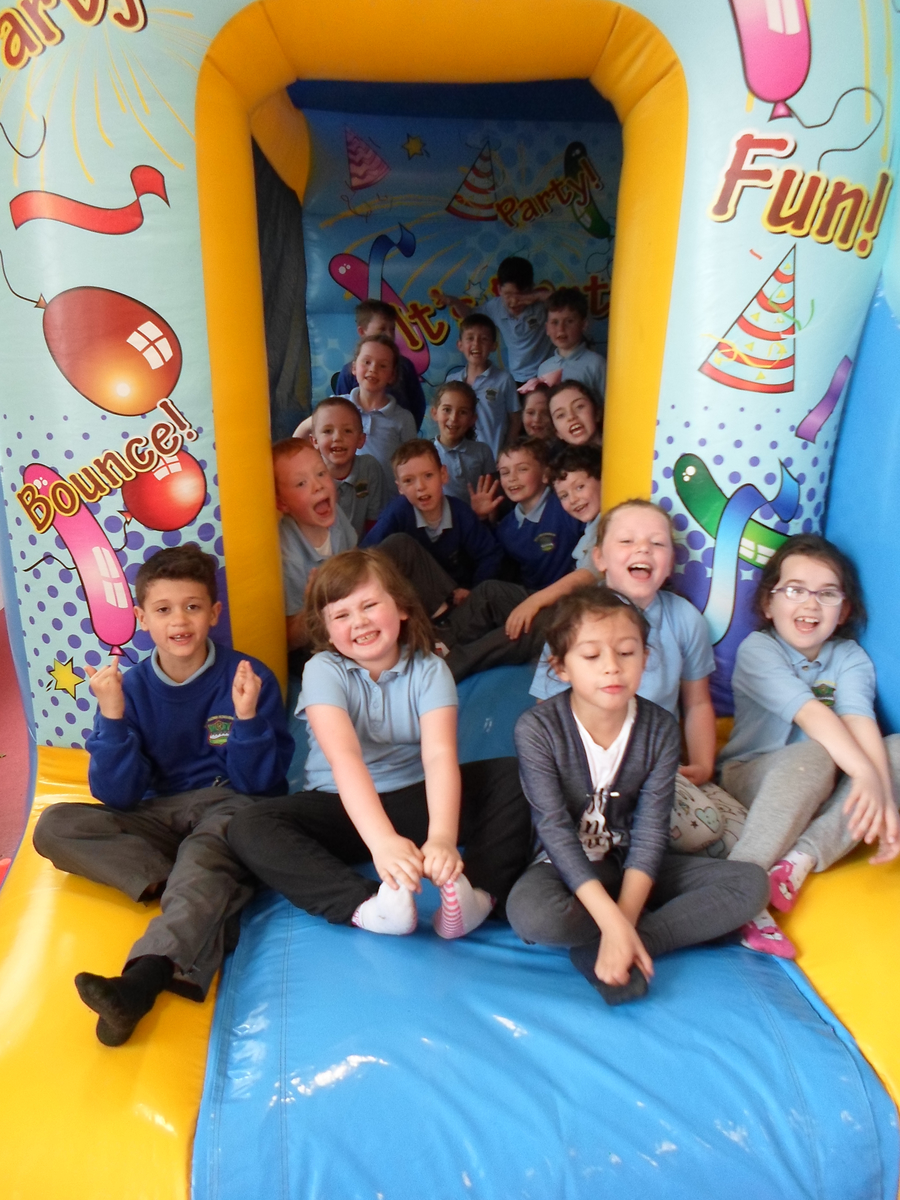 31st May 2017
Over the past few weeks the children in the Senior room did a project in conjuction with Abbott Ireland called 'Our City'. They constructed a cardboard city with all the amenities they could think of and with the help of the tutor from Abbotts & research completed by themselves they put it all together. Well done to all involved in completing this great project.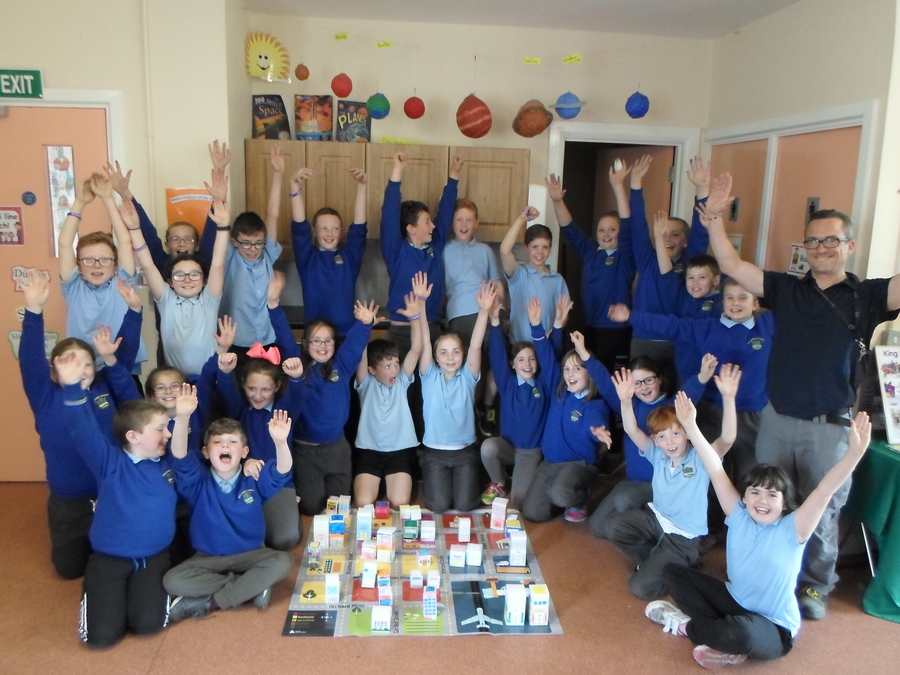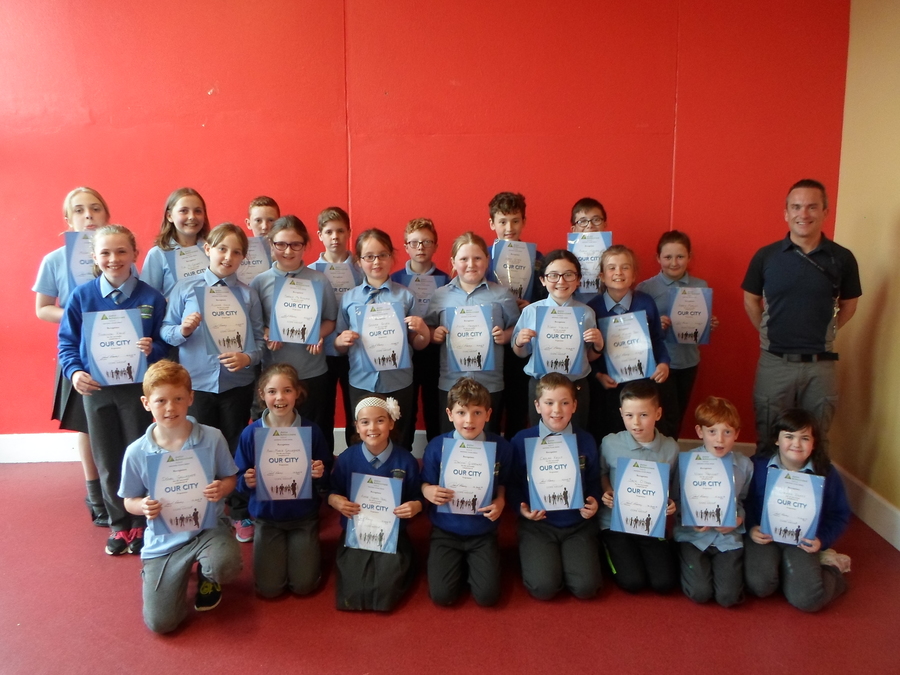 People who help us Week 8th - 12th May
This is our 'People who Help Us Week' where we invite various people from important services into our school to tell us about their work. We had the following people in during the week:
Monday - Fire Brigade
The two Kevin's from Donegal Town Fire Station came in to tell us about their important work in our community. They also brought in the fire engine which was very exciting for all the children. They informed us of the number of fire fighters in our local station and how many fires there was in the past year locally. They also let us spray the water from the fire engine which we enjoyed very much.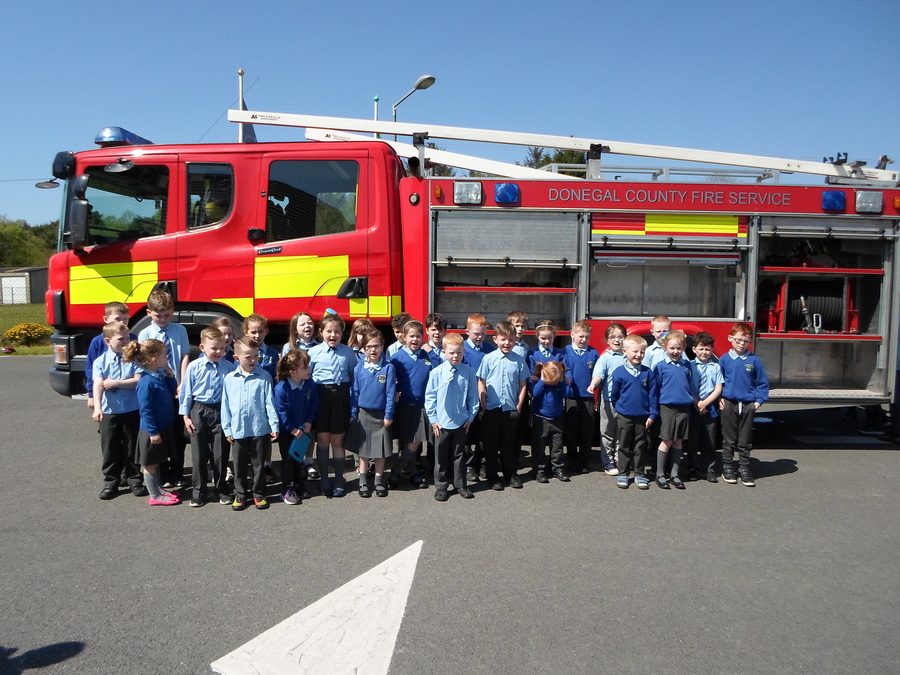 Tuesday - Animals in Need
Gitte from Donegal Animals in Need came in to tell us about the work that her organisation does in our locality. She explained that they rescue and look after dogs & cats and other animals until they find them a new loving home. Lots of animals get rescued every year by Animals in Need and they have great volunteers who help look after the animals. Gitte brought in five rescued kittens which we all got to cuddle. We supported the cause by buying keyrings and wristbands off Gitte.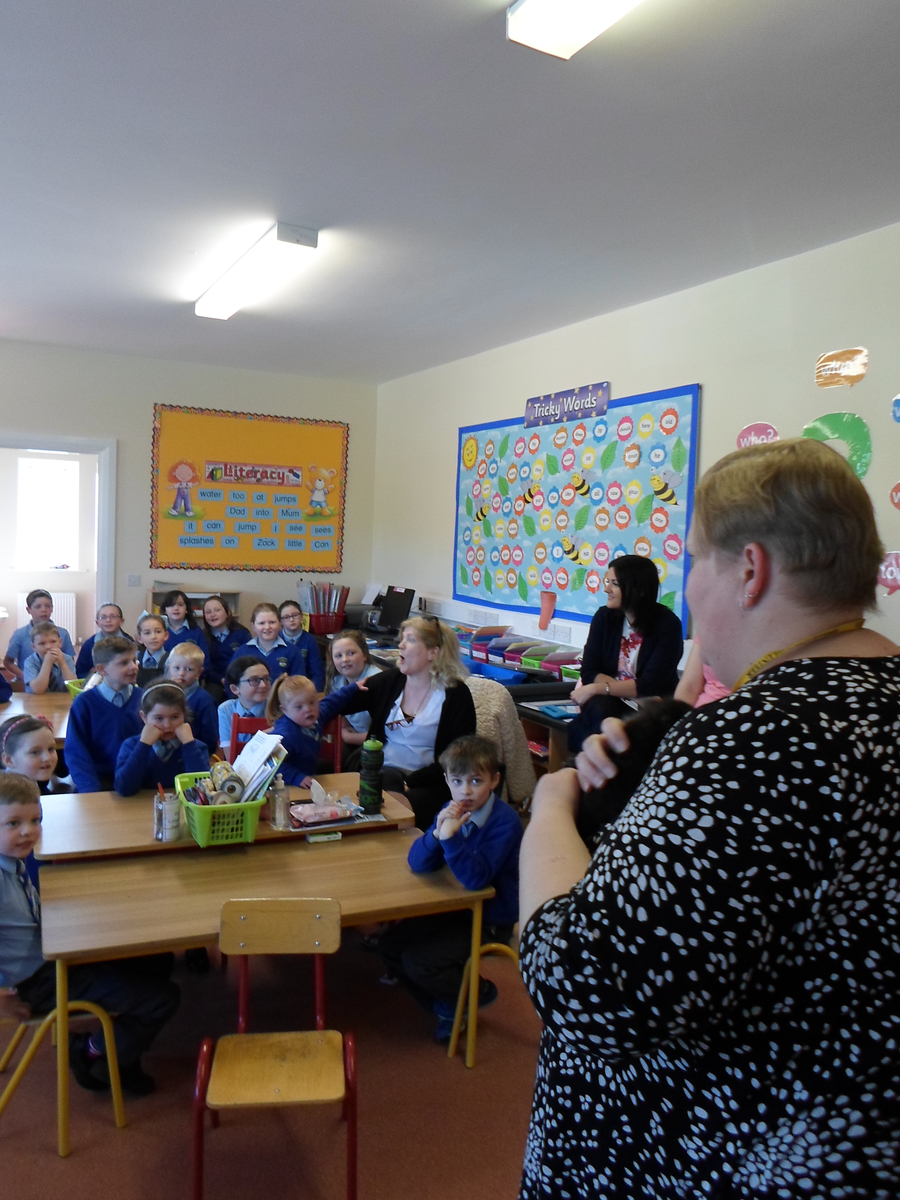 Wednesday - Vet
Today we had a vet from Ulrike Vaughan's Veterinary practice visiting to tell us all about the work that they do. She explained that they treat farm animals as well as pets. She gave us loads of fun facts about animals and brought in a teddy so we could pretend to put in a microchip in it just the vet does with real pets. We learned a lot about animals from the vet.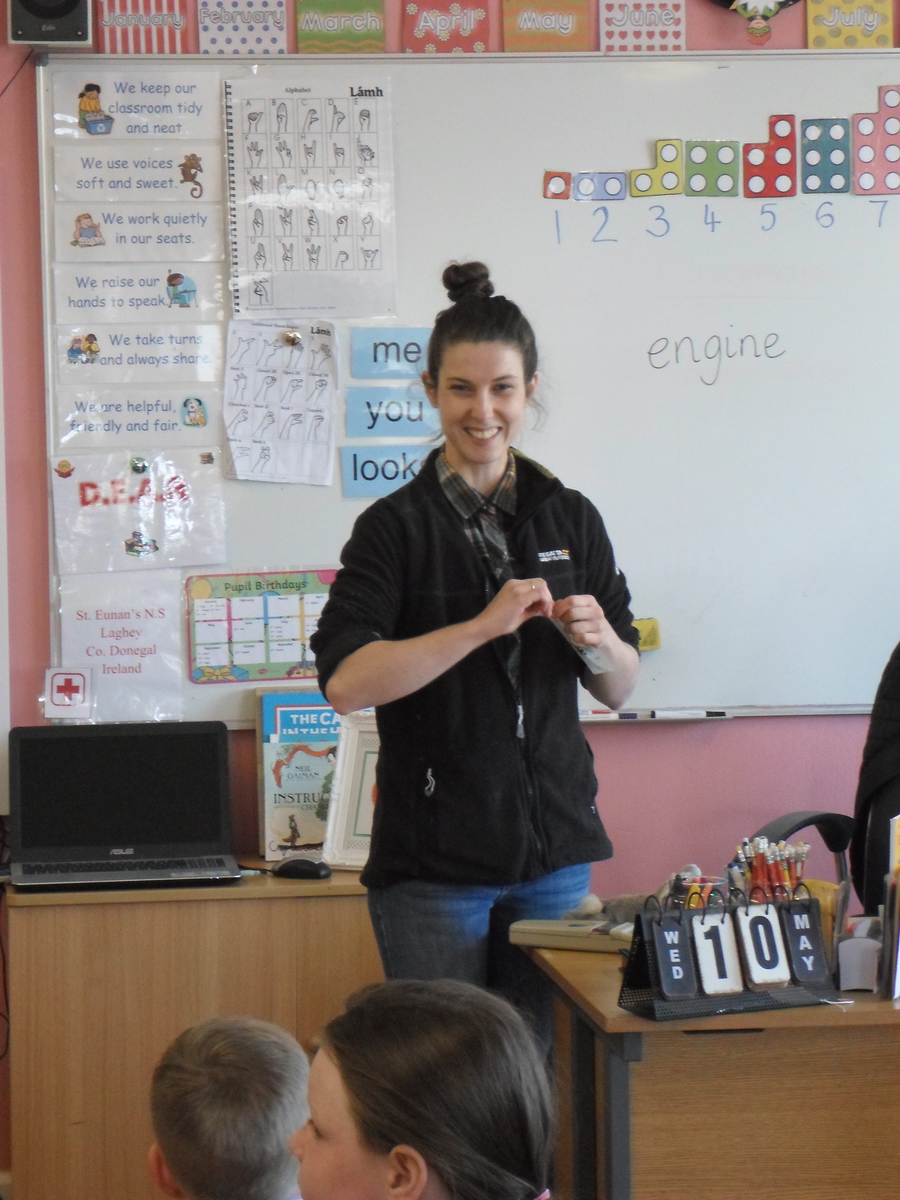 Thursday - Garda
Paddy Battle our local Garda came into our school today to tell us how the Gardai help us every day. He told us how the Gardai keep us safe in our local area by protecting us from crime and also by enforcing the law. He brought in his Garda Car and we all got to have a look inside. Garda Paddy also told us that he is soon to retire and we wish him well.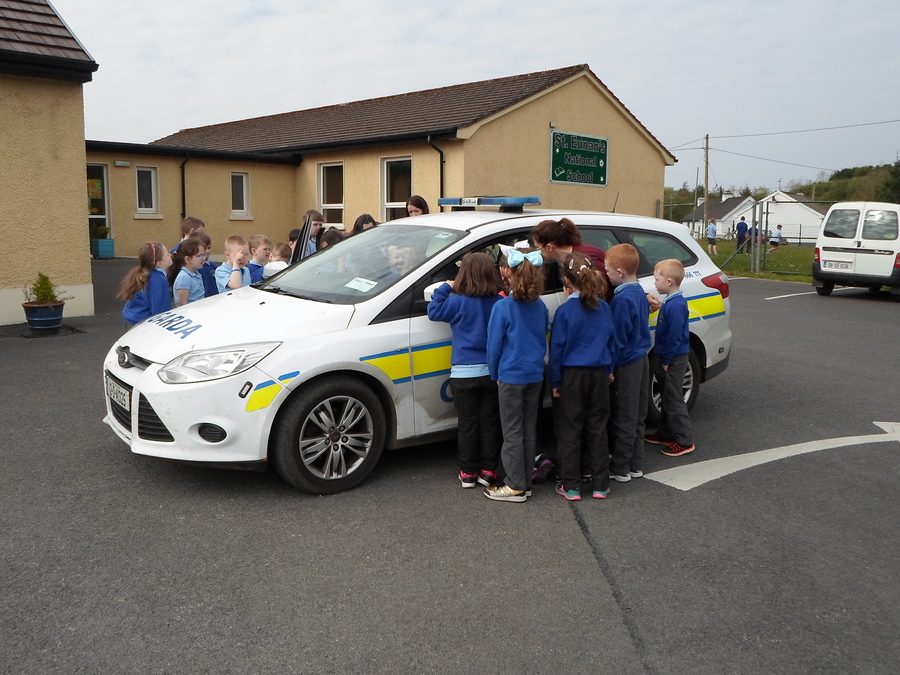 Friday - Dentist
Today one of our parents Carmel McGowan who is a dental nurse came in to tell us about how we should look after our teeth and how the dentist helps to keep our teeth and gums healthy. She demonstrated how to brush our teeth properly in order that we can have healthy gums & teeth for many years to come. She gave us notes to take home to read regularly.
7th May 2017
Today was First Holy Communion Day at St. Bridget's Church Ballintra. The children all took part in the lovely ceremony delivered by Fr Joe. Everyone agreed that all the children did extremely well and looked lovely. We hope that everyone had a lovely day and enjoyed it very much. Thanks very much to the parents and Mrs McDaid who had the children very well prepared for their big day & a very special thanks to Fr Joe for the lovely ceremony. Here they all are receiving their Certificates, also in the picture is Sadhbh who made her First Holy Communion along with our school: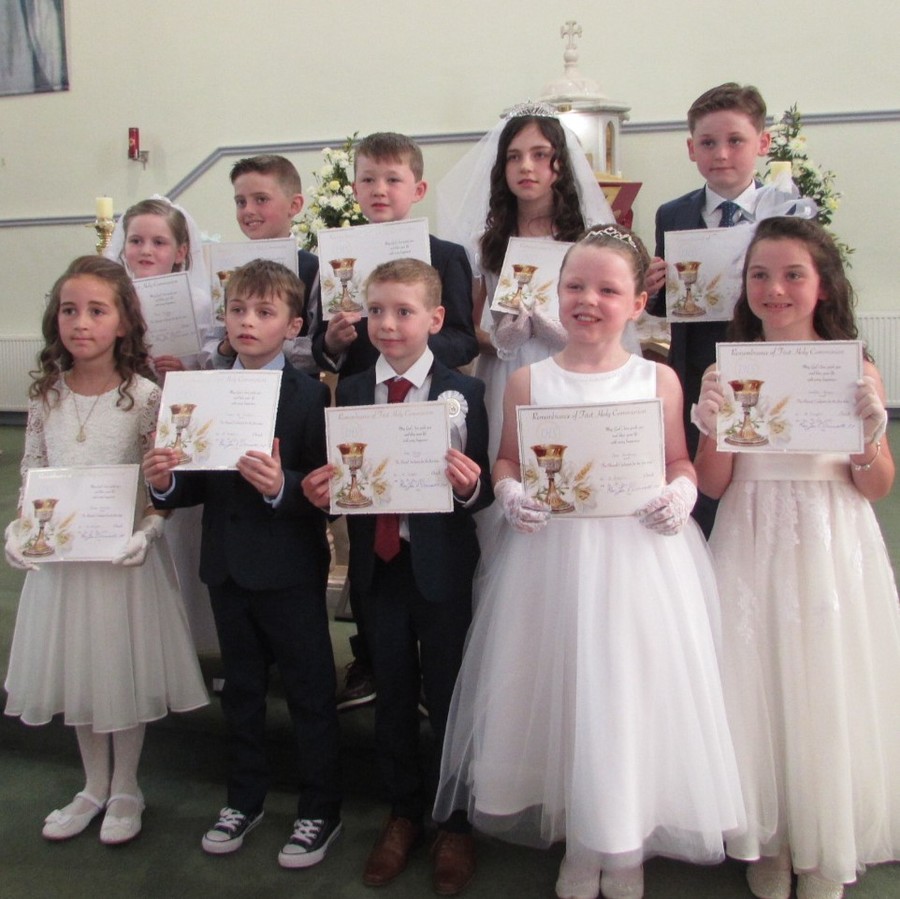 3rd May 2017
Today we were awarded our Green Flag at a presentation day in the Radisson Blu Hotel, Letterkenny. Mrs Meehan, our Green School Co-ordinator and three of the Green School Committee, Tia McGroarty, Liam Given & Ann-Marie Gallagher went to receive the flag on behalf of our school. The Green School Committee would like to thank all of the pupils, teachers & parents who helped us achieve our Travel Theme Green Flag. It was a very proud day for our school.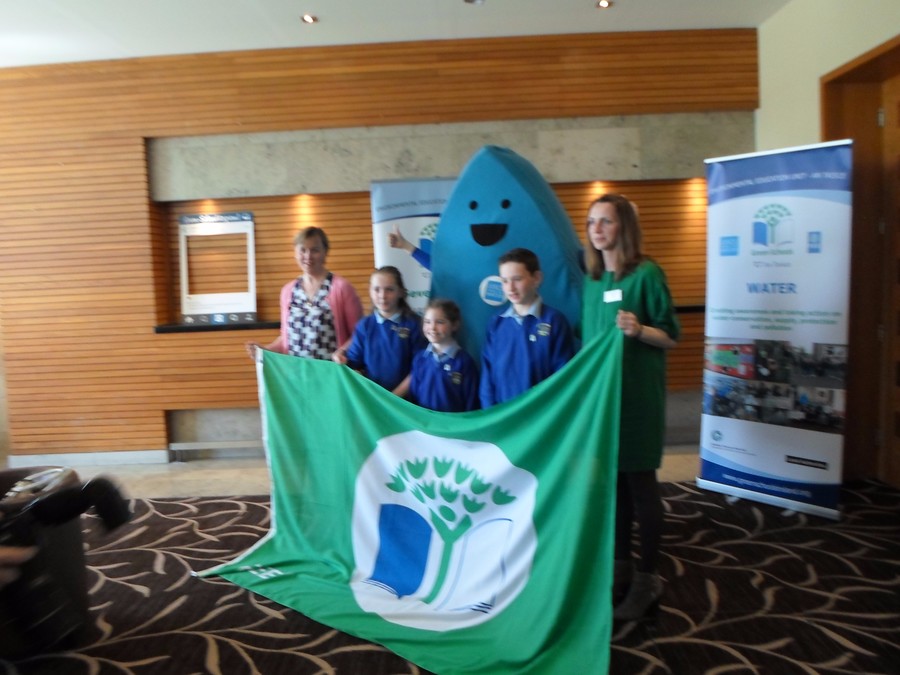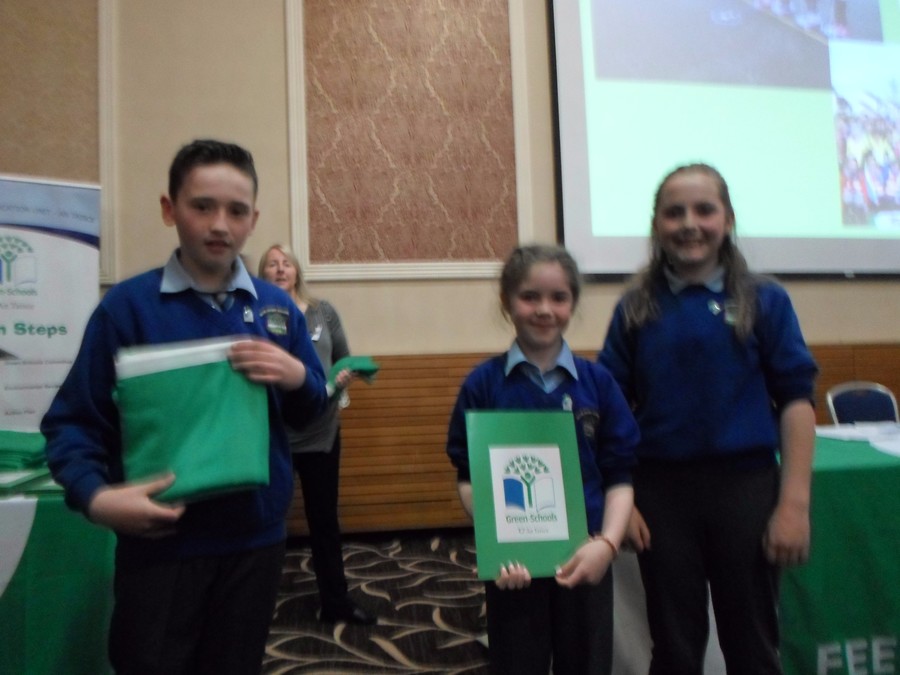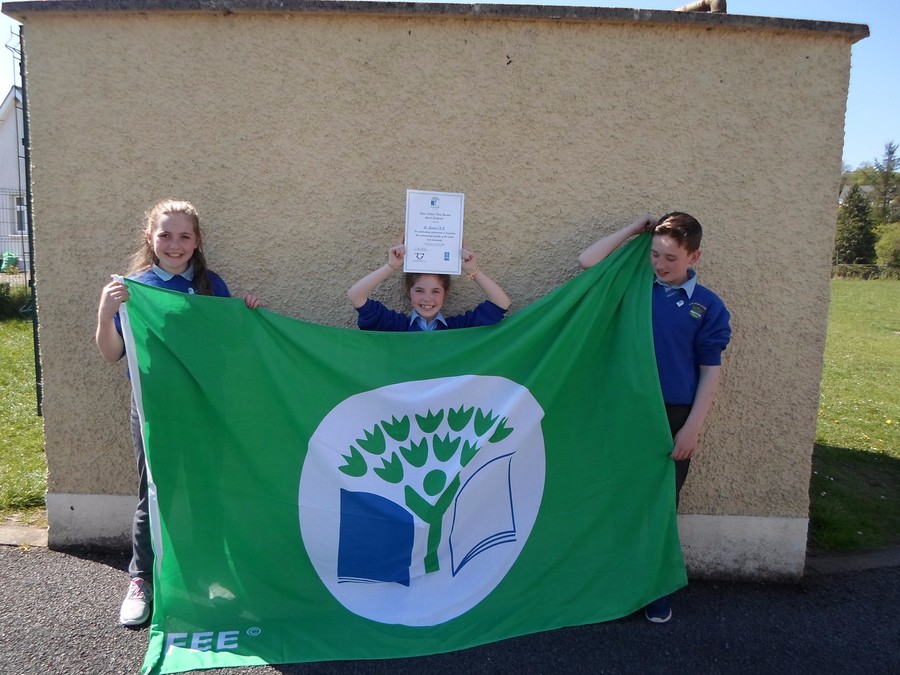 30th April 2017
Today we had our 'Fun Run/Walk' at the school which was kindly organised by the Parents Association. There was a great crowd out walking in the lovely sunshine. Afterwards we had tea and treats at the school and prizes were given to the winners of the timed race, we also had a raffle with great prizes.
Thanks very much to the Parents Association for organising everything and to everyone who helped on the day and baked at home. Without all of the support we couldn't make these events a success.
A huge thank you to Seamus McGowan of Daytona Transport for the very generous donation of €300 towards the walk.
16th April 2017
The Parents Association had their annual BAKE SALE in Ballintra Community Centre today after Mass. There was a fabulous selection of home-baked goods and a welcome cup of tea for everyone. It was a great success and we would like to thank everyone for making the effort to bake at home and to everyone who supported the fundraiser.
3rd April 2017
Congratulations to Ava Fehilly in senior infants who won a prize for her fabulous artwork in the Donegal Town Bank of Ireland Enterprise Town Art competition which the pupils in our school entered. Here's a very proud Ava receiving her prize on Saturday from local GAA star Karl Lacey. Well done Ava!!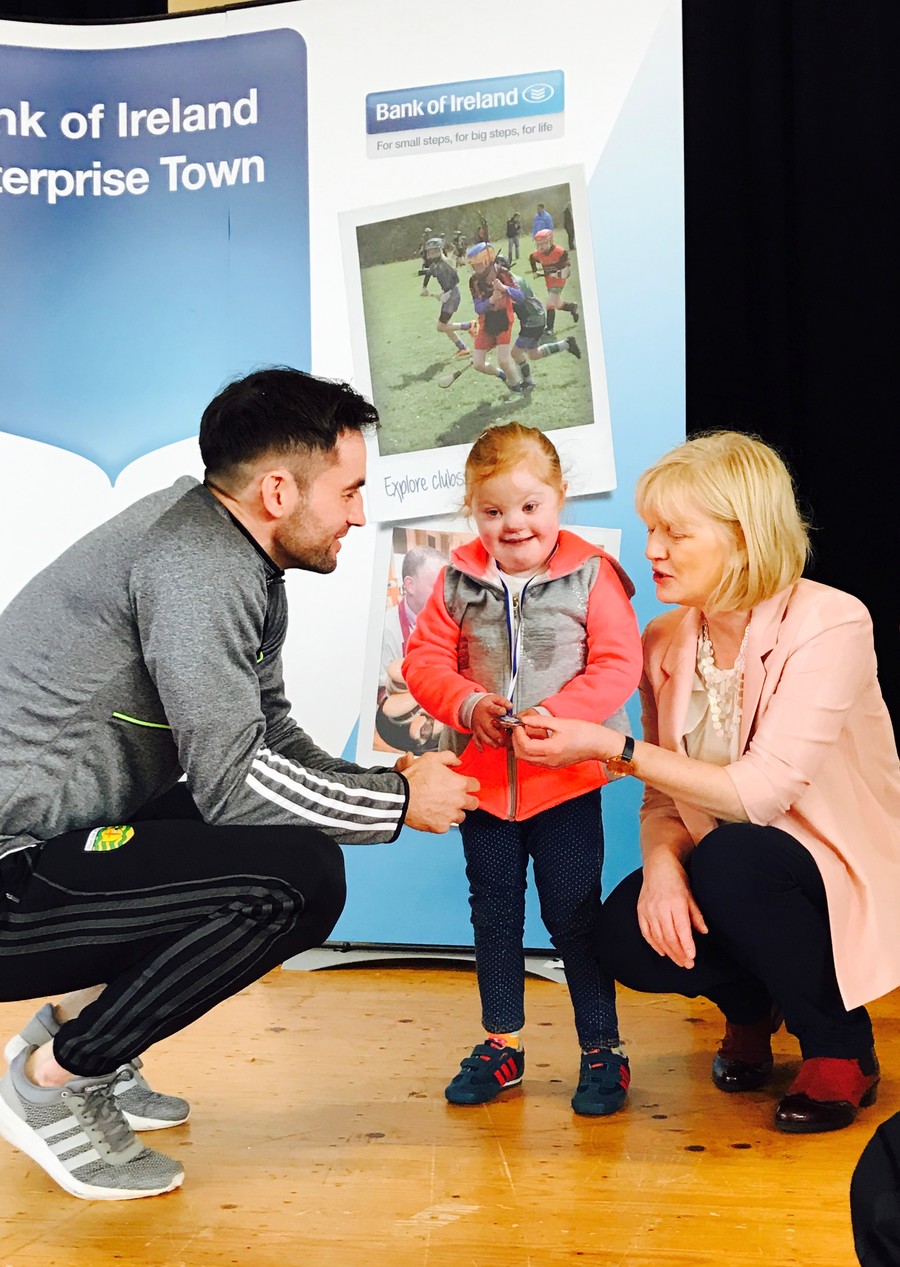 14th March 2017
Today the children in the senior room started their rugby training with coach Declan Bushell. Declan will be here every week until the Easter holidays. It is good for us to learn how to play rugby because it is not one of the most popular team sports in Donegal. We really appreciate getting the chance to play some rugby and thanks very much to Declan for coming into our school to coach us. We will be taking part in a blitz at Donegal Town Rugby Club on Thursday 30th March so we have to train hard until then, we are encouraged to practice during break times and at home.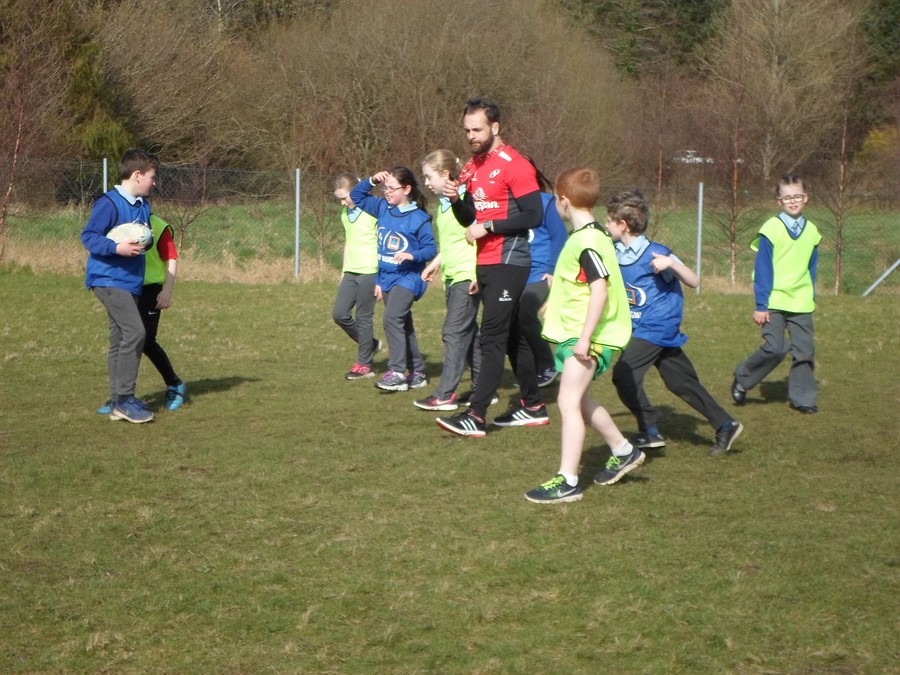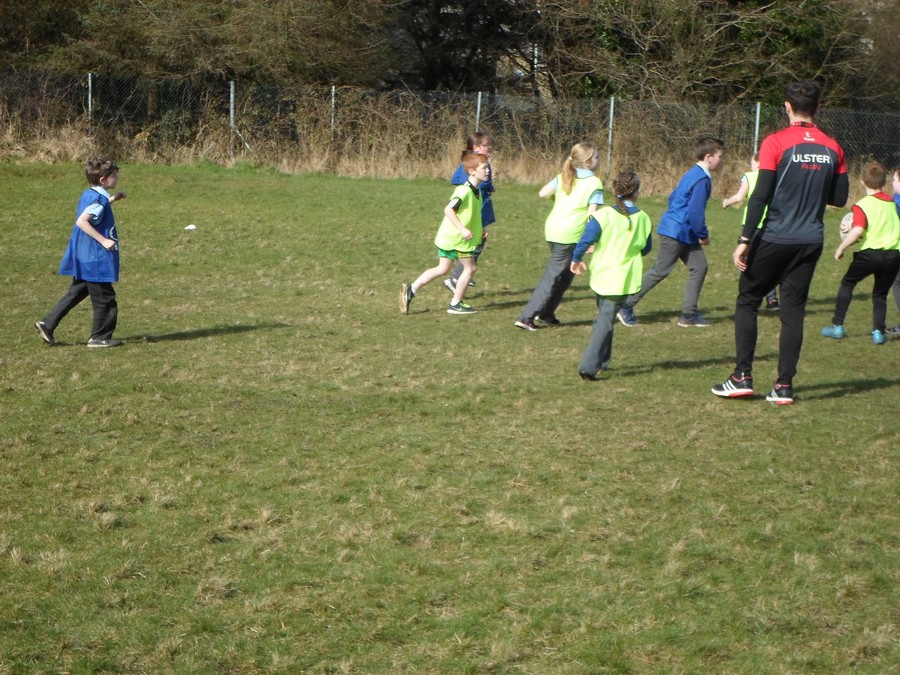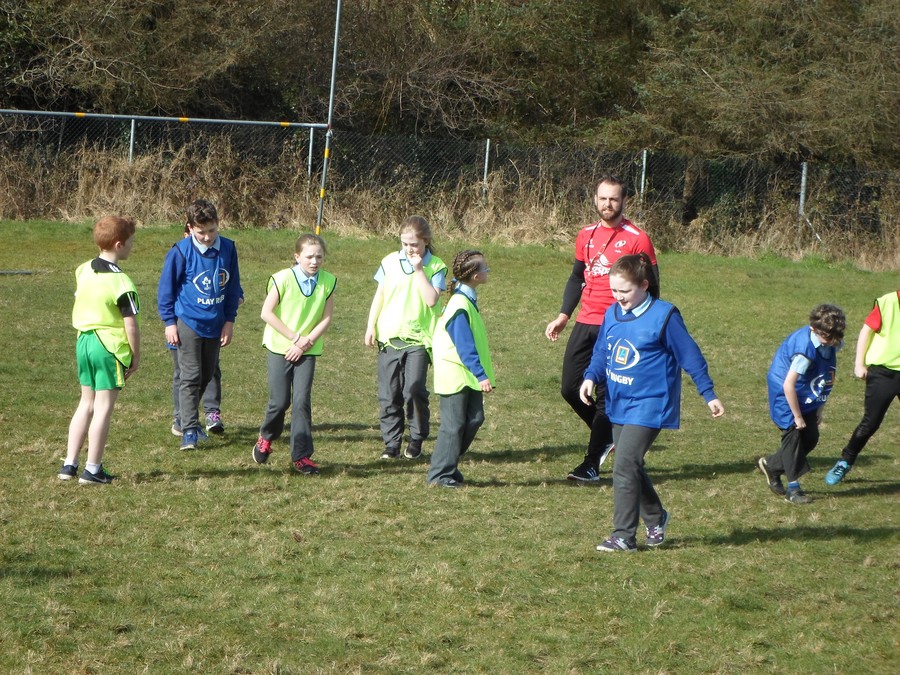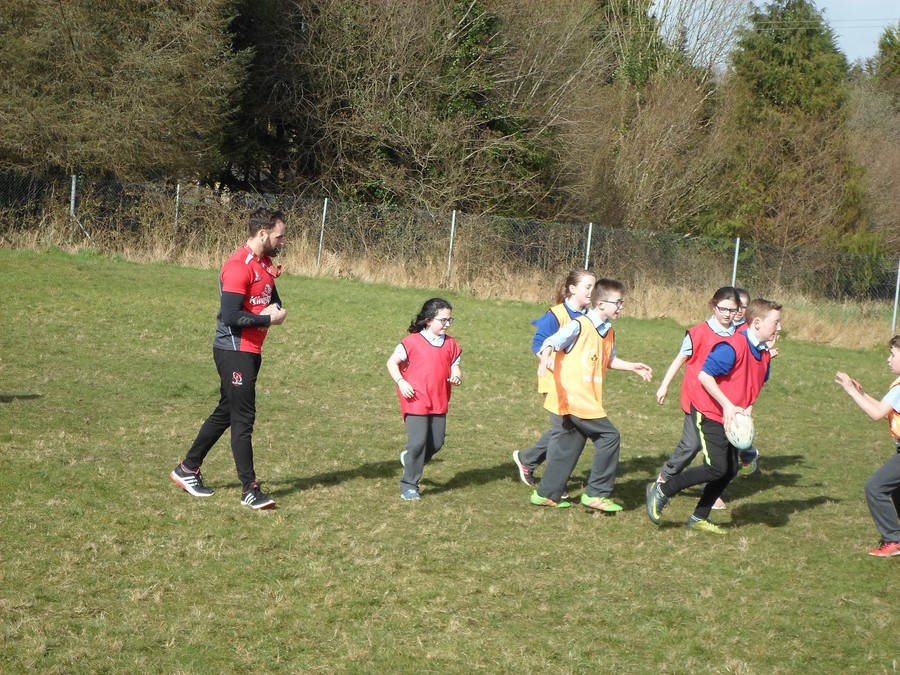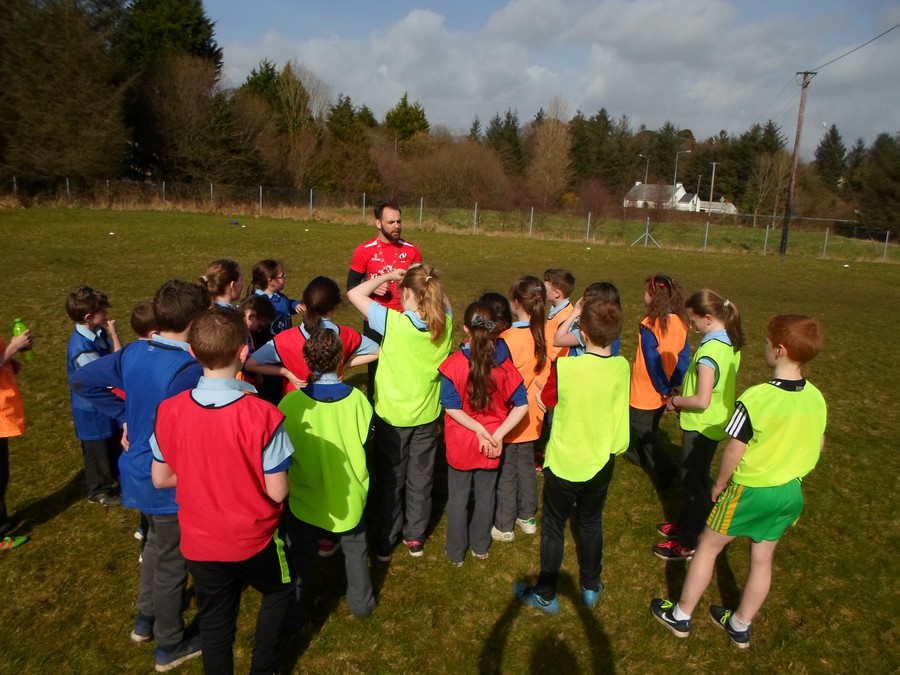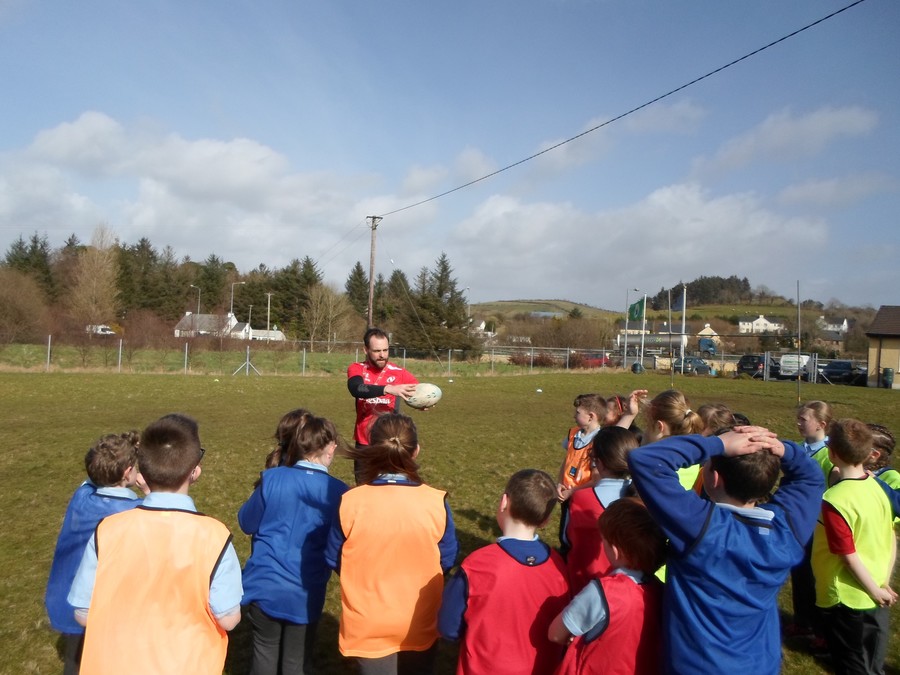 13th March 2017
As part of our Seachtain na Gaeilge activities we had a Ceili Class with Clement Gallagher today. Clement is a well known dance teacher and he taught us two full dances during our class. All of us enjoyed learning the Ceili dances very much, it is important for us to partake in traditional Irish dancing for Seachtain na Gaeilge and also it is a great way of exercising and having lots of fun at the same time. Thanks very much Clement for your great class, we really enjoyed it. Here are some pictures of us dancing.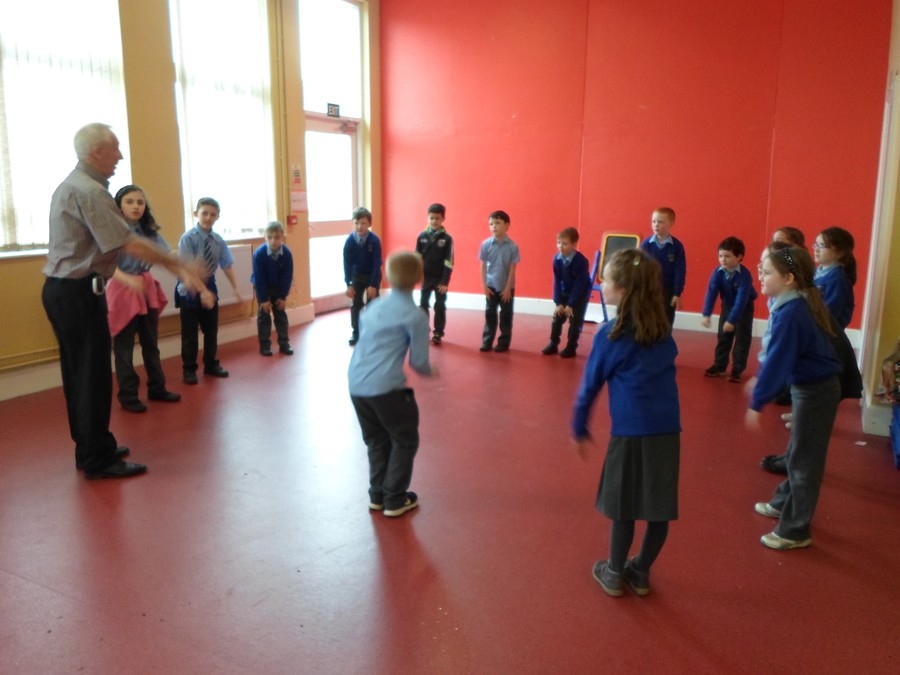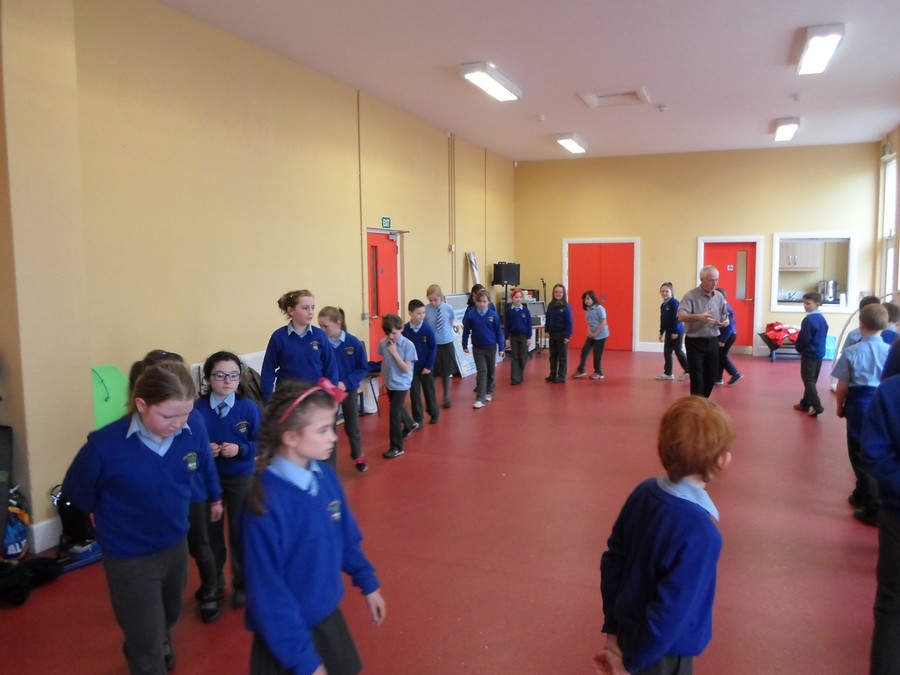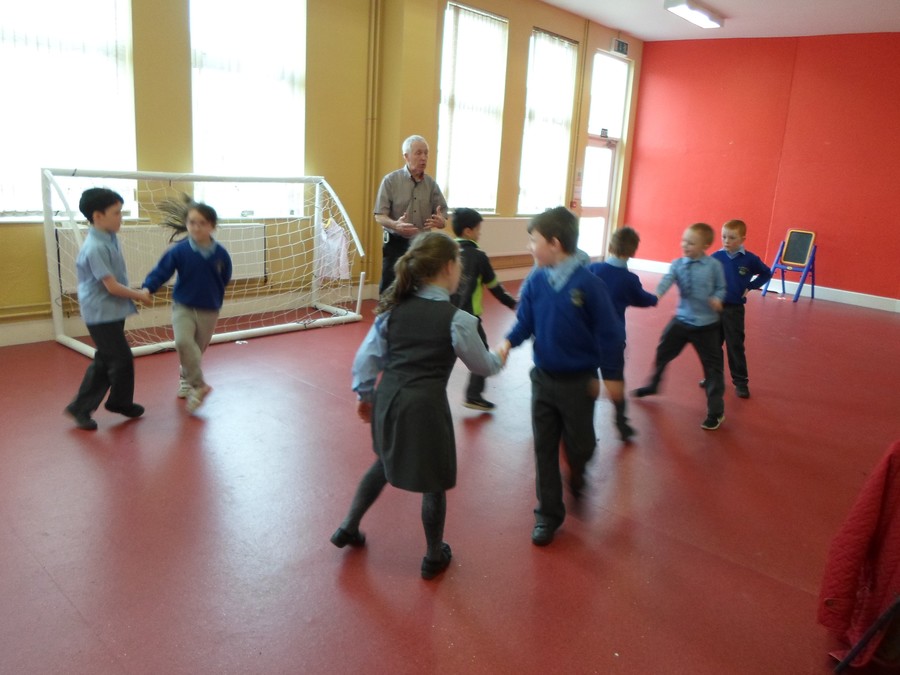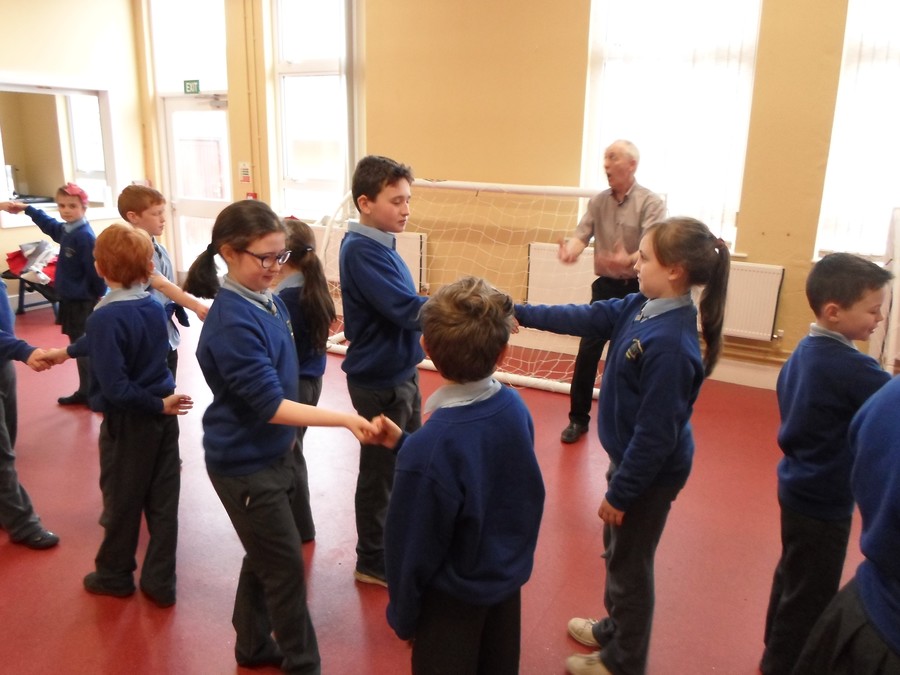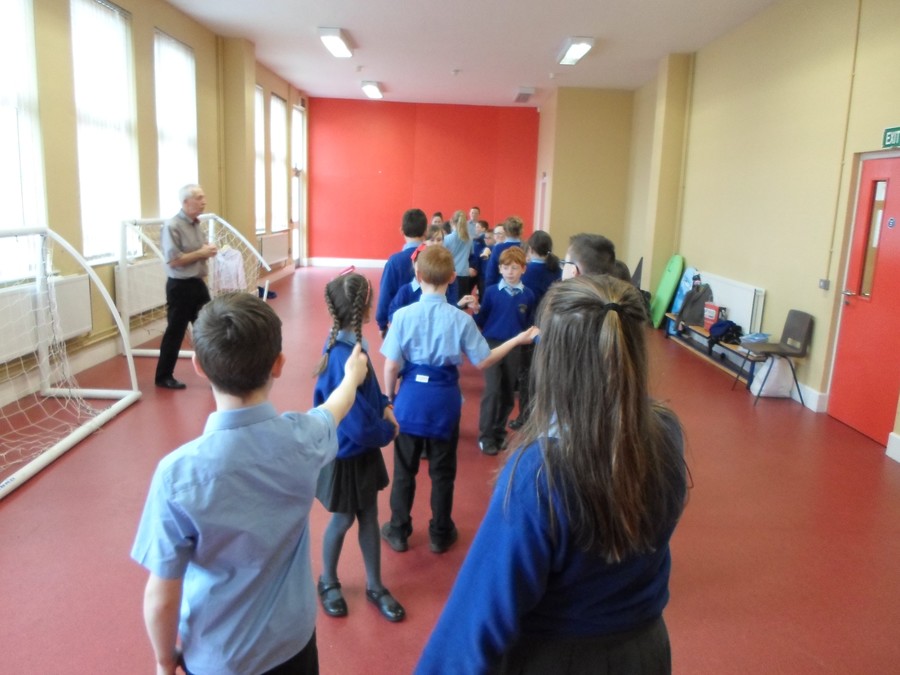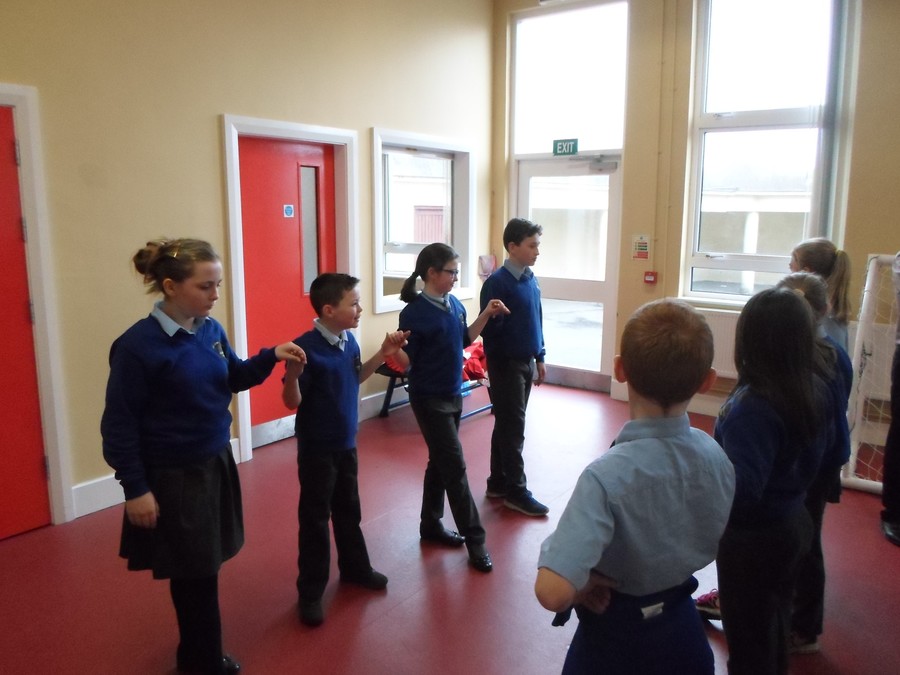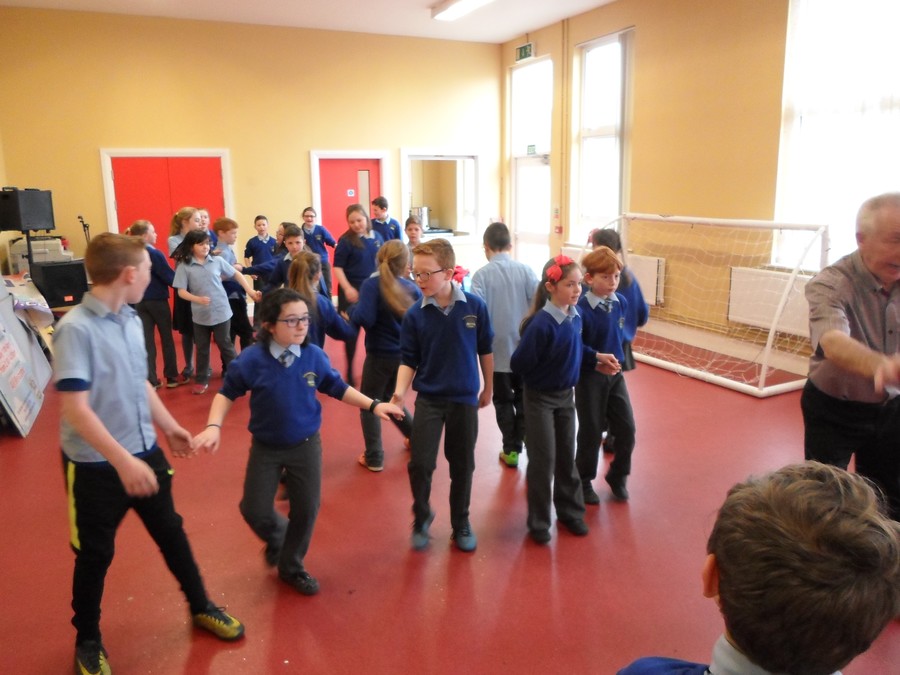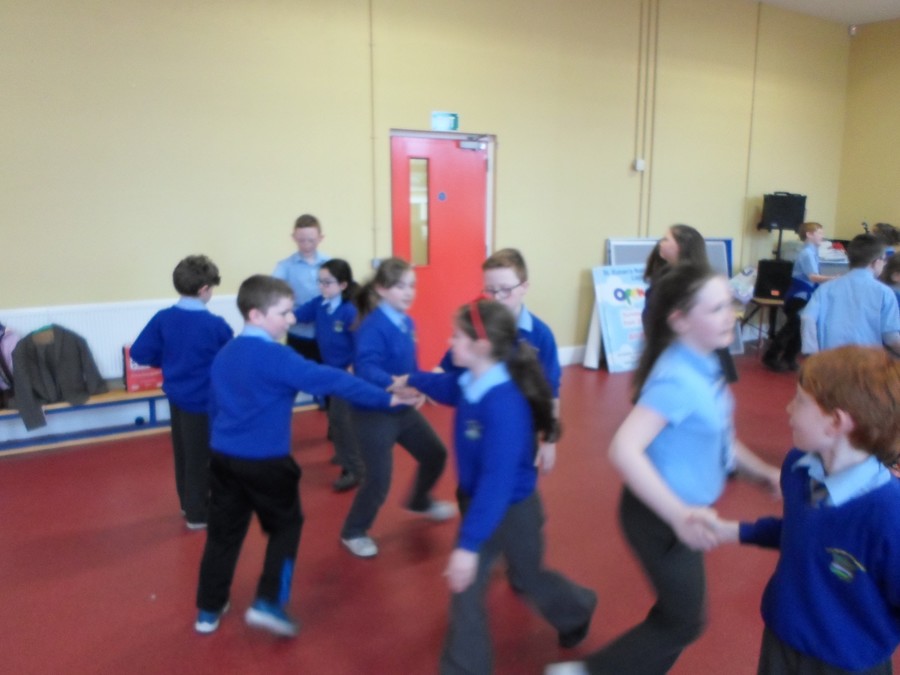 28th February 2017
Today we celebrated 'Pancake Tuesday' at school. We had loads of pancakes with lots of different flavours and fillings. Thanks to JP, Carol and all the other parents and relatives who helped prepare the pancakes and for all the parents and relatives who came in to sample them and donated money to the school.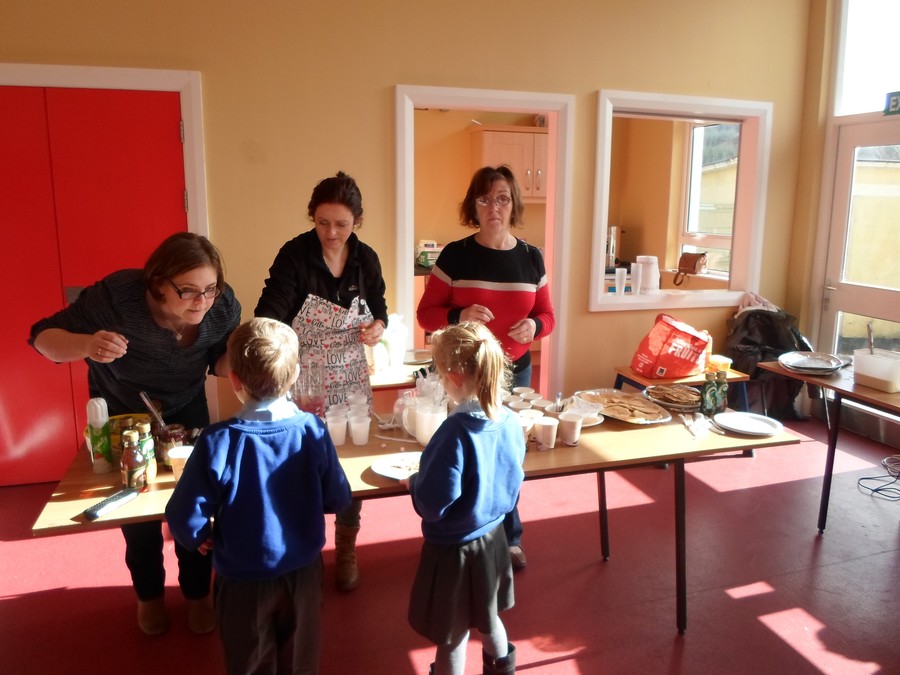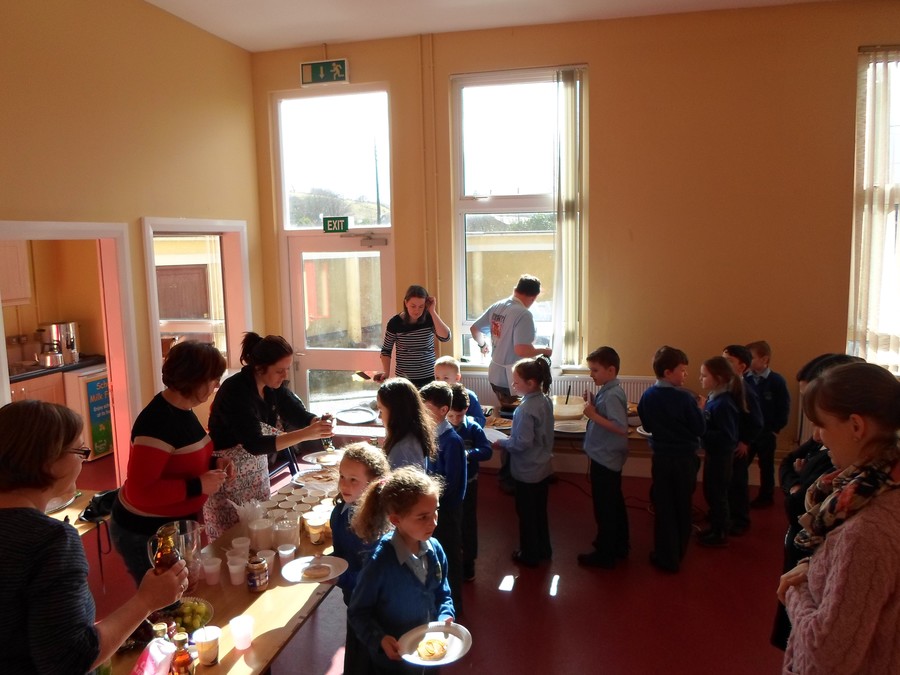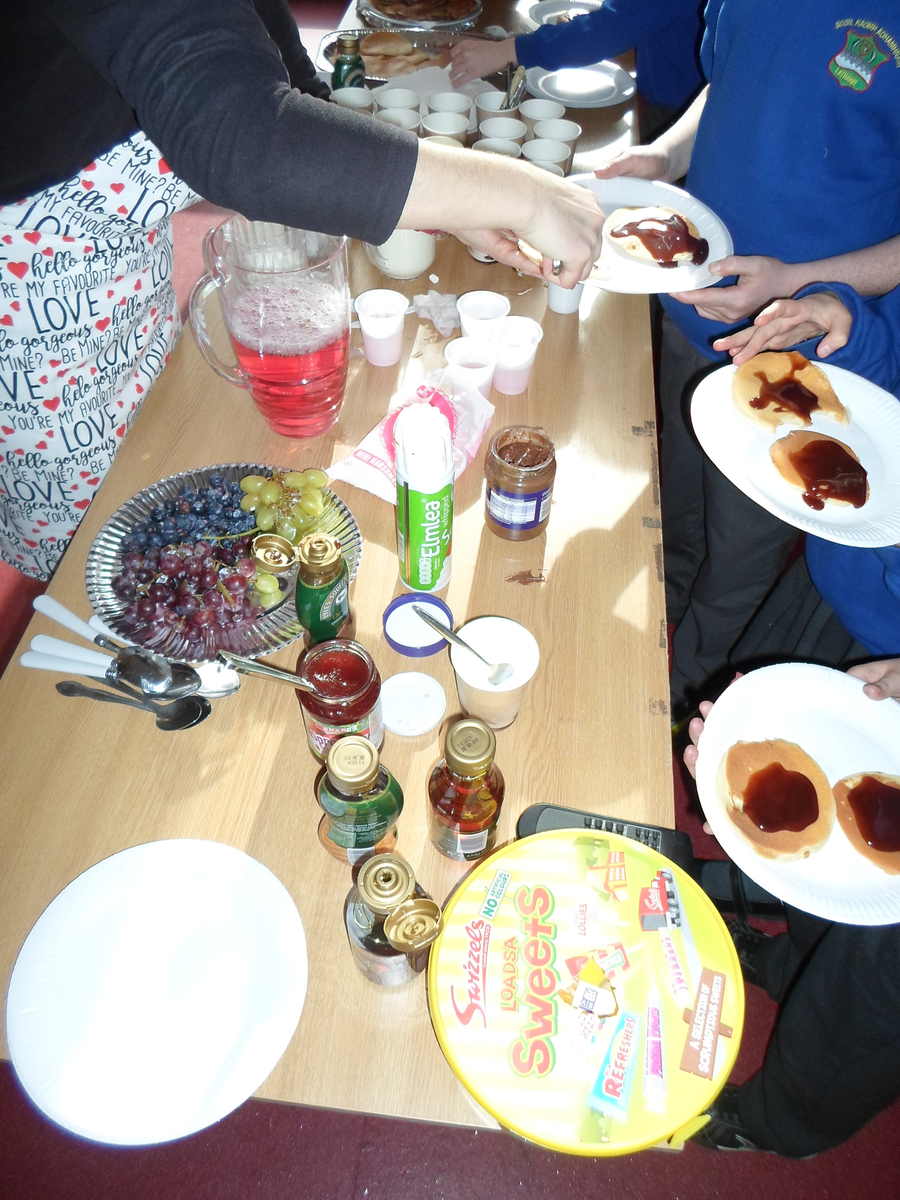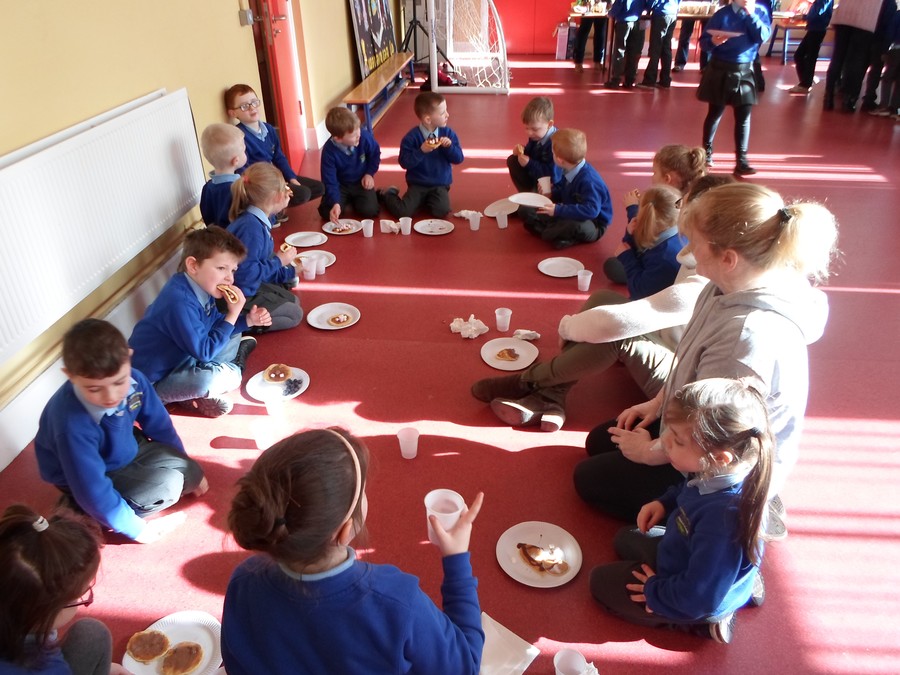 21st February 2017
Congratulations to all our 2nd Class pupils who made their FIRST CONFESSION this evening in St. Bridget's Church, Ballintra. Thanks to Fr. Joe for a lovely ceremony and to the children who were so well rehearsed, thanks also to the parents for all their help.
10th February 2017
Today our school took part in the Operation Transformation 10 at 10 challenge.
We were guided by a DVD and did lots of different fun exercises for 10 minutes at 10am. Our favourite move was the "Dab".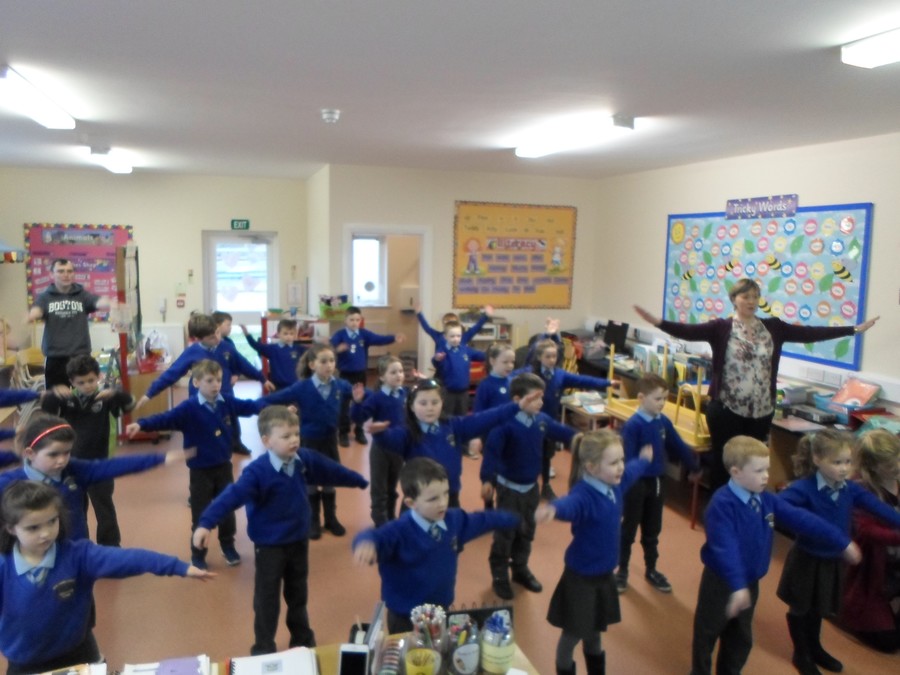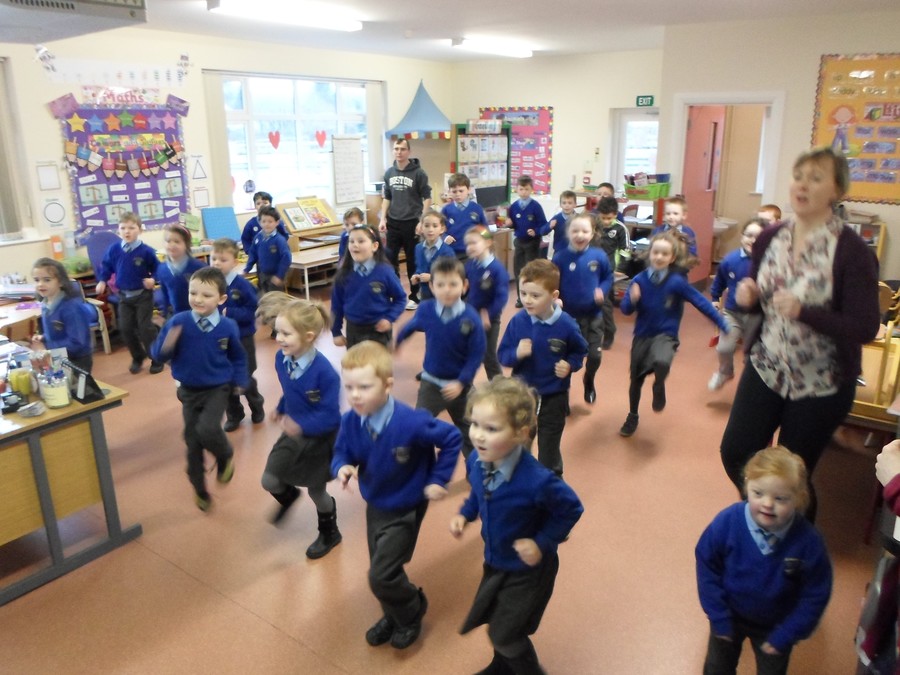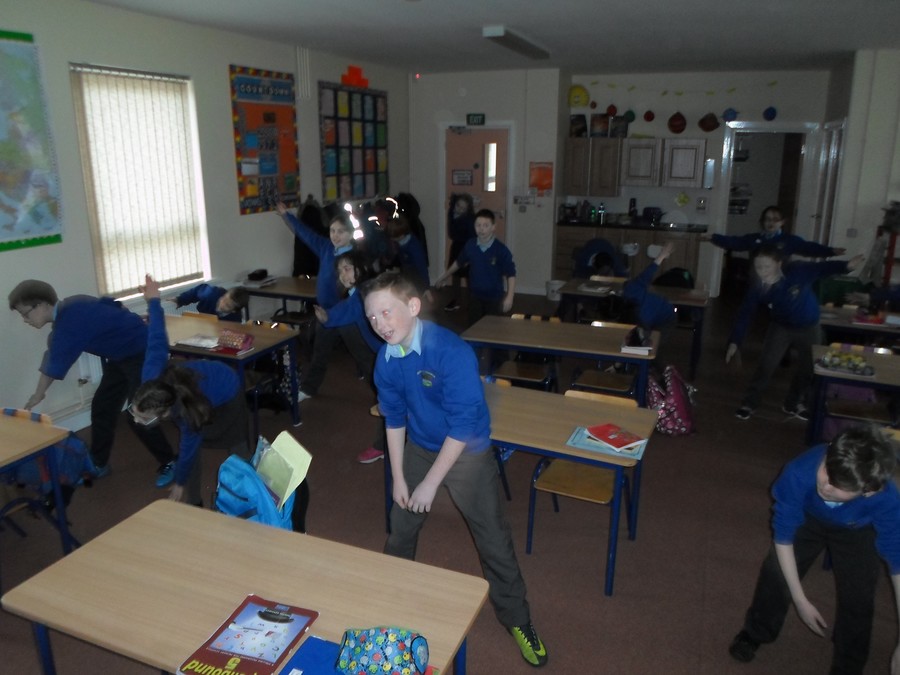 6th February 2017

The Green School 10 day Travel Challenge is going very well. Pupils, parents and staff are making a great effort every morning. We have an average of 30 pupils and 10 adults walking each day so far. Well done everyone! Keep it up.
Date for Diary: Wed 22nd Feb: Travel Theme: Day of Action.
More details will be sent by letter!
2nd February 2017
Today Fr. Joe had a lovely Mass for the children and staff in our school. The children did readings, prayers of the faithful, took part in the offertory and sang & played hymns. Fr. Joe also blessed all our St. Bridget's crosses and blessed our throats for the feast of St. Blaise. Thank you very much Fr. Joe for celebrating this lovely Mass in our school.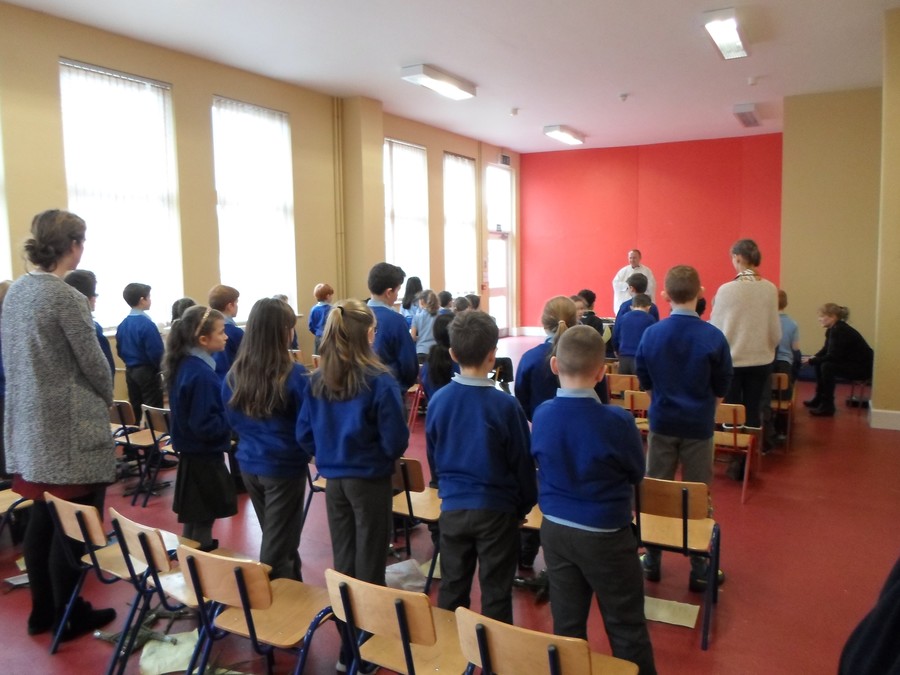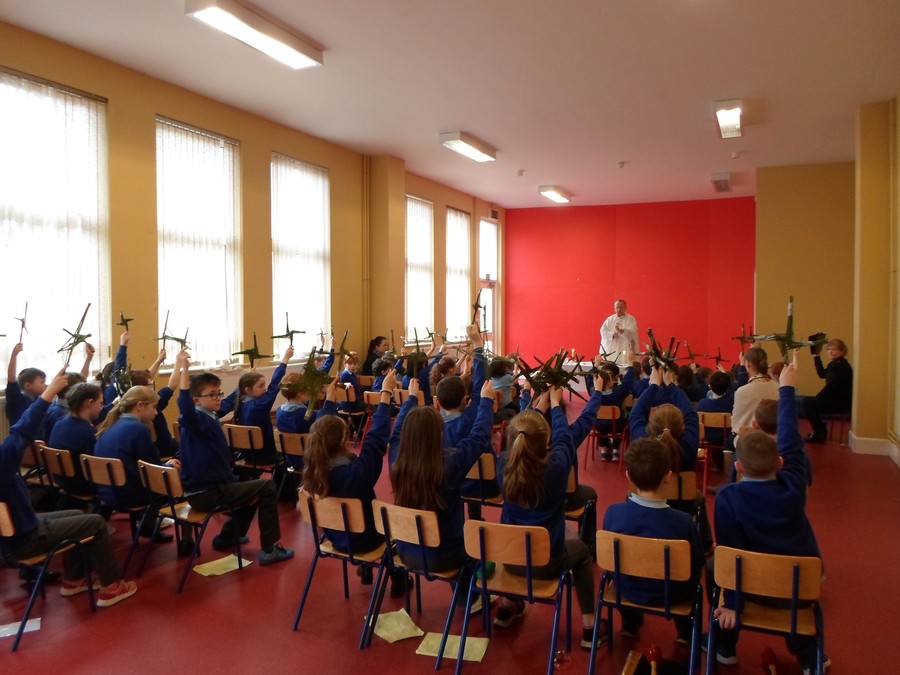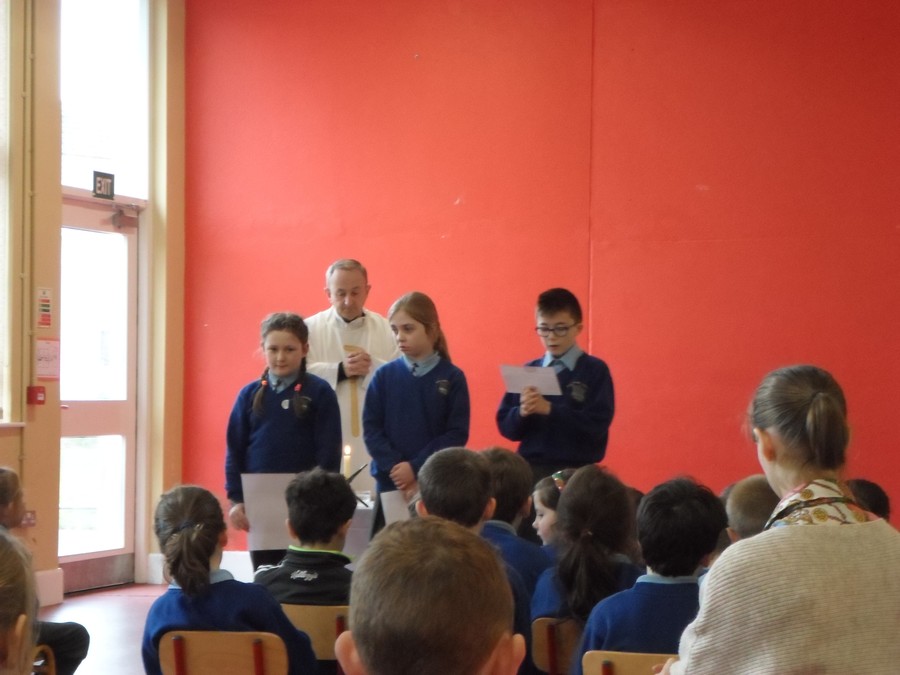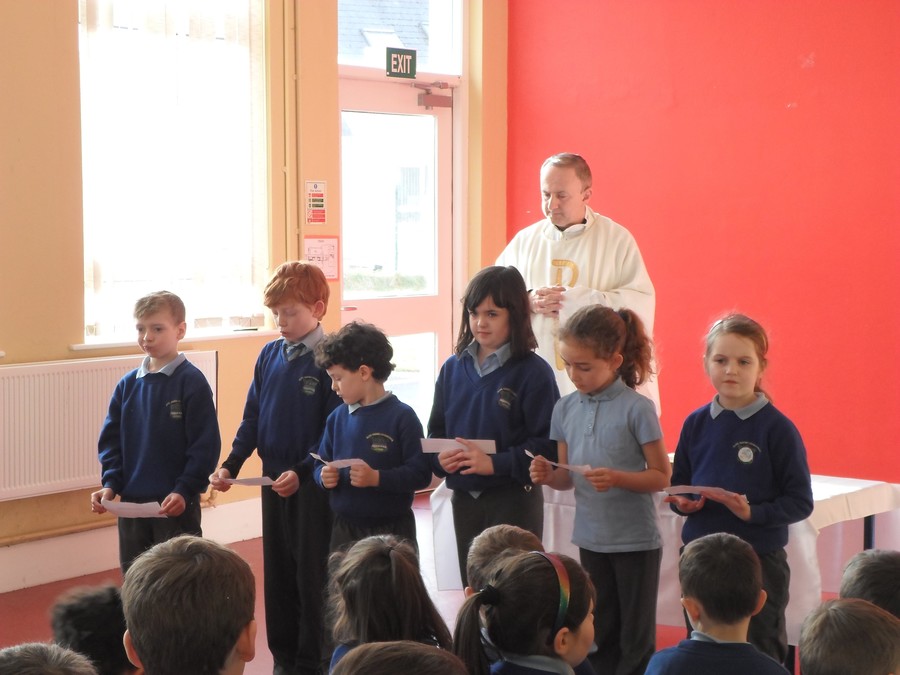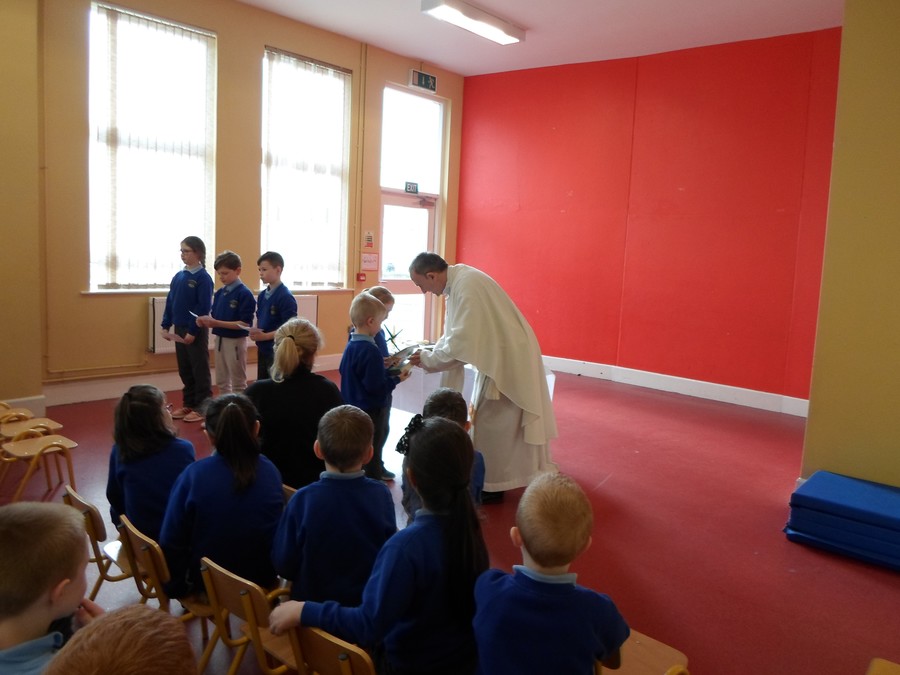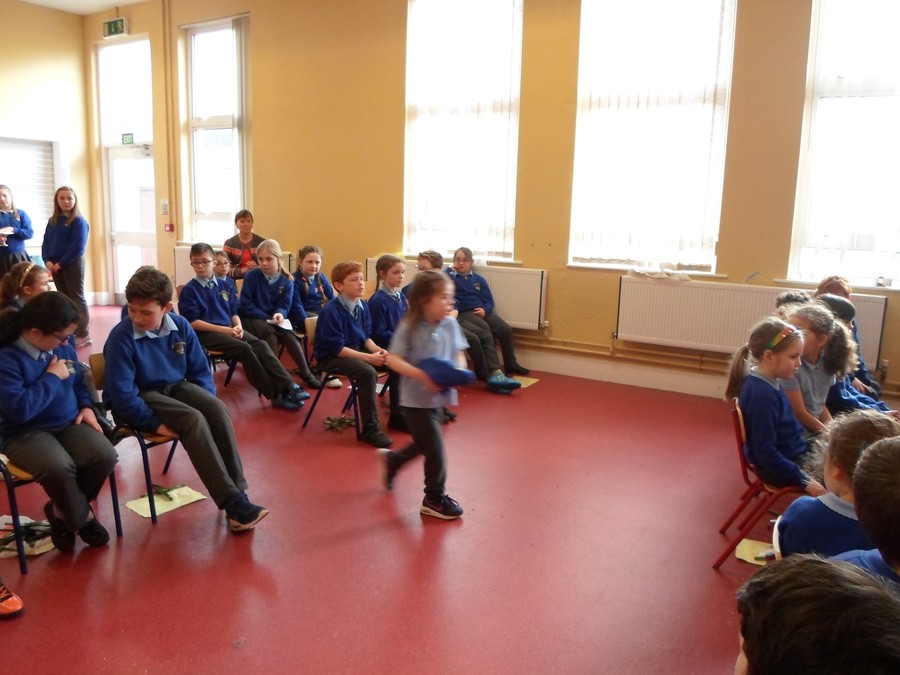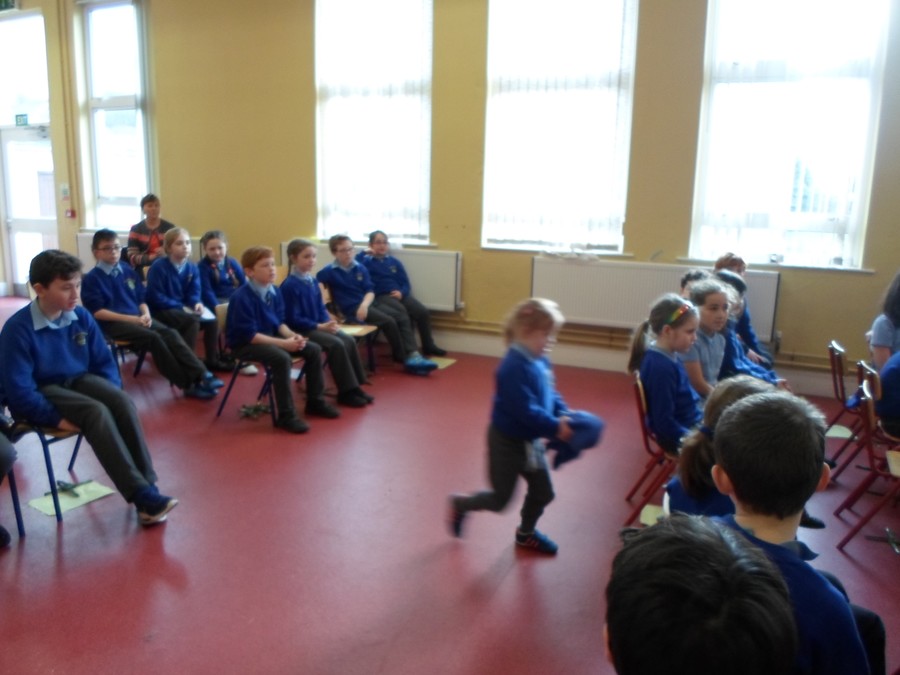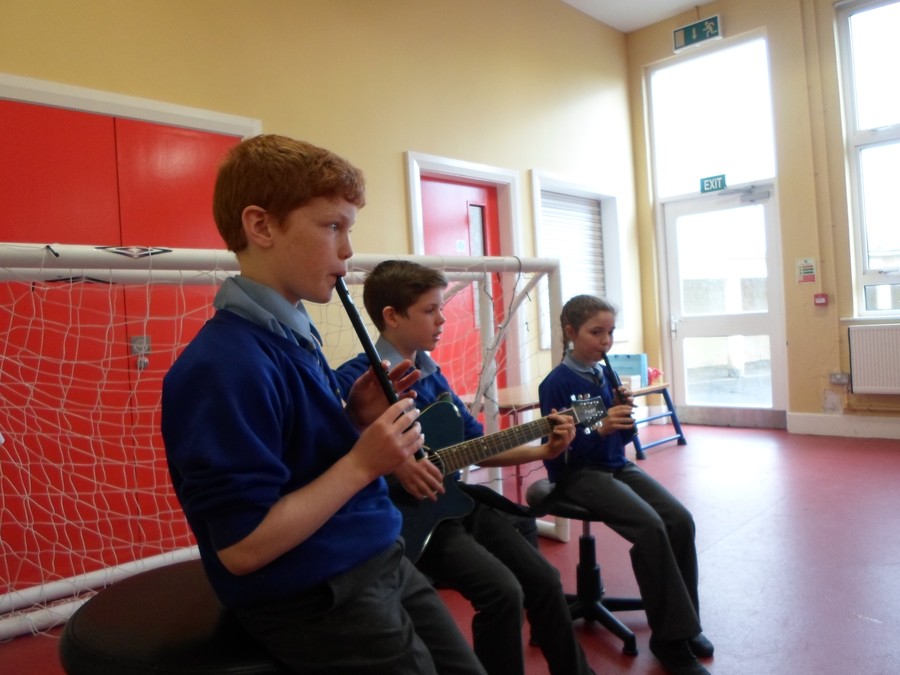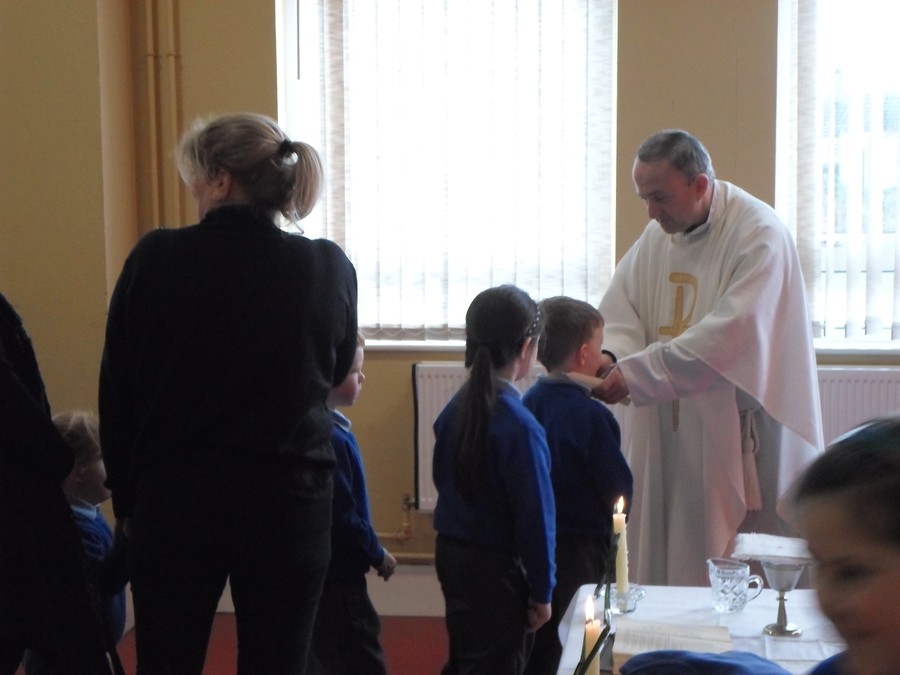 1st February 2017
Today is the launch of our Green Schools 10 day Travel Challenge. We have to make an extra big effort to get as many pupils and parents walking to school as possible.
"Ditch the Car, Ditch the Bus, Come on Guys & Walk with Us"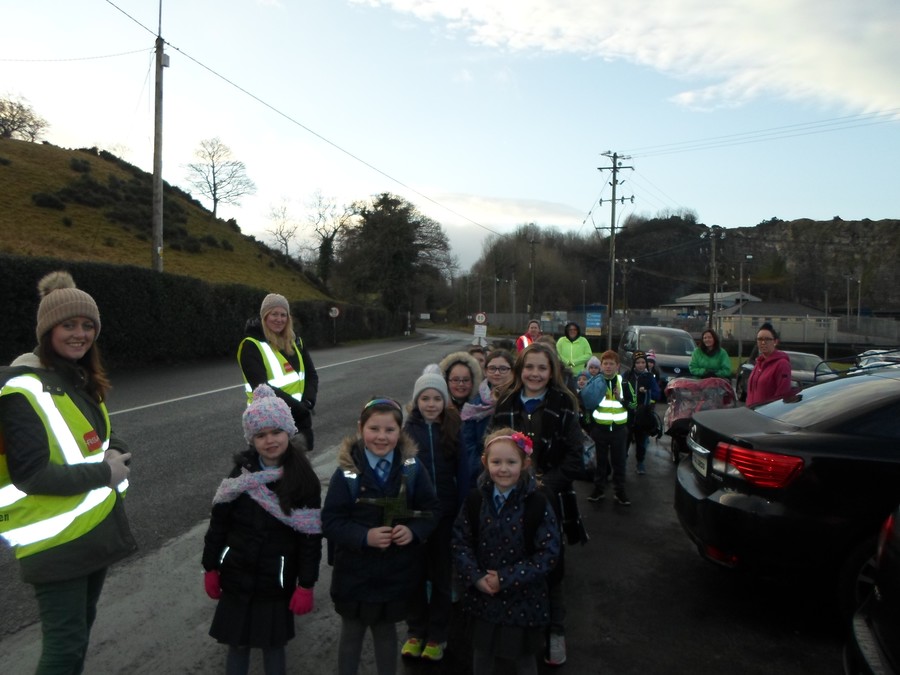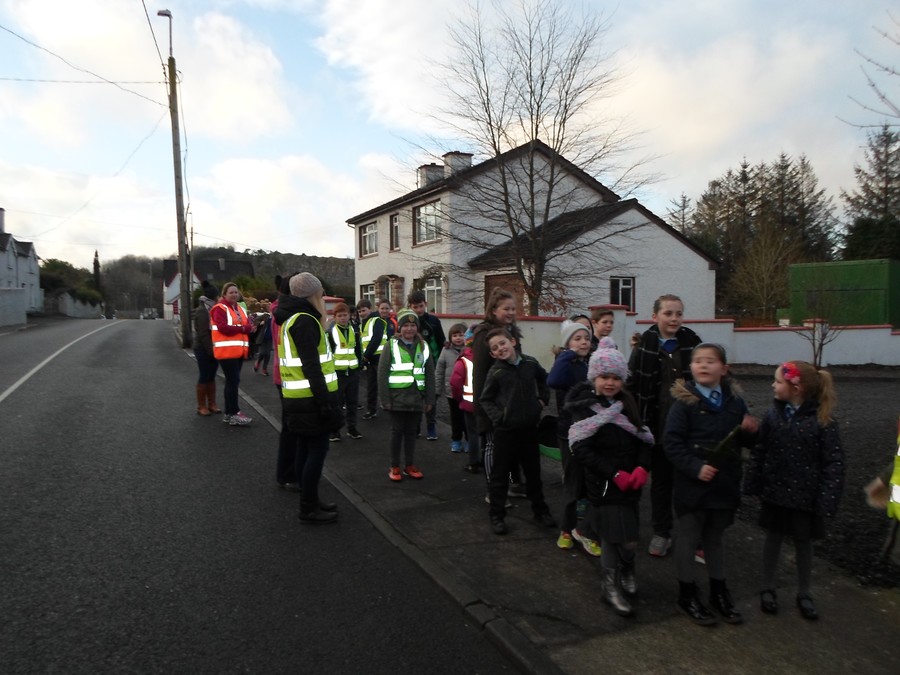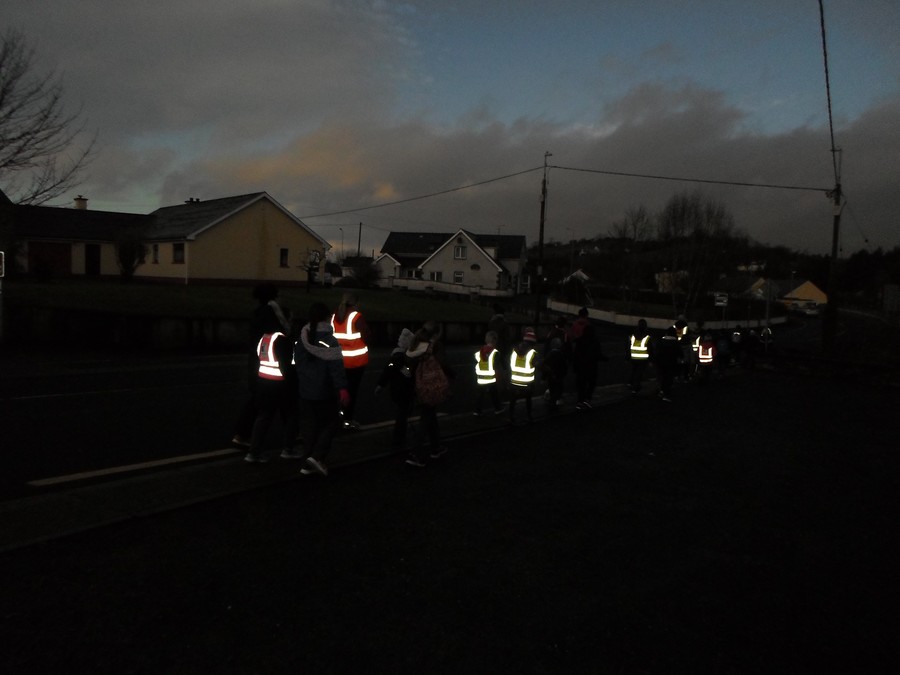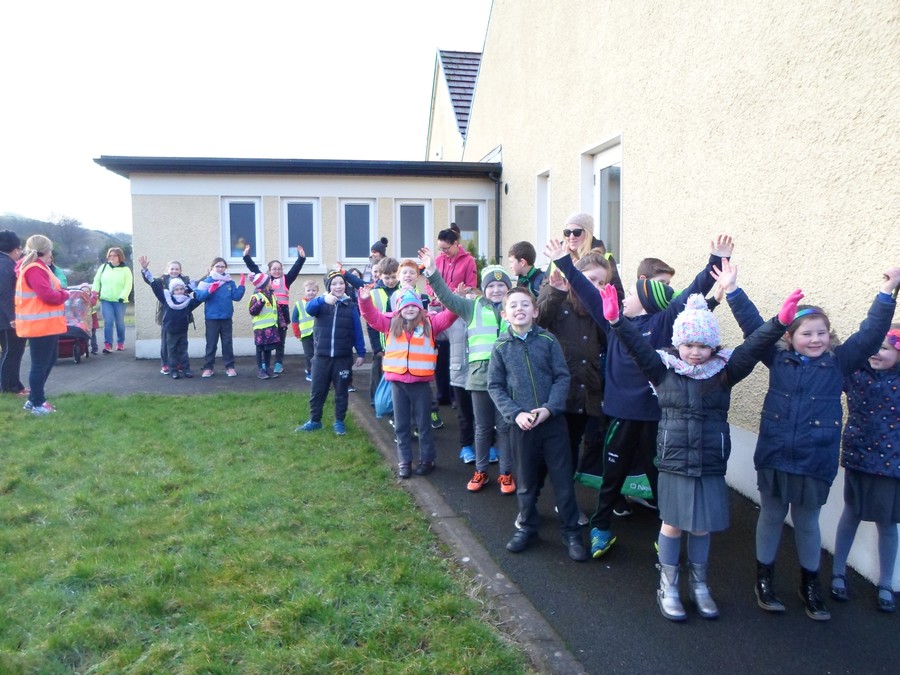 31st January 2017
We invited our Grandparents into school today to make St. Bridget's Crosses with the us. We all made lots of St. Bridget's Crosses and had a great time. Thanks to all the grandparents and other relatives who came in to help us.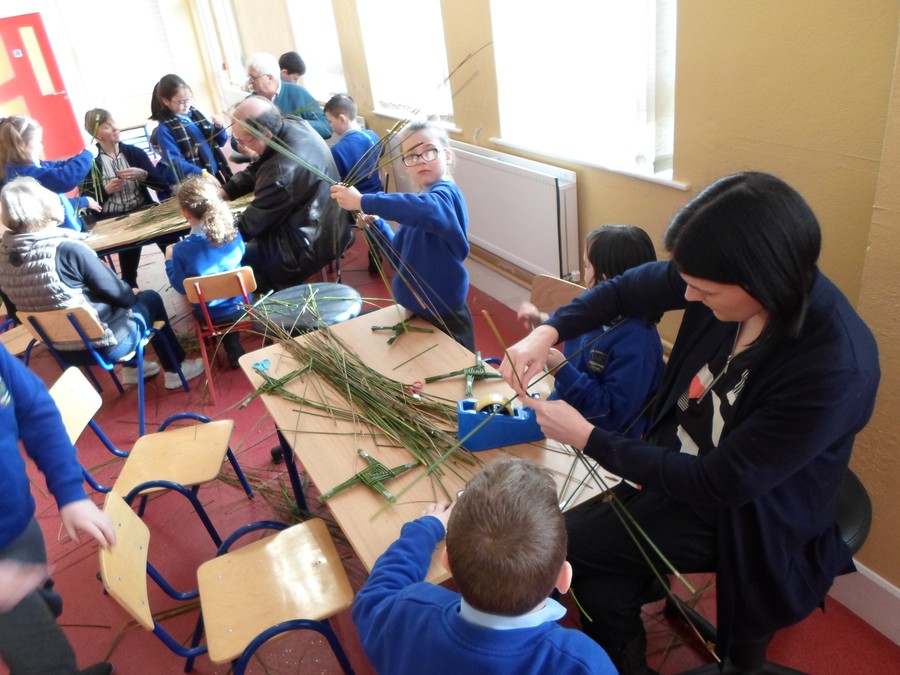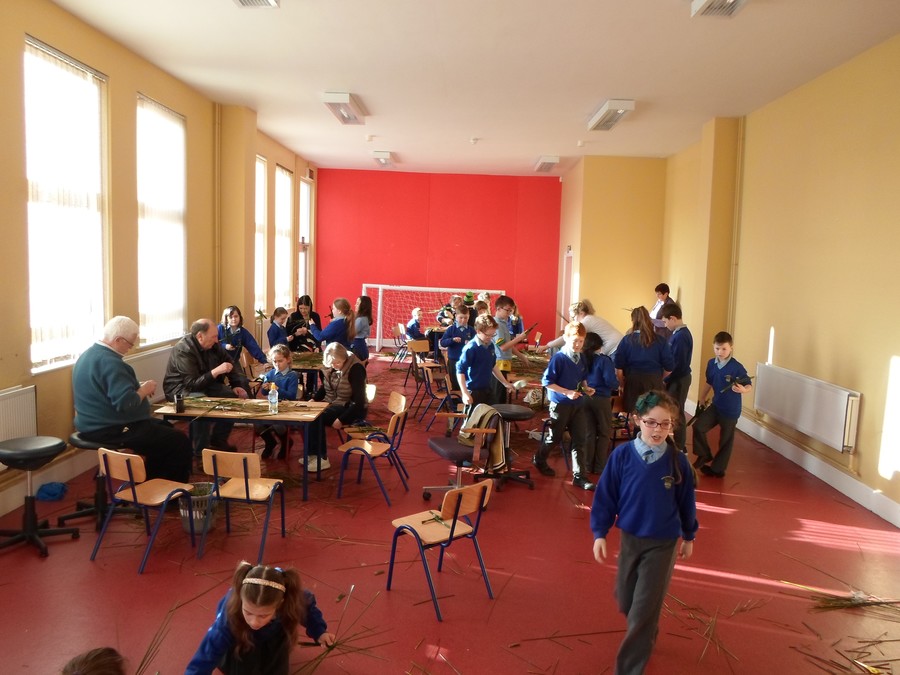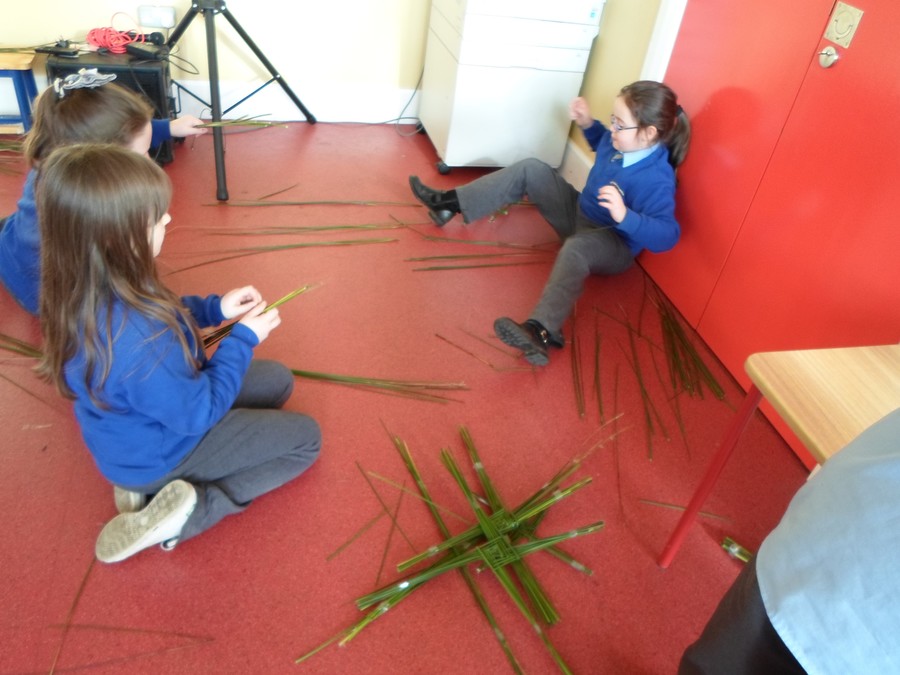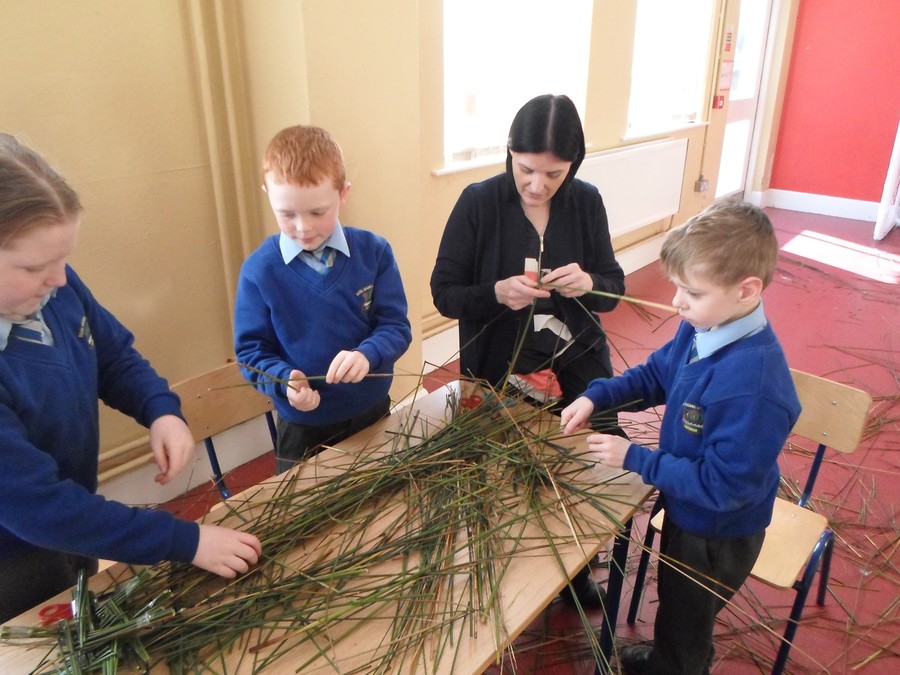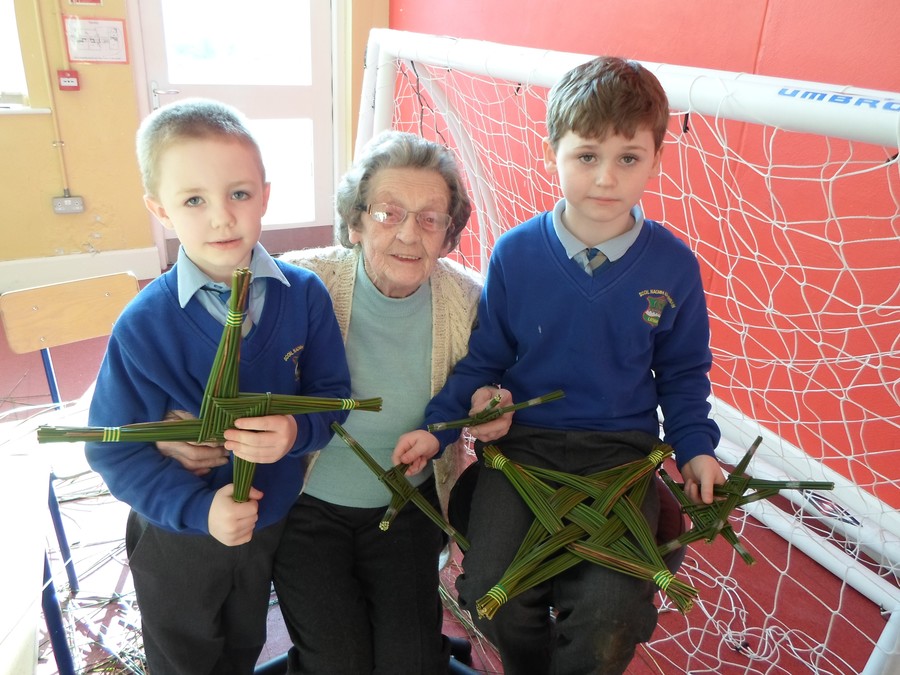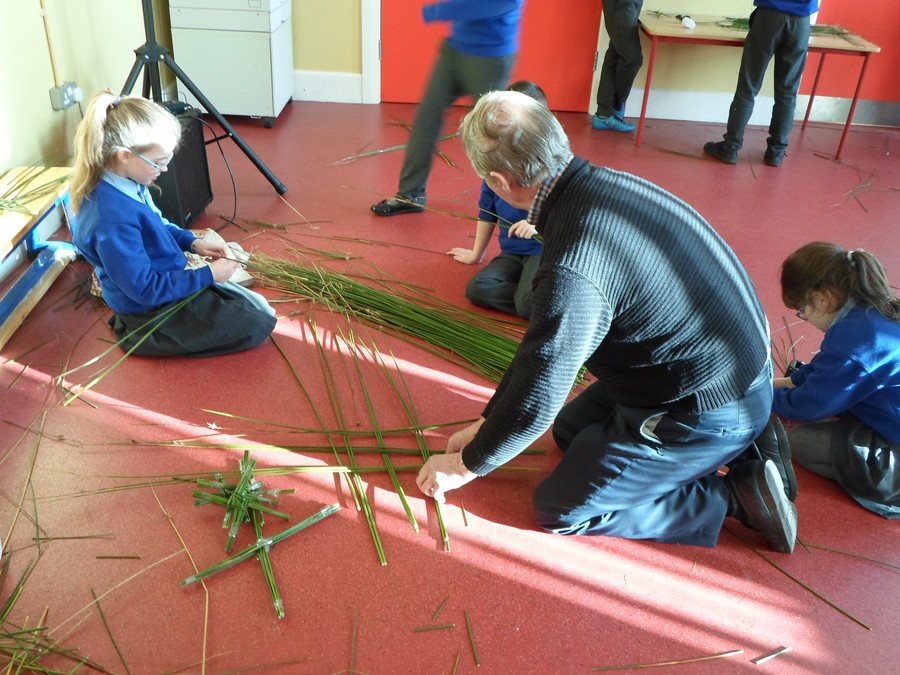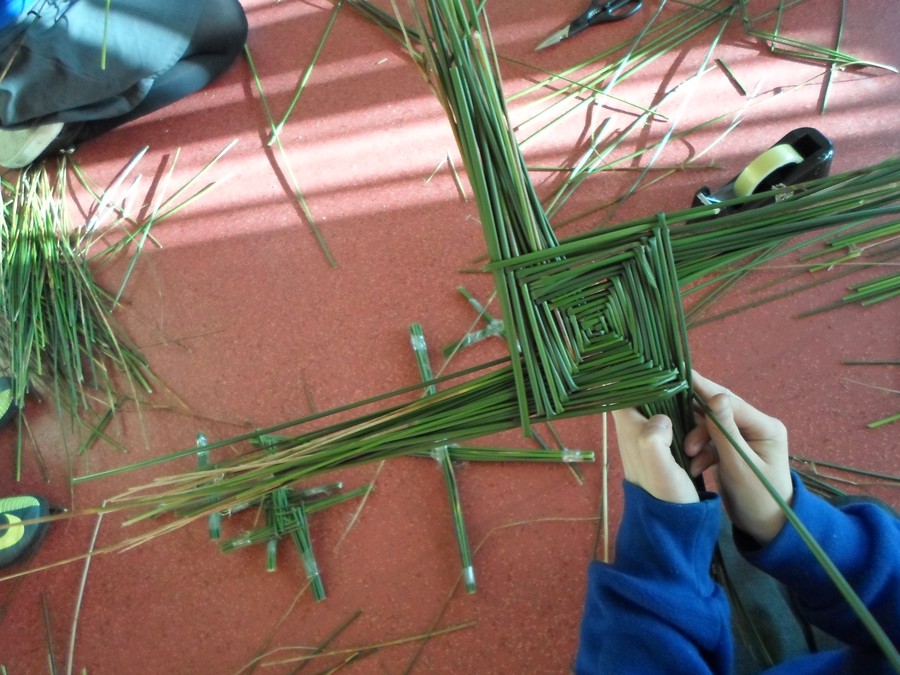 27th January 2017
We had a visit from Aengus Kennedy from the Green School today. We have now almost completed all our seven steps for the Green School programme and we will be applying for our 4th Green Flag at the end of March. Aengus was very happy with the schools progress and said he would be recommending us highly to Aine O'Loughlin (Travel Officer). He said we were one of the only schools in the county who continued to walk each morning during the winter and felt we were very motivated and active. Our Green School slogan was voted on and adopted by the pupils:
"Ditch the Car, Ditch the Bus, Come on Guys & Walk with Us"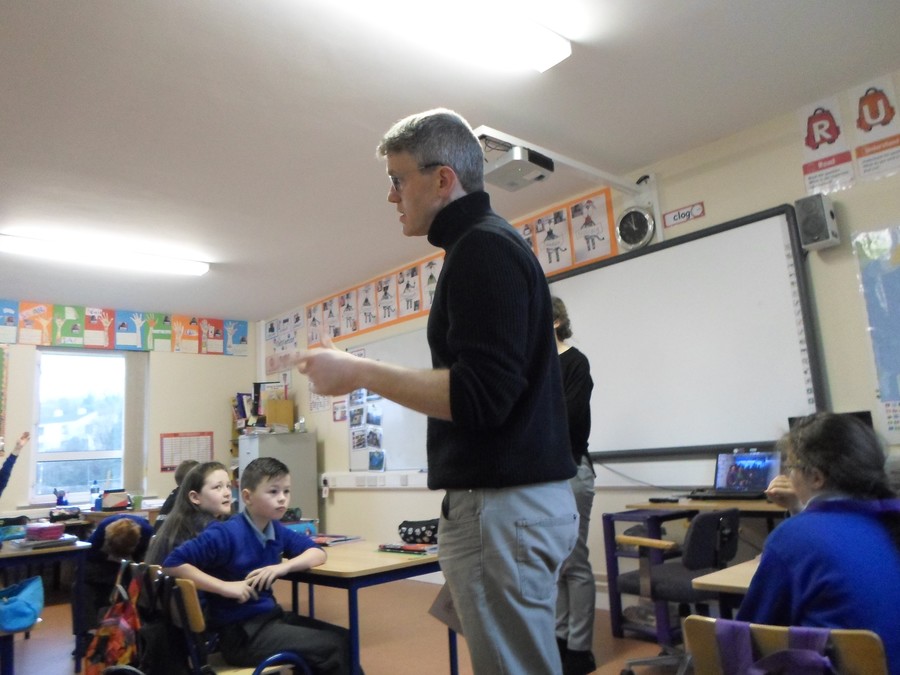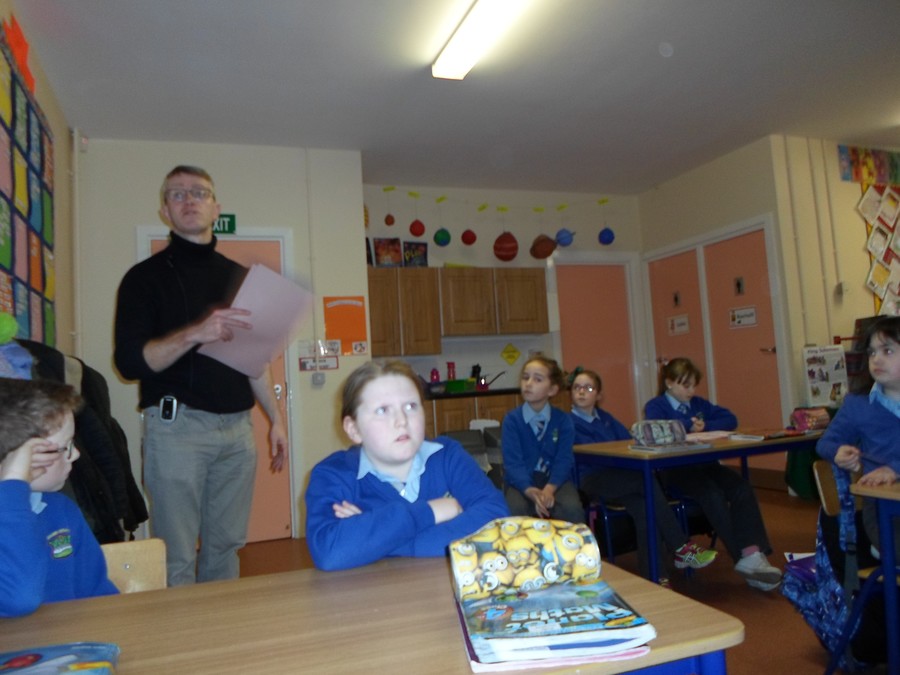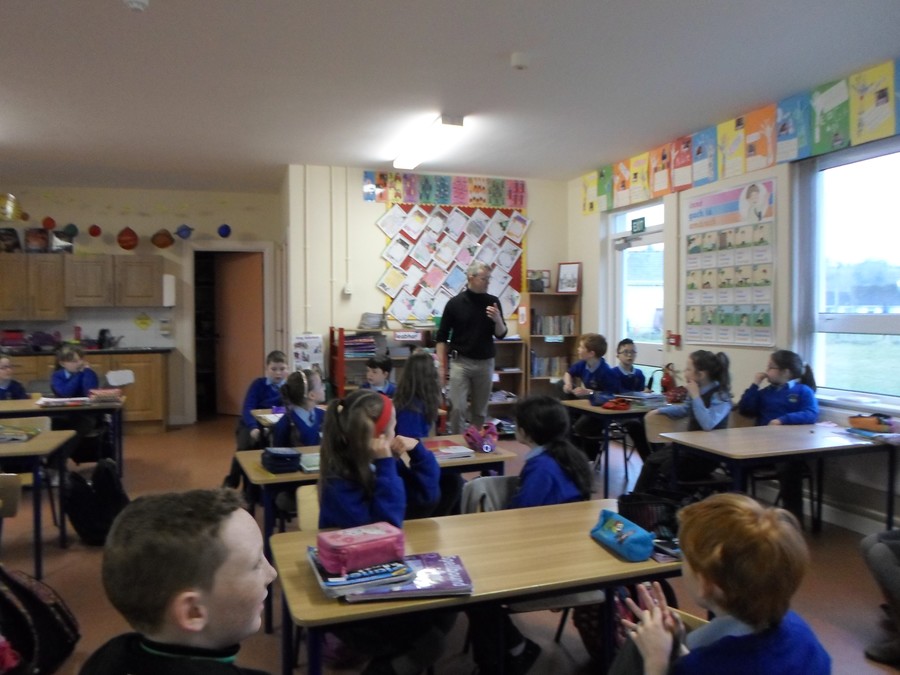 25th January 2017
Happy Birthday to Miss Tully who celebrates a very special birthday today!! Here we are having her little party. She got a big surprise!!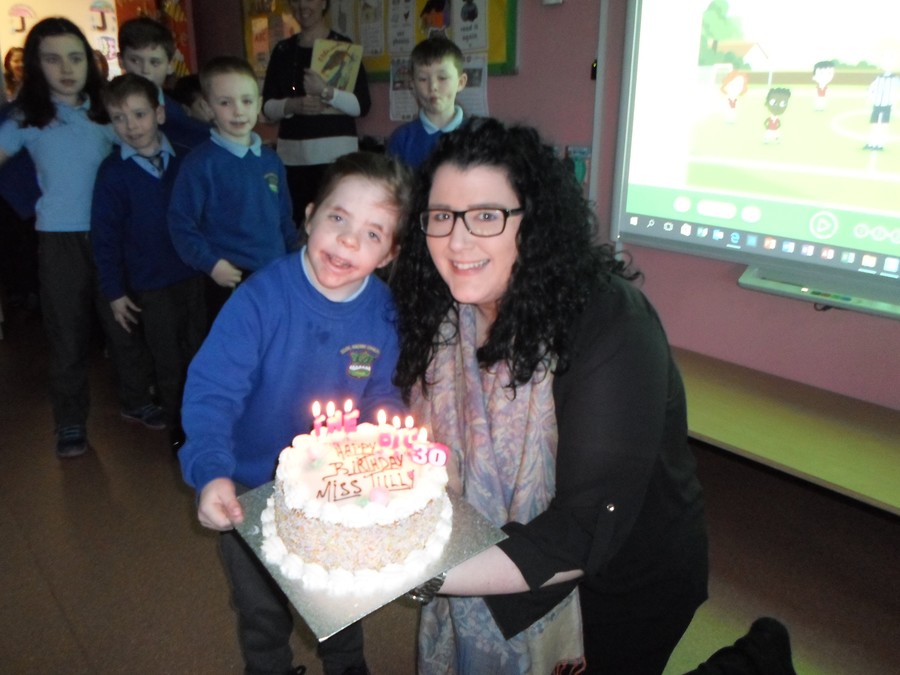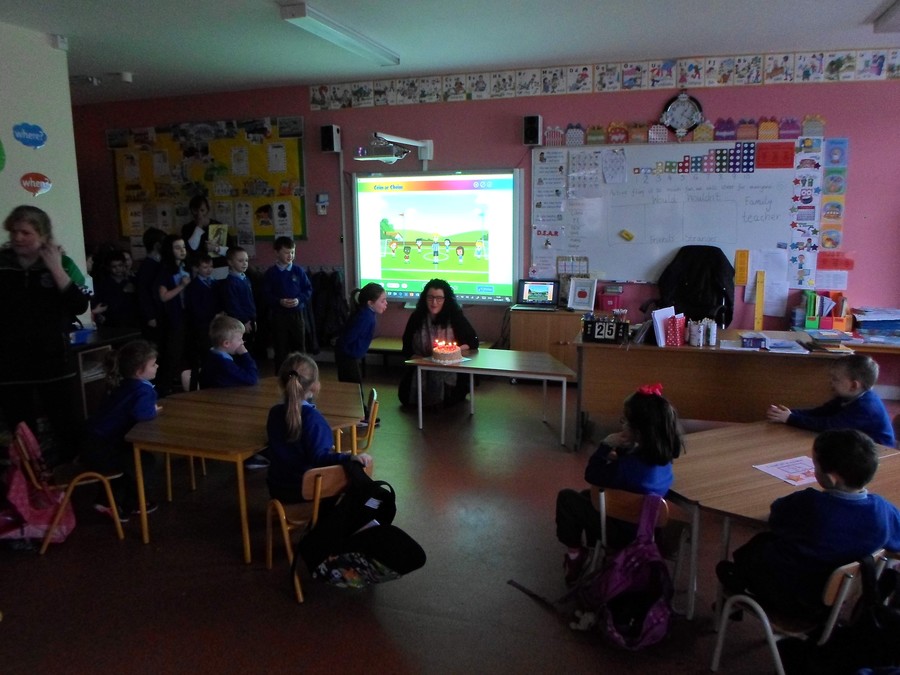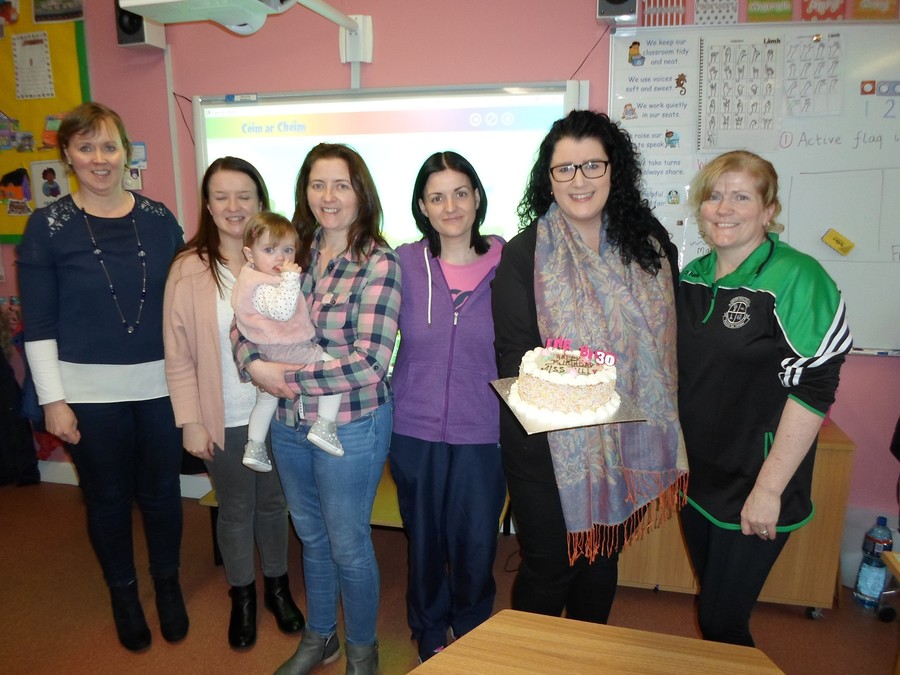 11th January 2017
Today the senior classes started their swimming lessons in the Central Hotel Leisure Centre, Donegal Town. There will be 6 lessons in total. Everyone enjoyed their first lesson very much. To be able to swim is a very important skill to have and the children are very grateful to have the chance to learn how to swim. Thanks to Miss McGroary for organising the lessons and to the parents who have volunteered to help out with supervision.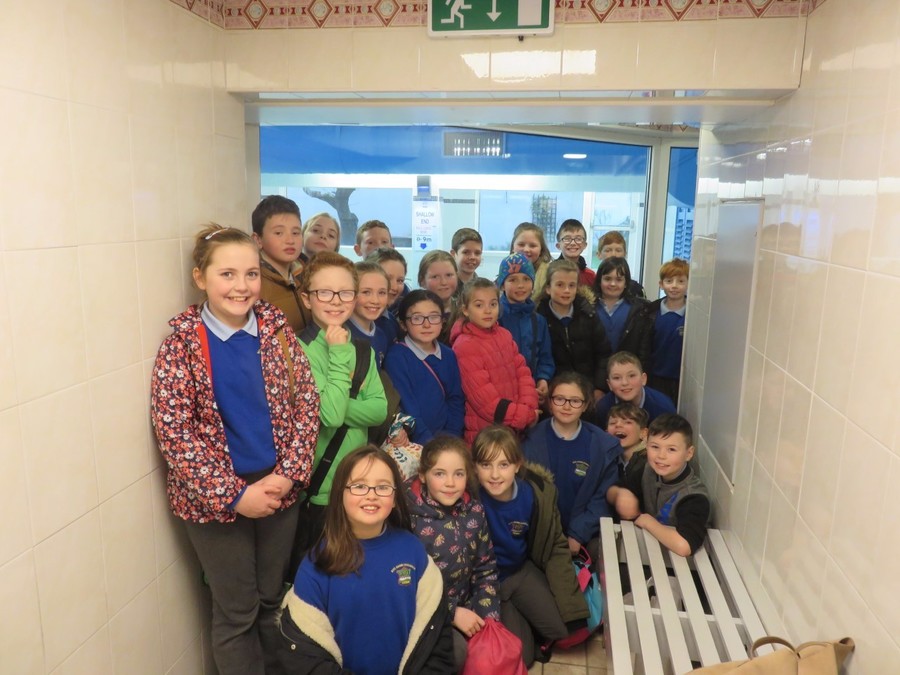 21st December 2016
Today we all went to the cinema in Bundoran for our Christmas treat. We saw the film 'Nativity 3 - Dude where's my donkey'. We all enjoyed our Christmas treat very much.
20th December 2016
We presented our Christmas Concert in Laghey Parish Hall. It was a great night and the hall was packed to capacity. The children put on an excellent performance and really enjoyed it. Thanks to Barbara our music teacher and to her family who helped out on the night. Thanks to the parents for organising the fantastic costumes. Thanks also to Laghey Parish Hall for the great premises, to all the parents who helped out with the tea and to all the people who came to see our Christmas Concert.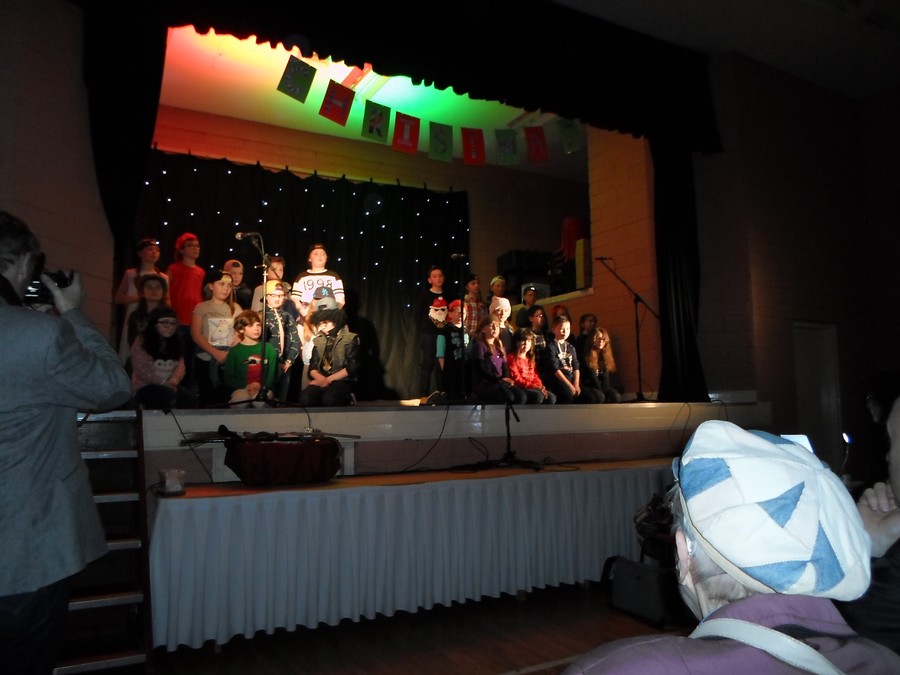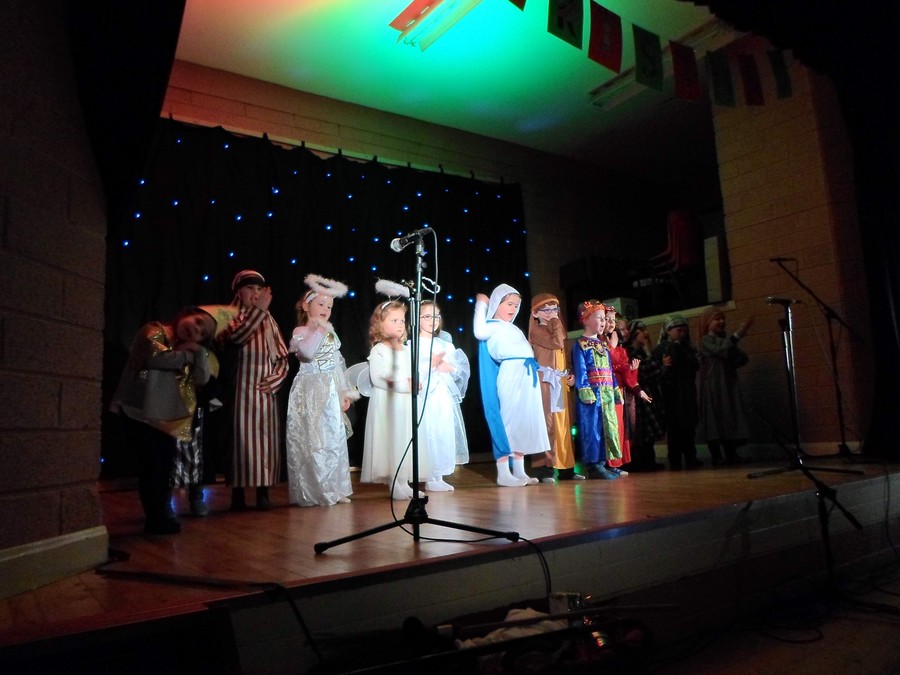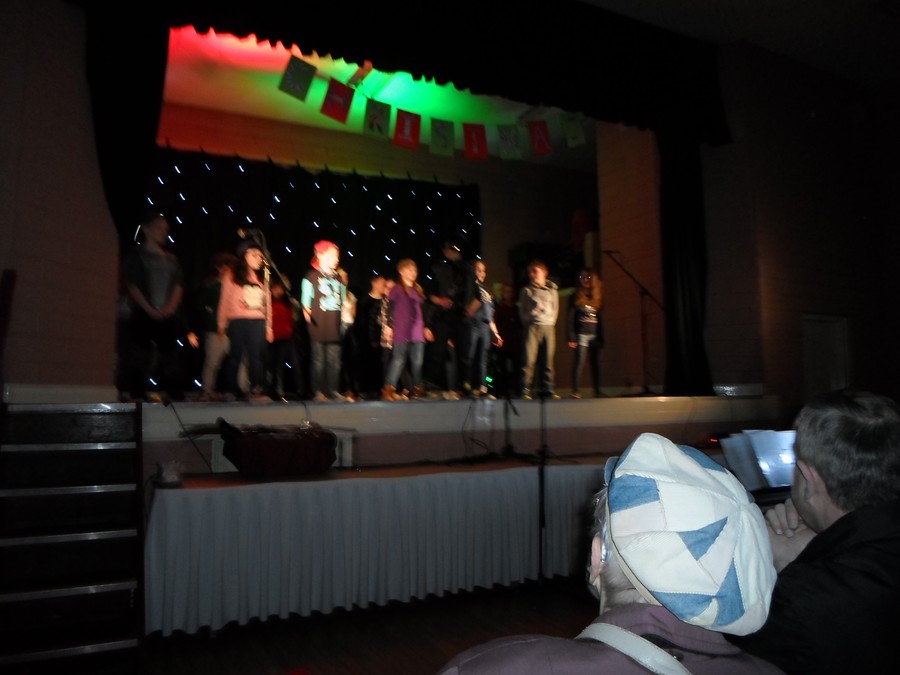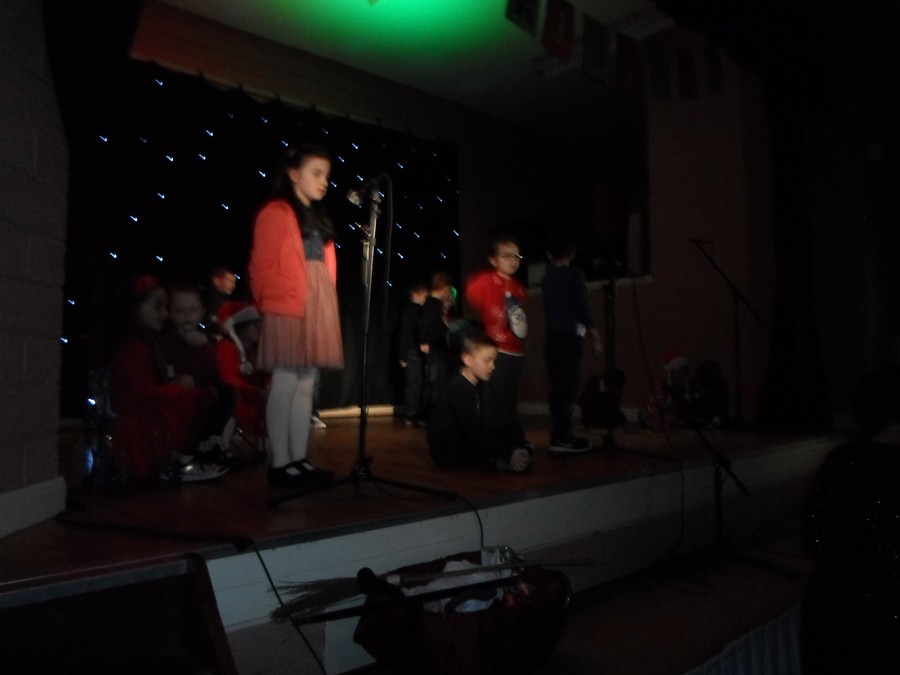 16th December 2016
We made Christmas Logs which will be for sale to raise funds for the school. Thanks very much to Declan Meehan for supplying the logs to make them and to all those who helped make them up. They looked very well when they were all decorated.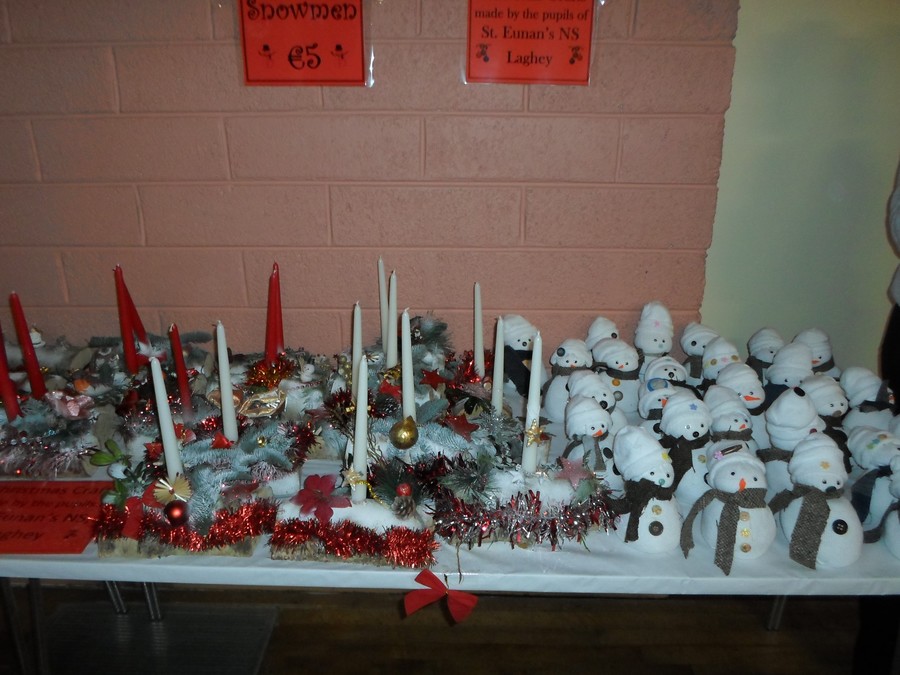 Donation
Thanks very much to Adrian Britton of Roadteam Ltd, Pettigo for their very kind donation towards our Active School project. It is very much appreciated and will help us to get our next Active School Flag.
Laghey Schools "The Big Reunion"
The big School Reunion is on Thursday the 29th Dec at 9pm in the Abbey Hotel for all past pupils of Laghey Schools. If you are a past pupil of the existing school in Laghey, the old school in Laghey, Laghey Barr school or Shannagh school please come along and please contact other people you were at school with. It promises to be a great night with music by "For Folks Sake" and finger food will be served. It will be a great chance for past pupils to catch up with people who they have not seen for a while, maybe since school!!
Tickets are €15 and are on sale in the school and in various other locations locally.
Proceeds will go to our Parents Association and our School Recreactional Area fund.
The photo below is of our youngest pupil Katie Gallagher with past pupils and twins Peggy & Mary Travers who recently visited the school.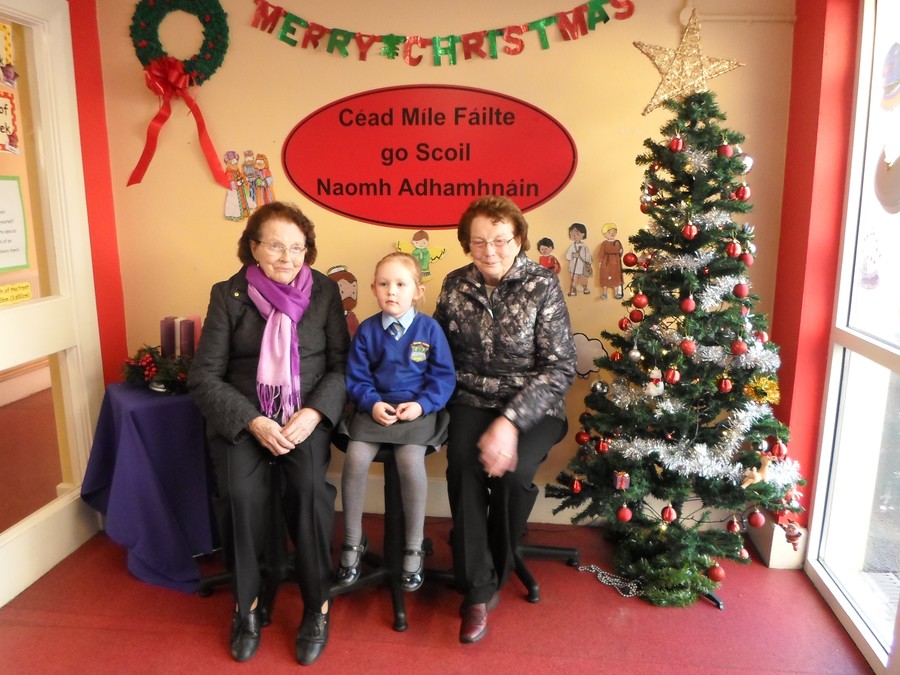 James the Elf
We have a Christmas Elf in our school! We discovered him on 1st December when Ms McGrath got a message on her phone from the security cameras in school, when she looked at it she saw an elf came out from behind one of the computers in the computer room. That day we also saw him coming out from behind the Christmas Tree in the porch.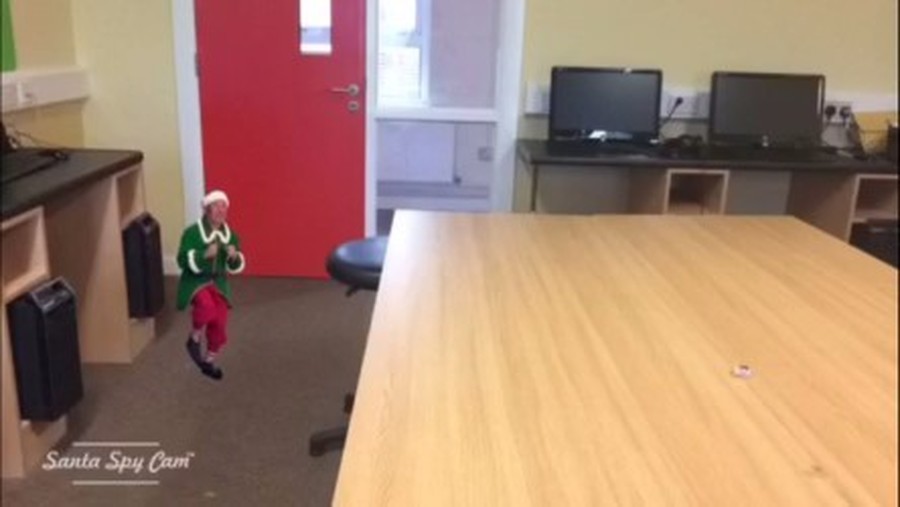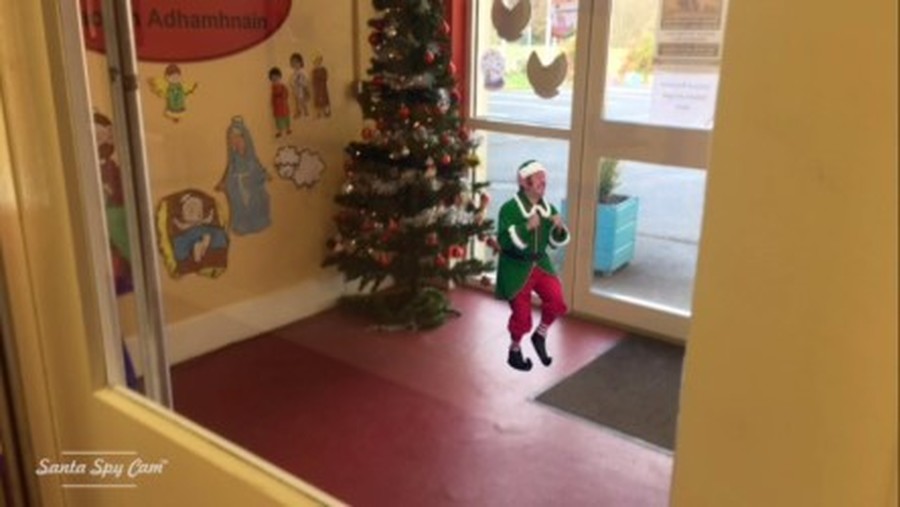 Since then he has been creating havoc in the school. Every morning the teachers come in to find some sort of mischief and mess that he has caused. He has spilt glitter all over the infants bathroom & was hanging from the toilet roll. He has stolen Menie's pink lip gloss from her handbag and used it to colour a foam ball. He has messed Miss Tully's desk and wrapped her chair with Christmas wrapping paper. He has got locked inside the paper towel dispenser and we had to ring Mary to see where the key was to unlock him. He is a very naughty elf. The pupils in Junior & Senior infants have named him James. We hope that he doesn't get up to much more mischief but we will keep you informed.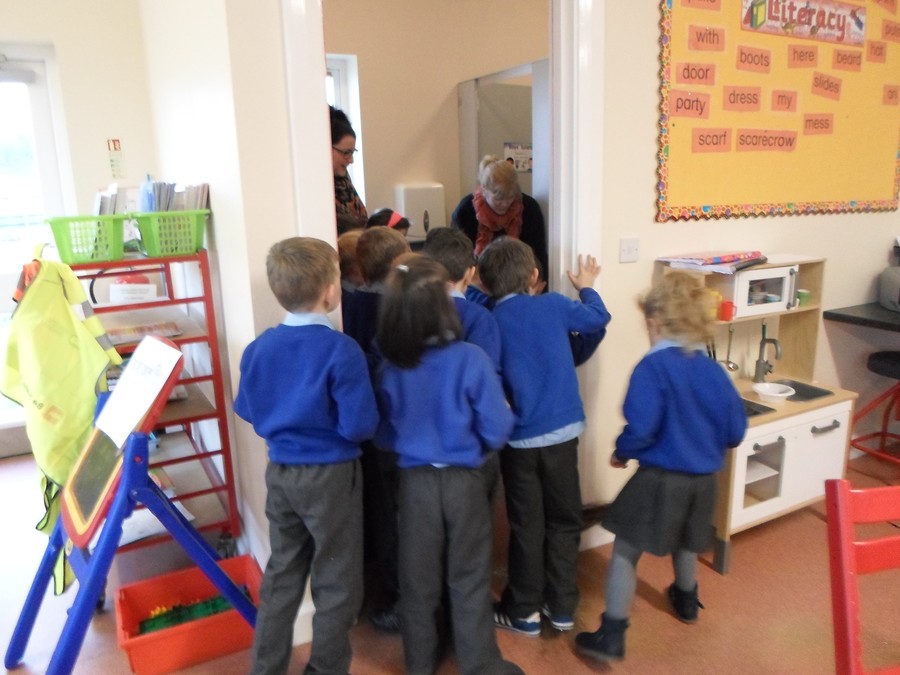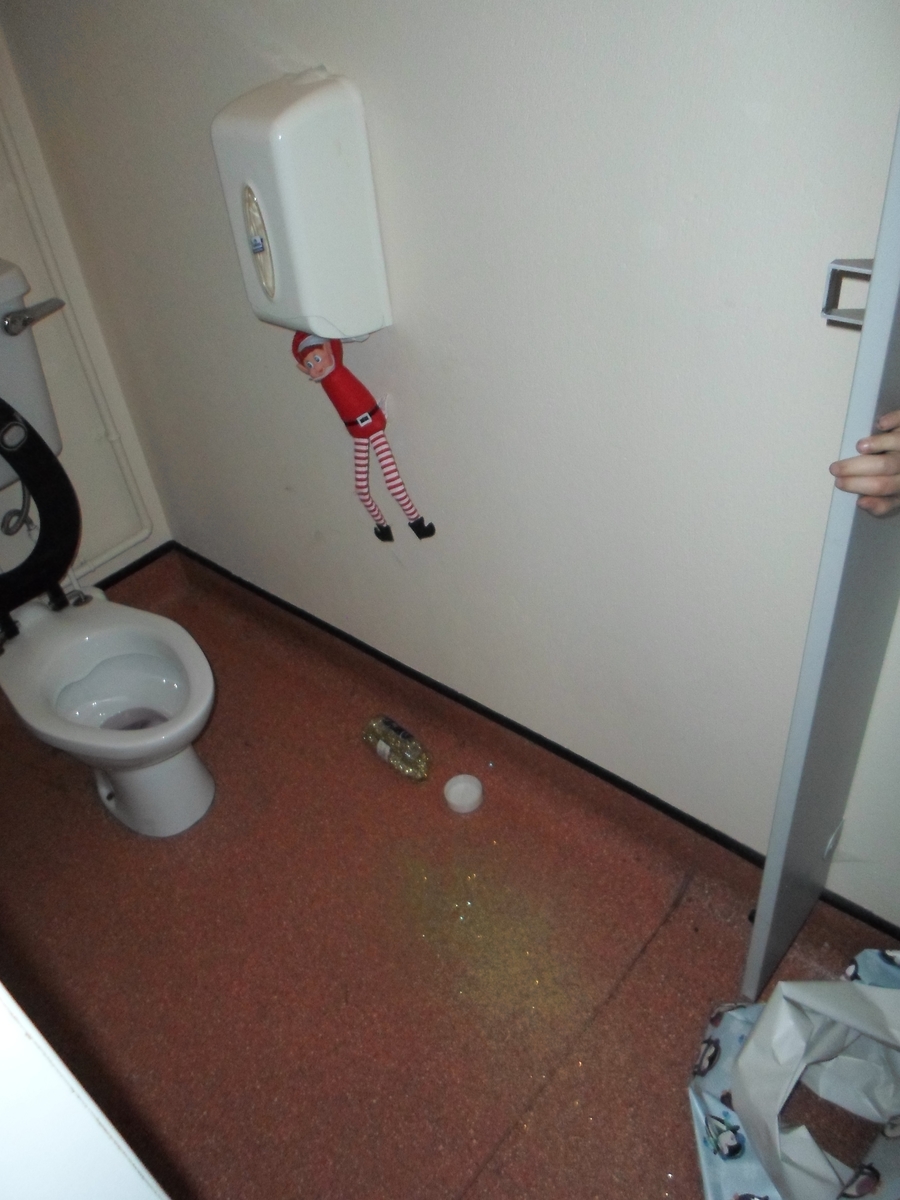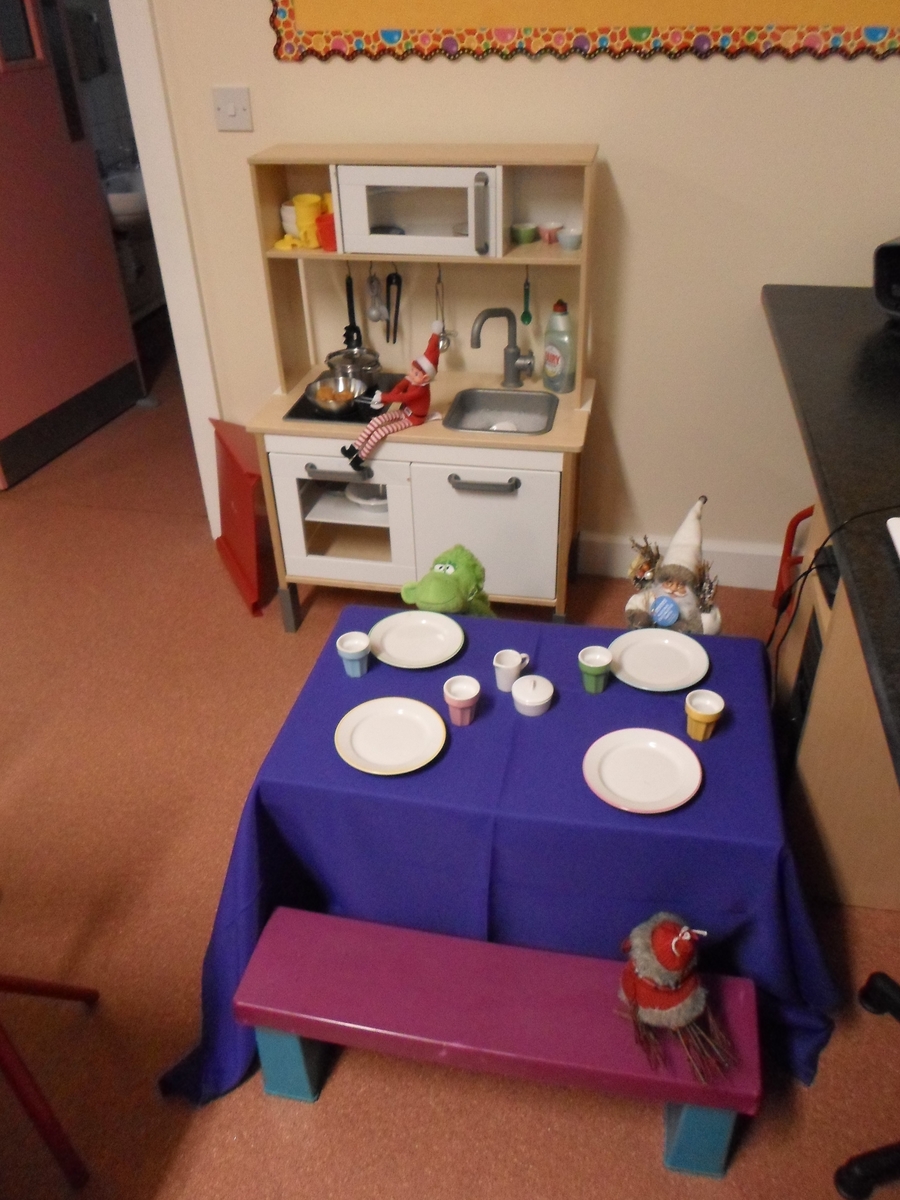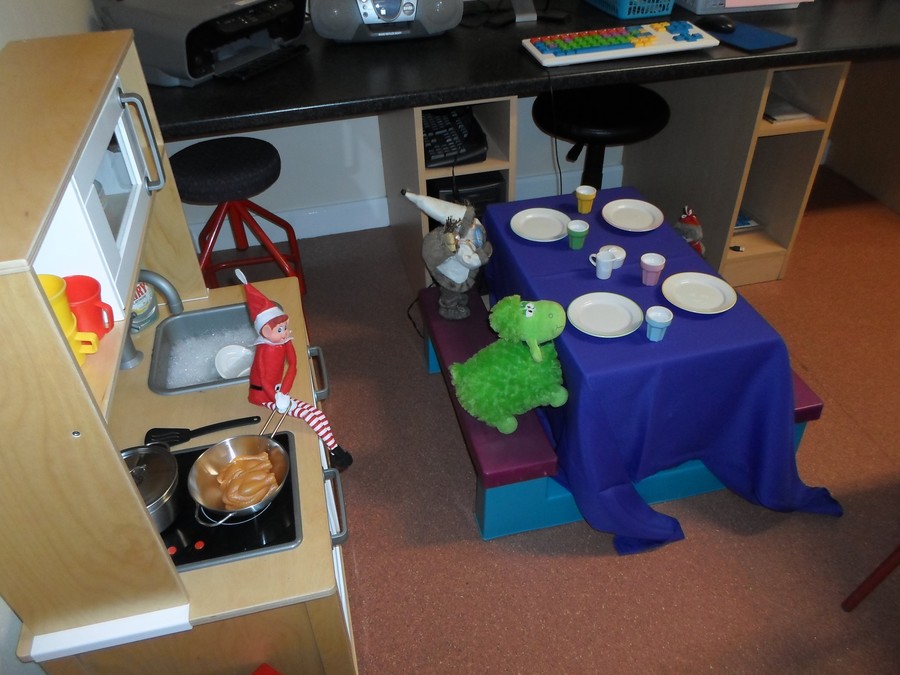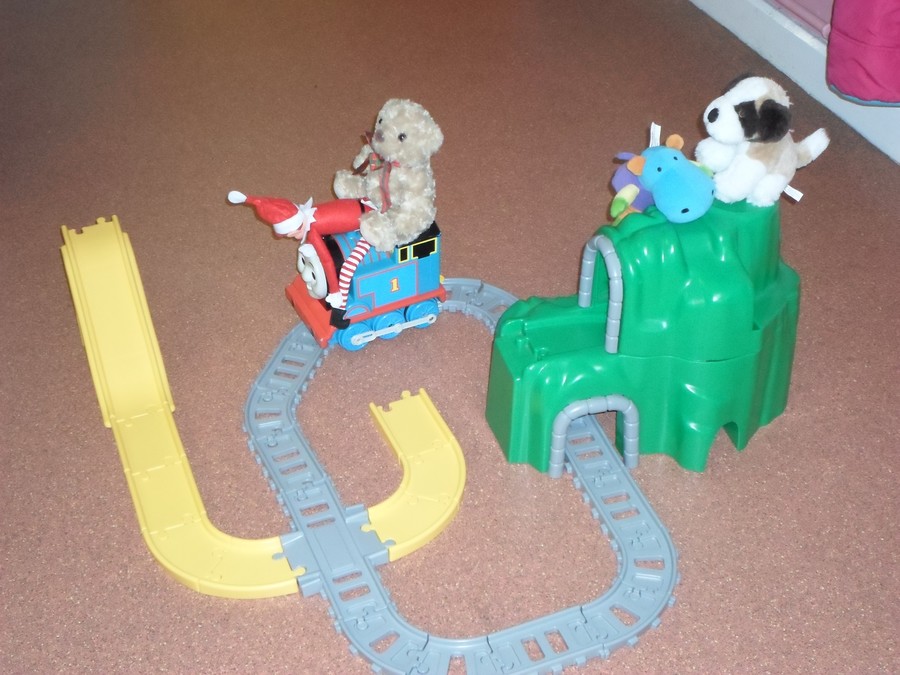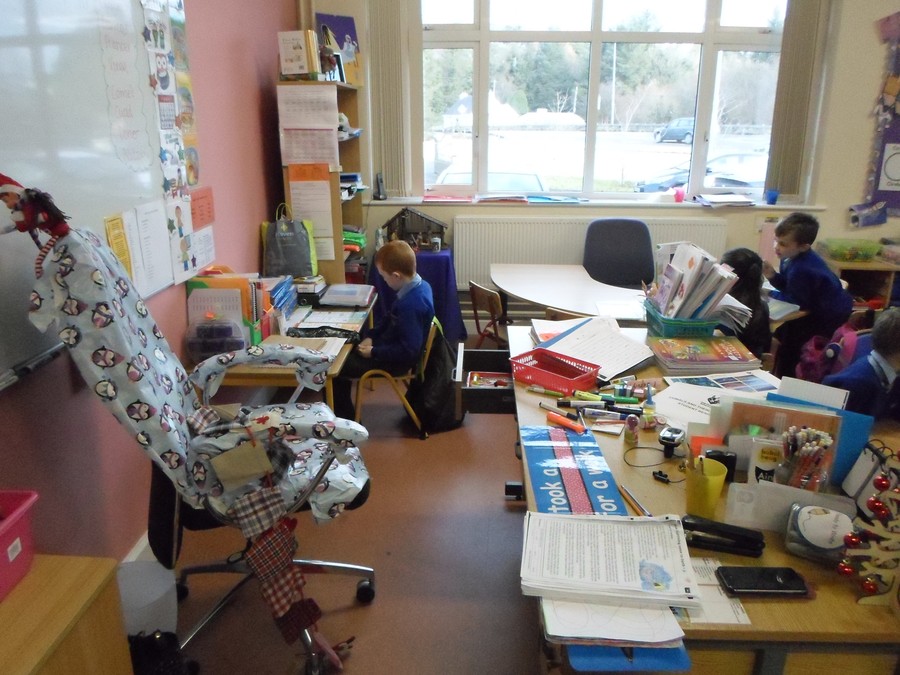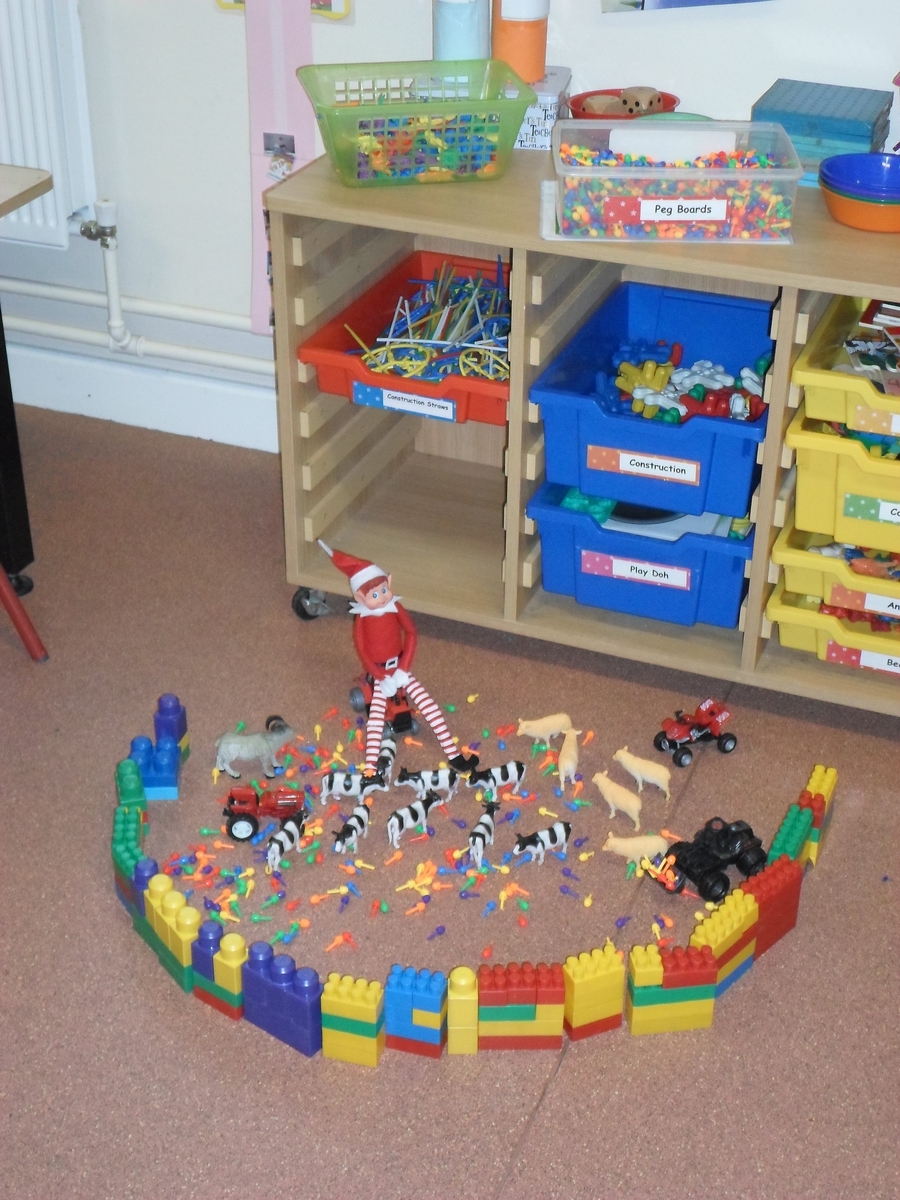 13th December 2016
Happy Birthday to Miss McGroary who celebrates a very special birthday today!! Here we are having her little party yesterday. She got a big surprise!!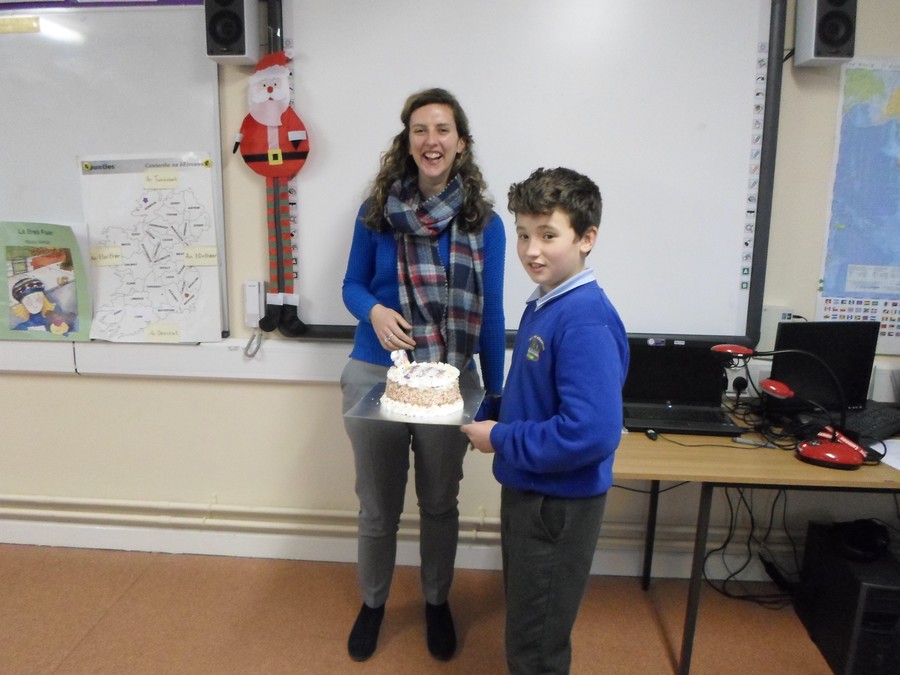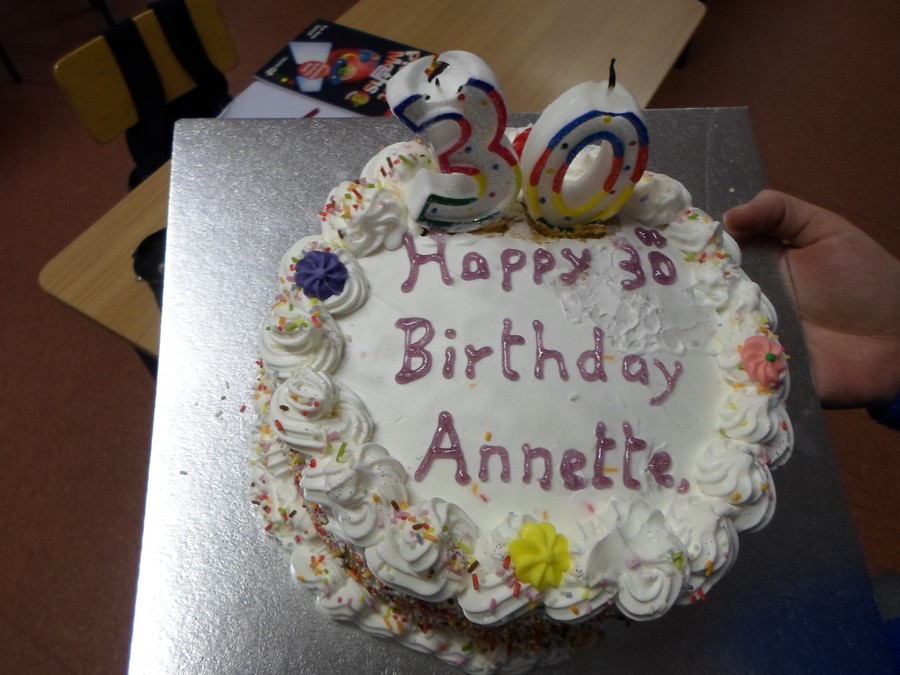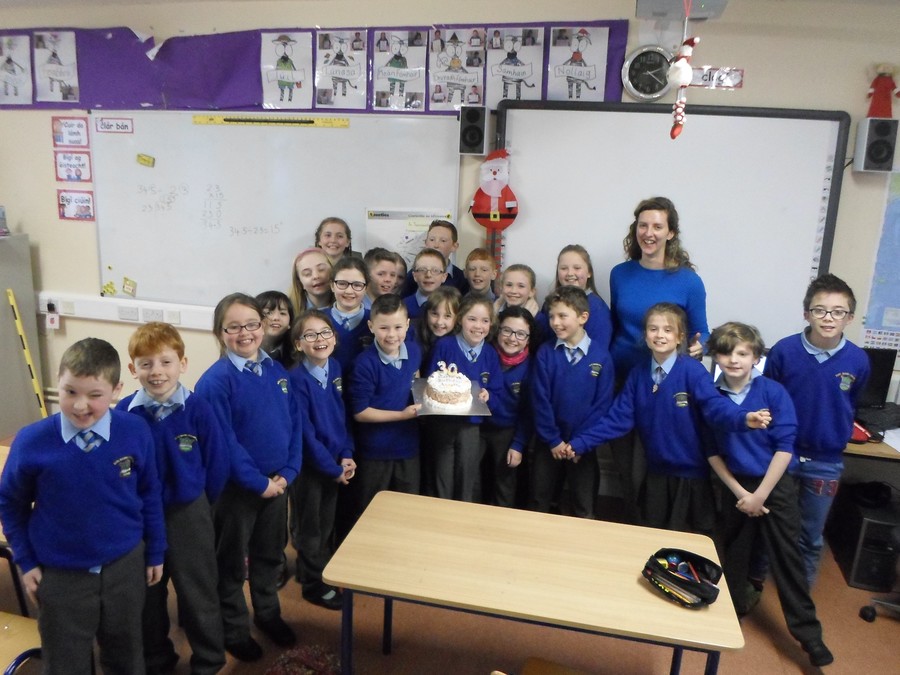 1st December 2016
Some past pupils of Laghey school came in to talk to the senior classes today. They discussed how school was for them and the differences between school then and school now. Local photographers came in and there will be pictures in the next Democrat and Donegal Post. Thanks to all the past pupils who came and to the photographers.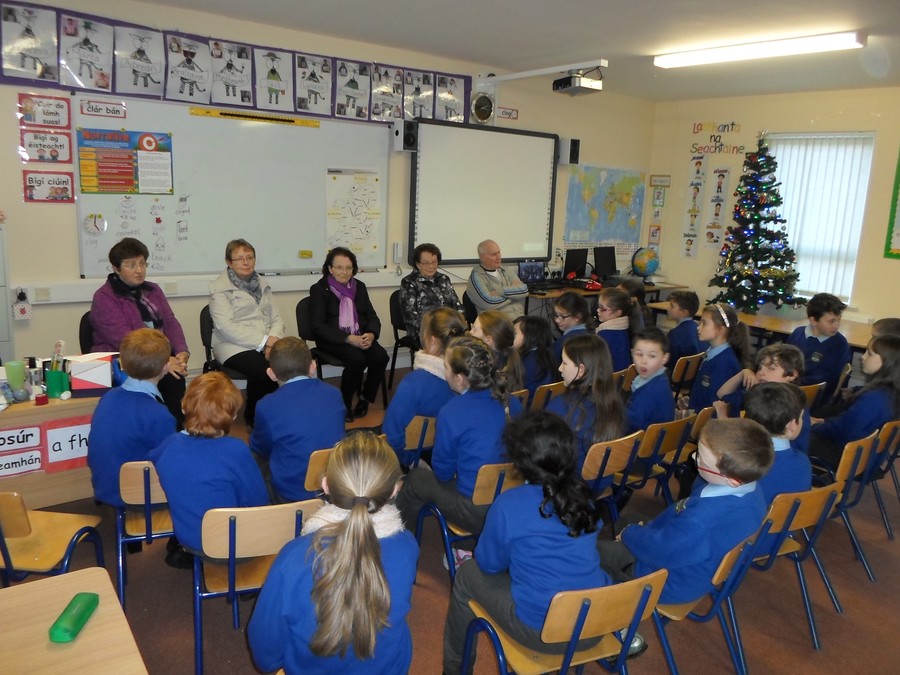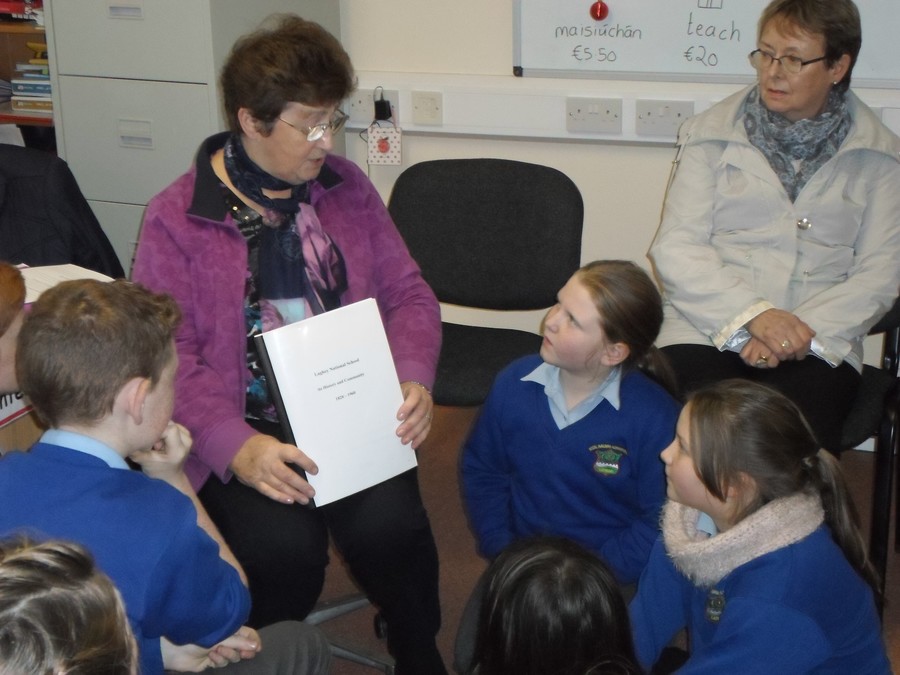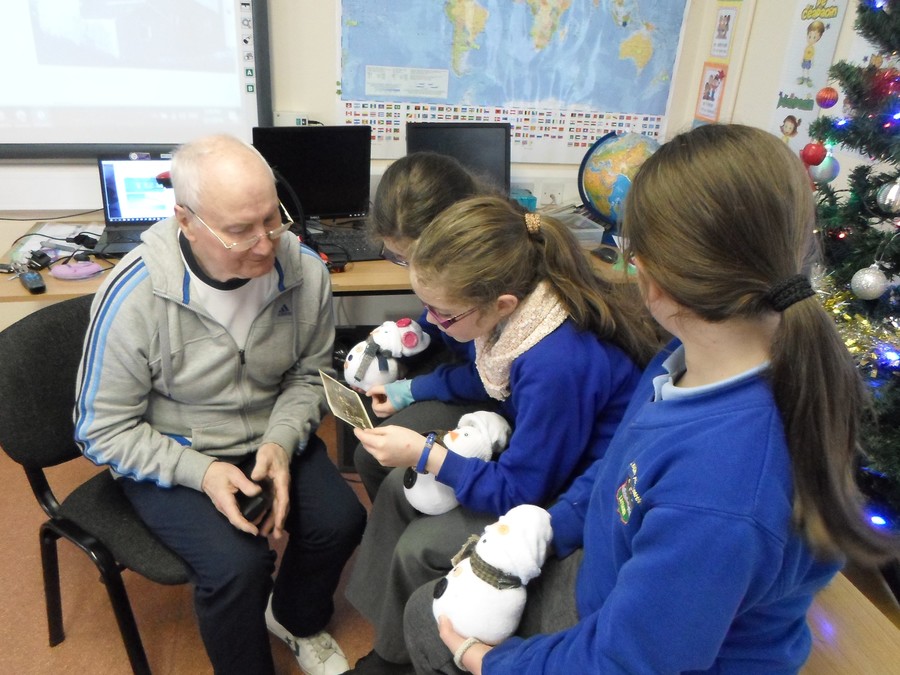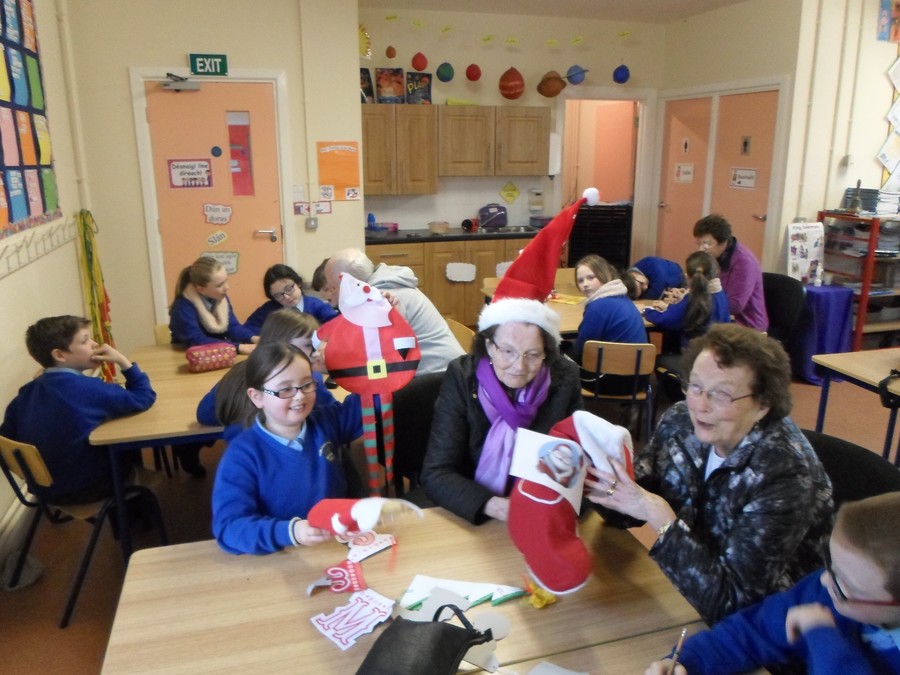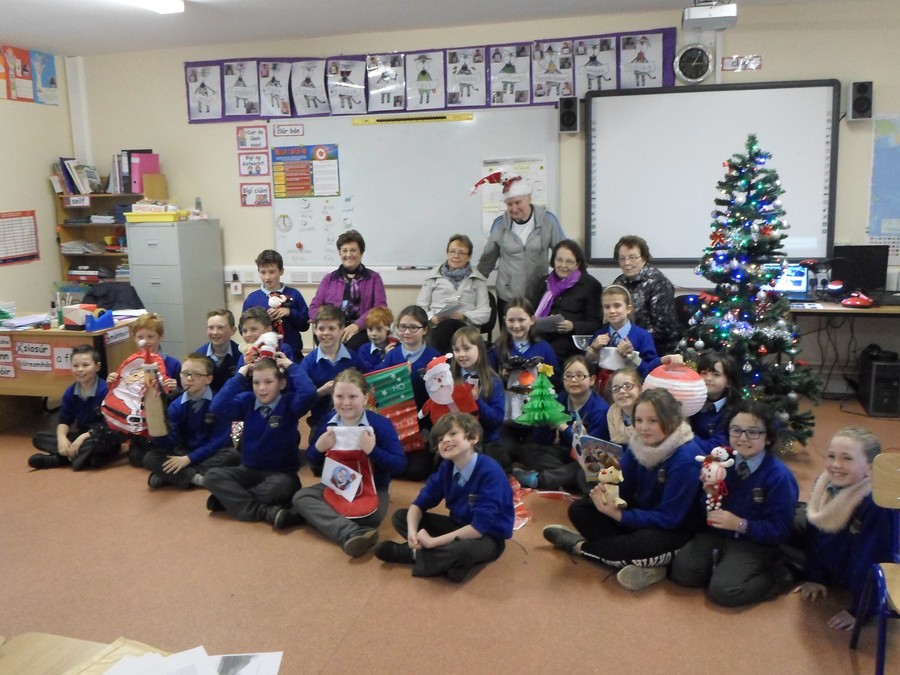 30th November 2016
Miss McGroary invited some past pupils of LagheyBarr school to come in to talk to her classes today. They discussed the history of their school and talked about how school was in their day. The classes learnt a lot and really enjoyed it. Thanks to everyone for coming in.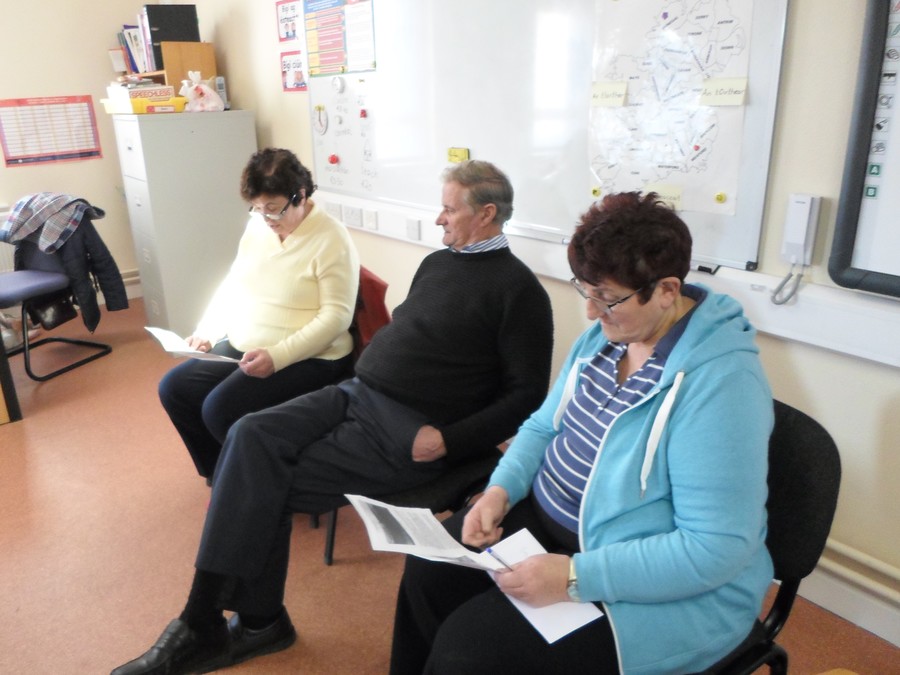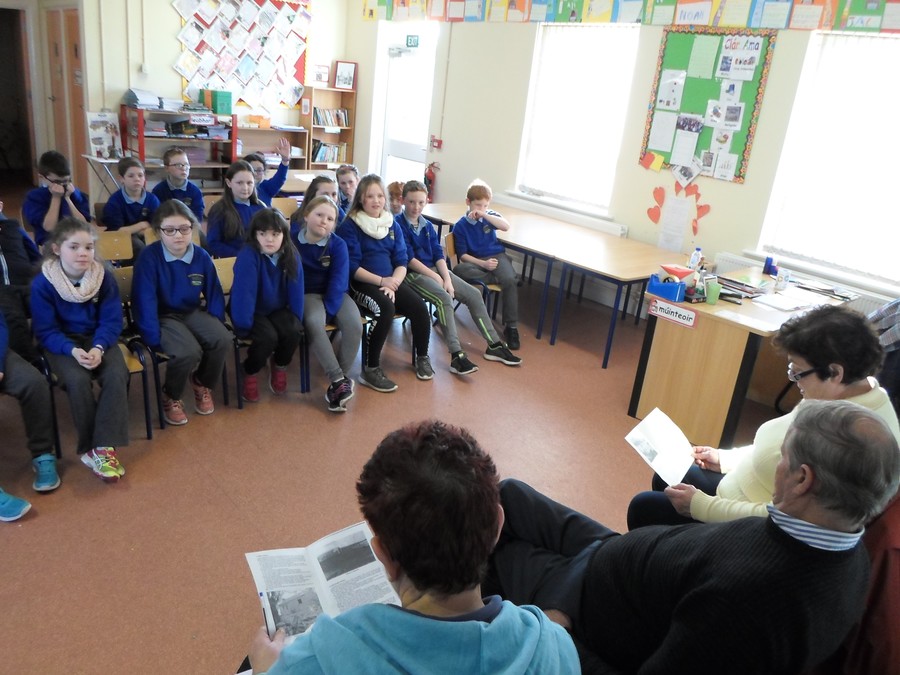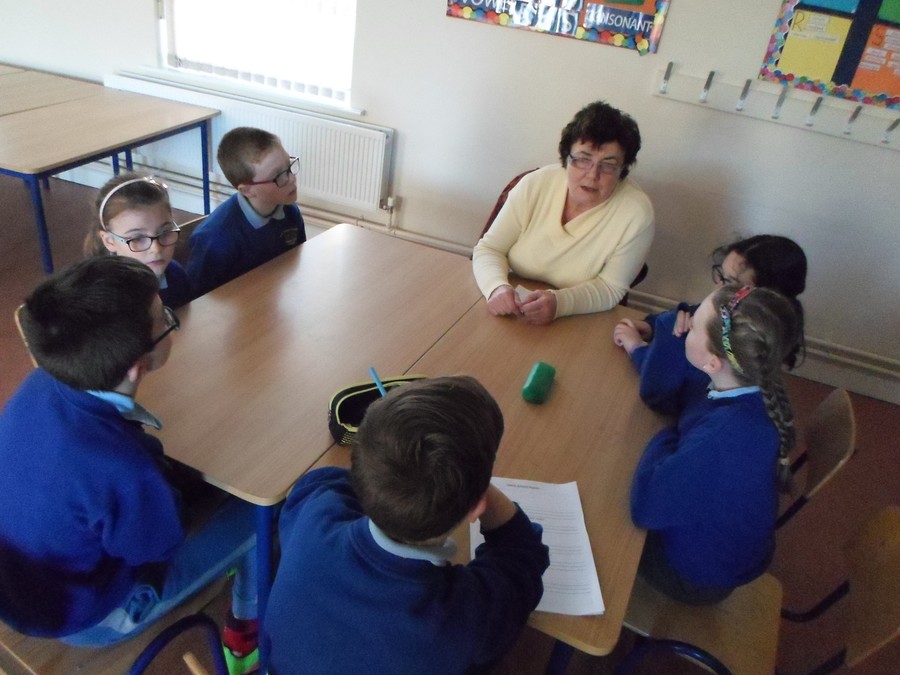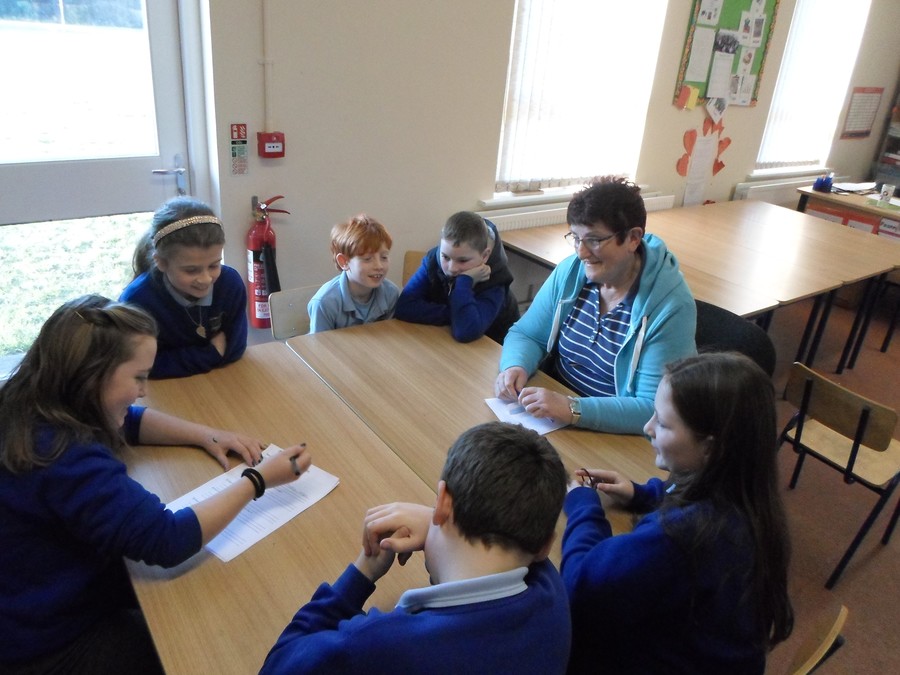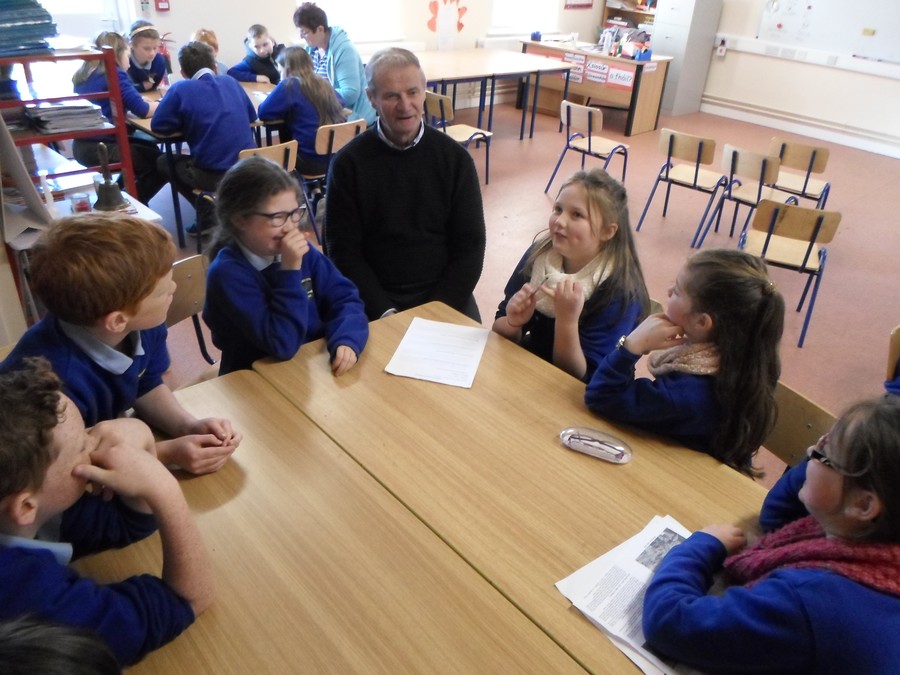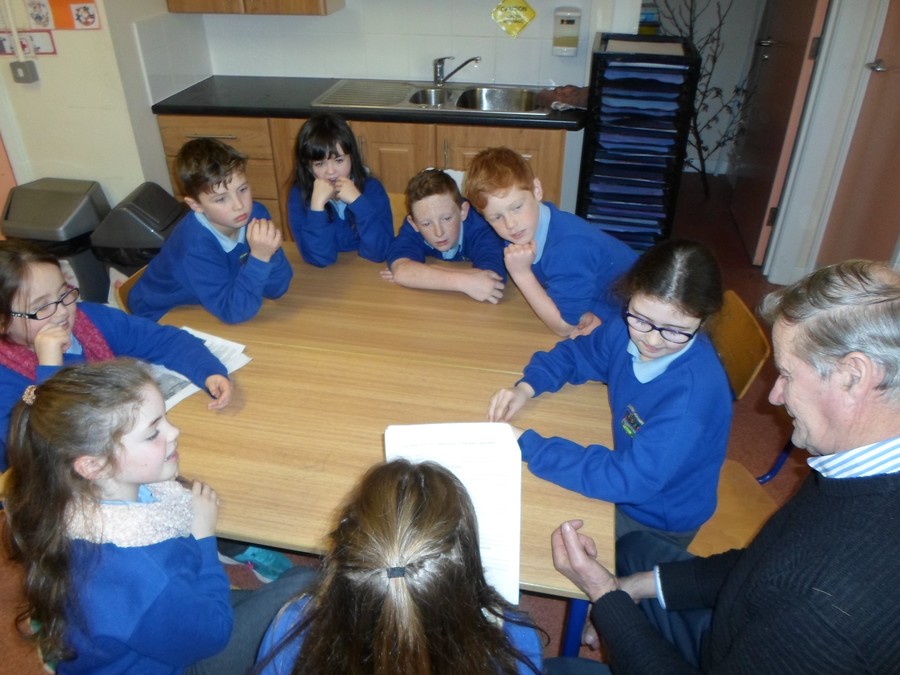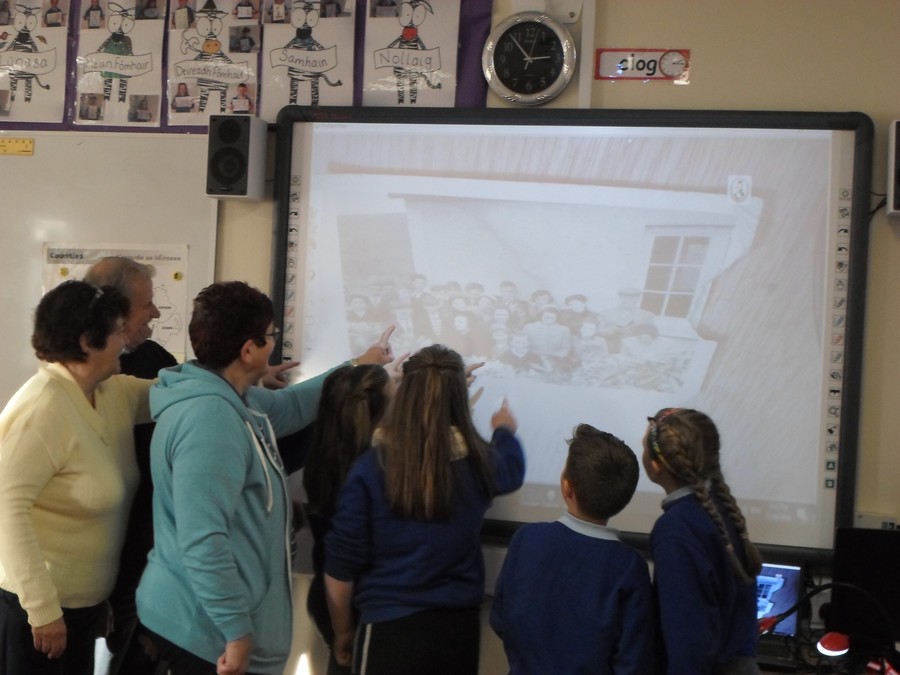 This is our visiting past pupils from Laghey Barr with all their grandchildren who are in the senior room in our school.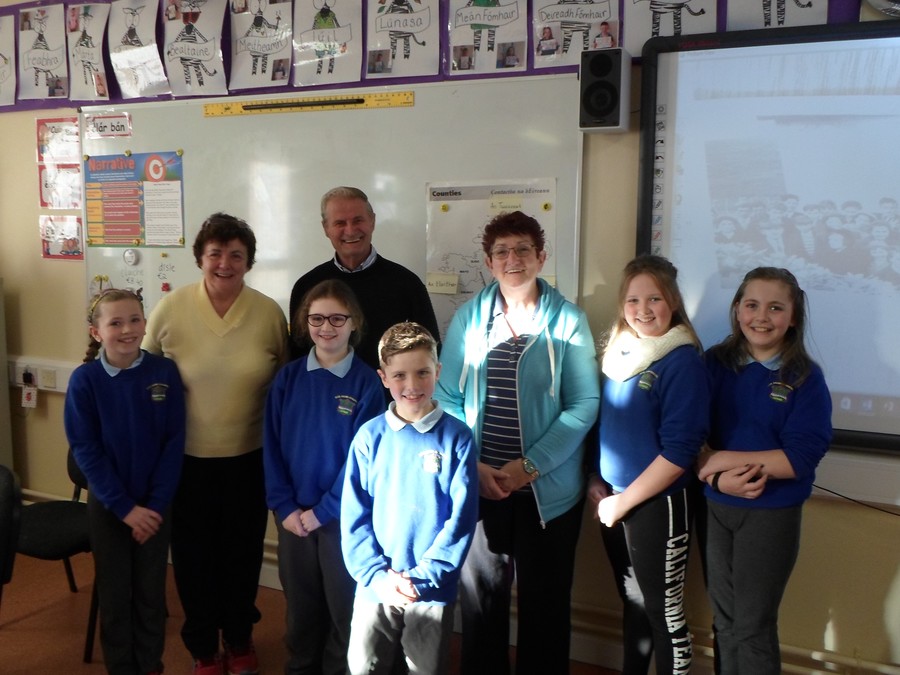 24th November 2016
Pupils in the senior room designed artwork for the "Doodle for Google" art competition. Well done to everyone who participated, the standard was very high with very impressive and precise artwork. There could only be 6 entrants put forward from the school so the judges picked the following artwork to enter into the competition, good luck!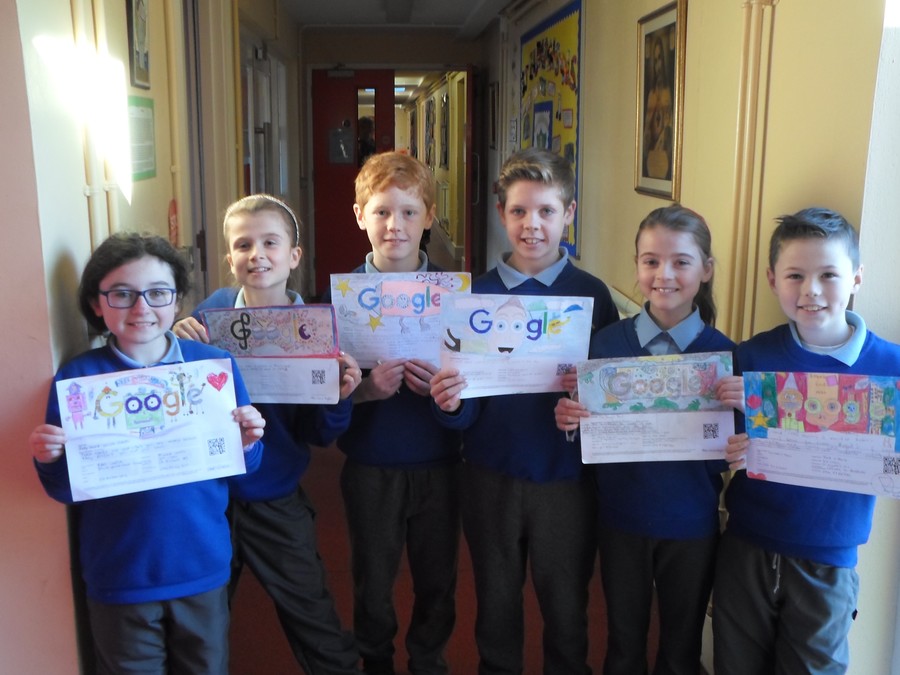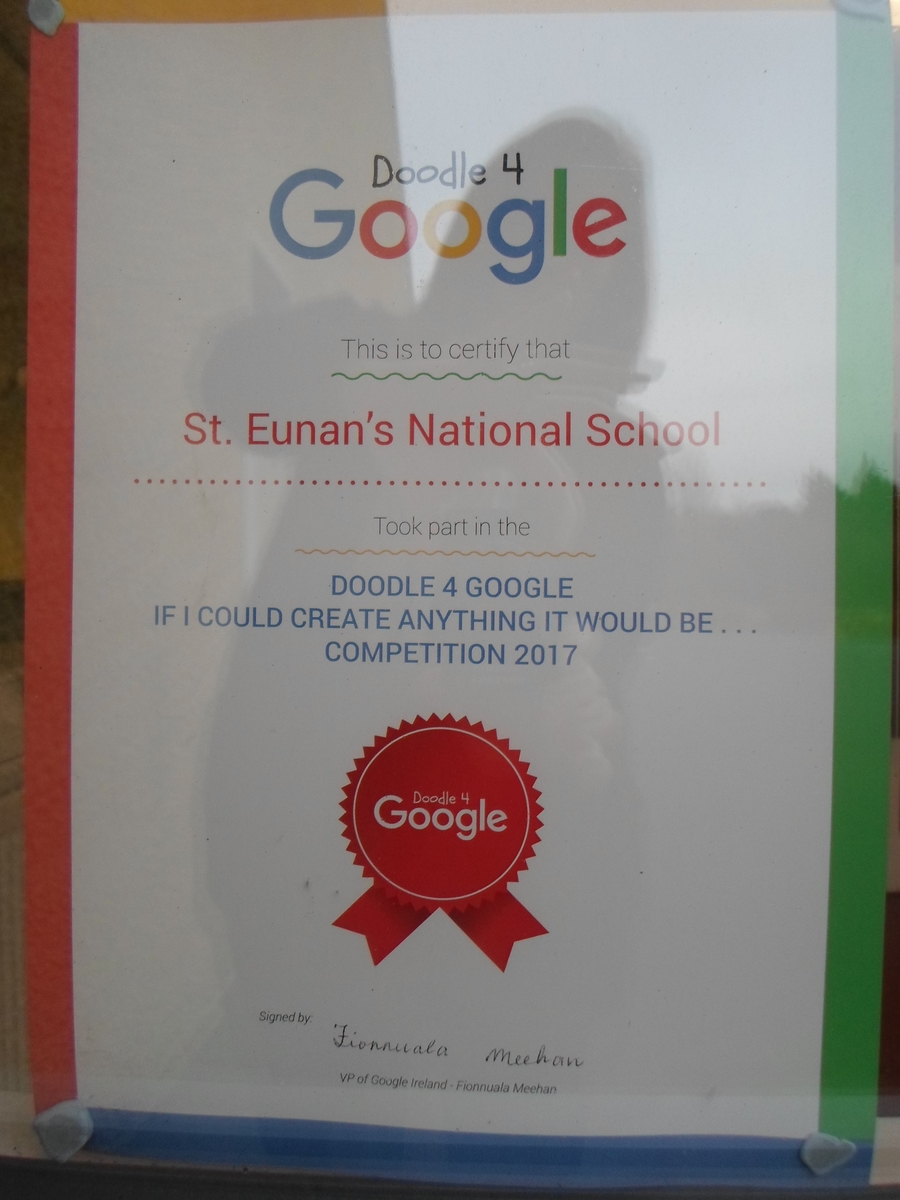 24th November 2016
We made our Advent Wreaths and Angels for the Church today. Our wreaths and angels will be in the Church for the whole of Advent and over Christmas. Everyone really enjoyed making them with the teachers and they look lovely in the Church.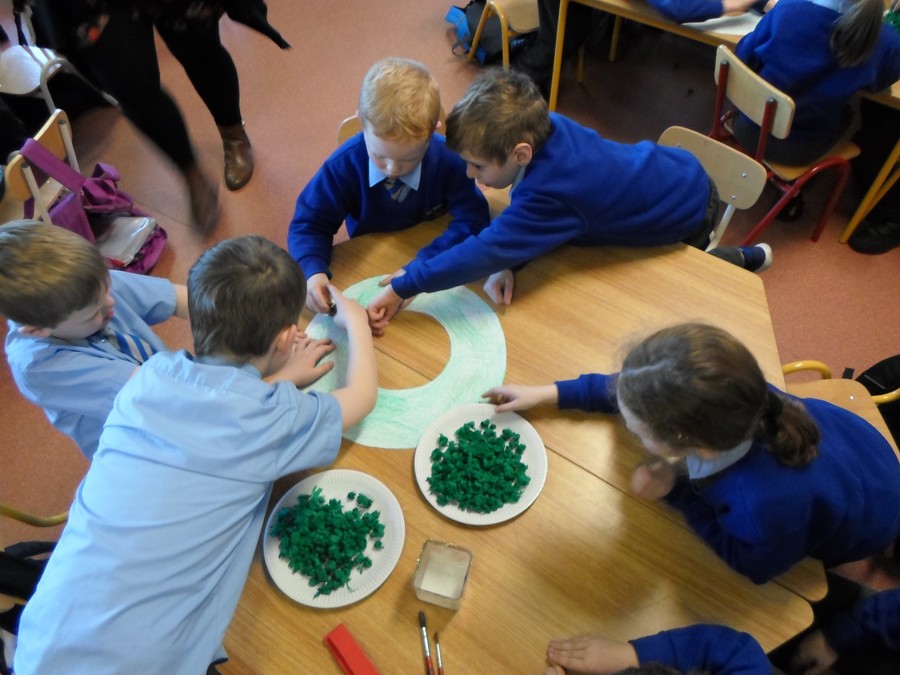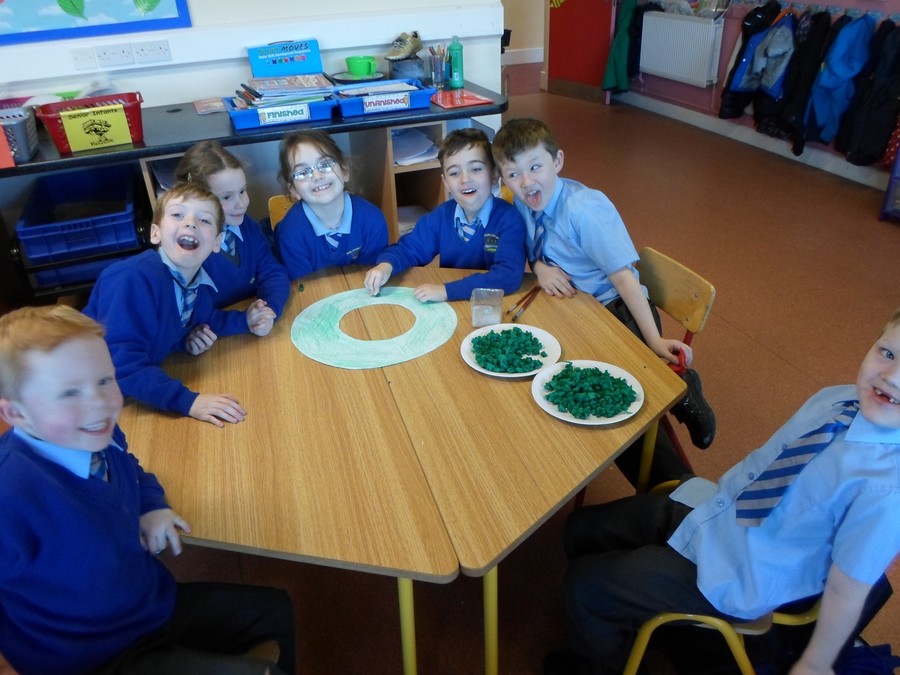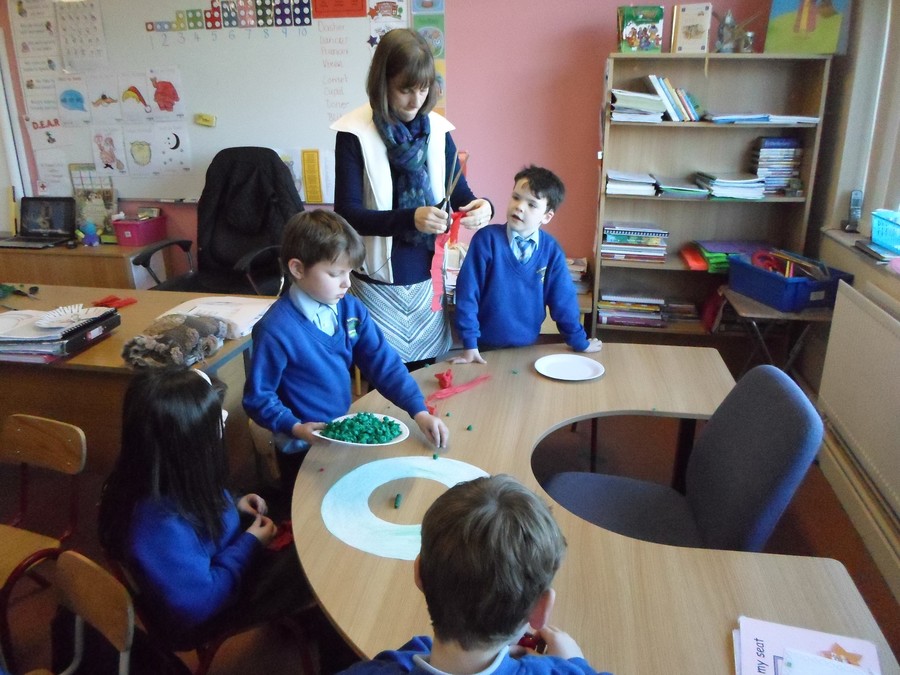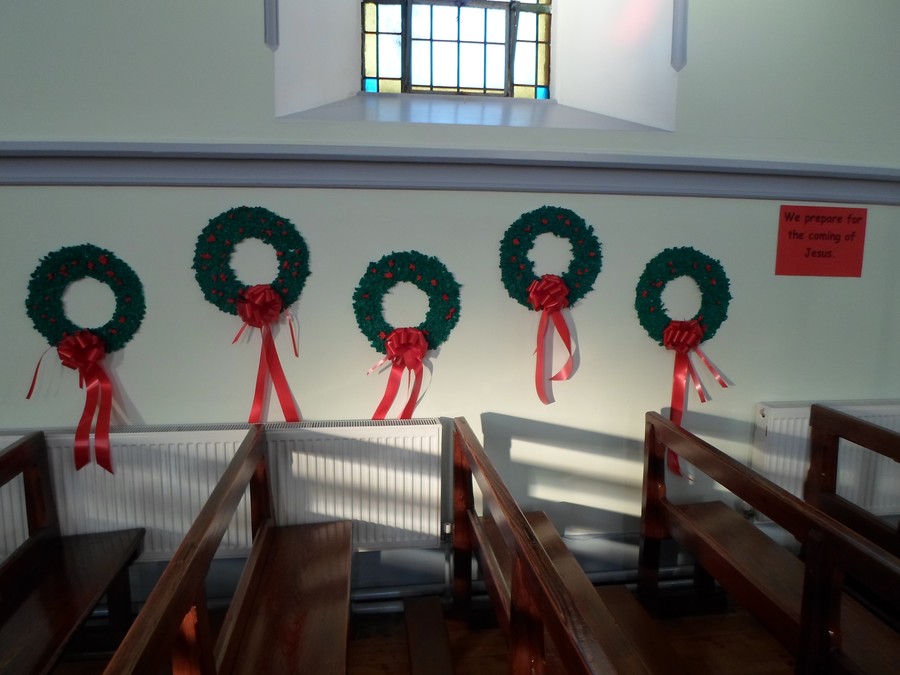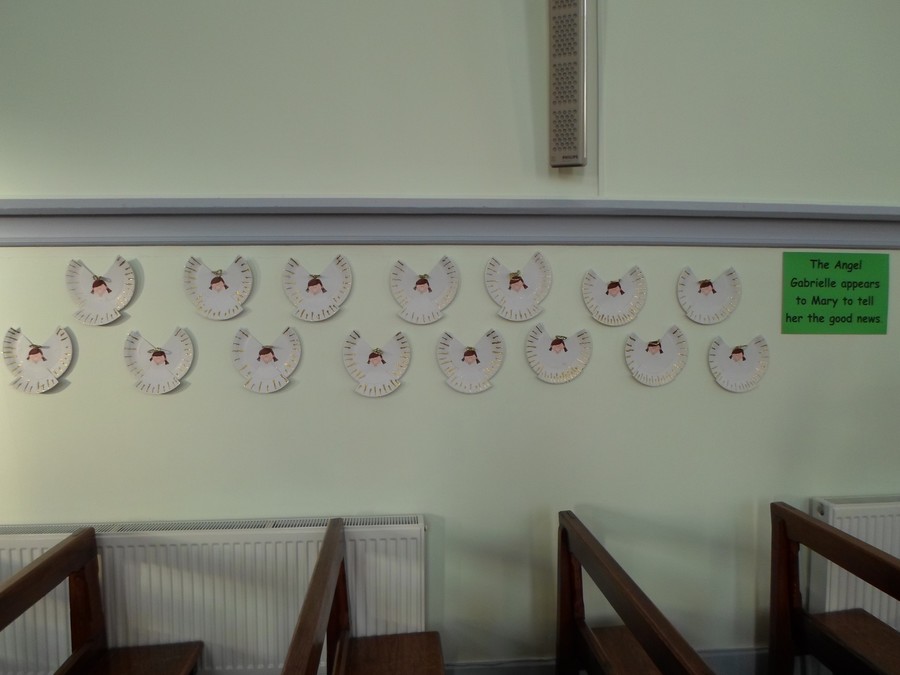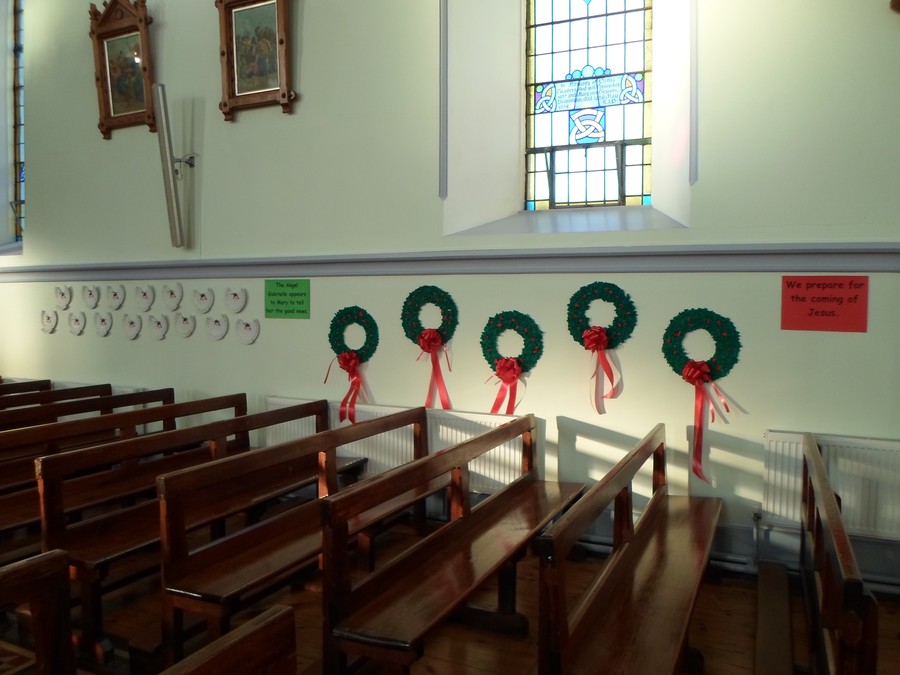 23rd November 2016
The pupils made Snowmen in school today. They made them from socks filled with rice and they decorated them with eyes and buttons which the pupils collected at home themselves. These lovely snowmen are for sale at €5 each and all proceeds will go to the school. Well done to all the pupils who helped make them.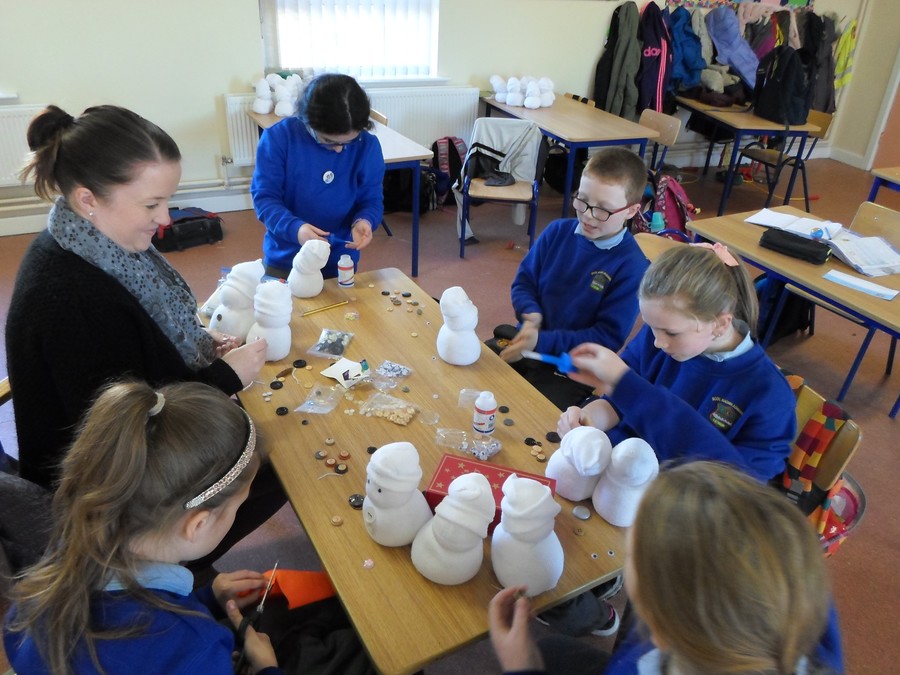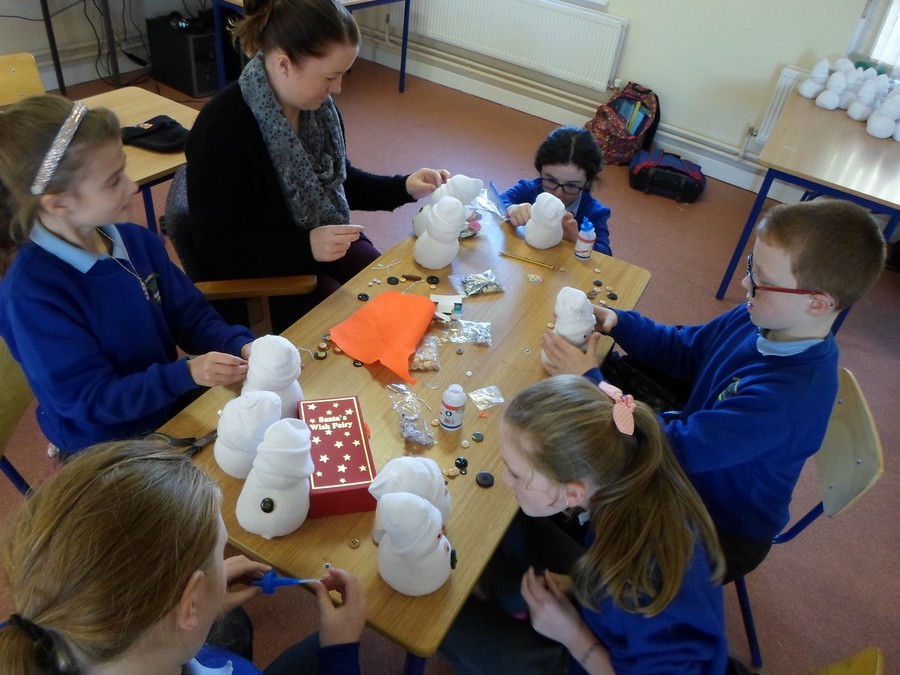 23rd November 2016
Aengus Kennedy from the Green School visited our school today. He spoke to the children about Climate Change and Food Miles. Aengus showed us interactive slides and did a workshop with the children from 1st to 6th class. Everyone enjoyed this presentation very much and learned a lot of information relating to the Travel Theme.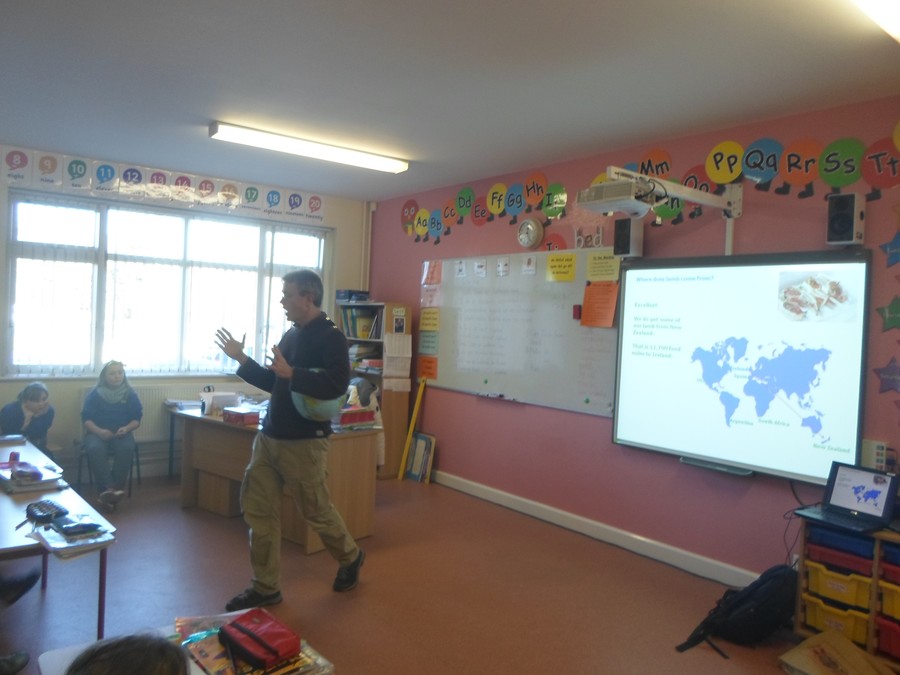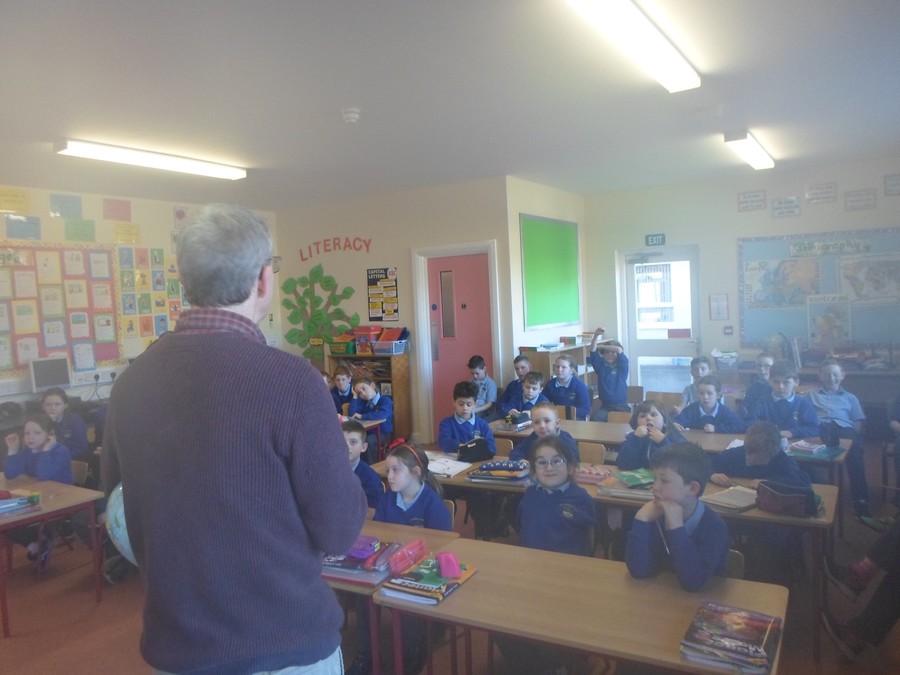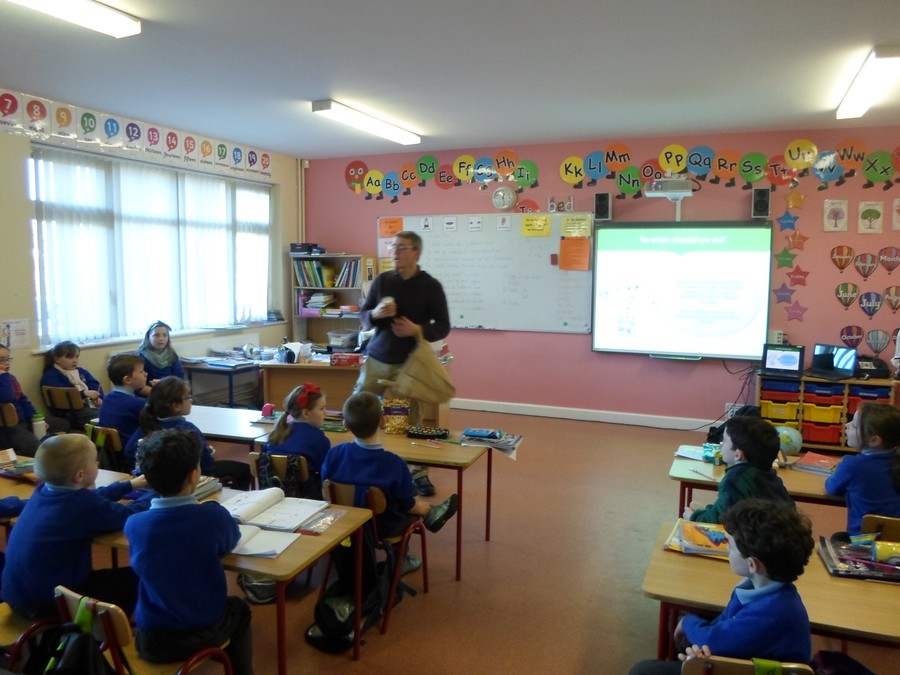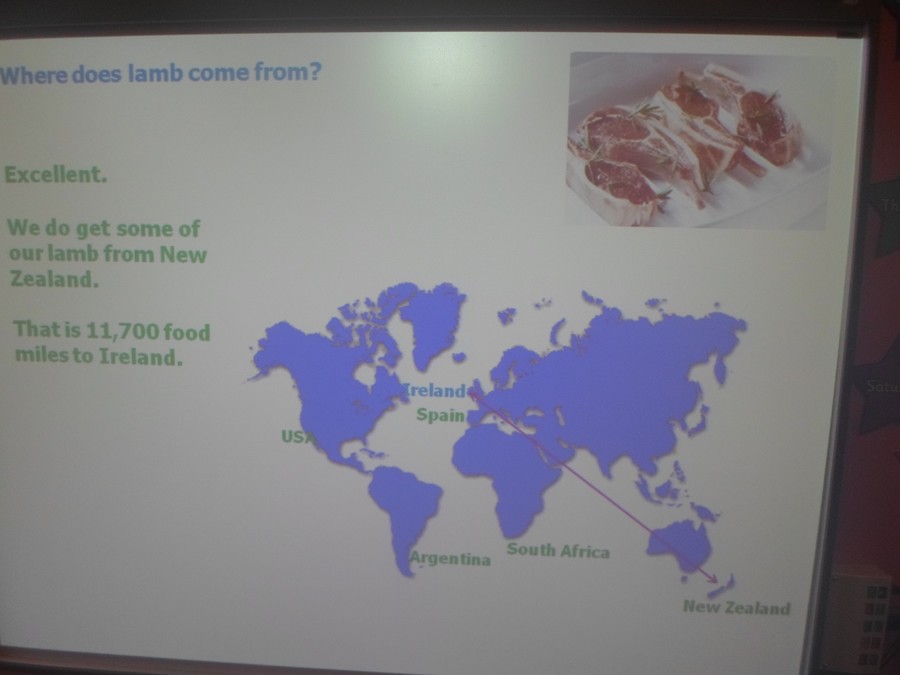 16th November 2016
Congratulations to the following pupils who won prizes at the Credit Union Art Competition:
Deirdre Gallagher, Dannan McGlinchey-Pearson, Norah Haughey & Aimee Hughes-Perc. This is their very impressive artwork and here they are at the presentation night in the Abbey Hotel receiving their awards.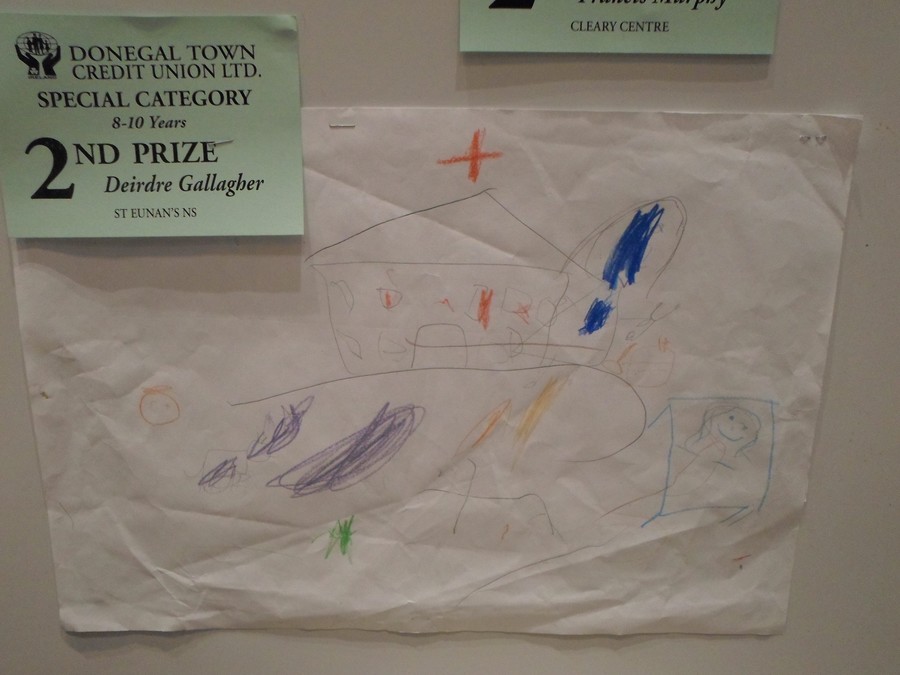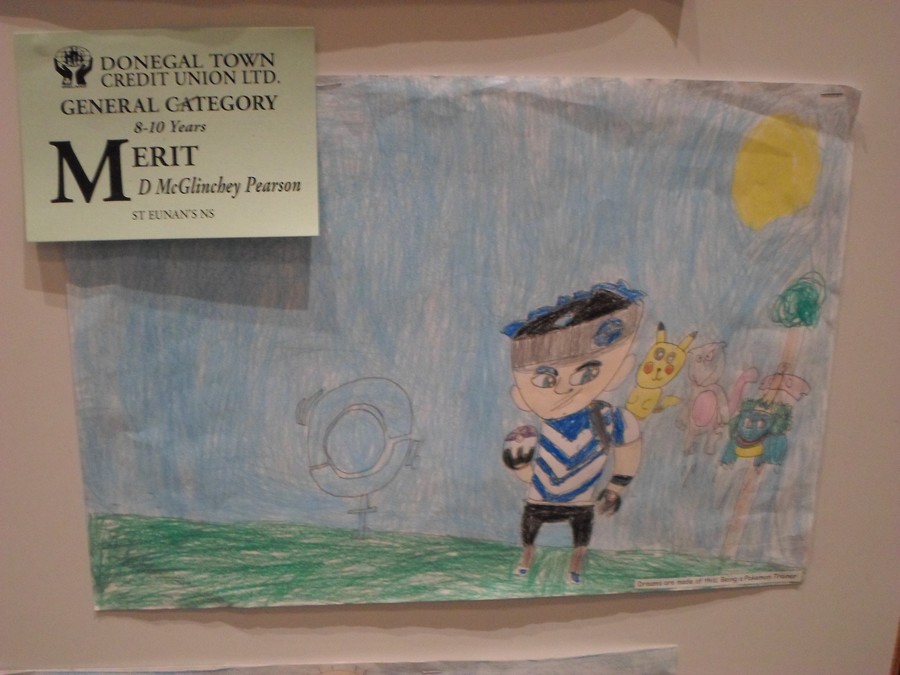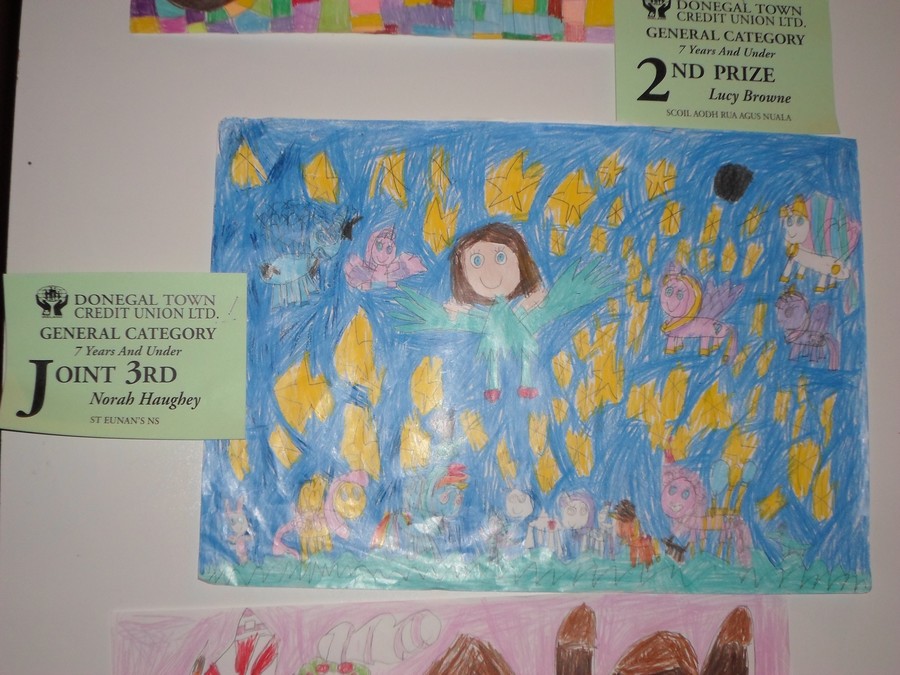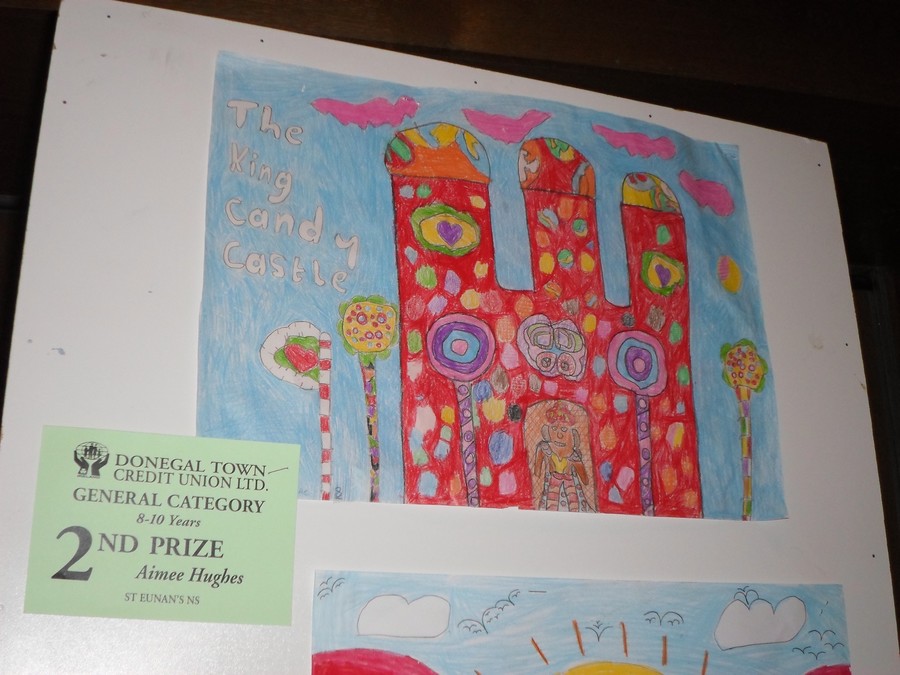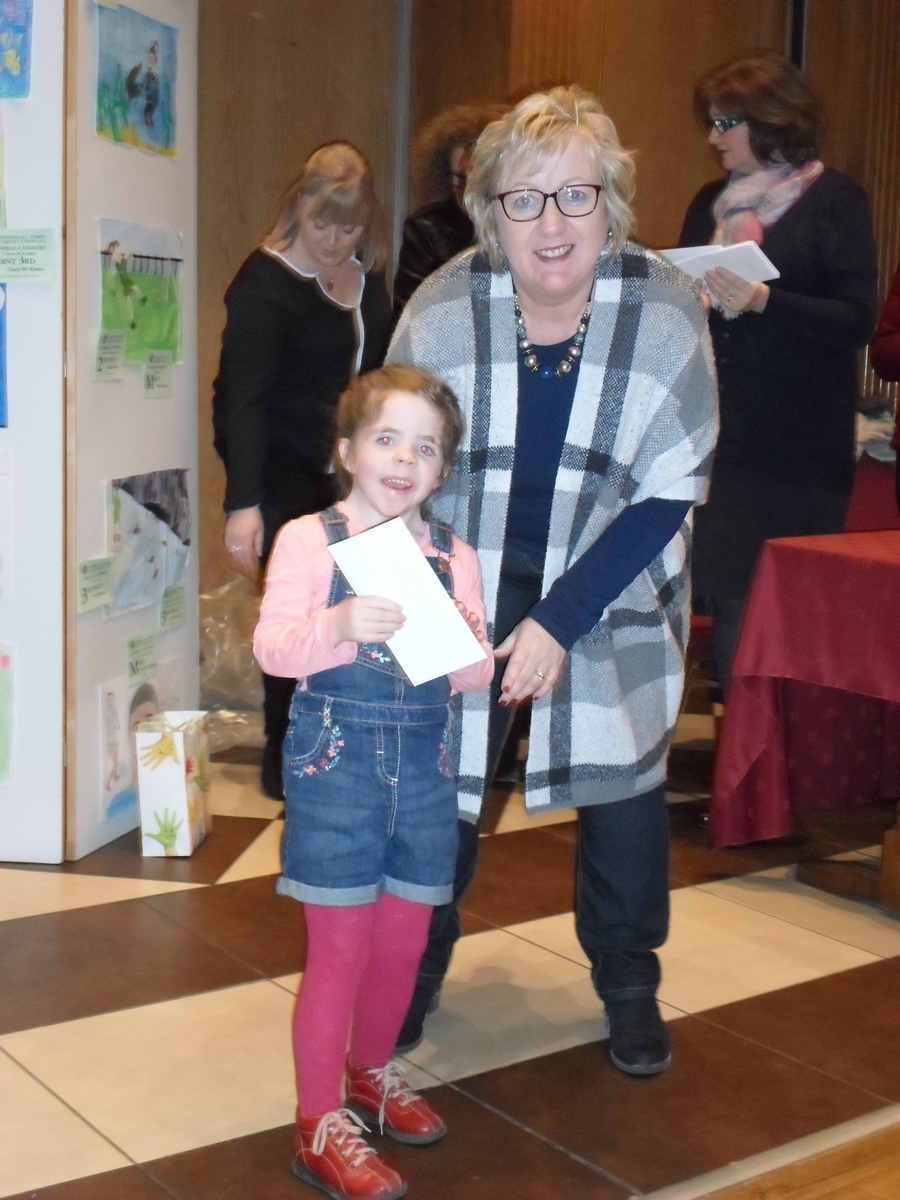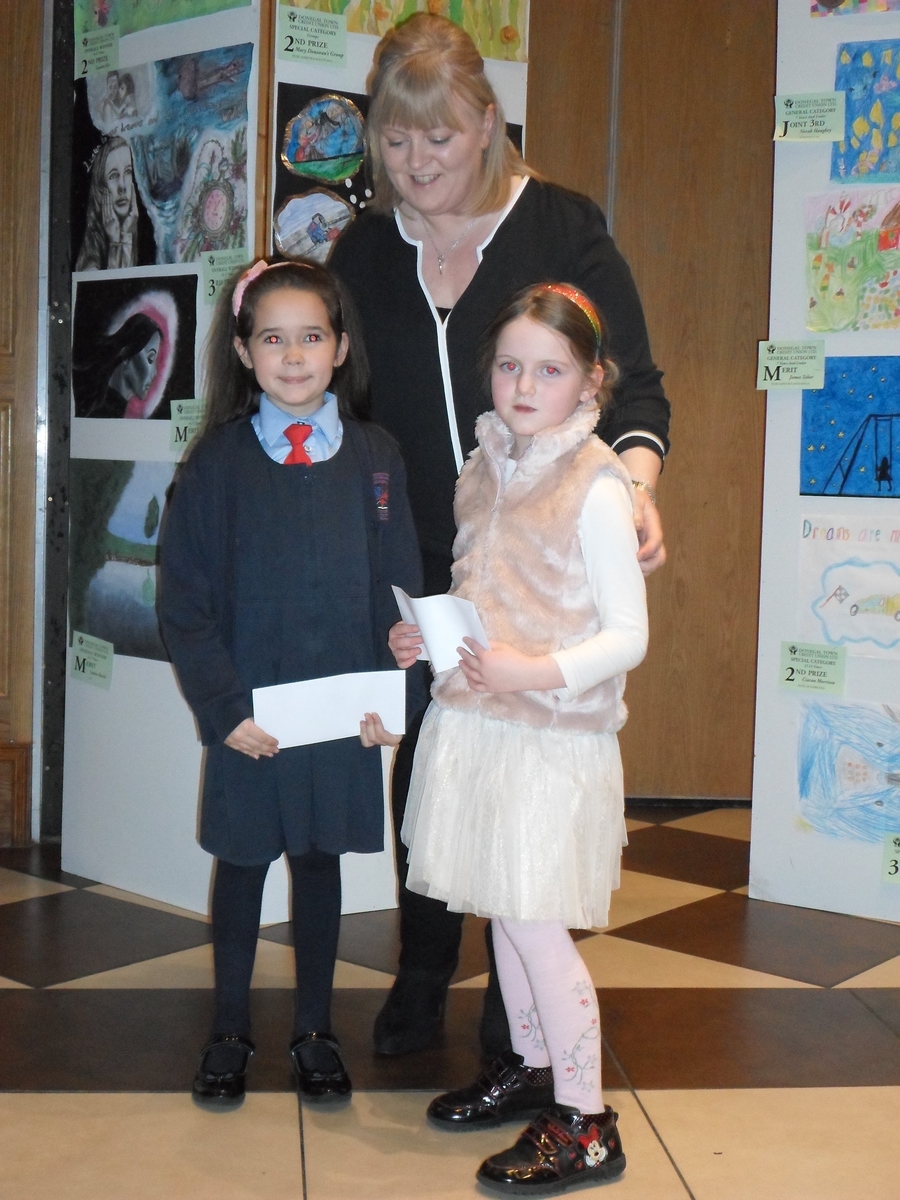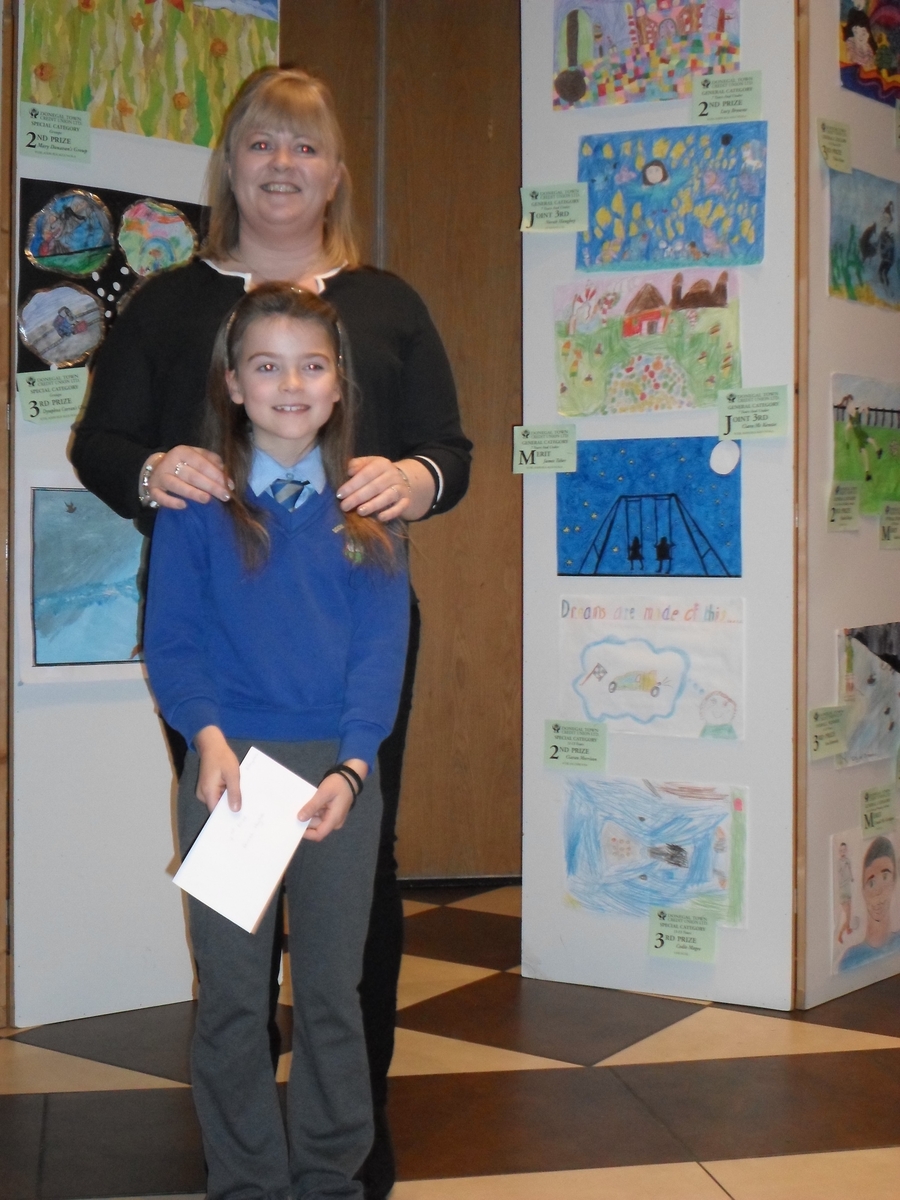 14th November 2016
The clothing company collected the unwanted clothes and shoes that our families brought in. There were loads of binbags left in over the last few weeks. In total there was 625 kilos collected in the school. The collection company were very impressed with the volume of clothing collected, they said that it was a huge amount for a small school. So a huge thank you to all of you who had a big clean-out and helped us to raise much needed funds for our school, it is very much appreciated.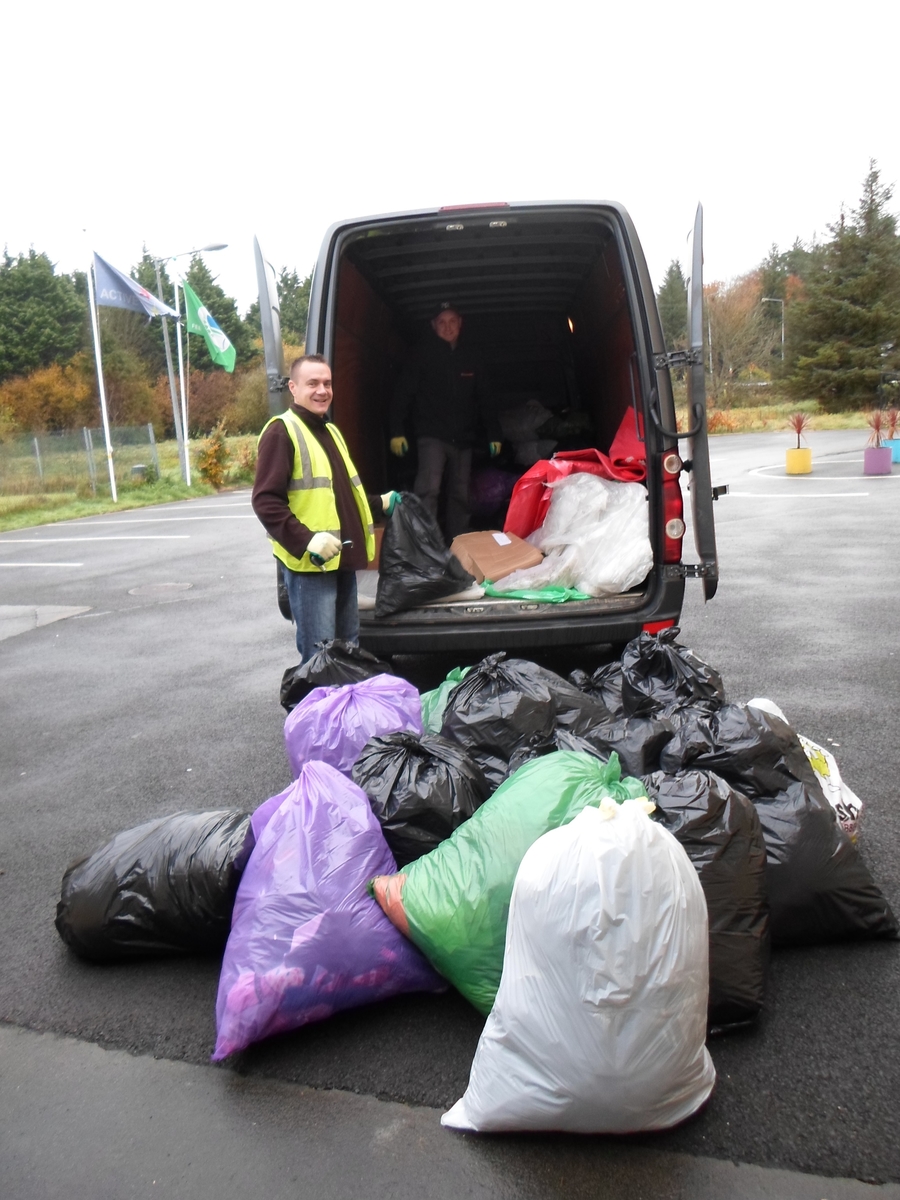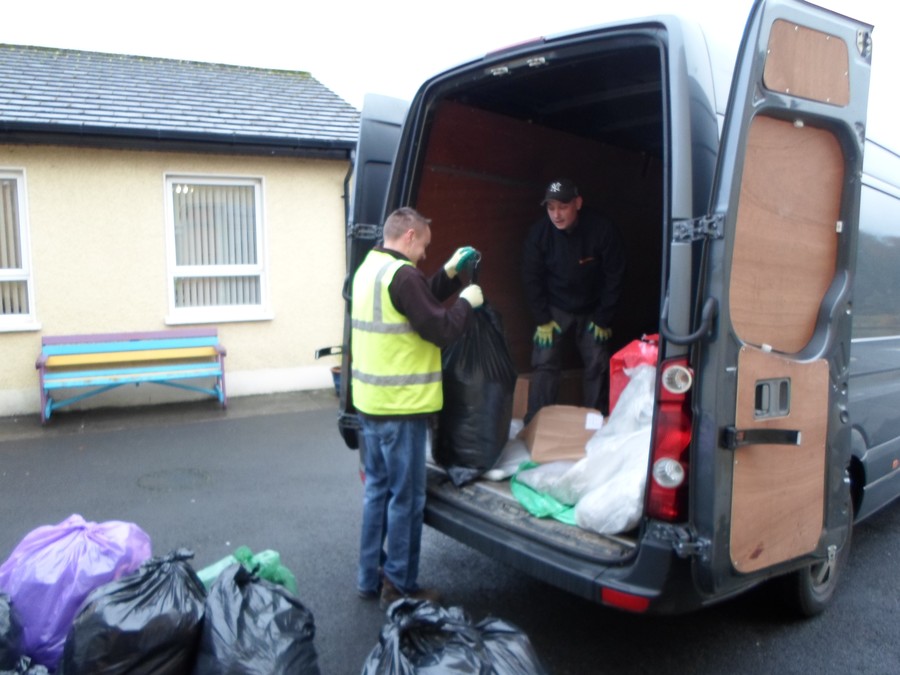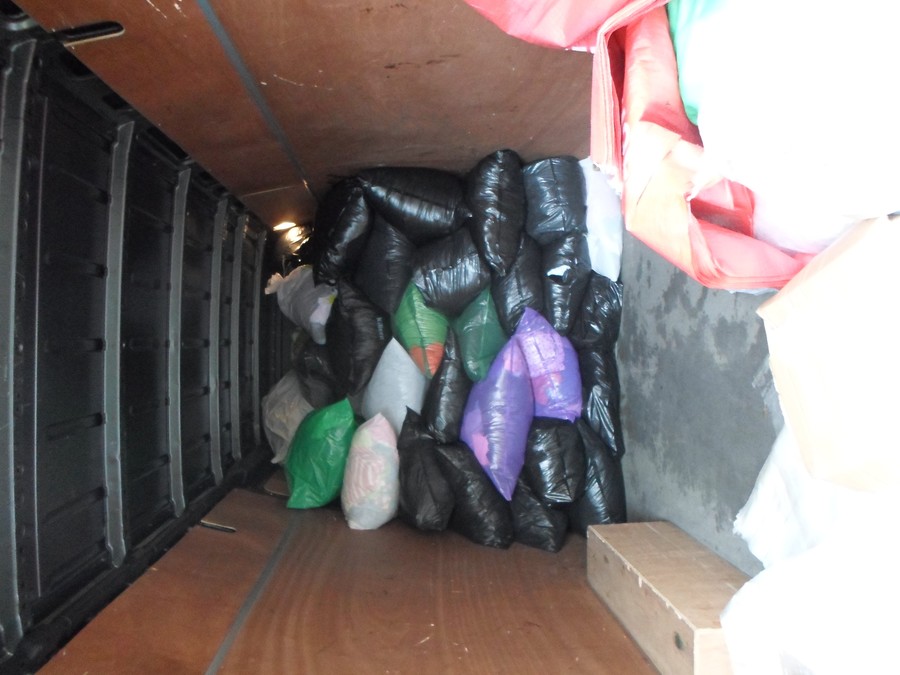 9th November 2016
Today we sent off our Christmas Shoe Boxes to children in other countries who are less well off than us so that they can have a special christmas gift. We sent off a total of 40 shoe boxes and we are very proud of the huge effort that everyone put in, thank you all very much.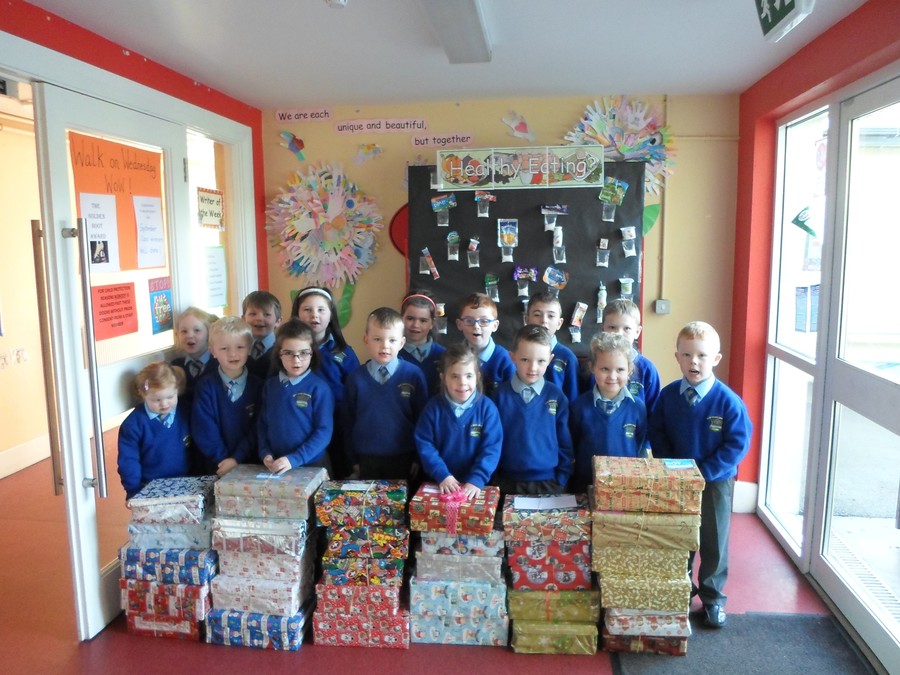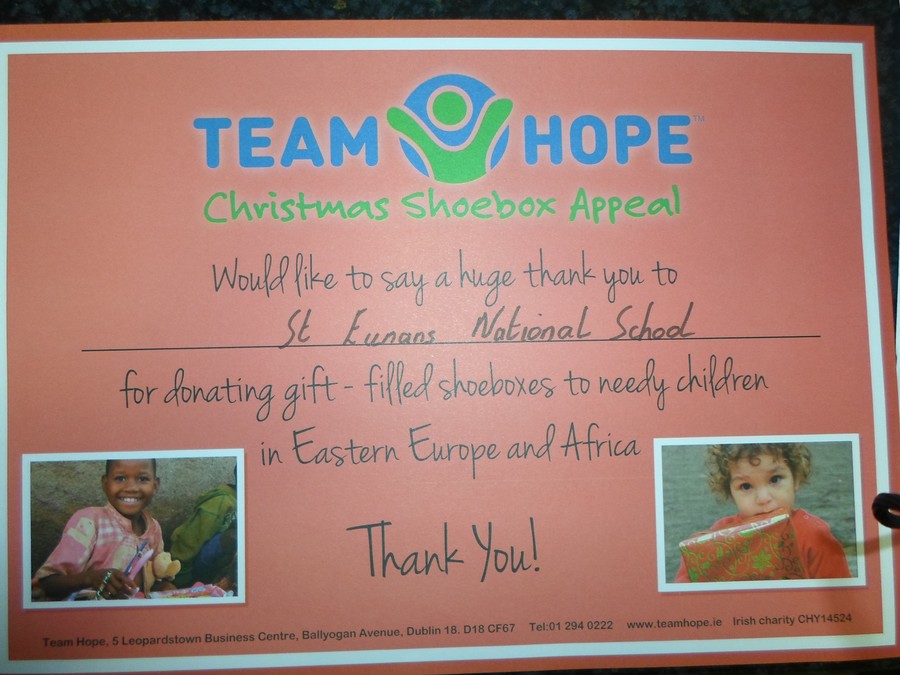 28th October 2016
We had our Halloween Party at school today and then we got our October midterm break. All the pupils and teachers dressed up in their Halloween costumes and everyone looked great. There was so much effort put into the costumes and they all looked brilliant, thank you to the pupils and their parents. We had assembly and a Halloween disco. Everyone enjoyed it very much. Here are some pictures: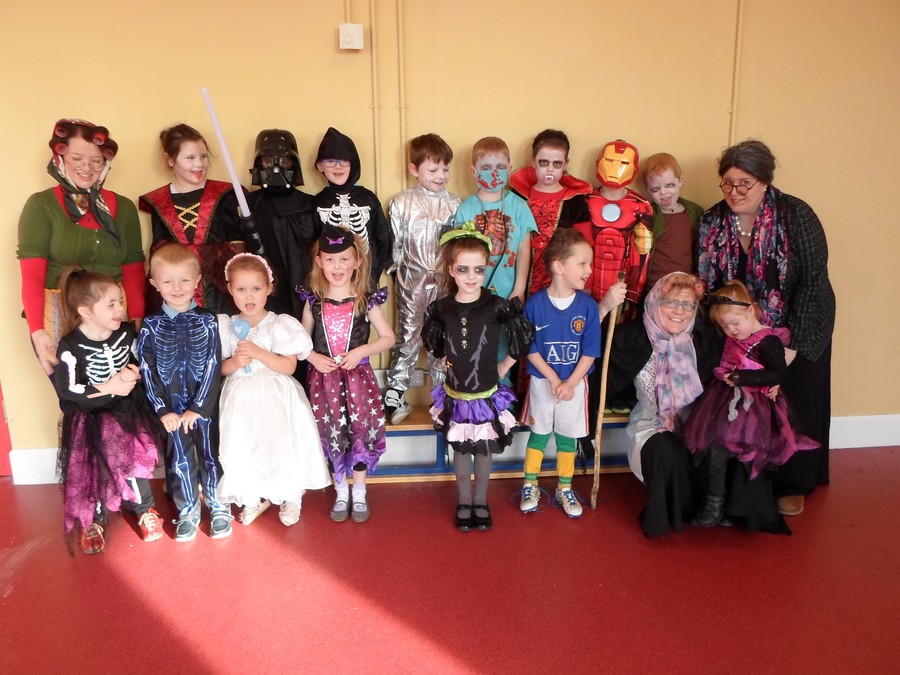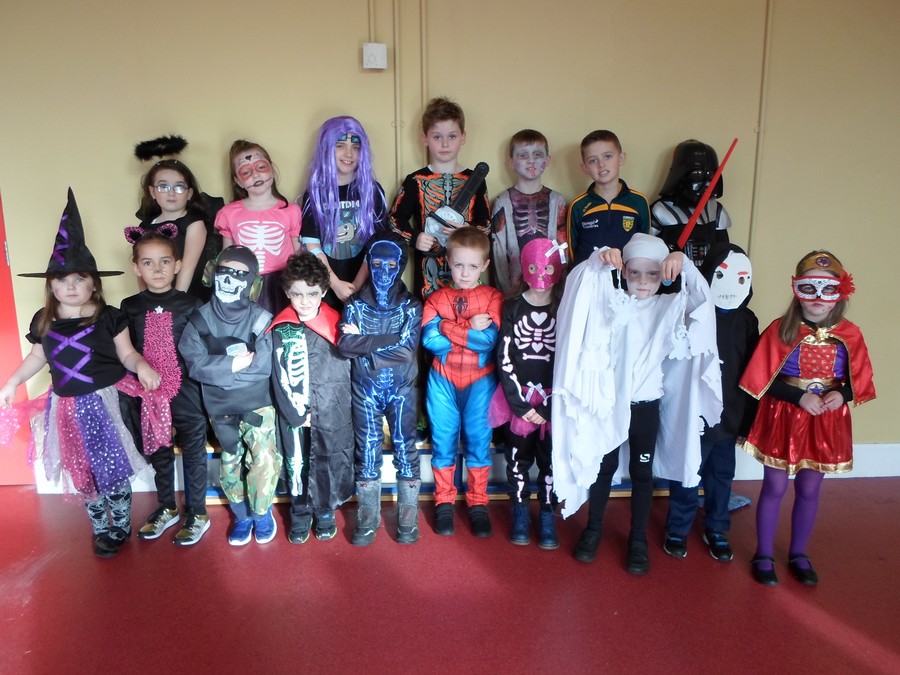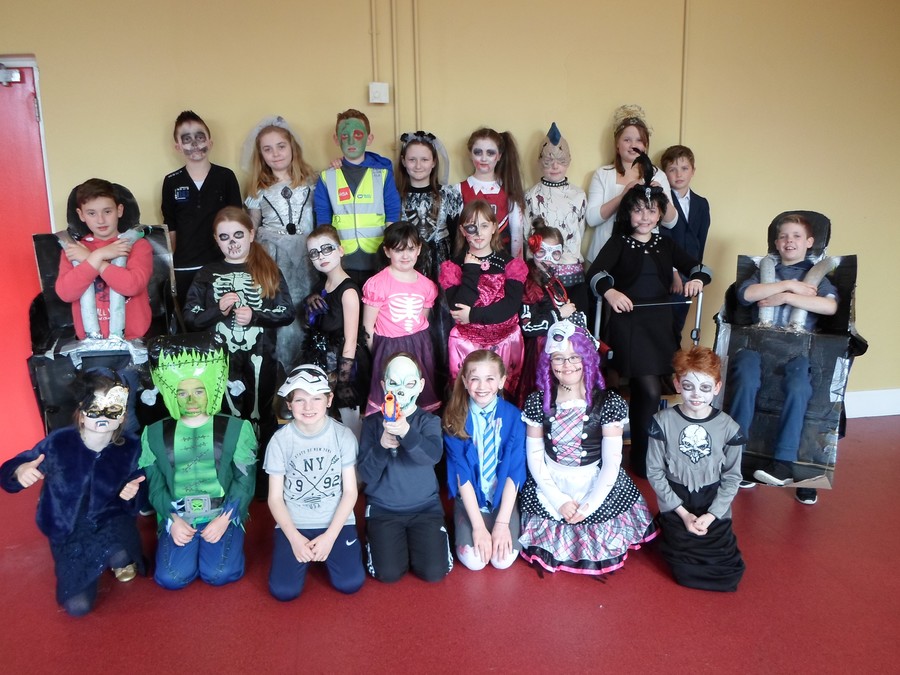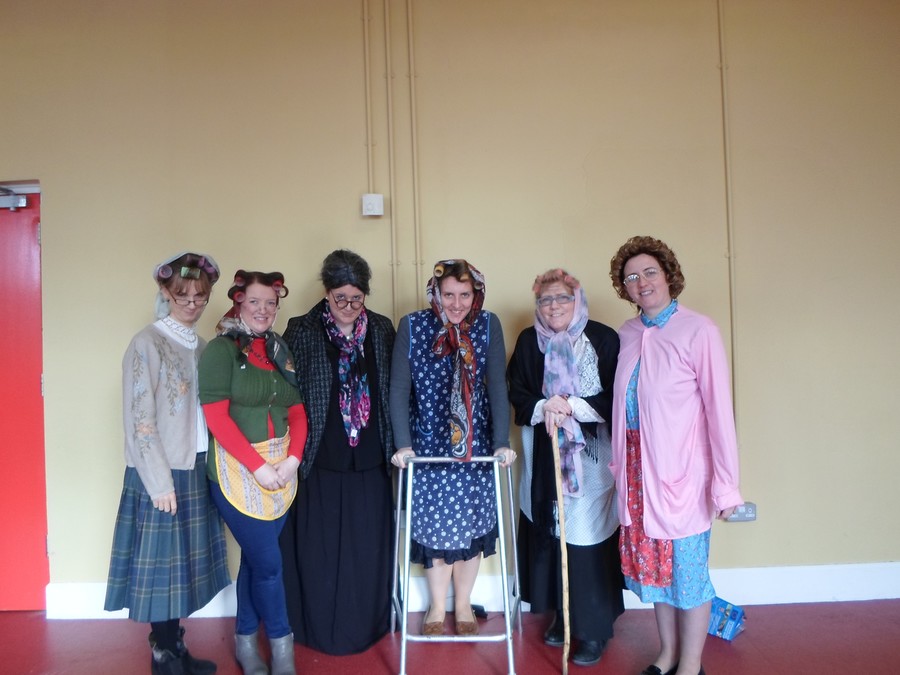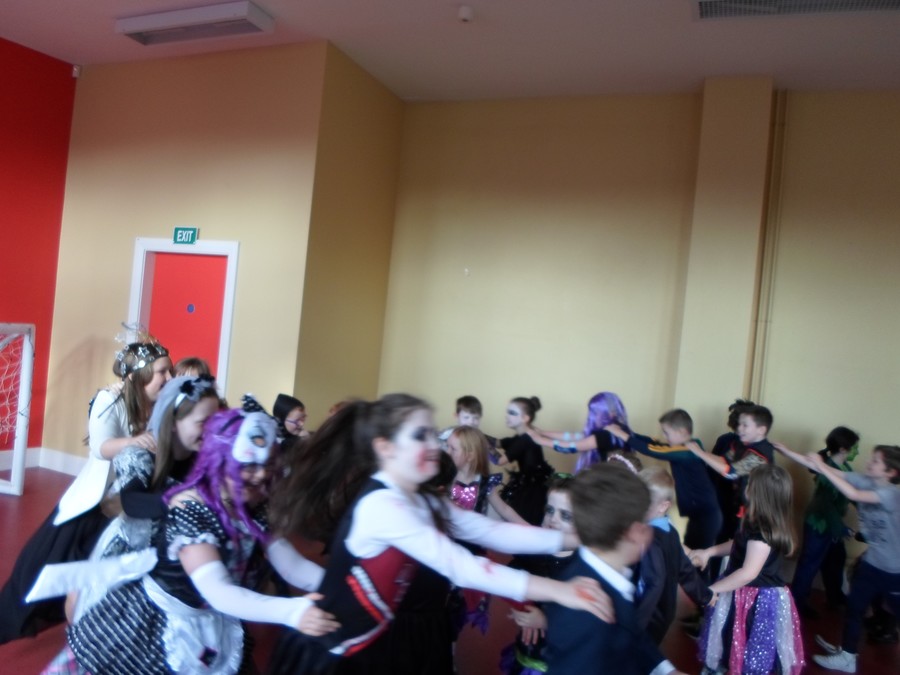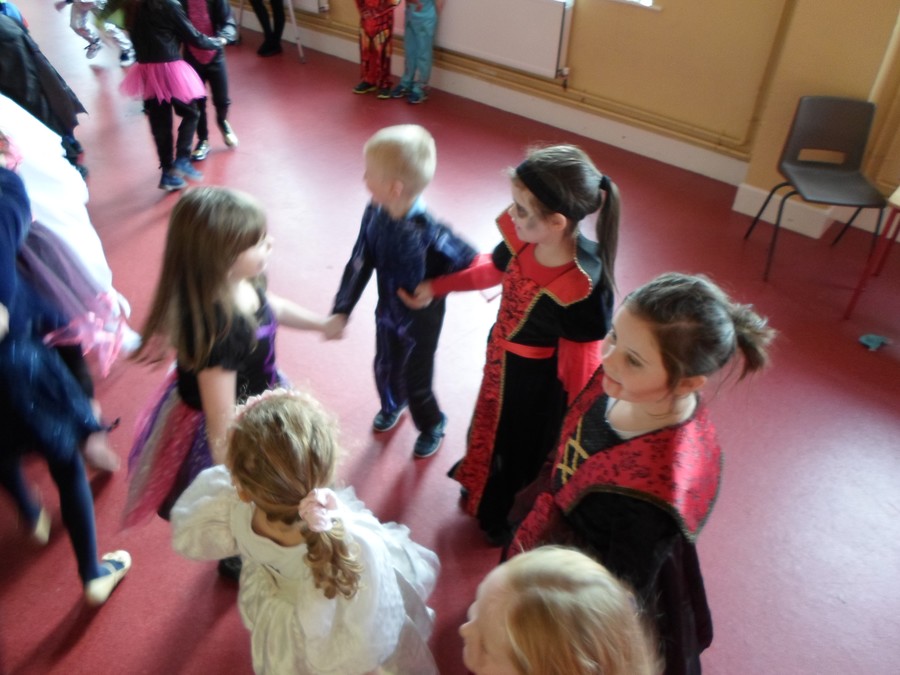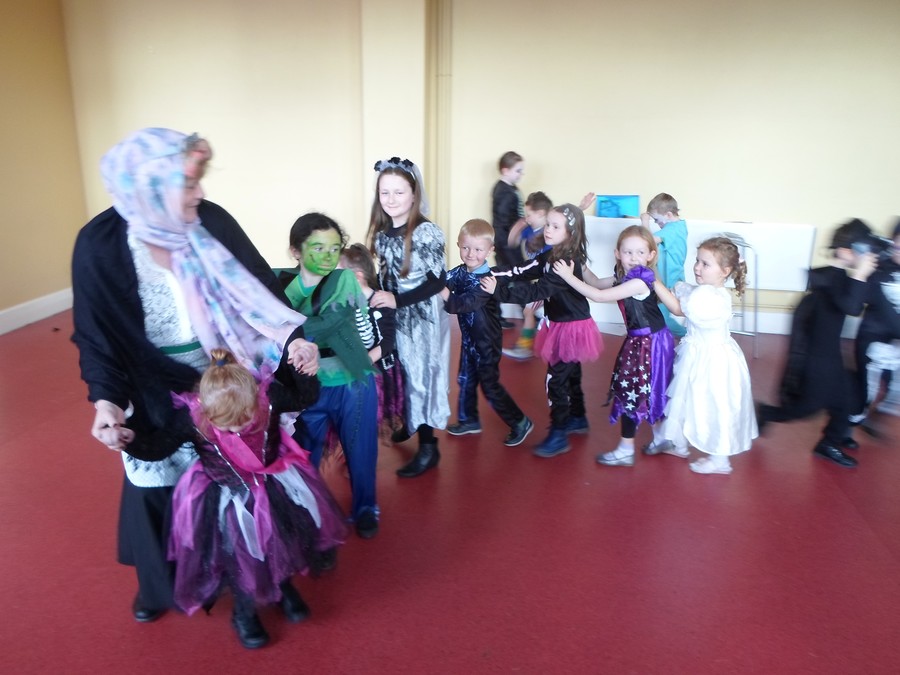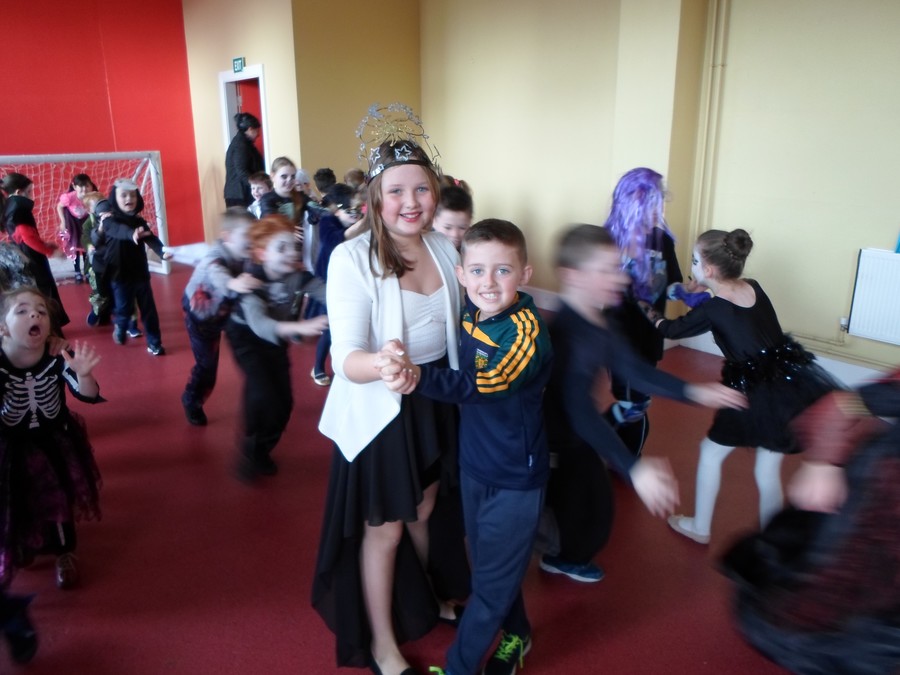 19th October 2016
The Book Fair arrived at our school and was displayed here for a week. The pupils and their families bought lots of books and the school received commission to buy books for the school library. Thank you all very much for buying so many books, this will be very beneficial to you all and in turn helped us buy more lovely books for our school library.
12th October 2016
Today a few of the players from the Naomh Brid/Pettigo boys U-16 team along with their manager Michael Calvey visited our school with their Divisional Final cup which they recently won. We were delighted to have photos taken with the players and their cup and we are very proud of their great achievement in winning the Divisional Final. Congratulations to all the players, managers, coaches and mentors.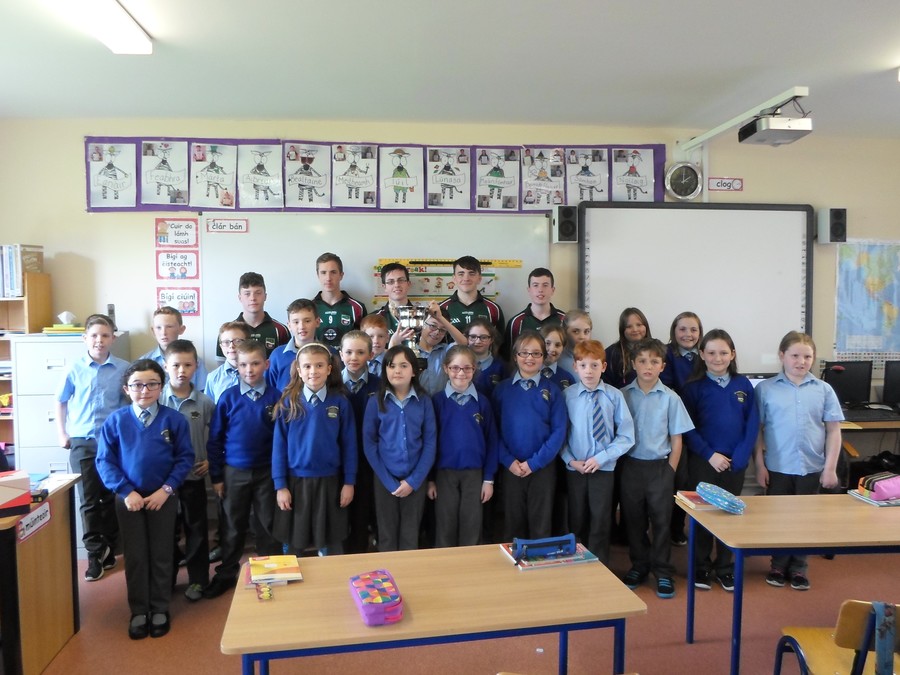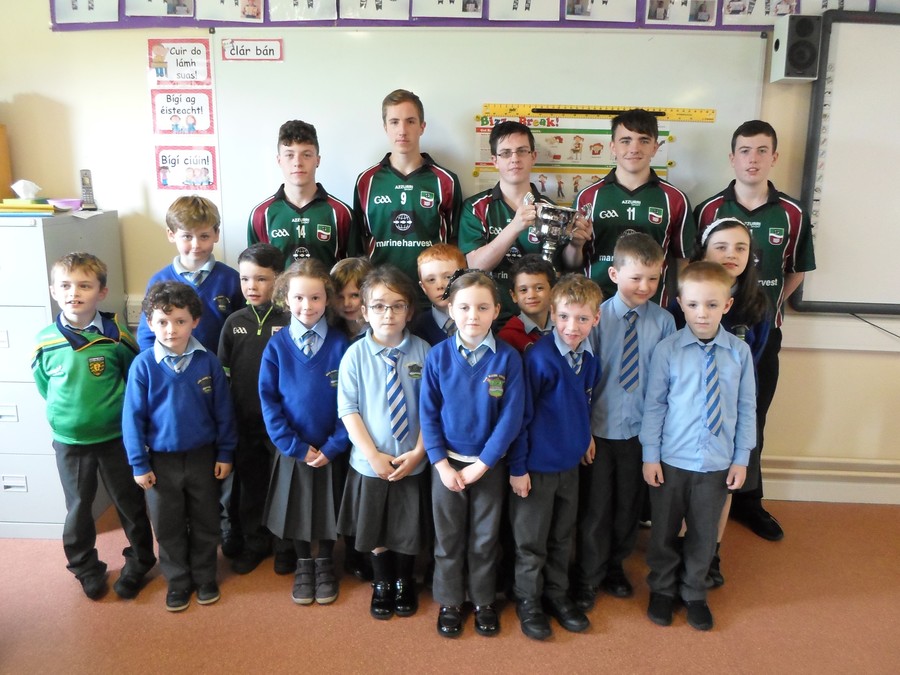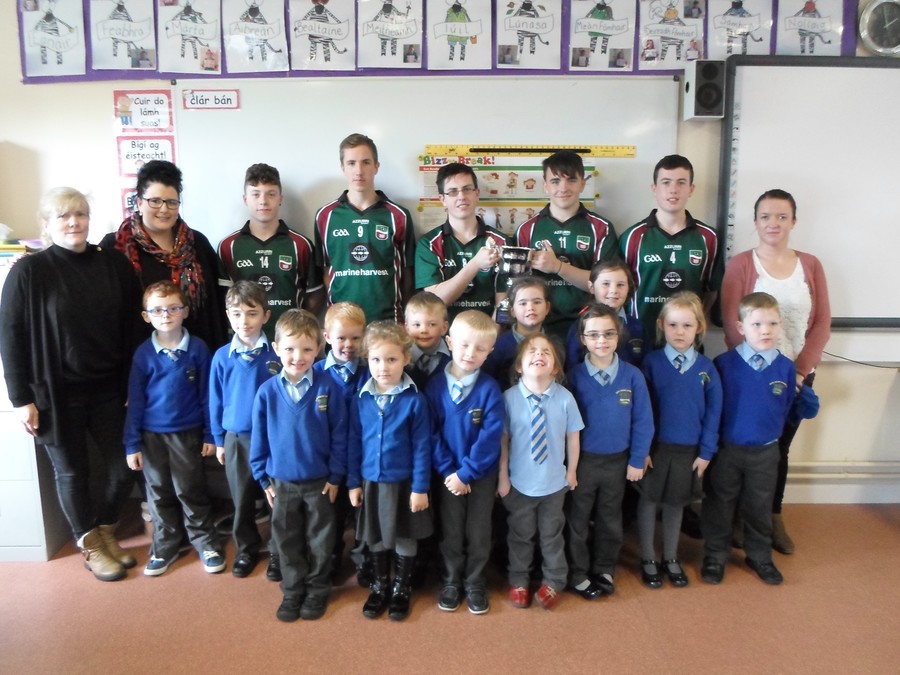 11th October 2016
Today we held a training evening for teachers on "Be Active ASAP", an afterschool programme for children. Kirsty delivered the workshop and the teachers really enjoyed the evening.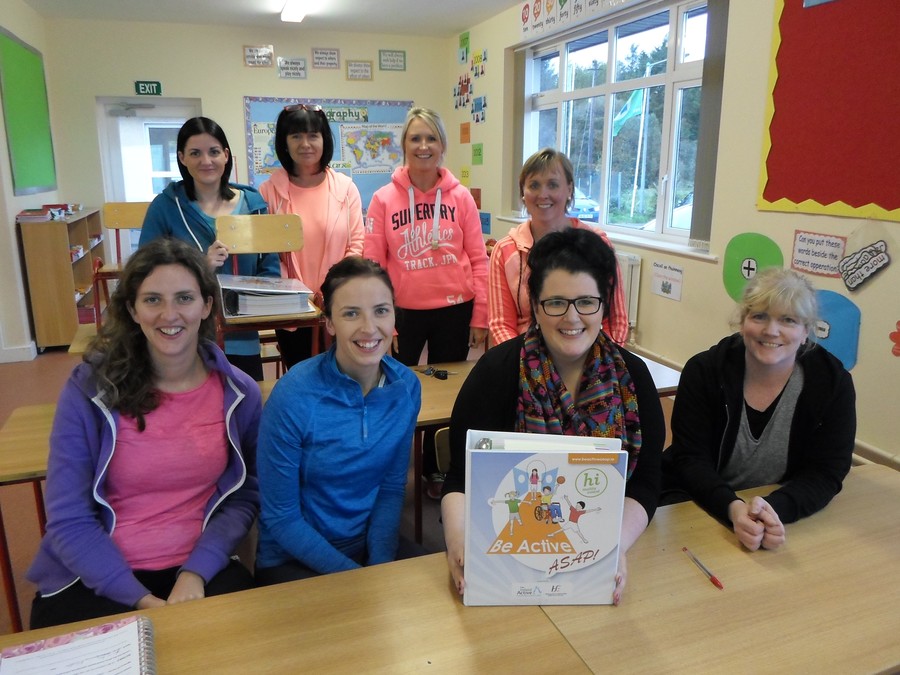 Green School
The Green School Committee for 2016/2017 is Emily Gallagher, Tia McGroarty, Liam Given, Dachai Goodway, Anne-Marie Gallagher, Sarah McGowan, Meabh Travers-Slattery, Aimee Hughes-Perc, Clea Goodway, Alanna Harrison, Ethan Wasson, Ella Duffy. They are pictured with Mrs Meehan, Green School Co-ordinator (Ella was absent on the day).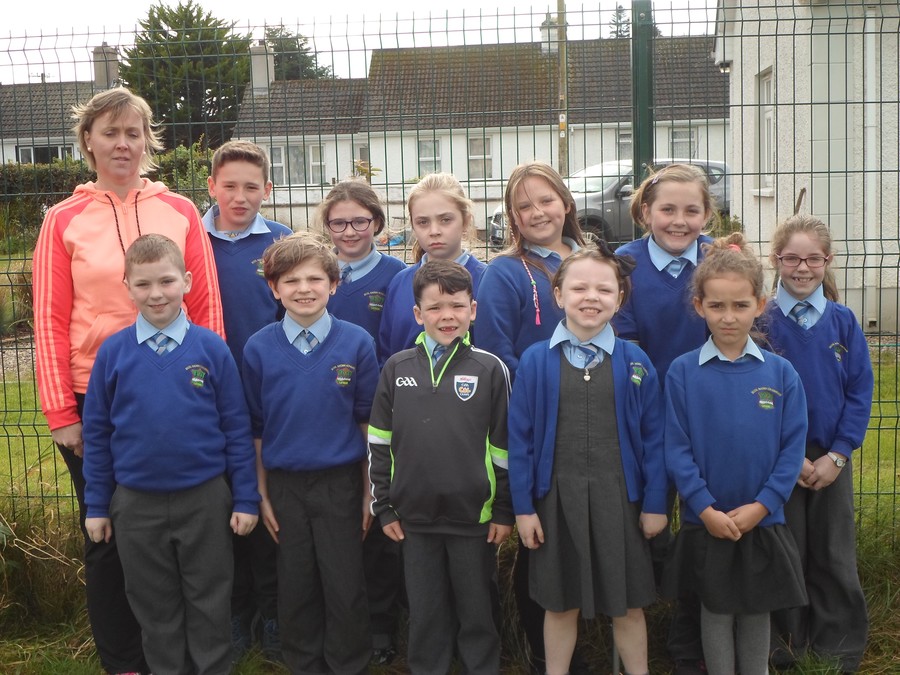 As part of National Tree Week the Green School Committee were presented with trees to plant at home. Declan Meehan from Coillte donated the trees to the school which included oak, mountain ash and guelder rose.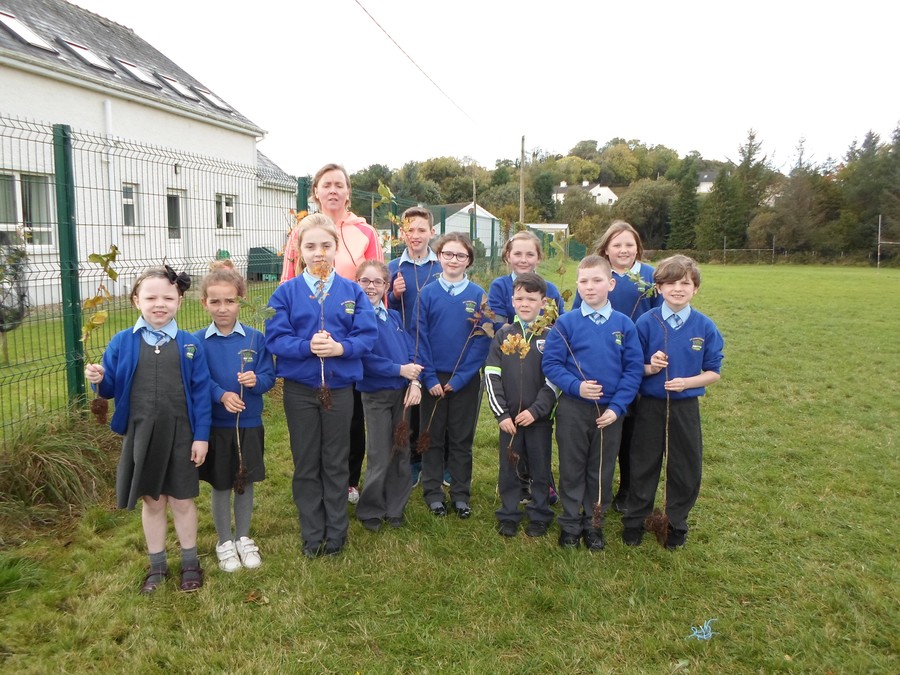 The 'Travel Theme' is progressing very well in St. Eunans. The children are very active and making a special effort to walk to school with their parents each morning. Emily and Liam are recording the number of walkers each morning.
October is International Walk to School month so it is important that we all make a good effort.
We are continuing to have large numbers of walkers for our "Walk on Wednesday" WOW.
Last month Ms McGroary's class achieved the Golden Boot Award for having the highest percentage of walkers in their classroom. Many congratulations to them!
Aengus Kennedy, the Travel Officer visited our school in September and was very pleased with our Green School work to date. He will visit our school again on Mon 17th of October to conduct more travel surveys to map our achievements and success in implementing the travel theme.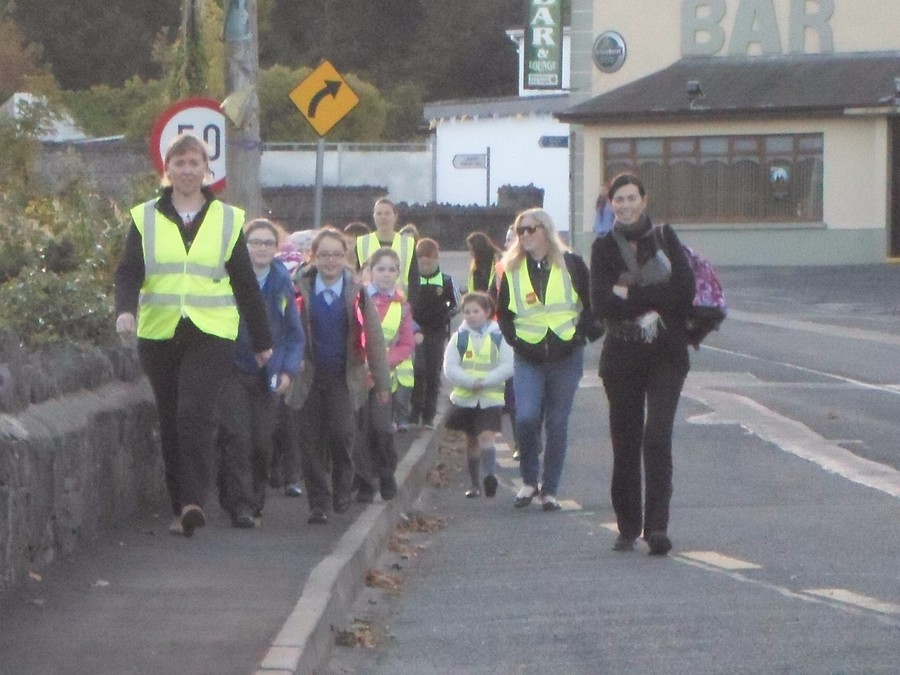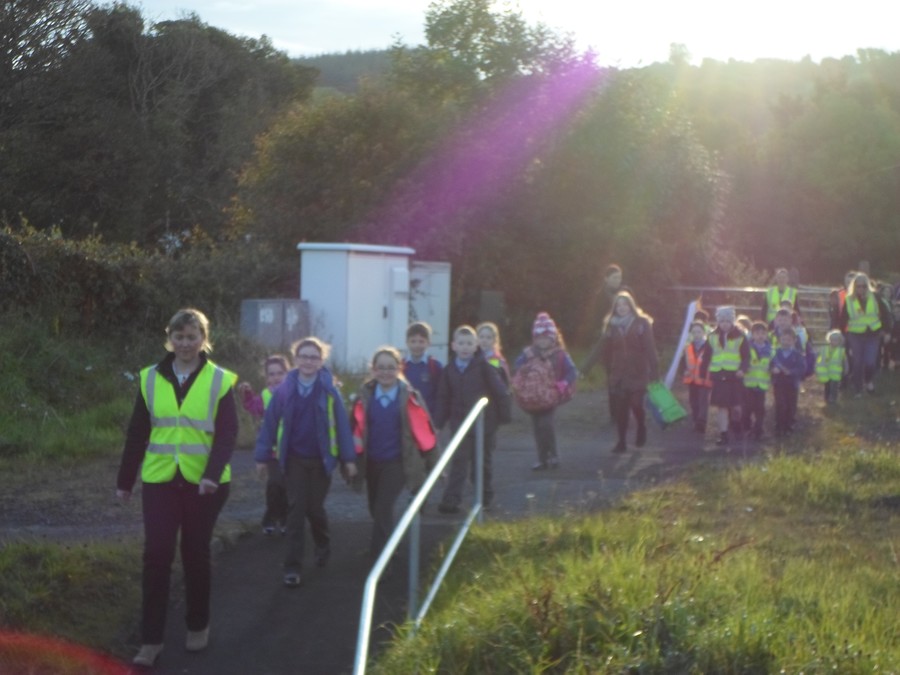 26th September 2016
We have elected our new Active School Committee for the school year 2016/2017. They are really looking forward to encouraging, promoting & sustaining physical activity in our school.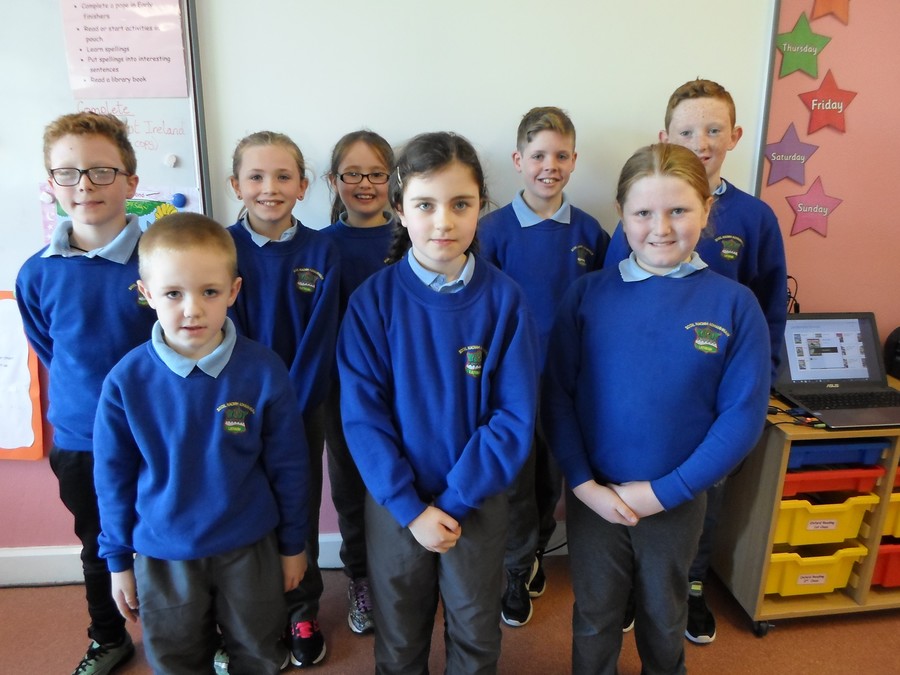 22nd September 2016
We were delighted to have a speaker from the RSA in our school today to talk to all the children about road safety. As we are working on our fourth Green School Flag which is 'travel' and are continuing to work on our Active School Flag this presentation was very valuable to all children as a lot of them walk to school each day. The children were enthusiastic about it and learnt valuable information to keep them safe.
The children in the school received certificates and prizes from the RSA for their participation in the Road Safety Presentation.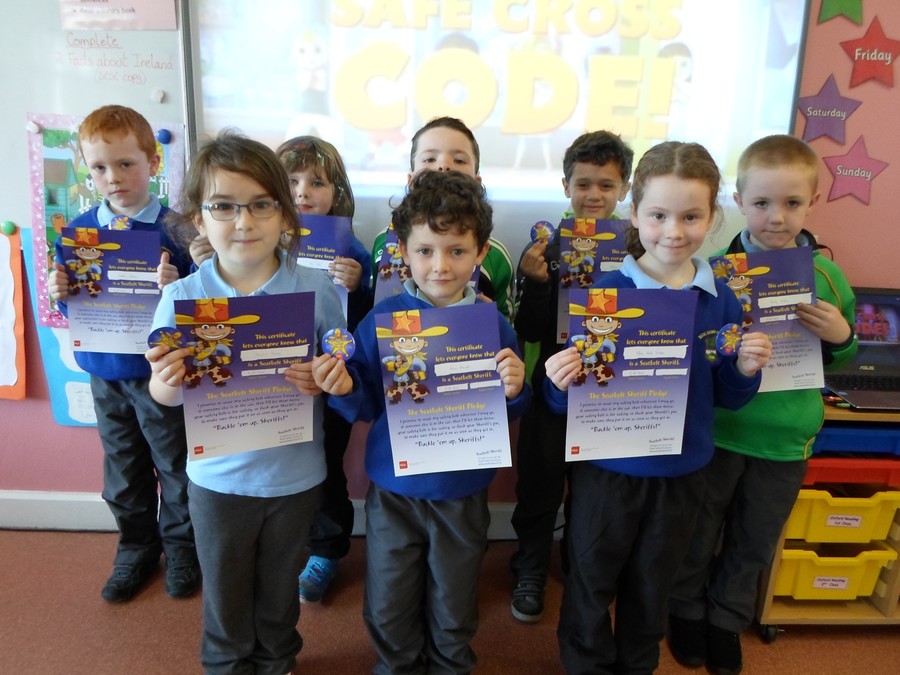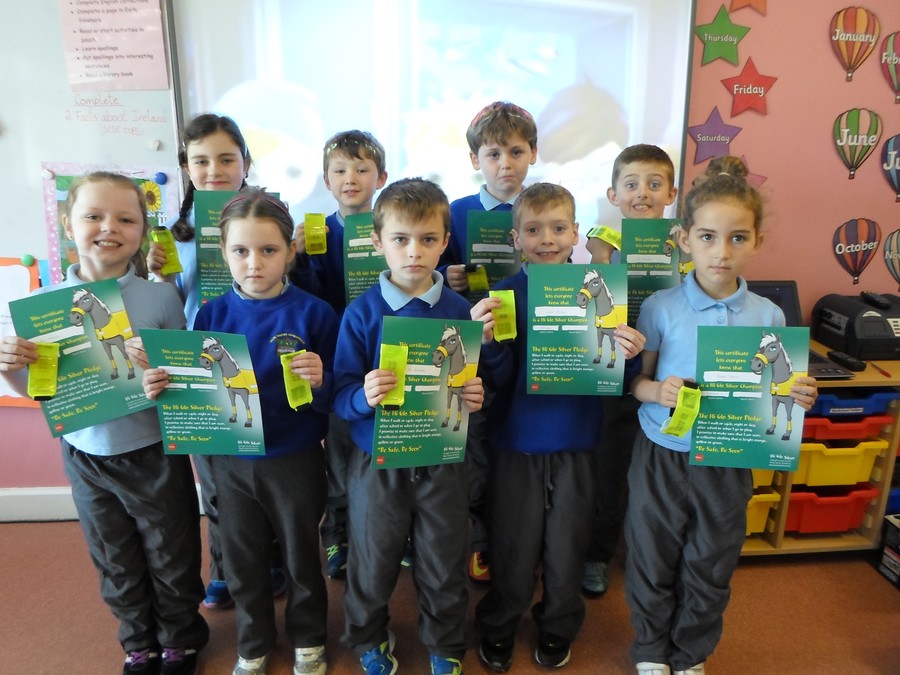 16th September 2016
As part of our 'Healthy Eating Policy' we created a display board to highlight the amount of sugar in various foods. We were shocked at some of the findings. Some foods may not be as healthy as you think!!!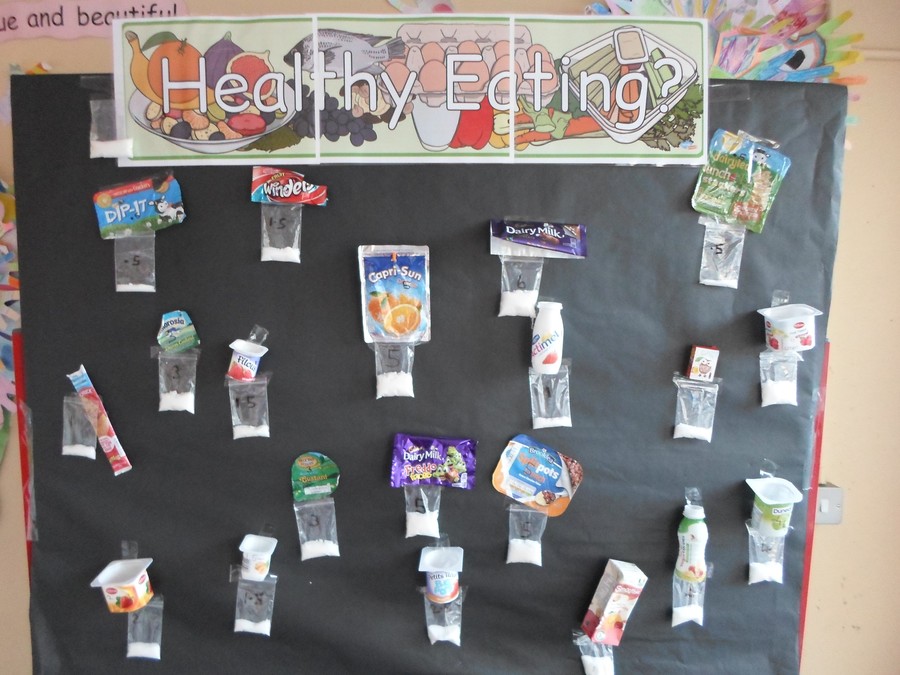 12th September 2016
Due to the wet weather we had the perfect opportunity to introduce the 'Bizzy Break' activities to the new pupils in our school.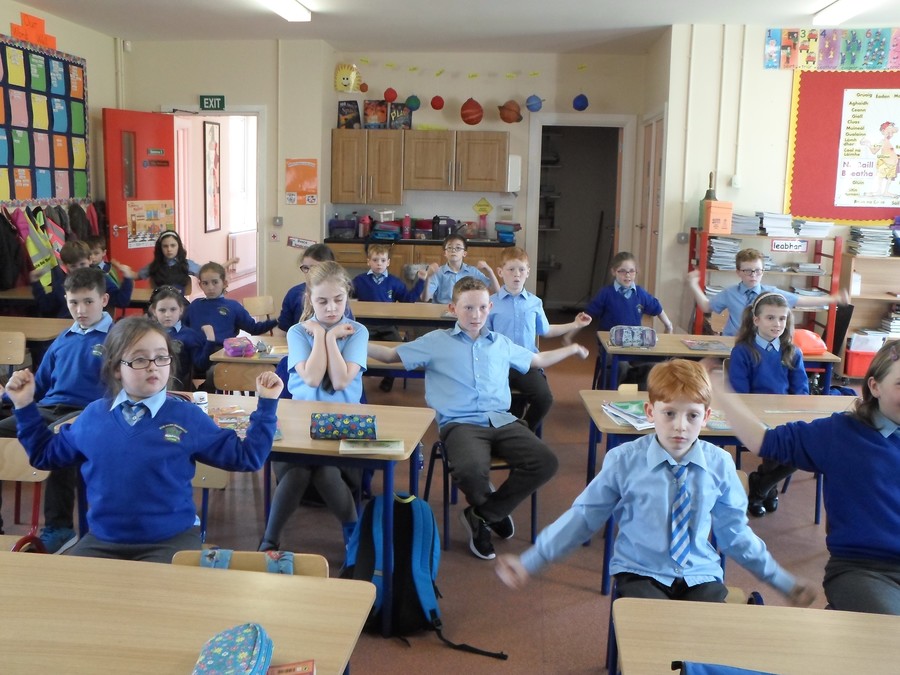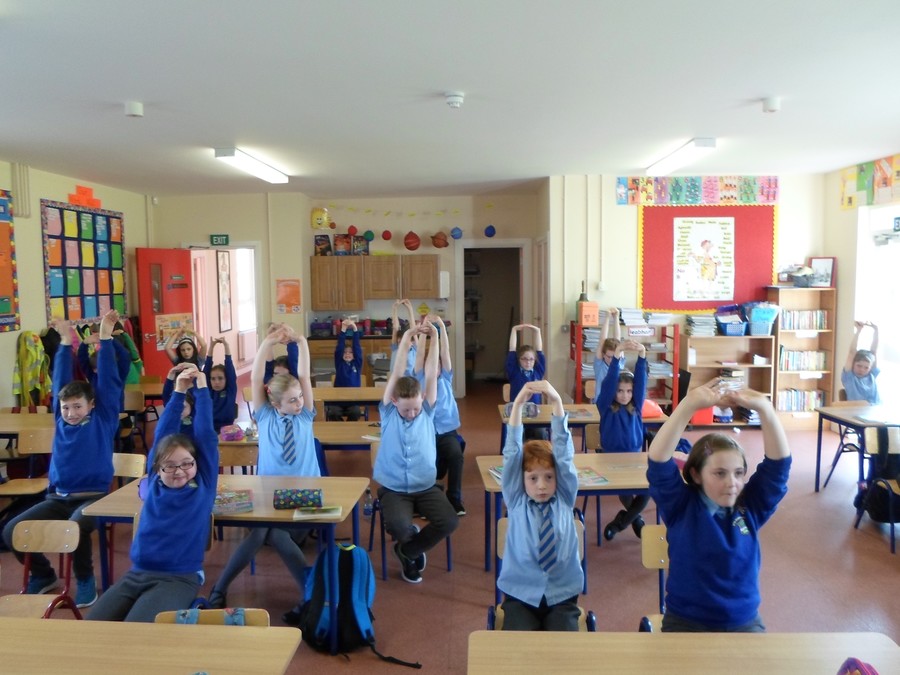 20th June 2016
The grand total of our Down Syndrome Ireland Fundraiser was €548.50. Again many thanks for all your kind donations.
Today Active Schools Week began with all the children bringing their bicycles to school. The morning started with our 'Healthy Breakfast Club' where the senior children served up healthy breakfasts which included fresh fruit smoothies, healthy cereals, fruit and much more. Today's visiting coaches included Leslie Robinson (Professional golfer), Sarah Gillespie (The Energy Hub) and Paddy Gallagher (Finn Harps). We have a busy week in store... See the activities on our Active Schools Week timetable! (Some photos in the gallery!)
19th June 2016
Today our Parents Association held their second 5K walk/run. Despite the weather there was a great turnout to support the school. As always,the Parents Association provided a great spread of food, treats and drinks for all participants and supporters. There were many great prizes / spot prizes on the day and we would like to thank all the sponsors who donated the prizes.
Listed below as follows:
Seamus Mc Gowan, Daytona Heavy Haulage (main sponsor)
Toners Pharmacy for the lovely hamper
Miss Tully for the beautiful cake
Blue Haven for the voucher
Nesbitt Arms Hotel for the voucher
Mc Eniff Hotels for the voucher
Salmon Inn for the voucher
Manhattan Steak House for the voucher
Breege Haughey for the voucher
Flour Pot Café for the voucher
Donegal Flowers for the voucher
Doreen Mc Glinchey for the voucher
Karen Kerrigan for the voucher
Grainne's Hair Salon for the voucher
Tots & Tassles for the voucher
Seven Arches Bar
Dew Drop Inn
Country Inn
Pauric Molloy
Desmond Kee for all his help
and also all of the parents who helped out in any way.
Your help and generosity is sincerely appreciated.
10th June 2016
We held an ice-cream party on Friday the 10th June in aid of Down Syndrome Ireland. The day began with a music concert performed by the children and led by their music teacher Barbara Edwards. This was followed by the ice-cream party and lots of fun with face painting and bouncy castles. St. Eunan's were anticipating a victory over Fermanagh last Sunday with a visit from the Anglo Celt Cup. It was a great day enjoyed by all.

St Eunan's National School would like to thank the large crowd who supported and donated generously to this worthwhile cause.
9th June 2016
Junior Infants up to second class enjoyed a wonderful school tour today. We went to Arena 7 and Lurgybrack Farm! It was fantastic! The weather was beautiful and there was so much to do!
We had a lot of fun baking today for Golden Time. We were baking scones and they are tasty! We love them. The ingredients are really easy- just flour, margarine, milk and a bit of sugar. We went in to groups of fours and threes and if you want to see what the scones look like then go to the gallery.
Aaron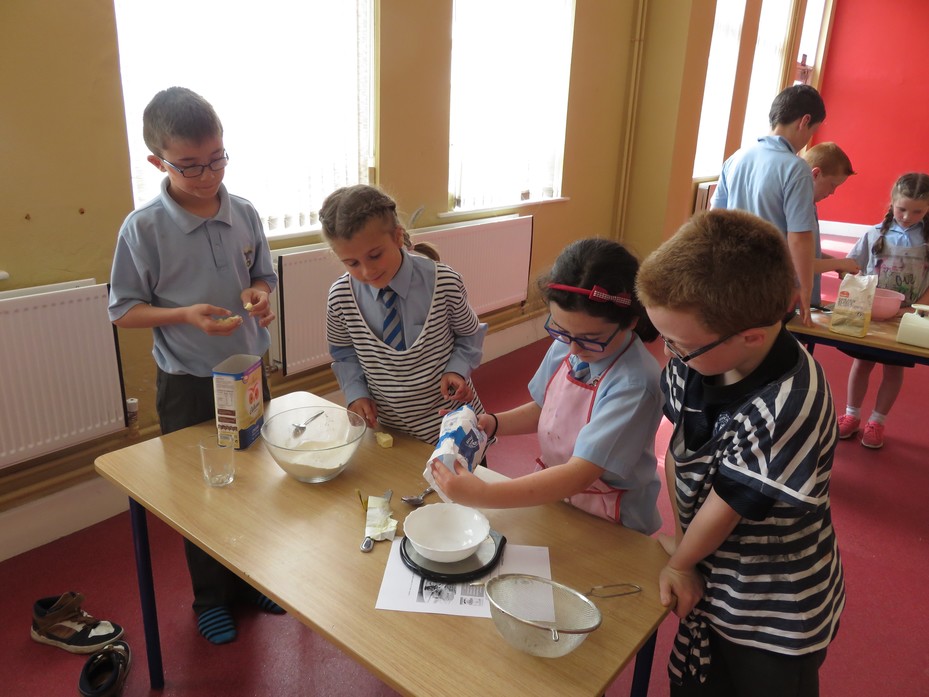 8th June 2016
The Senior class had a brilliant tour in Extreme Adventure, Letterkenny today. Click into our gallery to see lots of action shots from the day!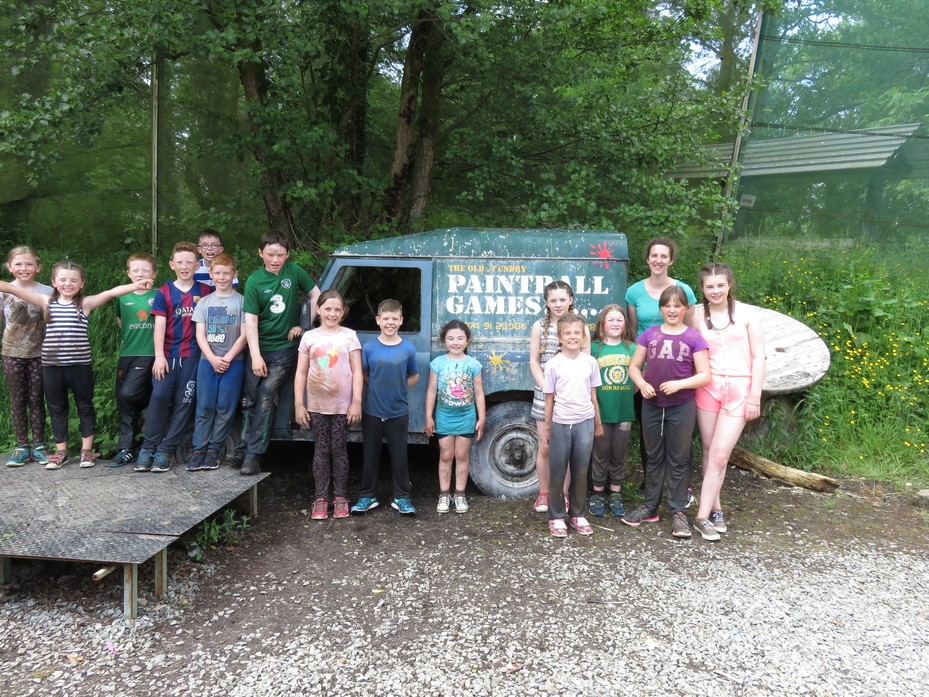 2nd June 2016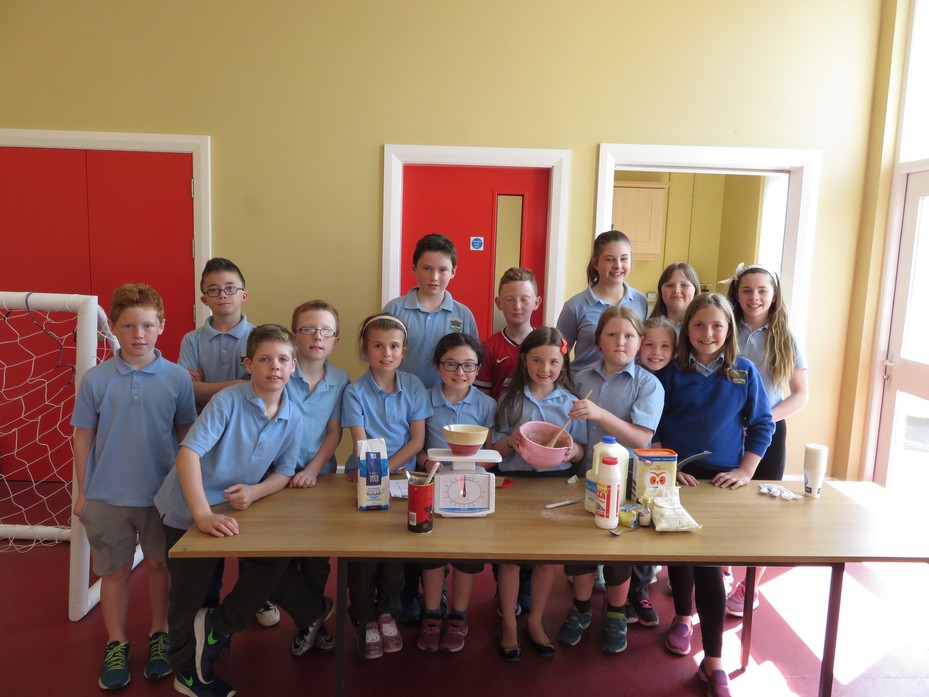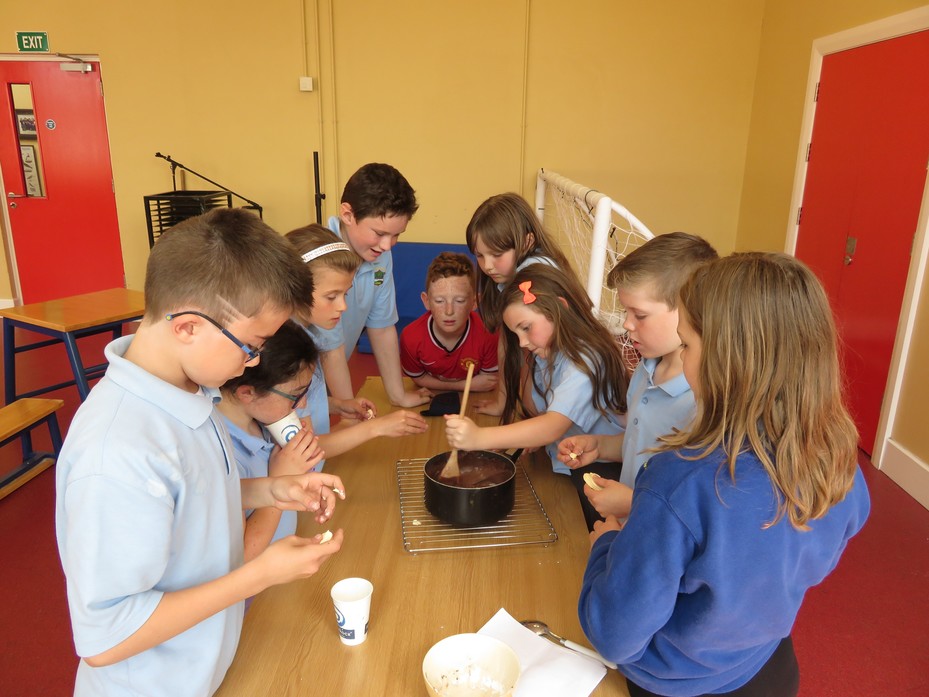 All of the children in the Senior room baked as part of their Golden Time this week. At the beginning of the week everyone got the name of someone else in their class and they had to be their "secret friend" for the week. If they guessed correctly they baked! We made some lovely chocolate mousse that everybody enjoyed.
20th May 2016
Today was the second morning that the children in the Senior Room took part in the Junior Achievers programme. During this 5 week programme a member from Abbott introduces the children to the world of business.The children will role-play business ownership, produce a product using different methods of production, look at the costs associated with running a business, create product advertisements, and take charge of their own businesses to make a profit! Today the classroom turned into a production line with the manufacture of pens in records time! More photos in the gallery.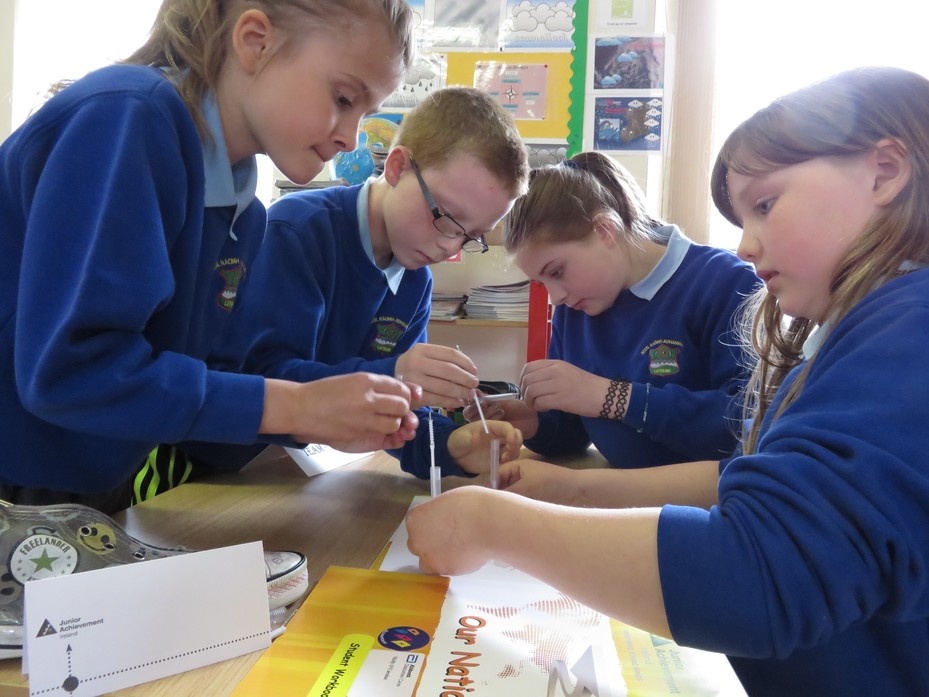 Abigail, Meabh and Liam's pet lamb came to visit us in school today. We had the opportunity to ask lots of questions about caring for Abigail and we learn't plenty of new things. Thank you to Meabh and Liam for allowing Abigail to visit us and thank you to their Granny and helper for bringing her in. We really enjoyed her visit - it was very entertaining!!
16th May 2016
Today we launched our 'Funky Feet' Day for National Walk to School Week. Áine O'Loughlen (Green School Travel Officer) visited and we made a 'Golden Boot Award', kindly donated by Liam Given. Well done to all the pupils and teachers who made such a great effort to decorate their shoes. We had some fantastic 'Funky Feet' ideas. We are encouraging all pupils to walk to school every day this week, but especially on Wednesday. We as a Green School Group will be walking to school every Wednesday from now until the end of term. Keep up the great work everyone!
By Caoimhe & Emily
13th May 2016
The boys and girls in the infant classroom did a 'Summer Clean Up' today. We collected one FULL bag of rubbish! Well done everyone...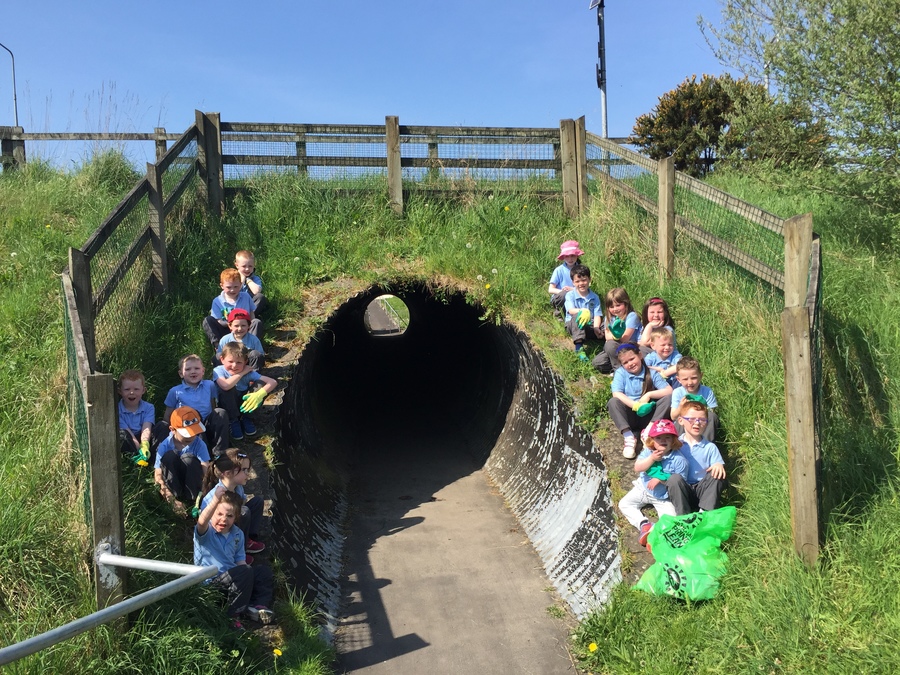 11th May 2016
The children from 1st-6th class began hurling and camogie training today. They really enjoyed getting to grips with this new sport! More photos on the gallery.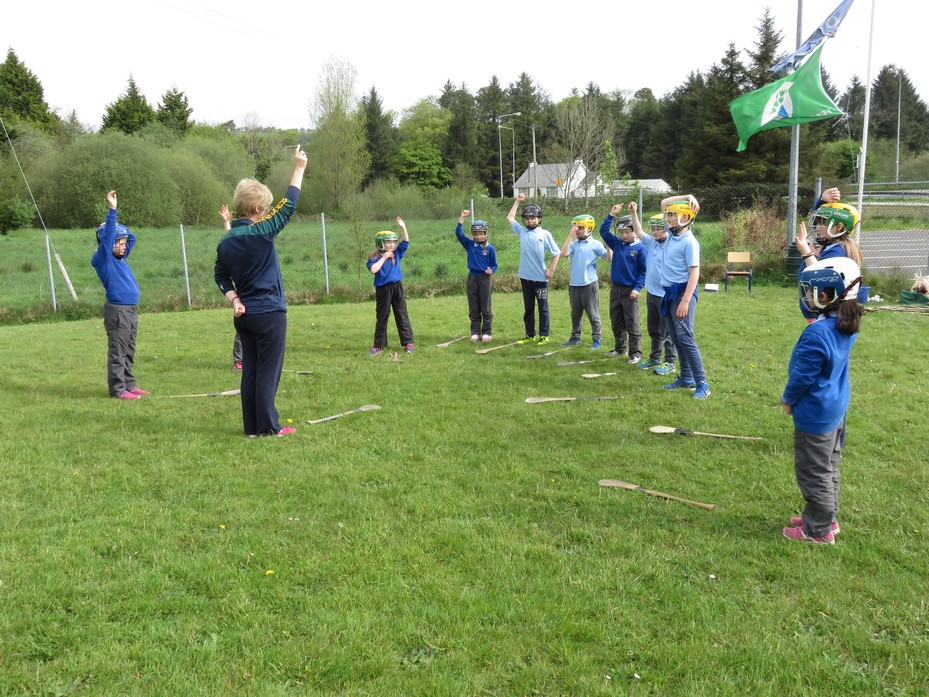 7th May 2016
Congratulations to the 4 children from 5th and 6th class who were confirmed by Bishop Boyce today. The children enjoyed a lovely service in St Brigid's Church, Ballintra. Thanks to the parents and sponsors for making the day so special.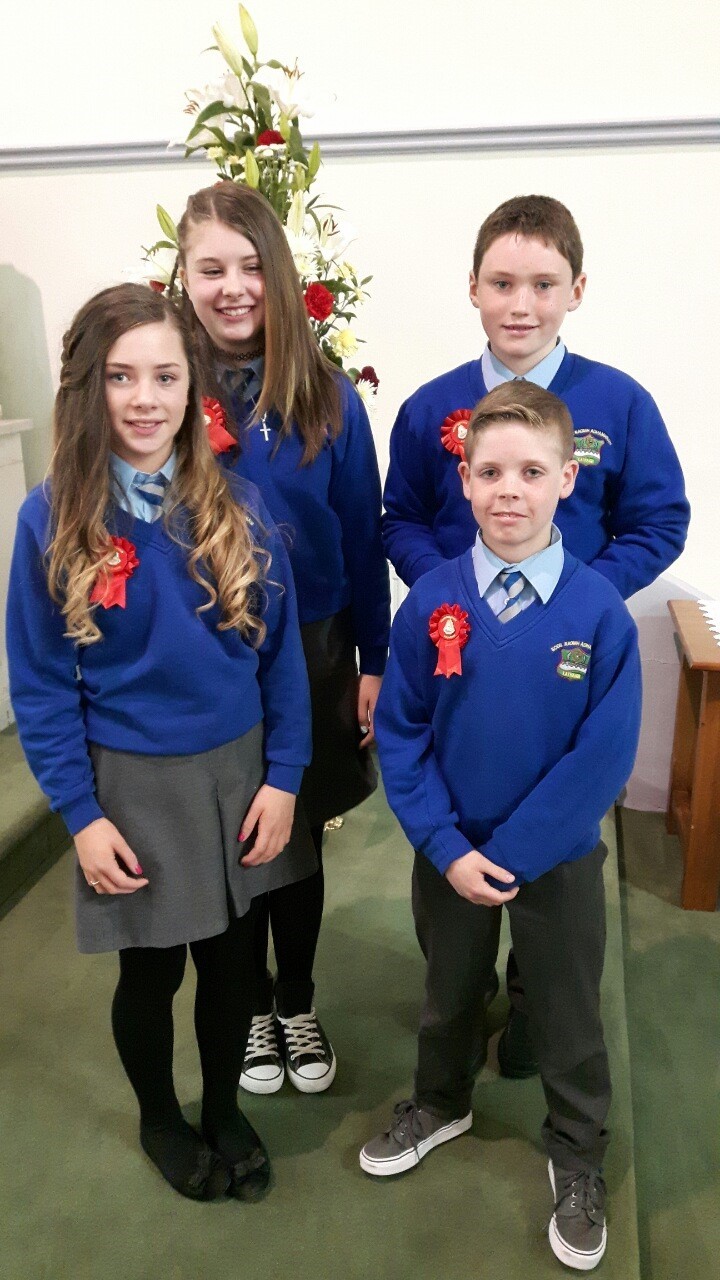 5th May 2016
The Senior class had an excellent day at the Athletics tournament in the Abbey Vocational school today. Everyone participated in at least two events and many tried new sports such as the high jump, long jump and javelin. Click on our gallery to see action shots from the day!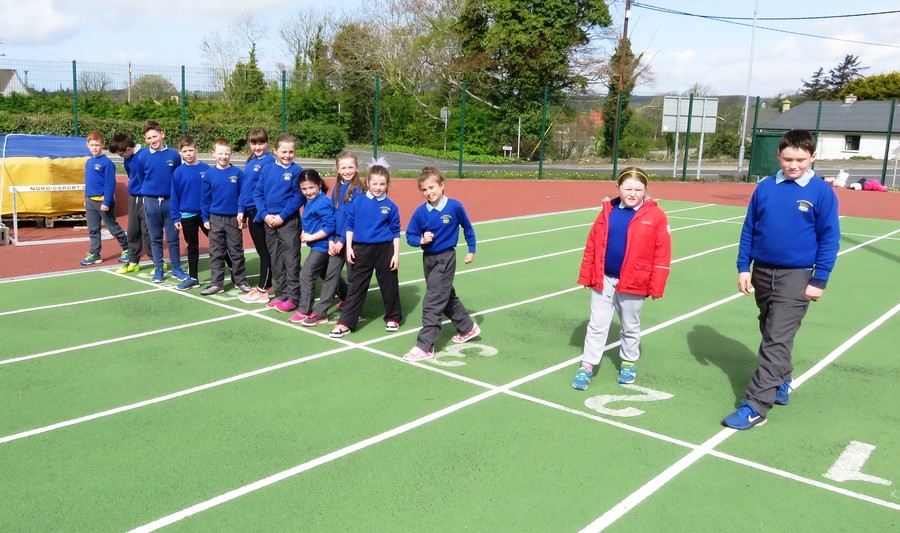 An ambulance and two paramedics visited our school today. Both Miss Tully and Mrs Mc Daid's classrooms have been learning about 'People in the community who help us'. We invited Declan and Johnny into our school and we asked them lots of questions! We learned lots of things about the ambulance and the important work of the paramedics. We then got into the ambulance! We seen all of the important equipment inside. We even heard the noisy siren and seen the blue flashing lights. There are lots of pictures in the gallery of our fun day!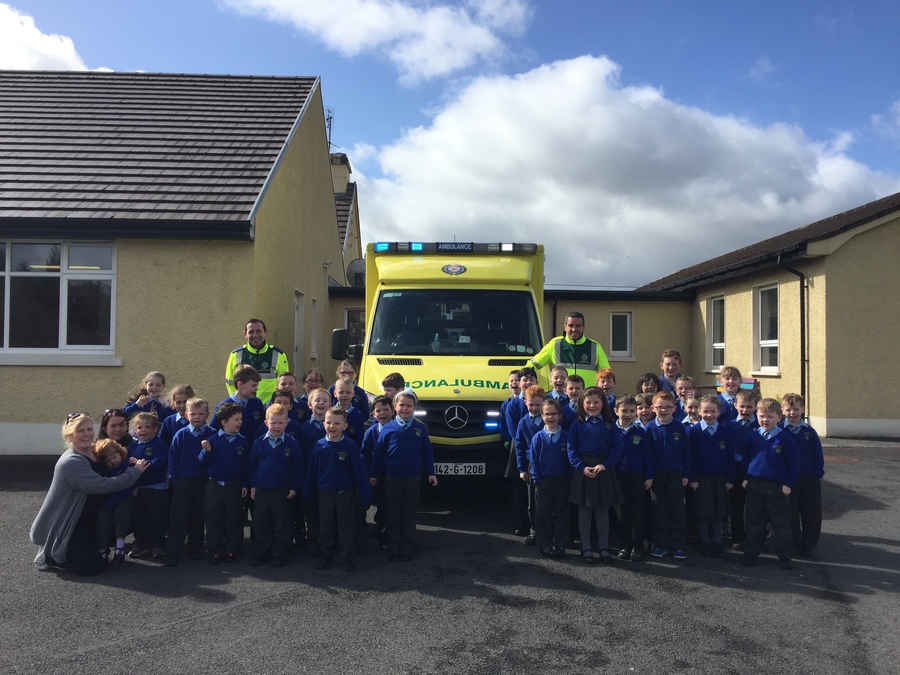 10th April 2016
We had great fun at our open day in school today. There were plenty of activities to keep all entertained. Children got their faces painted, played catch the duck in order to win a prize, carried out computer activities and then Mr Majestic, the magician, entertained the children. To finish, the Parents Association provided lovely refreshments.
Thank you to;
Breege Haughey for the face painting
The Parents Association for the refreshments,
Bernie Gallagher, the computer teacher, for the computer activities and
Mr. Majestic for the entertainment.
27th March 2016
Well done to the Parent's Association for organising a successful Bake Sale today. They raise a total of €1245. A big thank you to all the parents and members of the community who provided baking for the event, your support and generosity is greatly appreciated. Thank you to JP Provost who baked the beautiful Easter Cake for the raffle.
Congratulations to Odhran Askin who won the Easter Cake in the raffle and congratulations to Emily Mundy who won the Easter Egg Hamper.
Happy Easter everyone!
17th March 2016
Congratulations to all the parents, children and teachers who took part in our first St. Patrick's Day Parade today.
We were absolutely delighted and honored to received the prize for " Best School Float."
A big thank you to the parents for all the support, talent and effort they put into the fantastic costumes for the theme of "Now (2016) and Then (1916)." See the gallery for some photographs.
Hope everyone had a great St. Patrick's Day!
16th March 2016
Thank you to the Parent's Association for buying Easter Eggs for all children in the school - the children were delighted as always. You really know how to spoil the children in this school!! Thank you.
Wishing you all a very peaceful and happy Easter.
15th March 2016
Today we raised our national flag in commemoration of the 1916 Rising. In the weeks leading up this event the children conducted research about the seven leaders and the events that took place during Easter week in 1916. They also completed artwork in relation to this. On the day the children sang songs, presented their artwork, played traditional Irish music and presented their research through drama.
We had great fun throughout Seachtain na Gaeilge (1-17 March). During this time the children took part in many exciting activities and enjoyed exploring all that is Irish! Some of the activities include a Lá Glas, class performances for the school as Gaeilge, quizzes as Gaeilge, ceilí dancing, Irish board games such as Scrabble, Crannóg, Bingo and Snakes and Ladders. The Senior class entered a nationwide singing competition with the song Ed Sheeran Bí Liom Ann (Thinking out Loud). There was a focus on library reading as Gaeilge and children were encouraged to speak as much Irish throughout Seachtain na Gaeilge. Certificates were awarded to the children who made the best effort in each class.
Bhí an spórt againn i rith Seachtain na Gaeilge (1-17 Márta). Ghlac na páistí páirt i go leor gníomhachtaí and bhí siad ag fáil amach cad is brí le bheith Gaelach! Bhí Lá Glas againn, ceolchoirm, tráth na gceist, damhsa céilí agus cluichí boird Gaelach. Chuir an rang shinsearach isteach ar chómortás amhránaíochta leis an amhrán Bí Liom Ann (Ed Sheeran). Bhí na múinteoirí ag diriú isteach ar léitheoireacht Gaeilge agus spreag muid na páistí chun Gaeilge a labhairt. Bhuaigh na páistí a rinne an iarracht is mó teastais fá chóinne a nGaeilge labhartha.
10th March 2016
There will be a bake sale in Ballintra Community Centre on Easter Sunday after 11 o'clock mass in aid of our school. The school would welcome any home baking – you can drop this off in The Flour Pot Café in Laghey Village on Easter Saturday or drop it into the Community Centre on Easter Sunday morning.
For further details you can contact Carmel on 086 3437887 or Ann on 085 7484433.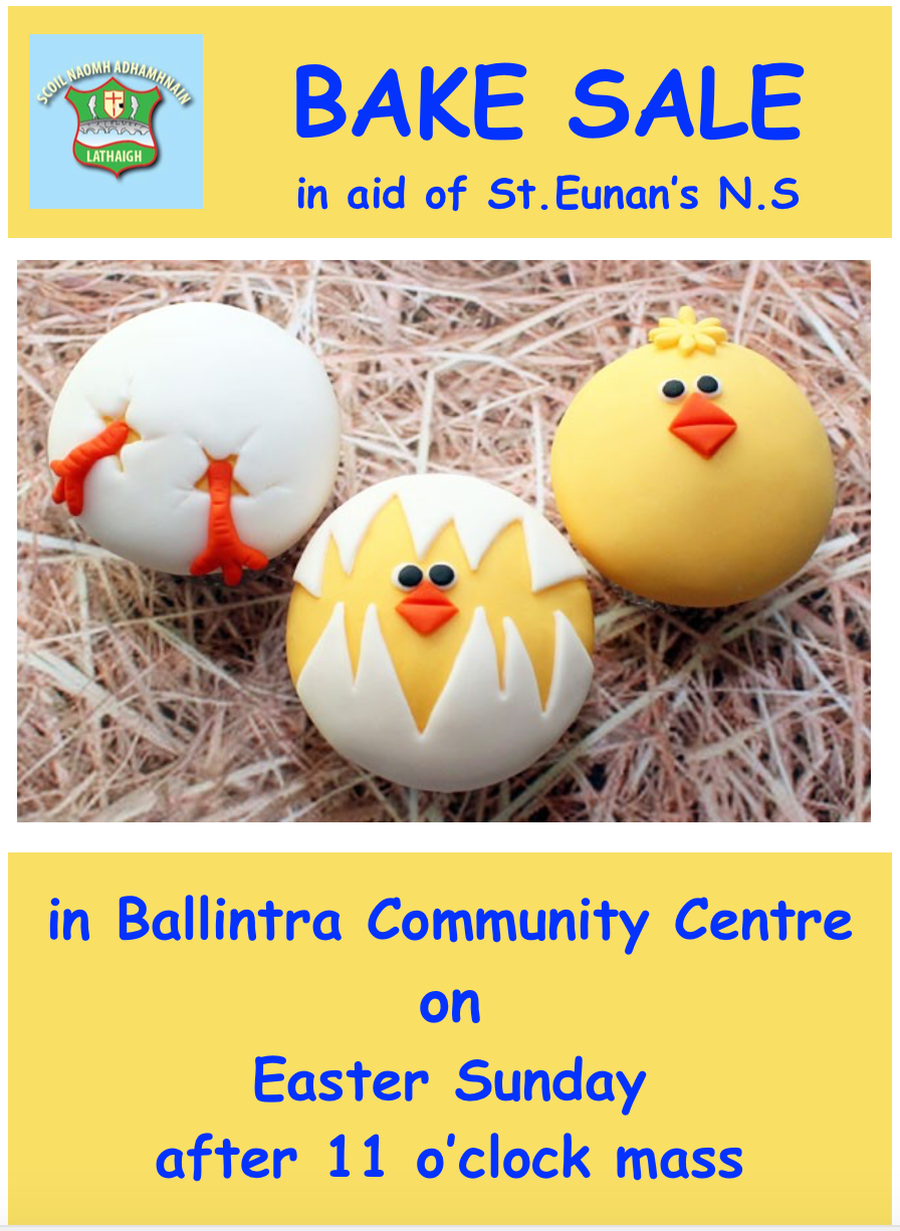 9th March 2016
Well done to the children in the senior room who participated in the Garda Quiz at the Mill Park Hotel.
4th March 2016
The HSE initiative 'Súgradh le Chéile' returned to our school today. This event was held in the school hall with Junior and Senior infants. Many thanks to the parents, grandparents and aunties who attended also. It was a great afternoon with lots of fun activities. This programme demonstrates to parents the importance of being active with lots of practical fun ideas. Thanks to Kirsty from the HSE who was a fantastic tutor once again.
Our 10 week music programme started today with local musician Barbara Edwards. We are delighted to have her on board for her expertise in music. After just one music lesson with Barbara it was evident that the children thoroughly enjoyed it and more importantly learnt exciting new skills in a fun and interactive way.
1st March 2016
Congratulations to all the children in second class who made their First Confession this evening.
27th February 2016
The parents and children attended a 'St. Patrick's Day Parade costume workshop' in the school. It was an enjoyable afternoon where parents, teachers and children showed off their artistic skills to create some wonderful costumes. We are looking forward to taking part in our first 'St. Patrick's Day' Parade in Donegal Town.
24th February 2016
The children completed a six week 'Swimming Programme' at the Central Hotel and received a swimming certificate. Thanks to the Parents Association who provided the bus and all parents who helped with supervision.
16th February 2016
The Inland Fisheries Board visited our school today to conduct the 'Something Fishy' programme. This was a hands on lesson where children were able to hold and examine different fish, test the water and identify insects from the Laghey River.
15th February 2016
Many thanks to the Grandparents and Parents who helped us to make our St. Brigid's Day crosses!
Thank you to the Parents who hosted our Pancake Party! They were delicious! We raised €211.10 for the National Children's Hospital Tallaght.
Many thanks to Donegal Hardware who kindly donated our 'Memory Bench' for our school yard. This is a special place for all children to visit to think, remember and reflect.
Our clothing collection was another huge success. We raised over €456 for our school! Thanks to
everyone who donated clothes etc.
For the latest photographs please visit the 'Gallery'.
3rd February 2016
Today we started our 6 week GAA coaching with former Donegal County player Brian Roper. The children thoroughly enjoyed developing new skills in this area.
Clothing Collection!
To raise funds for our school we are collecting bags of old clothes, shoes, linen etc. Now that Spring is here it is a good opportunity to do a Spring clean and empty your wardrobes! Clothes can be dropped off during school hours.
1st February 2016
As part of our Green School Travel Theme we will take part in the 'Walk and Stride' challenge. Be safe and be seen by wearing your high-vis vest!!!
It is Catholic Schools Week this week. We will look forward to meeting all Grandparents today to help us make our St. Brigid's Day Crosses and to talk about times long ago.
29th January 2016
We launched our first 'School Website' today!
Miss Sarah Tully has been newly appointed as our Deputy Principal.
The Senior Classroom are participating in a 6 week Swimming programme in the Central Hotel as part of the PE Curriculum.
All children from 1st-6th Class are availing of a 10 week programme of Computer lessons with Ms Gallagher.
1st February 2016
As part of our Green School 'Travel' Theme we will take part in the 'Park and Stride' challenge over the next two weeks. Remember to be safe and seen by wearing your high vis vest!!
It is Catholic Schools Week this week. We will look forward to meeting all the grandparents today to help us make our St. Brigid's Day Crosses and to hear about stories from the past.